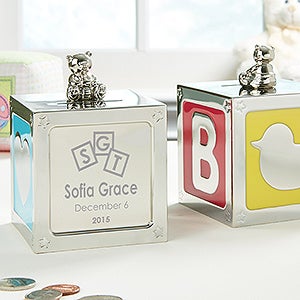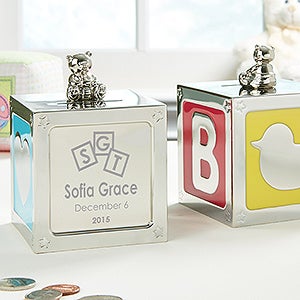 Baby Block Personalized Engraved Bank
$29.95 SALE $20.95
Teach them to save their pennies with our Baby Block Personalized Engraved Bank.

Our charming silver-plated, baby block bank will feature their 2-3 initial monogram within the engraved blocks (or choose to enter A-B-C), then include their name and birthdate; creating a treasured, personalized keepsake!
Bank design includes a precious, silver teddy bear on top, accented with aqua, pink and yellow epoxy sides featuring a heart, duck and letter B for baby.
· Measures 3 1/8"W x 4 1/8"H.
· Quality constructed of silver plated, stainless steel and accented with aqua, pink and yellow.
· Bank is a keepsake piece - not intended for use by baby; adult supervision/use.

Exclusive New Personalized Gift Designs.
New Personalized Gift Ideas
Find the latest additions to PersonalizationMall.com in our What's New store! Our teams are constantly adding new and exciting products to our personalized gift lines. We also work to develop innovative personalization techniques to offer our customers the most flexibility possible when creating a one-of-a-kind gift! At PersonalizationMall.com we want to ensure that our customers can always find the perfect personalized gift for any recipient or occasion. Check back often to find all our newest personalized gifts!