Custom Doormat
By
Karen D.

(Newtown Square, PA) - April 16, 2012 (
See all reviews by this customer
)
i ordered this product and it was awesome !!!!! i received it within a couple of days and it was well packed.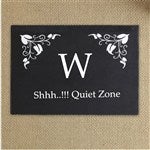 Cute
By
Shopper

(Chino Hills, CA) - March 19, 2012
I had this personalized to say "Please Remove Your Shoes" under neath the monogram letter. I searched for hours to find a door mat that said something like that with no success, so when I realized I could write whatever I wanted I knew I had to have this. I bought 2 for myself and 1 for my sister in law. I was happy w/ the way it turned out. The only reason for the four stars is because its rather thin... I thought maybe it would be more like a front door mat that was thick and would withstand weather conditions... I fear it won't. But it was the only one I could find.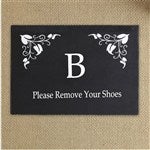 Nice gift!
By
Johnnie N.

(Elgin, SC) - December 21, 2011 (
See all reviews by this customer
)
These look great, I just wish they were a little thicker. For the price, you can't beat it!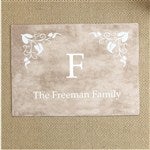 Nice looking
By
Shopper

(Van Nuys, CA) - December 19, 2011
The mat looks great the only thing i would say is that it's a little thin

Nice lettering Poor color quality
By
Shopper

(Mohawk, NY) - November 30, 2011
I ordered the burgandy background and was a little disappointed in the color. It was more marbled with black than I thought it would be. I bought it as a gift for someone whose house is grey and burgandy so I was hoping it would be a deep burgandy instead of marbled. Over all it was nice.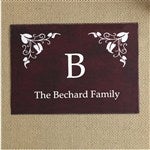 Pretty but faded.
By
Shopper

(Hohenwald , TN) - November 21, 2011
The rug turned out really pretty but it was a little faded. I ordered the black one and it looked a little gray. Other color might not be as noticable. Overall it's a great rug and is gonna make a great Christmas gift! If I ordered another one in the future I would just get a different color besides black.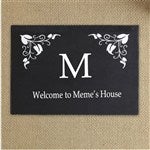 Personalized Doormat
By
Shopper

(Phenix City, AL) - November 6, 2011
I ordered this as a gift. It came quickly. It is great quality and very nice looking. It makes a unique gift! Definitely would order again.

Not bad but Thin
By
Vincent G.

(Philadelphia, PA) - October 29, 2011 (
See all reviews by this customer
)
As you can see most people like the lettering, but the mat is very thin for the price...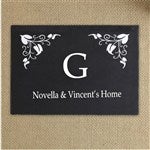 Nice & Simple Gift
By
Shopper

(Webster, NY) - September 24, 2011
I bought this as a housewarming gift for my brother and his young family. I was very pleased with the product and it arrived less than a week after I ordered it. My brother and sister-in-law love it as well. My sister-in-law spent the night trying to figure out where it should go because she doesn't want it to get dirty! Imagine that!

It is Beautiful!
By
Patricia G.

(Naugatuck, CT 06770, CT) - September 23, 2011 (
See all reviews by this customer
)
The personalized rug I received recently is beautiful. Everyting that I expected. I wish there was alittle bit more color to the writing, the R in the middle should be outlined to stand out. Overall it is wonderful.Personalization Mall does a great job, I use them for all of my "special" gifts!

very pleased
By
Amber A.

(Oak Harbor, WA) - September 17, 2011 (
See all reviews by this customer
)
My husband and I ordered this for my parents, and it turned out very nice.

The Personalized Doormat is the BUSINESS!
By
Kim M.

(Los Angeles, CA) - September 8, 2011 (
See all reviews by this customer
)
I ordered the Elegant Monogram Personalized Doormat for my friend and her Dad. She just purchased her first home. They absolutely loved it! The Burgundy Mat with white letters is beautiful study and classy looking. My friend said her dad wanted to frame it!

Thanks Personalzation Mall I will be shopping with you again soon!

welcome rug
By
Shopper

(Little Elm, TX) - August 16, 2011
well this was a gift so i will just have to say what my sister told me about it ,She was very surprised and loves it from the color down to the decoration on it.She even asked where i bought it because she thinks it would be a great gift for someone else.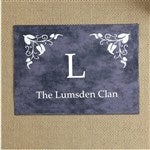 Nice addition to our front porch
By
Barry D.

(Rockfield, KY) - July 30, 2011 (
See all reviews by this customer
)
The doormat looks very nice on the front porch. The personalization adds a nice touch. It was a gift for my wife's birthday and she was pleased.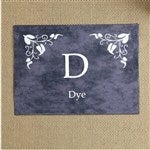 Personal Doormat
By
Shopper

(San Antonio, TX) - April 2, 2011
Well constructed. Good looking. Nice backing. Could be thicker.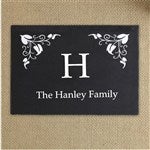 Great product
By
Ashley R.

(Pittsburgh, PA) - December 27, 2010 (
See all reviews by this customer
)
I ordered this as a Christmas gift and was very happy how it turned out. I ordered the blue and it is very pretty. Good quality material and a nice touch with the personalization. Would make a fabulous housewarming gift!I gave it 4 stars because I was a little disappointed with how thin it was but it has a very sturdy rubber bottom that seems like it will hold up well.

Great product
By
Shondra L.

(Richland, MS) - December 23, 2010 (
See all reviews by this customer
)
We got a personalized doormat as a gift and liked it so much we bought one for our in-laws. They love theirs. Good quality and great price.

Elegant Monogram Personalized Doormat
By
Kathleen N.

(Lafayette, CO) - December 3, 2010 (
See all reviews by this customer
)
The doormat and printing look great. However, it is not very heavy duty. It is made from a felt-like material and I'm not sure how that will hold up. I think it's more of an indoor mat.

Great doormat
By
Pamela W.

(Cresson, TX) - October 27, 2010 (
See all reviews by this customer
)
Based on money and personalization, was very well pleased with the product. Would like to have more color options, but the basic colors are there.

Beautiful
By
Tabatha K.

(Columbus, GA) - August 3, 2010 (
See all reviews by this customer
)
Beautiful door mat. The only thing I can say is I thought is was for outside but actually seems to be better suited as an indoor mat. Very nice gift though!!

Burgandy doormat
By
Connie S.

(Kearney, MO) - July 26, 2010 (
See all reviews by this customer
)
I really like this mat. the burgandy color is great.

Very cute!
By
Noelle F.

(Hyattsville, MD) - May 18, 2010 (
See all reviews by this customer
)
This item is a very cute addition to our home. Be advised: the mat is on the thin side; I am thinking of actually keeping it for an inside-the-door rug instead of an outside doormat. I obviously don't know how well it will hold up to foot traffic, but it is very cute and quickly delivered for a good price.

Elegant Monogram Mat
By
Tawana C.

(Landover Hills, MD) - December 13, 2009 (
See all reviews by this customer
)
I love the mat, its just I thought the mat was going to be dark black and it actually looks grayish/black.