Fantastic quality!
By
Shopper

(Bluffton, IN) - August 12, 2013
Being a faithful buyer, I was not concerned about the quality of the slate plaque. With that being said...I was shocked how heavy and durable it was! As always, I was extremely pleased with the product! Thank you again for such a wonderful product with the continued fastest shipping I ever experience through internet purchases!

Excellent product
By
Shopper

(Granville Summit, PA) - July 7, 2013
Very nice Slate plaque, it looks exactly as picured the hanger seems to be
rugged enough to hold the slate when hung. The slate has a little bit of weight to it. I am very happy with the product and the shipping was very fast.

Great
By
Shopper

(Stormville, NY) - March 15, 2013
I love your website and products. I ordered my sign on a Sunday and it came in the mail by Thursday. I had the regular shipping. I have to say the turn around time exceeded my expectations! Thank you for having great products and getting them shipped out in a timely fashion! I always recommend your web site to my friends and family.

Better than I thought.
By
Erin L.

(Lady Lake, FL) - December 24, 2012 (
See all reviews by this customer
)
My slate plaque I ordered arrived and I was very pleased. I thought maybe the lettering would be small and hard to read from the street, but that was not the case. My name was very easy to see from afar and the whole look of the plaque looks worth much more than I paid. This is why if I need anything personalized I keep shopping at Personalization mall. Also when I'm out of ideas on what to buy for someone, I always get great ideas looking through all the gifts they offer.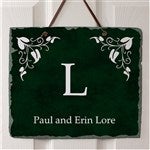 Beautiful
By
Shopper

(Crab Orchard, WV) - December 24, 2012
This was a christmas gift for a family member. Very pleased with the quality of the slate, and the detail of the design. Beautiful!!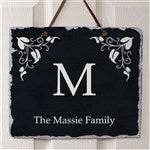 great quality
By
Shopper

(Holland Patent, NY) - December 22, 2012
Just the most warm and personal gift ever! Very reasonable compared to other stores that sell the same...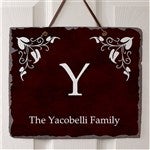 Great product
By
Robert B.

(Ridley Park, PA) - December 14, 2012 (
See all reviews by this customer
)
I purchased this plaque as a Present and highly recommend this item.. They loved it!!! Great craftsmanship and looks just like the picture!!

Welcome slate
By
Shopper

(BROCKTON, MA) - November 17, 2012
Excellent, great product for a great price. Came quickly. Highly recommend.

Great gift!
By
Virginia J.

(Nathalie, VA) - November 2, 2012 (
See all reviews by this customer
)
I have ordered several of these plaques for wedding and housewarming gifts and could not have been more pleased! The recipients were so happy with such a beautiful "personal" gift.

Slate Plaque
By
Shopper

(Shrewsbury, MA) - October 30, 2012
Beautiful! I would definitely recommend. I bought this for a house warming gift and they loved it!

Slate name plaque
By
Janet M.

(Redmond, WA) - September 28, 2012 (
See all reviews by this customer
)
This product is gorgeous - the material quite substantial.
This is the 2nd one I've bought - perfect gifts
for a housewarming, wedding, or birthday.
I highly recommend it.

Great Slate
By
Shopper

(New Castle, DE) - August 18, 2012
I ordered this slate for my daughter for her new home. This slate is beautiful. The quality exceeded my expectation. I am very pleased with this purchase.

Slate plaque
By
Twyla P.

(Poquoson, VA) - August 4, 2012 (
See all reviews by this customer
)
We bought 2, one for each gate. Love them and get a lot of compliments!

Beautiful
By
Shopper

(Snellville, GA) - April 23, 2012
we got one for us to put on our front porch it was so nice we got one for a wedding gift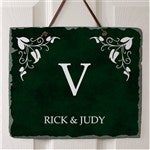 Beautiful!!!
By
Shopper

(Springfield, MA) - April 10, 2012
This plaque looks wonderful on the front of our house!

Impressed
By
Shopper

(Chaska, MN) - March 19, 2012
This product looks fantastic, it is top quality, very happy with purchase, would absolutely purchase a personalized product from here again.

Personalized Slate Plaque
By
Carol W.

(Missouri City, TX) - March 7, 2012 (
See all reviews by this customer
)
I bought this plaque as a present for my best friend. Its hard to tell how something is really going to look when its just a picture. When the plaque arrived I was so impressed. It is truly beautiful. I purchased it in burgandy. The finish is spectacular, the edges are impressive, and I was surprised at the weight of the plaque. I like this item so much I am buying one for myself.

BEAUTIFUL
By
Richard V.

(Snellville, GA) - February 27, 2012 (
See all reviews by this customer
)
Better then it looked oN your site. I've wanted this for a long time but had to wait until the house has the outside done. It's BEAUTIFUL. SO PLEASED WITH EVERYTHING I RECEIVE.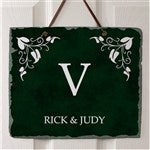 Very pleased!
By
Shopper

(Canal Winchester, OH) - December 27, 2011
The plaque was even nicer that the web picture! It was a unique and high quality gift.

Exactly As Shown
By
Joshua C.

(Wilkes Barre, PA) - December 27, 2011 (
See all reviews by this customer
)
My Sister and her husband loved it.

Extremely Happy!!
By
deborah B.

(marstons mills, MA) - December 17, 2011 (
See all reviews by this customer
)
I had to write to say just how pleased I am with this plaque...It is absolutely beautiful!! I am not a blogger, I do not get paid to write about products...I sincerely feel that it is important to speak when things are good..not just about bad things!!! If you are contemplating buying this, I can tell you, you won't be disappointed!!!

Awesome gift that everyone will love....
By
Cyndi S.

(Greenbelt, MD) - December 15, 2011 (
See all reviews by this customer
)
I ordered three of these for special family and friends. Everyone loved them (we meet for lunch and open at that time) Anyway one of them went home and ordered a couple for folks they knew.
Excellent quality, nice customized gift.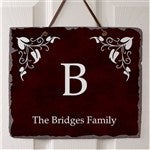 Fabulous and elegant!!
By
Victoria E.

(Clarksburg, WV) - December 14, 2011 (
See all reviews by this customer
)
This plaque is fantastic! I ordered one for my parents and inlaws for Christmas, and I was shocked at the amazing quality for such a great price! Since then, I have purchased two mores items, and plan on many more in the future! Once the holidays are over, I am purchasing one for myself, and I can't wait! Thank you for a lovely affordable product!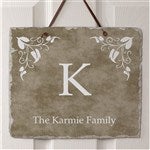 Well Done!
By
Mary S.

(Detroit, MI) - December 12, 2011 (
See all reviews by this customer
)
I purchased 2 different plaques, 1 for my granddaughter's bedroom door & one for my grandson's door. They look great and are well constructed. I was very pleased with the variety of colors and the ease with which to personalize these plaques. My grandchildren will be very happy when they receive them for Christmas.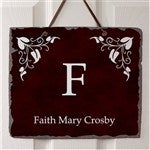 personalized slate plaque
By
Shopper

(Maumee, OH) - December 12, 2011
we ordered these for Christmas gifts and we were very happy with our purchase. Though they were wrapped very well, one was damaged, but they reissued one right away and we received a new one in a few days. Thank you

Better Looking in Person
By
Jeff M.

(Irving, TX) - December 6, 2011 (
See all reviews by this customer
)
The monogrammed plaque was better looking then I thought it would be. Very nice and the family loved it. Looks wonderful hanging outside their front door.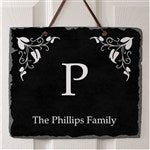 Product Quality
By
Shopper

(Fayetteville, GA) - November 15, 2011
I ordered three separate plaques with different names --- they came in a reasonable amount of time and were perfect ... all spelled correctly and I love the quality of the plaques. A perfect experience and the price was reasonable.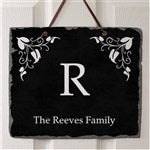 Monogram Personalized Slate Plaque
By
Gloria M.

(South Bend, IN) - October 16, 2011 (
See all reviews by this customer
)
The plaque is beautiful. My son and daughter-in-law were very happy to receive it for their first year wedding anniversary. I was so impressed with the quick delivery time! I would definitely recommend Personalizationmall.com products.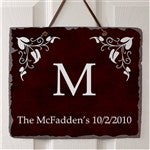 Better looking in person than in picture!
By
Shopper

(Douglasville, GA) - September 20, 2011
I just ordered the burgundy color slate plaque for a monogram wedding shower and it looks great!! The color is even prettier in person than in the picture on the website. I am very happy with this product and I know the couple will love it!

HAPPY!!!!!!
By
Shopper

(springfield, VT) - August 5, 2011
I was so happy with the plaque when i opened the package !
This is a wedding present for my sister. She and her future husband have lost their spouses and have found each other later in their lives.
Finding something meaningful and something they did not have was a challenge.
This plaque with their married titles was perfect !
The few people who have seen it wanted to how and where i got it. I am sure they will be ordering something from your large selection of wonderful items.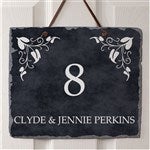 Beautiful Work
By
Shopper

(Houston, TX) - July 25, 2011
I have ordered personalized items from Personalization Mall before, and I am always very pleased with the outcome. The work is beautiful and the item always arrives quickly. I will certainly order more from this company in the future. Their personalized items make GREAT and unique gifts.

Great House Sign
By
Laura M.

(Phoenix, AZ) - May 21, 2011 (
See all reviews by this customer
)
This is a very nice quality, sturdy, heavy duty, and beautifully done plaque that can add a touch of elegance to the entry of any home. Once I put it up, I feel like it personalized and warmed up my home's front porch. Since it's a little heavy you have to make sure you hang it securely. Thanks Personalization Mall!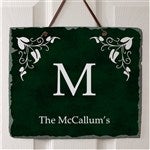 love the slate plaque
By
Shopper

(West Bloomfield, MI) - March 21, 2011
We love the look and quality of this product. It looks very handsome outside of our house and on our door. I would have liked larger printing for our name but it is still very visible. Fast delivery as well.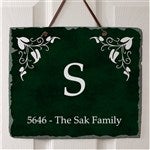 Better than expected!
By
Shopper

(Biggs, CA) - March 8, 2011
I purchased this as a housewarming gift. It was amazing how fast it arrived, and when I saw it I was SO pleased. It was even more beautiful than expected! I like the feature that allows you to see what the finished plaque looks like online before you order. Needless to say, the recipients were very pleased with their gift. I love your site!

Perfectg
By
Mark M.

(Harrah, OK) - October 7, 2010 (
See all reviews by this customer
)
I loved this plaque in the catalog but up close I really loved it. I can't wait to give it to my daughter and new son-in-law when they get their house. I got one for my daughter earlier and when I got it a small corner was chipped but with it being made of the slate it really wasn't noticeable so my husband and I decided to keep it. We love the quality of your products. Thanks for all your products. We ordered mugs for the groomsmen and they turned out perfect!
Wonderful website and easy to use.


Absolutely beautiful
By
Melissa B.

(Pittston, PA) - July 14, 2010 (
See all reviews by this customer
)
I thought this plague looked so beautiful when I saw it online. It is even more so in person. I ordered it in beige and had it personalized as shown in the example, with our family name.

It arrived today, and I could not wait to put it up on the wall in my entryway. My mom was with me when I opened it and she loved it too. Would be a perfect wedding or housewarming gift. Don't hesitate to purchase for yourself!

Slate Plaque
By
Carolyn H.

(Kenosha, WI) - April 2, 2010 (
See all reviews by this customer
)
Loved it! The quality, the size & the look of it was every thing I had hoped it would be. I plan to order more & give them as gifts.

Ginger McCoy
By
Ginger M.

(Kimberly, AL) - February 19, 2010 (
See all reviews by this customer
)
I ordered the Elegant Monogram Slate Plaque for my daughter and her husband for their new home. They love it !!! It exceeded all of my expectations. I am so happy I stumbled upon your website.

Elegant
By
Charlene B.

(Tullahoma, TN) - February 11, 2010 (
See all reviews by this customer
)
Exactly what I was looking for. The quality of the piece was made surprising well. I would definitely order from PersonalizationMall.com again and again. Highly satisfied.

Slate Plaque review
By
Liana C.

(Clearwater, FL) - December 27, 2009 (
See all reviews by this customer
)
This product was just beautiful. I bought it as a gift and it was a huge hit. The slate was excellent and the engraving was flawless. Was heavier than I would have thought, this is extremely well made. I would have no problem ordering from you again.