A most satisfying purchase
By
Shopper

(Kingman, AZ) - January 1, 2014
All aspects of the purchase from ordering to receiving was well done and as promised. Four stars are my highest ratings because I believe any endeavor has an opportunity to be better for 100% satisfaction.

great gift
By
Shopper

(Pollock Pines, CA) - March 8, 2013
Got this for our Uncle for his 70th , thought it would be special and have that personal touch , he drinks a lot of coffee so knowing it would get a lot of use, he loves it ! He is extremely happy with the gift and loves the whole package. Really happy

Nice n Unique gift to rem. ones Special day.
By
Shopper

(Indianapolis, IN) - October 16, 2012
I bought this for a friend's B'day. I really liked the concept and the mug is pretty nice with interesting facts. The delivery was quick and the product was good for the price.

Nice job
By
Jessica H.

(Little Rock, AR) - January 22, 2012 (
See all reviews by this customer
)
This mug is nice, and my Dad is going to love it. I haven't put it in the dishwasher, but the detail looks well done so I am sure it will do fine.


Daughter's Birthday Gift
By
Shopper

(Lithonia, GA) - November 4, 2011
Daughter was estatic when she saw her name on the mug.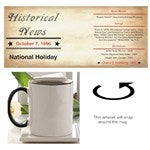 Custom Coffee Mug
By
Shopper

(Texarkana, TX) - April 10, 2011
I ordered two mugs and they arrived in just days of placing my order. The mugs were just as advertised and the service from your company was very good.



Day you were born MUG
By
Vanessa S.

(Yorktown, VA) - February 14, 2011 (
See all reviews by this customer
)
Great gift and very affordable to give as a gift to staff. It is of good quality - as with everything I have purchased from you so far!

Special birth date treasure
By
Shopper

(Lakeland, FL) - January 22, 2011
Bought this for a "40th" birthday - nice gift - could also be used a planter for a small plant, makes a special date "special" Just a little smaller than what I expected but still very nice

Good enough mug; text wrap makes it less so
By
Sally S.

(SIlver Spring, MD) - December 27, 2010 (
See all reviews by this customer
)
I ordered this for my husband's birthday, and overall it is OK. The text wrap is awkward, though: There is one stray word on the last line of the section that lists top hits of the year. Also, there is a reference to "Tv" rather than "TV" -- that is kind of teeth-grittingly irritating, too. The mug is perfectly serviceable, but not quite tippy-top in design quality.

Coffee Mug
By
Ethelee N.

(Silver Spring, MD) - August 17, 2010 (
See all reviews by this customer
)
Cute idea for a different gift.

Neat reminder of your special day
By
MaryKat S.

(Venice, FL) - August 4, 2010 (
See all reviews by this customer
)
Mug is a fun gift.

birthday gift for my son!
By
carol S.

(wappingers falls, NY) - July 15, 2010 (
See all reviews by this customer
)
I really like this mug.I think my son will like the facts that are stated on the mug the year he was born.Its a fun gift for anyone.It lets them know what a special day it was ,the day they were born.mug has good quality and nice colors,writting a little smaller than on web site,but still a very nice item.I think anyone would be happy to receive such a personal gift.

Great creative idea
By
Sheryl R. H.

(Highland Park, IL) - January 21, 2010 (
See all reviews by this customer
)
Terrific present for those hard-to-buy for people. It shows thoughtfulness on the part of the giver, and a treasured gift for the receiver.
From order date to date of receipt, it was less that 5 days - unbelievable!

Birthday mug
By
Shopper

(Richboro, PA) - October 21, 2013
Cute idea but the back side of the cup is way too small to read. The printing should be larger. Bought this for a 90th birthday and filled it with candy. The printing was so small that it was very hard to read for the birthday boy and even myself.

Could be Better
By
Yvette W.

(Humble, TX) - August 31, 2012 (
See all reviews by this customer
)
The historical information for this item is not that interesting.

Mugs
By
Maureen R. D.

(Camden, NY) - July 10, 2011 (
See all reviews by this customer
)
The printing on the back was extremely small and difficult to read. I was disappointed.

B-day mugs
By
Maureen R. D.

(Camden, NY) - July 5, 2011 (
See all reviews by this customer
)
Ordered two mugs for an anniversary gift. The one the printing was large and great; however, the second one the printing of historic info was so mall I'm sure the recipient won't be able to read it. Disappointed, but I've sent them any way.

Perfect for the 90th Party
By
Marie B.

(Mehama, OR) - May 20, 2010 (
See all reviews by this customer
)
The cup is perfect for the 90th party and how it will be used. However, I wouldn't consider the cup I received as a "gift" item as the glaze work has rough spots along the bottom and some other issues. Would I buy again from Personalization Mall...of course.

Label Content
By
Byron E.

(Indianapolis, IN) - March 15, 2010 (
See all reviews by this customer
)
Personally, would have liked more, better known, people
also born on the given date and more headline items on
the given birth date.

Reasonably pleased with quality and very pleased with
delivery.

A Good Product
By
Calvin R.

(Verona, VA) - October 16, 2009 (
See all reviews by this customer
)
For the money the product great but in reality it's only a good product. What's keeping it from being great is that the lettering is dark and it's not clear. However I feel that I'm satisfied and I plan to order more in the future.

Thanks, Calvin


Not too great.
By
Shopper

(Mamaroneck, NY) - May 4, 2012
I was quite disappointed in this mug. The front is a nice idea, but the rest of the information
on the back was not as special to me. I was hoping that the famous people's birthdays were
also on the exact date and same year as the Birthday I was celebrating. it was not, and I did
not quite understand that. Also most of the other "fun" information was quite ancient, and
not up to date. I give it 2 stars because the quality was good, but I really was not happy with
the outcome. It was a great idea, but it did not quite work out well. I am sorry, but I don't
recommend it.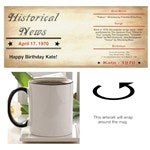 Don't love it !!!
By
Teresa S.

(Duluth, GA) - June 21, 2010 (
See all reviews by this customer
)
I'm very disappointed in the mug. First of all, it's a very small mug...looks like something you'd find in the Dollar Store. I thought as much as it cost, it would be a nicer larger size mug. And...the writing is very small. It's just not what I thought it would be. I've order a few other things from you and was very pleased. I guess I've learned a lesson that your mugs are not one of your better products.