Sooooo much better than expected
By
Lorraine L.

(Marysville, CA) - April 12, 2011 (
See all reviews by this customer
)
The personalized platter far surpassed my expectations! Plus I was so pleasantly surprised at how quickly my order arrived being that it was personalized. I've been showing it off to my friends and they were all very impressed. One commented that she liked how they weren't stick figures and said she would probably order one for some other event, not necessarily a wedding. I plan to use mine at the wedding rehearsal dinner for my son and future daughter-in-law. Can't wait to see their reaction. The little figures are so cute and I can actually picture the people they represent. This is my first time to write a review on a product and believe me, I have purchased a lot of products through different venues. Don't ever stop offering this platter!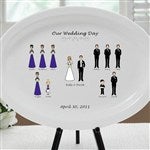 Very nice personalized gift!
By
Jodie M.

(Sligo, PA) - March 27, 2011 (
See all reviews by this customer
)
I was very pleased with the speedy delivery of the product. I ordered mine on a Tuesday and it was in my home on Thursday. The platter turned out exceptionally well and I am very pleased with it. My only complaint was the only thing I could not personalize was the color of the bridal party's bouquets. I went back over the order form thinking maybe I missed that step somewhere but I seen no where to personalize that. My daughters colors are black and fuschia pink, the flowers on the platter are a light green. Other than that, this makes an awesome keepsake for the bride and groom. I know my daughter is gonna love it!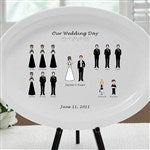 Sensational Wedding Gift!!
By
Roseanne J.

(Burlington, NC) - October 18, 2013 (
See all reviews by this customer
)
I was so impressed with the quality of this plate when I opened up the box. I had to have it in such a short time frame that I was so worried that the quality would suffer. NOT IN THE LEAST! When all the gifts were opened...this is the gift that got the bride in tears, the mother of the bride in tears and ooh' and aah's from all the guests. I will be back to this site often. The prices are excellent, the quality is excellent. These are gifts that will be "treasured" for memories to last a lifetime.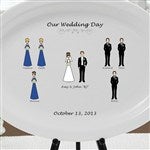 So in love with this!
By
Jennifer T.

(Edmond, OK) - August 29, 2013 (
See all reviews by this customer
)
I saw this a few months ago, and it stayed in my mind. So, of course, I had to have it. I have incorporated in into my wedding decor, but it will also be a keepsake for years to come. I think it's amazing. Very pretty, and I couldn't be happier!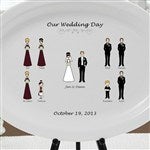 wonderful gift
By
Nicole C.

(Mountain Top, PA) - January 7, 2013 (
See all reviews by this customer
)
Ordered these for both my daugthers as a christmas present. They both loved them and they came out great. I do wish they had a couple more options to personalize the characters but I made do with what they offered. Also the red hair option actually comes out looking more orange in the final product. Other than that it looked very nice.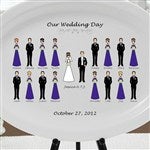 Wedding platter
By
Shopper

(Romeoville, IL) - August 27, 2012
I bought this for my Mother-in-law as a pre-wedding gift. She absolutely loves it. I'm hoping she might display it at the wedding reception.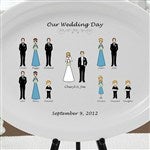 Wedding party characters platter
By
Jessie D.

(Howell, NJ) - August 26, 2012 (
See all reviews by this customer
)
Absolutely beautiful!! I'm 2 for 2 shopping with Personalization Mall.com! The bride and groom loved the platter, almost brought tears to her eyes as the platter quickly took her back to her wedding day! Very pleased again with quality & price :) The economy shipping surprised me again, because it's so fast! I will be shopping here again!! Thanks again for another great product!!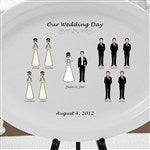 Awesome Gift
By
Luanne B.

(Wesley Chapel, FL) - August 17, 2012 (
See all reviews by this customer
)
I purchased this as a rehearsal gift for my son and his fiancee. I had to play with the wedding party to get it situated exactly as I had pictured it in my mind, and it came out beautifly. Exactly as I ordered. This plate is so cute. They are going to LOVE IT! This would make a really cute wedding gift. I highly recommend ordering it. I wish I would have ordered the easel as well.

wedding plate
By
Shopper

(Canada) - July 21, 2012
the plate looks fabulous and i would order again---just suggest that there was an option for bald and maybe bow tie vs regular tie----but still great!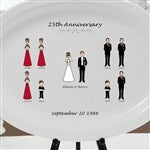 Great gift
By
Shopper

(Sugar Land, TX) - July 16, 2012
This plates is a wonderful gift for any bride and groom! It is something they canuse and cherish for years!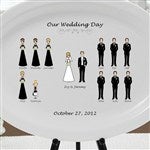 Absolutley love this
By
Karolyn B.

(Cheyenne, WY) - July 13, 2012 (
See all reviews by this customer
)
Purchased for bridal party to write wishes for bride and groom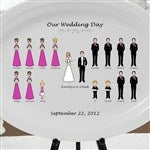 Great item!
By
Shopper

(Jackson, NJ) - June 17, 2012
Love this item except e dresses were supposed to be bronze and they look purple, I wanted orange but it wasn't an option, overall it came great though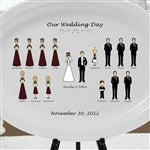 Great Gift
By
Katie M.

(Royal Oak, MI) - June 14, 2012 (
See all reviews by this customer
)
I purchased this for a friend of mine and she loved it. It turned out just as it was shown in the picture and I couldn't have been happy with my purchase.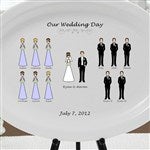 Every Bride & Groom should receive this gift!
By
Rachel M.

(Novi, MI) - June 11, 2012 (
See all reviews by this customer
)
I purchased this gift twice now, but the first time from a different company. I am SO much happier with the way it turned out from here! I loved that I could choose where the characters went, and saw a live preview. It was made in 1 day, and I received it 3 days after I ordered it- very efficient! I haven't given it to my sister yet, but I know she will LOVE it. The little people are so cute- ti really makes for a wonderful display.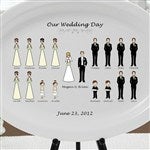 Beautiful
By
Shopper

(Riverview, FL) - May 22, 2012
This is so beautiful. I can not wait to display this at out wedding.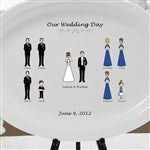 Beautiful Gift
By
Arianna T.

(Yuma, AZ) - April 16, 2012 (
See all reviews by this customer
)
I bought this gift for my brother and new sister in law since i thought the picture was adorable. When i received it, it was more than what i expected. Beautiful gift that my brother and sister in law loved it. :) Thanks for being a great company!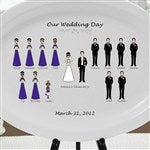 platter
By
kathy C.

(Canada) - March 3, 2012 (
See all reviews by this customer
)
this is the second one i have bought........both brides loved it.....something just unique about it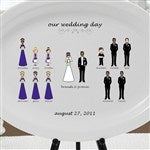 Very Blurry
By
Karen C.

(Yonkers, NY) - January 17, 2012 (
See all reviews by this customer
)
i love this plate but it was very blurry when it arrived.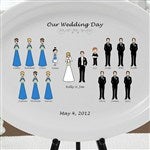 Adorable and Afordable
By
Allison K.

(South Bend, IN) - May 6, 2010 (
See all reviews by this customer
)
I bought this platter for my sister and her new husband. I am her maid of honor, and I wanted to do something special for the two of them. The platter is adorable and a great way to capture the memory. It arrived the next day and I didn't even pay for next day shipping. Thanks Personalization Mall! :-)

Perfect Wedding Gift
By
Debbie S.

(Elmwood Park, NJ) - April 7, 2010 (
See all reviews by this customer
)
I received this platter within one week of ordering and it is beautiful. This is a great keepsake for the bride and groom. The entire wedding party is named and the dress color will match what they are wearing for the actual wedding. It is a perfect and unique wedding gift.

Wedding Day Platter
By
Pamela M.

(Oak Lawn, IL) - May 17, 2010 (
See all reviews by this customer
)
The porcelain platter was a heavier, better quality platter than I expected. The personalization on it was perfect with each persons hair color and name correct. I personally thinks it's adorable, but the bride-to-be hasn't seen it yet, so I can't tell you her response yet.

Wedding shower gift
By
Shopper

(Wayland, MA) - March 31, 2013
A bit smaller then I thought it was going to be for a "platter". I am very happy with it. Perfect for the older bride not as whimsical as others I have ordered from other companies. I am looking forward to presenting it to her at her shower. I would definitely order it again for future showers. It shipped so quickly (less the 1 week). Thanks for a great job!!

Nice but a little blurry
By
Naomi K.

(Bridgewater, MA) - May 12, 2013 (
See all reviews by this customer
)
I was pleasantly surprised that they had the groomsmen with coordinating colored ties to match the bridesmaid dresses. I was a little disappointed that the plate arrived a little blurry.

Need more options
By
Shopper

(Belmont, CA) - January 4, 2012
The overall look is nice and clean. It's good that you can add a lot of people to your wedding party. However, the options to personalize the characters are very limited. The shipment arrived earlier than I expected which was great!

very pleased
By
Shopper

(Canada) - July 25, 2012
I was very pleased with the product! I love how you can personalize the hair and skin color, it really brings it to life! only 2 downfalls: first was that my friends had an uneven number of bridesmaids/groomsmen and we couldn't really adjust positions of the characters so it did look off balance. other was that shipping to Canada was more than the product itself, a little ridiculous. other than that it was amazing, and the low price balanced it out anyway!

very cute
By
Lauren I.

(Aston, PA) - March 30, 2010 (
See all reviews by this customer
)
This platter is very cute and a great way to remember your big day.

Charming wedding gift
By
Kimberly J.

(Springboro, OH) - June 19, 2013 (
See all reviews by this customer
)
This personalized wedding platter was fun to create and I was pleasantly surprised at how nice it turned out. It is going to make a perfect wedding shower gift. I highly recommend going over everything before submitting the final order. I had to reorganize the wedding party just a bit after seeing the picture of the the final product. I wish you could choose more colors than just one for the bridesmaids dresses to better reflect the actual wedding colors.

Need more options
By
Shopper

(Alexandria, VA) - December 30, 2011
I thought the options for the characters was limited. For example - there are 2 men in the party who were bald, however, I had to put them as having hair.

Wonderful Wedding gift
By
Ashley W.

(Gulfport, MS) - March 27, 2010 (
See all reviews by this customer
)
I was maid of honor in my sister's wedding recently. Wanted to get her something special and memorable. This plate is very personal, you can customize it for specific wedding colors, skin colors, hair colors, etc. Making it a very unique and special gift. I ordered it and got it in no time. My sister and her new husband love it. Makes a great display for their china cabinet. And the cost is well worth it, I priced several others on the internet and this website has the best prices. Others were $80 and up.

Nice plate....wrong color!!
By
Ajla D.

(Saint Louis, MO) - April 5, 2010 (
See all reviews by this customer
)
The lavender color came out more blue than the lilac color shown online. Delivery was really fast which was great. Other than the color issue, it turned out really nice!!

Unique gift, but could be better
By
Leah D.

(Fargo, ND) - November 19, 2010 (
See all reviews by this customer
)
Ordered this platter for a friend's wedding, took about a week to receive it after I ordered. It is a heavy duty plate which is great. Guess I was hoping the people printed on the plate would be a tad clearer than they were. Also, two of the men on the plate should've been bald, but they had to have hair, which is kind of silly...especially since one was the groom and now it doesn't even look like him! So that really ought to be an option. I was actually going to order a similar plate on another site where you could choose "bald" but I couldn't get that site to work for ordering. Also, you should be able to choose if you want the females hair up or down. I do like that you can have Jr. bridesmaids. The flowers seem to be tinted green I think, not as white as they could be, but that could be due to the printing not being as sharp as it could be maybe. Overall it's still a a cute platter. It says you shouldn't use it with food either. Not sure why, but I'm guessing if you just use it for dry cookies or something it would be ok??? Why get a platter if you can't actually use it?

Blurry print job
By
Marlina L.

(Miami, FL) - January 4, 2011 (
See all reviews by this customer
)
The quality of the plate itself is nice, but the quality of the print is poor. The company reprinted the plate after I complained about the original, however, the second plate is still blurry.



Poor image
By
Shopper

(N Huntingdon, PA) - June 5, 2011
I was disappointed in the image quality and when I complained they told me to send a picture but that it did not show anything.

Wedding Party Platter
By
Denise R.

(Gainesville, FL) - August 9, 2011 (
See all reviews by this customer
)
Very nice concept, however, I was disappointed with this before I even placed the order. More choices are needed, such as:
Hair color - there are no bald, gray, or salt/pepper options - just blonde, brown, black and red.
Skin color - only choice is black or white - no hispanic, asian, middle-eastern, etc.
Dress colors - not enough colors to choose from. My colors were black, ivory and gold. I had to choose black and champagne.
Dress color - also, some girls wear different color dresses and we should be able to pick different colors for different people instead of having everybody wearing the same color.
When my plate arrived, the dresses look more like off-yellow with a greenish tint.
It's a very nice keepsake - I just think it could be a lot better.

personalized platter
By
teresa S.

(Bellefontaine , OH) - August 23, 2010 (
See all reviews by this customer
)
I think the couples last name should be on the platter and you should be able to change the color of the tuxes. In the wedding the groom and ring bearer wore white tuxes, it would have been nice to be able to change the colors.

Wrong Colors
By
Lisa J.

(Spencer, WI) - September 21, 2010 (
See all reviews by this customer
)
The platter itself is very cute, but the color of the dresses wasnt what i expected. I ordered bronze, and when the platter came, the dresses were so dark brown they looked black. I was disappointed with that, but was very impressed with how quickly it shipped. I just ordered standard shipping, and i had it within 3 days. Overall, It was a great gift and the bride loved it.

Cute idea
By
Shopper

(Novi, MI) - June 1, 2011
Great gift idea. Probably a hit at a shower to display. Wish I could have put the couples last name under their first names. Otherwise cute idea!

very neat gift!
By
Jill L.

(Lexington, SC) - September 16, 2010 (
See all reviews by this customer
)
I love this platter! It is an adorable, fun wedding gift! The only thing that I wish could be changed is for the color selection of the dresses to increase and there are no options for grey hair or bald in the men's hair categories.

Our Wedding Day Personalized Platter
By
Cindy M.

(Canada) - April 30, 2010 (
See all reviews by this customer
)
The Platter looked good except it was slightly off centre; you have to tilt your head a little.

Such a great idea!
By
Sarah L.

(Forest Lake, MN) - June 29, 2010 (
See all reviews by this customer
)
I honestly was shocked when I saw my order had shipped the very next day and it arrived so fast! It is absolutely adorable and I think it's a unique wedding gift if you're looking for something just a little bit more personal. The platter was a little bit smaller than I was anticipating but I would still highly recommend this gift. Plus, it's totally practical as well. They can use it and display it! I might order one for myself to commemorate my wedding:-) I'm impressed and will definitely use this website again!