Personalized Platter
By
Shopper

(Stephenville, TX) - December 17, 2013
This platter is a perfect Christmas gift for my new daughter in law. I cannot wait to give it to her! I ordered it and received it in about a week or less.

Sensational Wedding Gift!!
By
Roseanne J.

(Burlington, NC) - October 18, 2013 (
See all reviews by this customer
)
I was so impressed with the quality of this plate when I opened up the box. I had to have it in such a short time frame that I was so worried that the quality would suffer. NOT IN THE LEAST! When all the gifts were opened...this is the gift that got the bride in tears, the mother of the bride in tears and ooh' and aah's from all the guests. I will be back to this site often. The prices are excellent, the quality is excellent. These are gifts that will be "treasured" for memories to last a lifetime.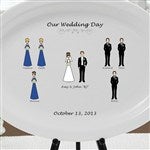 Wedding Platter
By
Shopper

(Slidell, LA) - October 4, 2013
I have given this twice for a bridal luncheon gift for the bride.
What a wonderful reaction from everyone at the luncheon.
I give this gift a AAAA Plus.

So in love with this!
By
Jennifer T.

(Edmond, OK) - August 29, 2013 (
See all reviews by this customer
)
I saw this a few months ago, and it stayed in my mind. So, of course, I had to have it. I have incorporated in into my wedding decor, but it will also be a keepsake for years to come. I think it's amazing. Very pretty, and I couldn't be happier!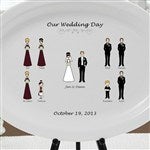 Too cute!
By
Shopper

(Wyckoff, NJ) - June 1, 2013
I ordered this platter for my daughter's Bridal Shower. It came in only 2 days. I thought it was adorable. The only negative I can give is can you have more color choices on the dresses. You didn't have her color, so I picked the red because it really stands out.

Wedding Party Characters Personalized Platter
By
Shopper

(Bluffton, SC) - May 6, 2013
The wedding platter is adorable and I am so pleased with it!

I would recommend this to my friends!

Love it!
By
Shopper

(Hamden, CT) - April 16, 2013
Given as a gift 5 months after the wedding and the bride loved it! She couldn't wait to show it to all of the wedding party. Picking the color of the gowns and hair just made it that much more fun. It took a few minutes to figure out how to get 6 bridesmaids and 4 groomsmen on the platter, but it all worked out! Great quality, fast delivery, and long lasting memories. Thank you!

Wedding gift
By
Rita S.

(West Grove, PA) - April 7, 2013 (
See all reviews by this customer
)
The platter is beautiful.I wished it had more colors to choose from, but I would recommend it to anyone.I'm glad I chose this as a gift.
Thank you.

So cute!
By
Shopper

(Beavercreek, OH) - November 6, 2012
I ordered this as a Christmas present. It is adorable! I only wish the names of the people were a little crisper, but aside from that, it's a really cute gift item.

Awesome Plate
By
Shopper

(Mt. Pleasant, TX) - September 17, 2012
I ordered this for my parents 25th wedding anniversary. She loved it, she almost
cried. She said it was very neat and that it's a wonderful memory.
Thank you Personalization Mall. :D


Wedding platter
By
Shopper

(Romeoville, IL) - August 27, 2012
I bought this for my Mother-in-law as a pre-wedding gift. She absolutely loves it. I'm hoping she might display it at the wedding reception.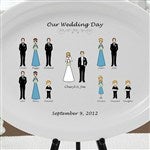 Wedding party characters platter
By
Jessie D.

(Howell, NJ) - August 26, 2012 (
See all reviews by this customer
)
Absolutely beautiful!! I'm 2 for 2 shopping with Personalization Mall.com! The bride and groom loved the platter, almost brought tears to her eyes as the platter quickly took her back to her wedding day! Very pleased again with quality & price :) The economy shipping surprised me again, because it's so fast! I will be shopping here again!! Thanks again for another great product!!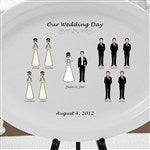 Awesome Gift
By
Luanne B.

(Wesley Chapel, FL) - August 17, 2012 (
See all reviews by this customer
)
I purchased this as a rehearsal gift for my son and his fiancee. I had to play with the wedding party to get it situated exactly as I had pictured it in my mind, and it came out beautifly. Exactly as I ordered. This plate is so cute. They are going to LOVE IT! This would make a really cute wedding gift. I highly recommend ordering it. I wish I would have ordered the easel as well.

Wedding Gift
By
Marjorie M.

(Sewell, NJ) - August 2, 2012 (
See all reviews by this customer
)
The platter is better than I expected!!!
Delivery was fast!! I love it!!!

awesome!
By
Shopper

(Oriskany Falls, NY) - July 29, 2012
This came out great! The bride will LOVE it!!

Great gift
By
Shopper

(Sugar Land, TX) - July 16, 2012
This plates is a wonderful gift for any bride and groom! It is something they canuse and cherish for years!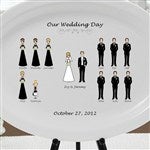 Absolutley love this
By
Karolyn B.

(Cheyenne, WY) - July 13, 2012 (
See all reviews by this customer
)
Purchased for bridal party to write wishes for bride and groom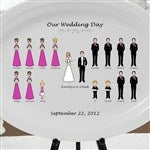 Great Gift
By
Katie M.

(Royal Oak, MI) - June 14, 2012 (
See all reviews by this customer
)
I purchased this for a friend of mine and she loved it. It turned out just as it was shown in the picture and I couldn't have been happy with my purchase.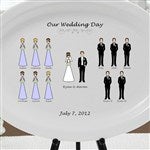 Every Bride & Groom should receive this gift!
By
Rachel M.

(Novi, MI) - June 11, 2012 (
See all reviews by this customer
)
I purchased this gift twice now, but the first time from a different company. I am SO much happier with the way it turned out from here! I loved that I could choose where the characters went, and saw a live preview. It was made in 1 day, and I received it 3 days after I ordered it- very efficient! I haven't given it to my sister yet, but I know she will LOVE it. The little people are so cute- ti really makes for a wonderful display.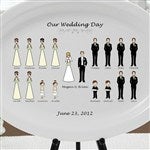 Beautiful
By
Shopper

(Riverview, FL) - May 22, 2012
This is so beautiful. I can not wait to display this at out wedding.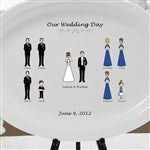 Beautiful Gift
By
Arianna T.

(Yuma, AZ) - April 16, 2012 (
See all reviews by this customer
)
I bought this gift for my brother and new sister in law since i thought the picture was adorable. When i received it, it was more than what i expected. Beautiful gift that my brother and sister in law loved it. :) Thanks for being a great company!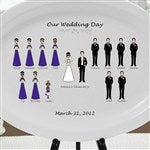 platter
By
kathy C.

(Canada) - March 3, 2012 (
See all reviews by this customer
)
this is the second one i have bought........both brides loved it.....something just unique about it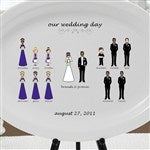 Very Nice
By
Kathy F.

(Avon by the sea, NJ) - January 27, 2012 (
See all reviews by this customer
)
This platter is very nice.....looks great....everything was done correctly......would recomend.

Picture does it zero justice
By
Shopper

(Alhambra, CA) - December 20, 2011
We are very happy with our platter!!! Looks great, great quality & a great memory for our wedding day! Be aware that it does not come with the platter stand.

Nice Keepsake
By
Shopper

(Eden, MD) - December 15, 2011
I am pleased with my purchase and the platter came exactly as I ordered it and looks great. My only disappointment is the fact that you could only choose 1 color dress. Brides always choose 2 colors, one for the bridesmaids and 1 for the maid of honor. Also, most flower girls wear white. It would have been nice to be able to change the tie colors to match the dress colors, as well. I love the plate, but feel it is not an accurate representation of the wedding. I just hope my daughter still likes it.

Really unique wedding memorabilia
By
Barbara M.

(Elgin, IL) - October 22, 2011 (
See all reviews by this customer
)
I saw this platter when I was order the toasting glasses and thought it was awesome! What a great,unique gift! I ordered it on Sunday and it arrived on
Wednesday! The wedding party was really large, so it's nice that you don't have to pay extra for more names at personalizationmall.com
Something that would be even nicer, is a few more color choices, like flowers, vests, and height of the characters.
But I love it and found out that the Bride had wanted it too. Thanks!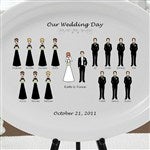 Great product!
By
Shopper

(SAINT LEONARD, MD) - September 26, 2011
I love this plate! It is so cute and a wonderful addition to our guest book table. The only problem I had is the color selection. That is very limited. But the quality is great!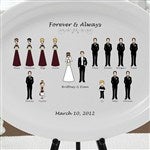 Best gift at the bridal shower
By
Judith C.

(Union, NJ) - August 23, 2011 (
See all reviews by this customer
)
This ceramic plate was the hit of my daughter in law's bridal shower. It was the only gift that was passed around from guest to guest at the party. The quality is excellent and the price is amazingly low. How wonderful it will be for the bride and groom to have such a personalized keepsake!

OUTSTANDING
By
Shopper

(Verona, PA) - August 23, 2011
I purchased this for my daughter and cannot wait to see her reaction to it. It is something you won't see just anywhere. It is something that is unique and personal. She will love it and it is a great keepsake.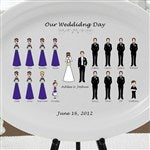 Great Bridal Shower Gift
By
Cynthia C.

(Milford, CT) - August 17, 2011 (
See all reviews by this customer
)
I'm excited to give this to my future sister in law! It's so cute and something she can put on the ladder shelf I also got her. The only thing I would change would be if you could make the bridesmaids dresses shorter or maybe make the flower girl dresses white instead of the same color as the bridesmaids, but I still love it! I actually had to call after I received the platter because the 2 names on the bottom ends of the platter looked faded. I called customer service and they sent a replacement one right away. I got it later in the same week and it looked perfect!

Very nice wedding gift
By
Misty L.

(Ottumwa, IA) - August 1, 2011 (
See all reviews by this customer
)
For the price I got this item for I was very skeptical on what the quality would be but I was VERY pleasantly surprised! The plate is nice and thick and the print was very clear. Shipping was fast. I can't wait to give this to the bride and groom. What a fun, unique gift for them to always remember their big day!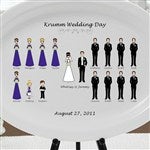 Turned out awesome.
By
Shopper

(clinton, MD) - July 24, 2011
So easy and so personal. Something they'll cherish forever.Not to mention affordable. I bought edsel and ornament all turned out great. This place is great.

Just what I wanted!
By
Shopper

(Glenview, IL) - June 12, 2011
Exactly as promised - no surprises!

It made them cry it was so nice.
By
Shopper

(Bloomingburg, NY) - May 18, 2011
I think this is a great wedding gift and keepsake and the quality could not be any better and i recommend it for any one who is looking for that perfect wedding gift this is one they will treasure for ever.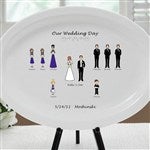 Perfect wedding keepsake
By
Mary P.

(Belmont, WI) - May 7, 2011 (
See all reviews by this customer
)
The platter exceeded my expectations. Perfect in size and names are clear and easy to read. The names of the attendants were placed exactly as as they were lined up in the ceremony. It was great to choose hair color and the dress color of champagne worked perfect for the light yellow my daughter had for the dresses. People could not believe how unique the platter was and wanted to know where I found such an item. It was delivered in about 2 days. Loved it!!!!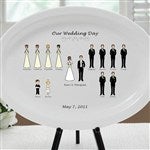 Bride and Groom loved it
By
Shopper

(Taylorsville, NC) - May 2, 2011
Groom said that this was the hit of the shower...

GOTTA HAVE ITEM
By
Amanda K.

(Monaca, PA) - April 19, 2011 (
See all reviews by this customer
)
I was actually in a wedding a few months back and wanted to purchase this item for the bride but she had too many people in her wedding party, so we all wouldn't fit. So I was very excited when I recently got engaged because I knew I would be purchasing this! I cannot wait to put this out at my reception next to the place settings, for everyone to see! I love personalized items and I have purchased quite a few things from this site for my 3yr old son with his name on it. So I was not hesitant in buying from personalizationmall.com! The platter is so unique! Everyone I have showed it to so far, LOVES it. Plus, none of our friends have had anything like this! Definitely a best buy item!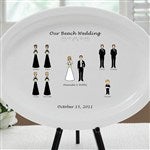 Sooooo much better than expected
By
Lorraine L.

(Marysville, CA) - April 12, 2011 (
See all reviews by this customer
)
The personalized platter far surpassed my expectations! Plus I was so pleasantly surprised at how quickly my order arrived being that it was personalized. I've been showing it off to my friends and they were all very impressed. One commented that she liked how they weren't stick figures and said she would probably order one for some other event, not necessarily a wedding. I plan to use mine at the wedding rehearsal dinner for my son and future daughter-in-law. Can't wait to see their reaction. The little figures are so cute and I can actually picture the people they represent. This is my first time to write a review on a product and believe me, I have purchased a lot of products through different venues. Don't ever stop offering this platter!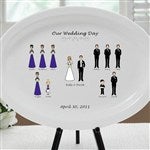 Very nice personalized gift!
By
Jodie M.

(Sligo, PA) - March 27, 2011 (
See all reviews by this customer
)
I was very pleased with the speedy delivery of the product. I ordered mine on a Tuesday and it was in my home on Thursday. The platter turned out exceptionally well and I am very pleased with it. My only complaint was the only thing I could not personalize was the color of the bridal party's bouquets. I went back over the order form thinking maybe I missed that step somewhere but I seen no where to personalize that. My daughters colors are black and fuschia pink, the flowers on the platter are a light green. Other than that, this makes an awesome keepsake for the bride and groom. I know my daughter is gonna love it!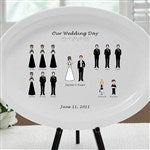 Such a great wedding gift!
By
Amanda C.

(Toms River, NJ) - February 15, 2011 (
See all reviews by this customer
)
We (the bridesmaids) gave this to our friend at her shower and she absolutely LOVED it! Once we finally unpacked the cars and brought all her gifts into her house, the groom-to-be said "Ok, the first thing I want to see is this platter because she wouldn't stop talking about it the whole ride here!" SO adorable and a great alternative to the worn-out, silver engraved type of mementos. And it shipped very quick!