Really unique wedding memorabilia
By
Barbara M.

(Elgin, IL) - October 22, 2011 (
See all reviews by this customer
)
I saw this platter when I was order the toasting glasses and thought it was awesome! What a great,unique gift! I ordered it on Sunday and it arrived on
Wednesday! The wedding party was really large, so it's nice that you don't have to pay extra for more names at personalizationmall.com
Something that would be even nicer, is a few more color choices, like flowers, vests, and height of the characters.
But I love it and found out that the Bride had wanted it too. Thanks!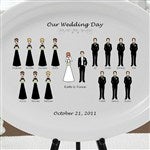 Great product!
By
Shopper

(SAINT LEONARD, MD) - September 26, 2011
I love this plate! It is so cute and a wonderful addition to our guest book table. The only problem I had is the color selection. That is very limited. But the quality is great!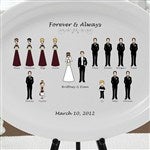 Beautiful plate!
By
Michelle F.

(Island Park, NY) - August 23, 2011 (
See all reviews by this customer
)
It is a lovely plate and I can't wait to display it in my home. My only issue is that there are only two choices for skin tone, light and dark. I am Latino, my fiance is Irish and his best man is black. I ended up making both of us dark but I wish they had a Medium skin tone for the Hispanic/Latino/Indian culture. Other than that, I am very pleased :)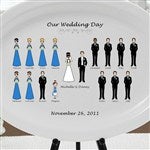 OUTSTANDING
By
Shopper

(Verona, PA) - August 23, 2011
I purchased this for my daughter and cannot wait to see her reaction to it. It is something you won't see just anywhere. It is something that is unique and personal. She will love it and it is a great keepsake.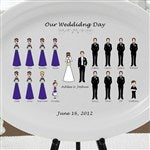 Very nice wedding gift
By
Misty L.

(Ottumwa, IA) - August 1, 2011 (
See all reviews by this customer
)
For the price I got this item for I was very skeptical on what the quality would be but I was VERY pleasantly surprised! The plate is nice and thick and the print was very clear. Shipping was fast. I can't wait to give this to the bride and groom. What a fun, unique gift for them to always remember their big day!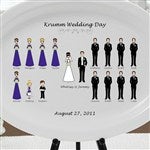 Great Gift!
By
Ashlee K.

(Fleming Island, FL) - June 22, 2011 (
See all reviews by this customer
)
I haven't given the plate yet but I'm sure they'll love it. I do wish that you can pick the length of the dresses and what color the flowers are. But all in all - a great gift. =)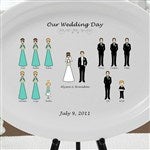 Great Wedding Gift
By
Shopper

(Oakdale, MN) - June 21, 2011
My best friend and her husband were so excited to receive this! My only input on how to make it better would be to allow for more dress options on the women! it was a sweet gift and will be cherished by them for years to come!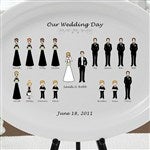 It made them cry it was so nice.
By
Shopper

(Bloomingburg, NY) - May 18, 2011
I think this is a great wedding gift and keepsake and the quality could not be any better and i recommend it for any one who is looking for that perfect wedding gift this is one they will treasure for ever.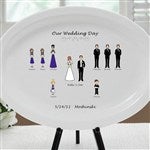 Perfect wedding keepsake
By
Mary P.

(Belmont, WI) - May 7, 2011 (
See all reviews by this customer
)
The platter exceeded my expectations. Perfect in size and names are clear and easy to read. The names of the attendants were placed exactly as as they were lined up in the ceremony. It was great to choose hair color and the dress color of champagne worked perfect for the light yellow my daughter had for the dresses. People could not believe how unique the platter was and wanted to know where I found such an item. It was delivered in about 2 days. Loved it!!!!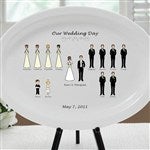 GOTTA HAVE ITEM
By
Amanda K.

(Monaca, PA) - April 19, 2011 (
See all reviews by this customer
)
I was actually in a wedding a few months back and wanted to purchase this item for the bride but she had too many people in her wedding party, so we all wouldn't fit. So I was very excited when I recently got engaged because I knew I would be purchasing this! I cannot wait to put this out at my reception next to the place settings, for everyone to see! I love personalized items and I have purchased quite a few things from this site for my 3yr old son with his name on it. So I was not hesitant in buying from personalizationmall.com! The platter is so unique! Everyone I have showed it to so far, LOVES it. Plus, none of our friends have had anything like this! Definitely a best buy item!