Wonderful gift for men
By
Carla G.

(Hinesville, GA) - August 28, 2011 (
See all reviews by this customer
)
I love this item! I have given it as graduation gifts and to my husband! Wonderful gift for the man in your life!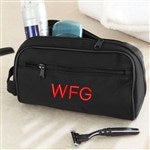 Travel Bag
By
Penny H.

(Acton, CA) - July 29, 2011 (
See all reviews by this customer
)
This was made of great quality and the lettering was wonderful. It was the perfect size for all a man's articles while traveling. I was thrilled and so was my son when I gave it to him for his honeymoon!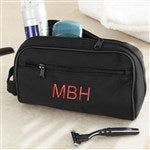 Great gift!
By
Linda W.

(Hanahan, SC) - June 5, 2011 (
See all reviews by this customer
)
I purchased two of these travel cases for Father's Day coming up. They arrived quickly, and they look great! The monogramming is perfect, and they are well made. I'm sure our sons-in-law will enjoy using them.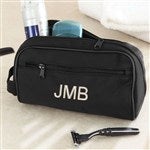 Great graduation gift1
By
Shopper

(Atlanta, GA) - May 22, 2011
Great gift - initials make it look richly appointed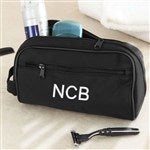 Great!
By
Shopper

(Deltona, FL) - May 4, 2011
I love the fact that the engraving came out so nice on this travel case! It's a gift and I am pleased that it looks so nice.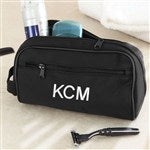 easter
By
Shopper

(Marshall, MO) - April 26, 2011
quality product for my growing son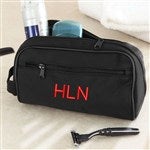 great deal
By
Shopper

(Golden, CO) - April 11, 2011
It is a lot bigger then it looks in the picture which is nice because you can fit so much into it. Surely fits anything you would need for travel and such. There are also some zippers which make it nice to seperate your ideams. Over all a very nice buy.

Embroidered Monogram Travel Case
By
Shopper

(Gretna, LA) - April 10, 2011
Awesome cheaper prices and great gift for the groomsmen plus free monogram.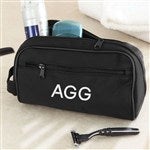 Awesome Travel Bag
By
Shopper

(Grapevine, TX) - July 28, 2014
This product rocks and the monogram was exactly how I wanted it to be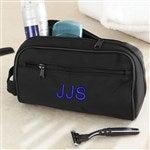 Great Travel Case
By
Shopper

(Davis, CA) - June 10, 2014
I bought this travel kit for my dad for father's day and it is perfect! The monogramming makes it extra special. Another great item from personilation mail.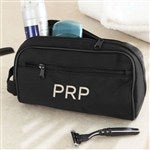 Exactly as advertised.
By
Shopper

(Orlando, FL) - May 31, 2014
This item came right on time. It was exactly as listed on the order. For the price it is very nice. Lettering was very nice. I was happy with my purchase.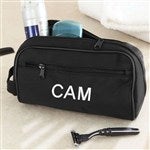 Great Gift
By
Shopper

(Upper Marlboro, MD) - May 26, 2014
It's my daughter's wedding and I wanted to help out in any way possible. The Groom (my wonderful son-in-law) wanted something special for his Groomsmen, so I located these Travel Case which by the way was a wonderful gift to the guys.. they loved them.. Thank for the free Monogram, it is so special.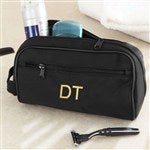 Perfect grad gift!
By
Shopper

(Chattanooga, TN) - May 25, 2014
Bought two of these for graduation gifts. Very nice. Reasonably priced and monogrammed!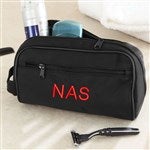 Great product for the price!
By
John S.

(Davenport , IA) - May 20, 2014 (
See all reviews by this customer
)
I have purchased 12 of these as a Groomsman and Usher gifts for my wedding party. I plan to stuff them with Gum, 5hour Energy, Little bottles of liquor, razors, tooth brush, and tooth paste. They are better then I expected, and they got all the initials and color of thread correct. Very Happy!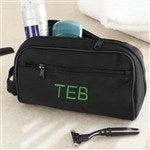 Grandsons Graduation Gift
By
Shopper

(Nacogdoches, TX) - May 4, 2014
We purchased this as an 8th grade graduation gift for our Grandson. It arrived quickly and we are pleased with the product.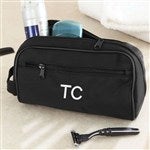 Men's travel case
By
Shopper

(Tamarac, FL) - April 28, 2014
Looks really nice!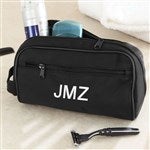 Mom Nailed It :)
By
Patricia P.

(Pomona, CA) - February 24, 2014 (
See all reviews by this customer
)
I brought this for my 16 years old, who thinks at this point in his life that moms aren't cool and have NO taste whatsoever; Oh, but then came this cool travel case that he thinks is just GRRRREAT!!!
Personalization Mall you've filled a lot of my family members with overwhelming joy! Keep up the awesome customer service!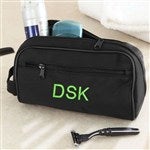 Great Gift
By
Vanessa M.

(Carrollton, TX) - February 21, 2014 (
See all reviews by this customer
)
Good size and material.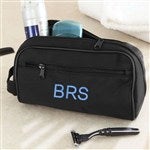 Gift
By
Kim S.

(Evansville, IN) - February 10, 2014 (
See all reviews by this customer
)
The purchase has not been used but it looks just like I thought it would! The personalization is very nice. I bought it for a friend to take to Germany. He is leaving in a couple of weeks.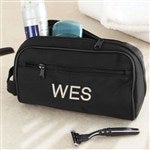 perfect!
By
Shopper

(Bowling Green, KY) - February 9, 2014
Needed something for husbands toiletries. . Everytime we go anywhere he ends up with his toothpaste and razor in a shopping bag.. perfect size for a man's items! Great quality!!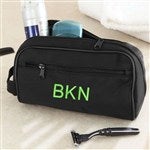 Nice Bag!
By
Santina V.

(Houston, TX) - February 4, 2014 (
See all reviews by this customer
)
This a nice & durable bag for the hubby. It's exactly what I was looking for & the personlization makes it that much sweeter:) can't wait to give to my hubby as one of his birthday gifts!!!

TRAVEL CASE
By
Shopper

(Midland, TX) - February 3, 2014
This was for my husband for his birthday and he liked it. I would recommend it to anyone needed a travel case.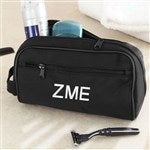 Awesome gift
By
Shopper

(Suwanee, GA) - January 26, 2014
My nephew loves it!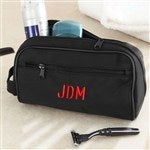 Travel Case
By
Shopper

(Canada) - January 12, 2014
This is a great size and the embroidered monogram turned out really nice. I would order this again.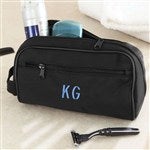 Great Travel Cases
By
Nancy G.

(Lowellville, OH) - December 18, 2013 (
See all reviews by this customer
)
I am thrilled with the five monogramed travel cases that I purchased from Personalization mall.com. They were exactly what I was expecting and they came so quickly. I am looking forward to giving them filled with products on Christmas Morning to all the special men in my life!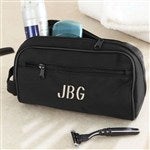 Excellent buy
By
Shopper

(Scranton, PA) - December 17, 2013
Great gift that arrived promptly.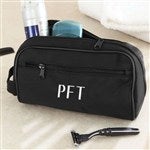 Could be better
By
Rita F.

(Lees Summit, MO) - December 16, 2013 (
See all reviews by this customer
)
The travel case was fine, however, the embroidering could have been a little better. There were loose threads that I had to cut off myself.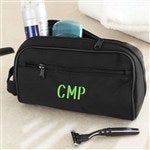 Just Ok.
By
Susan A H.

(New Philadelphia, OH) - December 10, 2013 (
See all reviews by this customer
)
Not bad, but I wish the quality was better, since I will be giving it as a gift. Arrived with several loose threads on the embroidering, which I had to snip off.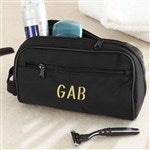 Good gift for Das
By
Shopper

(Lewisville, TX) - December 8, 2013
I bought this bag for my father who is 66. It is very difficult to shop for him as he gets older. Since he also does a little traveling from time to time, I thought this would be a great addition. He loved it and actually uses it everyday. Good choice!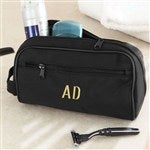 Men's travel case
By
Kathleen B.

(Dix Hills, NY) - November 22, 2013 (
See all reviews by this customer
)
Made well, has side pockets. It fits all toiletries for travel and also use it when I'm at poolside to keep hotel key, wallet, pen, etc. in it. Love it personalized!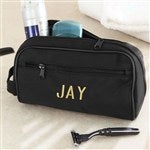 Great Gift
By
Kim C.

(Massapequa, NY) - October 11, 2013 (
See all reviews by this customer
)
Bought this as a gift for my bf to keep in his gym bag, it's perfect and he loves it!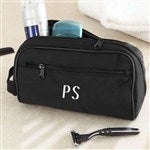 Nice with the Deluxe Weekender Monogram Duffel Bag
By
Mary O.

(Troy, MI) - August 17, 2013 (
See all reviews by this customer
)
I ordered two of these with the manicure set for each of my twin nephews' graduation gift from Vanderbilt. It was a nice accompaniment to the two weekender bags I ordered that PM sells.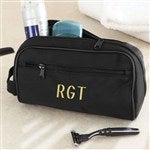 Awesome for College Students
By
Terri W.

(Rutherfordton, NC) - August 16, 2013 (
See all reviews by this customer
)
My son received this travel case as a high school graduation gift. He had other travel cases but immediately starting using this one even before he left for college. He says it is just the right size. The zipper compartment on the front and one inside are great for smaller items. The handle on the side makes easy carrying and also does not get in the way when trying to put items into larger compartment. He liked that it was personalized for using in the college dorm. We loved it so much that we bought several to give as graduation gifts ourselves.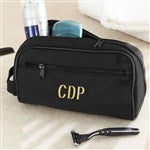 NOT HAPPY
By
Gary P.

(Macedonia, OH) - August 12, 2013 (
See all reviews by this customer
)
The monogram looks great but the travel case is very small and flimsy. Not well suited for any traveler!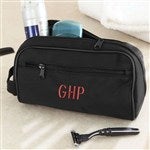 travel case
By
Shopper

(Elmont, NY) - August 10, 2013
not as creative and classy as other personalization mall gifts but still as versatile and affordable. the quality if good. waterproof inside. the design for the bag itself and initials are just a little boring in terms of color and lack of pattern. i'd definitely still buy it again like most things on personalization mall. but it could be made a little more interesting with different patterns and colors and personalization initials/name / font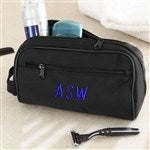 100% Pleased
By
Cherie D.

(Aurora, CO) - July 28, 2013 (
See all reviews by this customer
)
My son loves this for all his young man essentials while traveling. Sturdy and attractive. No complaints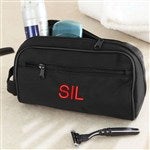 Travel Case Review
By
Shopper

(Nicholson, PA) - July 23, 2013
This was a gift for a young man going to boot camp. I liked the personalization and the size of the product. He seemed very happy to receive the gift. It is a great gift for someone that you aren't sure what they can use. Everyone needs a bathroom travel bag at some point in life.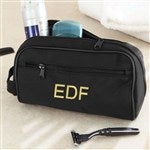 a little disappointed
By
Shopper

(Middletown, VA) - July 13, 2013
it's flimsier than I thought it would be, doesn't stand up like the one in the picture. Hopefully it will once it is full of items.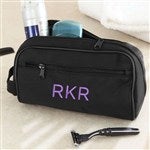 Travel Case
By
Shopper

(Friendswood, TX) - July 7, 2013
Overall, I was pleased with the travel case for my significant other. It was smaller than it appeared on the picture.. Other than that, the case was nice...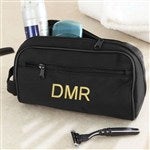 Cheap
By
Shopper

(Lakeland, FL) - June 18, 2013
Unfortunately my husband was not impressed with this item. Said it was kind of cheap but the initials were nice.