mug quality
By
Cynthia A.

(Mocksville, NC) - November 10, 2013 (
See all reviews by this customer
)
The personalized graphics are wonderful but the mug itself is a bit flimsy. Could utilize a sturdier style mug. Alltogether a nice product.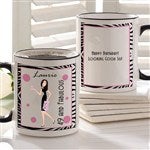 Great Speciality Gift
By
Shopper

(Cabot, PA) - February 20, 2013
Ordered this mug as a "30th" birthday gift for our daughter. Although she hasn't yet received it, I was pleasantly surprised how cute it was and certainly seemed perfect for the age celebrating. There are a lot of age appropriate gifts out there and this was one of the best I found. Great mug for a great price.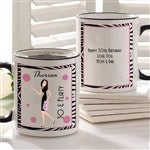 birthday gift for out of state friend
By
Shopper

(mars, PA) - June 24, 2012
I ordered the gift on tuesday and it was at my best friend's door on friday. I had to change the shipping address after I ordered the mug and had no problem doing so the next morning (had to call during working hours). My friend got a big kick out of the personalized gift...

Sassy coffee mug
Love the mug

Great, fast gift
By
Shopper

(Larimore, ND) - April 8, 2012
This was my first time ordering from this website, and I was pleasantly surprised with the quality of the mug and delivery speed. The mug has a nice smooth finish and the images were well done. The only thing I would have changed was to have a bigger font size available, especially on the back of the cup. The words were quite small, but overall, I would definitely purchase this again.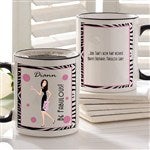 Happy with purchase..
By
Lynn S.

(Elgin, IL) - March 26, 2012 (
See all reviews by this customer
)
I am happy with the mug I purchased for my sister's 50th. It is colorful and fun and nice that you can choose the "party girl" on front of the mug. I would have liked it a little better if the font in back were larger, or more space was provided for a personal message. However, I am sure my sister will love her birthday coffee mug. I also purchased a birthday frame and family bathmat to go along with the mug. All gifts will be fun & unique.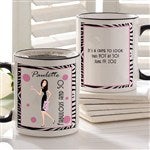 Mug of all mugs!
By
Crystal H.

(Maywood, IL) - March 2, 2012 (
See all reviews by this customer
)
I purchased the bday mug for friends on two occasions. The recipients really liked the unique gift and I plan to use it as my "go-to" gift for future gifts!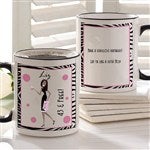 nice gift addition - also purchased frame
By
Shopper

(morganville, NJ) - February 28, 2012
purchased for 50th birthday along with a personalized cake frame - cute! The recipient really liked it. Can be used as a mug to drink from or to hold pens/pencils.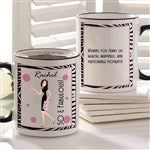 Really Cute and Sturdy
By
Shopper

(Howell, MI) - December 27, 2011
I ordered this cup about a week before Christmas. I received it within three days! Now, that's service. My daughter squealed with joy when she opened her present and saw her name on the cup. My other daughter asked me to order one for her, too.

The cup is beautiful and it was made very well. It was larger than I expected, which is a good thing. It has ample space inside the handle, so my fingers can move freely. No more cramped fingers! The only thing I would do differently is to enlarge the font on the back of the cup. But, that was my oversight. Otherwise, I'm completely satisfied.

I loved the fact that I could print anything I wanted on the front and back. The possibilities are endless. Don't hesitate to order from this company. You'll be glad you did!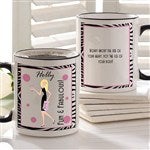 The PERFECT BIRTHDAY CUP
By
teresa G.

(west palm beach, FL) - December 7, 2011 (
See all reviews by this customer
)
Aside from not having a lot of choices for the color of hair, this was an exceptional gift. I was able to put my personal saying on it to make my sister's day even MORE special!
PERSONALIZATION MALL puts the PERSON back into buying!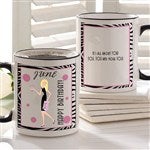 Nice little cup.
By
Shopper

(Phoenix, AZ) - November 25, 2011
I would recommend this product but I wish the choices for the women had a little more variety. As you well know women come in all shapes and sizes. But overall, my friend loved it.

Cute, nice quality; wish for font size options
By
Michelle M.

(Laguna Niguel, CA) - August 5, 2011 (
See all reviews by this customer
)
Nice quality mug. The front of the cup turned out very cute. The back of the cup has so much white space, I wish there had been an option to choose a larger font size to balance the proportions better.

Really cute and whimsical!
By
Shopper

(New York, NY) - March 6, 2011
I got one for myself and 2 friends! They loved it!

Fast Delivery
By
Shopper

(Michigan, ND) - February 21, 2011
Great birthday gift- arrived much faster then expected. The only bad thing is there is only a small space for letters on the back.

40th Birthday Mug
By
Betty L.

(Baltimore, MD) - January 31, 2011 (
See all reviews by this customer
)
I sent this mug to my niece for her 40th birthday and she liked it very much and put a picture of it on facebook. It said "40 & Fabulous" and I got to put a message of my own on the back of it, which was very personal and will keep for a long time. Thank you Personalization.com for what you do and how you do it so quickly and accurately, which are all added pluses! I will continue to use your services in the future.

mug
By
Kathy S.

(Canada) - August 11, 2010 (
See all reviews by this customer
)
I am soooo impressed with your service. I shop with you all the time. I know can count on you to deliver in a short time, even when I'm late getting it ordered.

Great service and people love their gifts
Thankyou

Great Gift
By
MARY G.

(PHILADELPHIA, PA) - May 31, 2010 (
See all reviews by this customer
)
I purchased this mug as a gift for my niece's 21st birthday. I was quite pleased with the way it turned out.I
only wish that there more choices for a design.I Think the product was well worth the cost and it's something that you will not find in a regular store.

small print small cup
By
Raquel T.

(Whittier, CA) - April 16, 2010 (
See all reviews by this customer
)
I ordered 6 with our girlfriends names on it
I was pleased with the product
my complaints are the print & cups are small
They are hard to read, the print does not stand out
especially the 3 lines in the back.

A unique gift
By
Sandra K.

(Gretna, LA) - March 18, 2010 (
See all reviews by this customer
)
The personalized messages that you allow customers to share on gift items are awesome!!!!!

Another satisfied customer

Cute
By
Tamika M.

(Los Angeles, CA) - January 19, 2010 (
See all reviews by this customer
)
I gave this product 4 stars because the screen print was not as nice as I wanted it to be.

sweet sixteen party invitations personalized pumpkinw
Just wanted to say the quality and service your site entails is wonderful. Could not asked for faster service if I tried. Enjoyed the selection. Will define it as the website where it is not so complicated to use. thank you.

Awesome work.. shipping is fast....
By
Maheshbhai M.

(Chicago, IL) - October 1, 2009 (
See all reviews by this customer
)
I knew the item wud be great.. but dint expect it to come so promptly... :)

nice website...

Just nothing like "personal...ized"
By
Bonnie E.

(Ukiah, CA) - October 1, 2009 (
See all reviews by this customer
)
My niece loved her "special" coffee cup - I've just ordered another doormat as a wedding gift and a personalized travel mug for our pastor.
I love you guys!!