LETTER IN A BOTTLE WAS THE PEFECT GIFT! !
By
Cathie C.

(Cottonwood, CA) - December 26, 2011 (
See all reviews by this customer
)
THIS WAS A GIFT FOR MY HUSBAND, HE LOVED IT. IT IS DIFFERENT AND WILL BE LOVED BY YOUR LOVED ONE.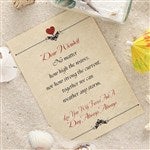 A bottle of LOVE
By
Michael L.

(Norwood, MA) - December 21, 2011 (
See all reviews by this customer
)
I bought this as just a small token of my love. Giving it to my GF, I never expected the response I got. She started to cry after a long day @ work. It was like I gave her a million dollars. She LOVED it!!!!!! I am extremely pleased with the quality and workmanship of the item. Perfect for just about everything.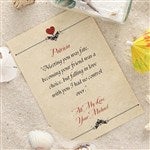 Perfect
By
Shopper

(Wake Village, TX) - December 17, 2011
i bought this for my daughter with a special message. It is perfect and she will absolutely love it!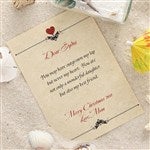 Gift wrapping advise
By
Shopper

(Orlando, FL) - December 2, 2011
I requested to have this gift wrapped, and I did not like that there is a little much marketing all over the gift box, wrapping, and in the bottle. I know the company needs marketing to sell the product and to be fair I would accept some reasonable marketing in the actual bottle.
If you do decide to buy, DEFINITELY DO NOT PAY FOR gift wrapping.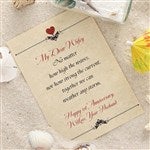 Delayed delivery
By
Shopper

(United Kingdom) - November 5, 2011
The gift was fine but it did not reach on requested date.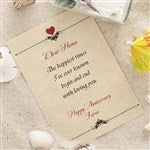 2 yr anniversary gift for my husband
By
Shopper

(Holtwood, PA) - October 14, 2011
My husband and I love going to the beach. Unfortunately we couldnt go this year because we just bought a new house. So I wanted to give him a little taste of the ocean. He loved it! I was a little spectacle about giving it to a man, but it worked perfectly. Thank you so much!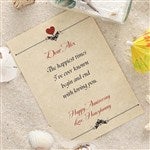 Perfect Gift for Husband
By
Shopper

(Anderson, SC) - September 29, 2011
I gave this as a gift to my husband for our 40th Wedding Anniversary and it was a big hit. It was an unusual way to let him know how much I loved and appreciated him over the years. The personalization made it even more special. Do get this for your Special Someone.....it's the little things that count the most. I also purchased the personalized card to go with it.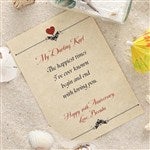 Personalized love letter
By
Shopper

(Elizabeth , IN) - August 12, 2011
Absolutely beautiful! Timely arrival and so beautifully done. Thanks!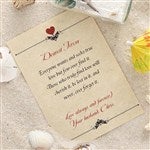 Pleased
By
Shopper

(miami, FL) - August 2, 2011
What you see is what you get. There are no gimmicks here. I was pleased with what i purchase and it was delivered in a timely manner, with no cracks or anything broken. Over all the service is great. : )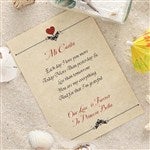 EXCELLENT
By
Shopper

(houston, TX) - August 2, 2011
I WAS SO EXCITED TO SEE THE WORK N WAS SO MUCH HAPPY AFTER SEEING THE WORK BECAUSE THAT GIFT WAS FOR MY LOVE N WAS HAPPY N WILL BE SHOPPG MORE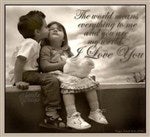 Loved It!
By
Crystal M.

(West Edmeston , NY) - August 2, 2011 (
See all reviews by this customer
)
My husband loved this when I gave it to him for our 2nd anniversary. It is so cute and well put together.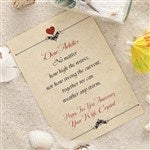 Great and fast
By
Shopper

(Chandler, AZ) - July 25, 2011
I think it was very easy to place the order and it was a good item. It got here in time and it was very reasonable.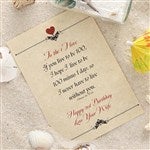 very nice product
By
Shopper

(Alexandria, VA) - June 17, 2011
I got exactly what i expected! A very unique gift. I love it.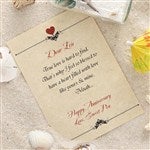 yes yes yes
By
lexy C.

(fairfield, NJ) - June 15, 2011 (
See all reviews by this customer
)
When my boyfriend got this he thought it was super sweet yet not overly feminine. I opted to write my own message, which I enjoyed doing. Very cute presentation and very fast delivery. The value for the price can not be beat. Nice quality paper and beautiful lettering. Strongly recomend!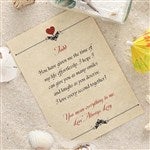 AWSOME!!
By
Shopper

(Bethlehem, PA) - May 18, 2011
I got this as a valentine's day gift for my fiance. I was surprised by how much he loved it. I gave it a special touch and topped it with a tiny stuffed animal monkey. Great gift for a loved one. I highly recommend!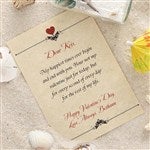 Anniversary gift
By
Brenda D.

(Byron, GA) - April 2, 2011 (
See all reviews by this customer
)
I bought this for my husband for our 2nd anniversary. We had made a promise that we wouldn't do anything extravagant and this was it! We both love Winnie the Pooh and the verse was perfect! I can't imagine living without him.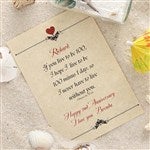 Very romantic & touching gift
By
Shopper

(Dayton, OH) - October 20, 2013
I got this for a very dear friend of mine who means the world to me & who has been through everything with me. When I gave it to him he was truly touched by the letter & how it was personalized. I was very pleased with his reaction! Very happy I bought this item!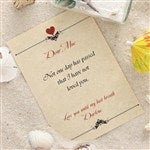 amazing
By
Coraima T.

(Weslaco, TX) - May 10, 2013 (
See all reviews by this customer
)
I loved it, and really fast shipping:)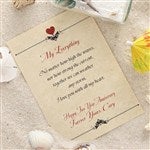 Very Thoughtful
By
Shopper

(Suitland, MD) - April 1, 2013
I bought this for my 3rd anniversary and I must say my husband was very pleased. The only thing I didn't like was the short customizable message. You can choose one of the personal messages but anything has more meaning when put in your own words.

it was wonderful
By
Laura L.

(Plant City, FL) - March 2, 2013 (
See all reviews by this customer
)
very happy with this product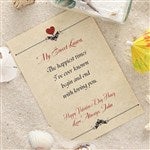 VERY BAD FROM WHAT IT LOOKS
By
Shopper

(Santa Clara, CA) - February 25, 2013
It seems like a really nice one in pictures but the actual one is so small and not great looking.I bought this for my husband for Valentine's day and i thought it was a cool idea to have a love letter in a bottle but it looks very cheap.
I got this on 2/13/2013.
I would not suggest buying this for anyone.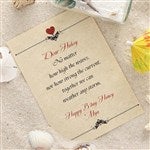 Bottle
By
Shopper

(Spring Valley, CA) - February 24, 2013
Absolutely cheap items in the bottle, crappy plastic tree and the umbrella u find on your japanese dish at a restaurant. The best and only professional part of the gift is the note. ...but not worth $11 + shipping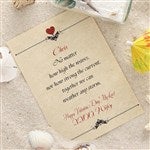 Very Personal gift!
By
Shopper

(Carrollton, GA) - February 24, 2013
My fiance' loved it! I will bve ordering again from you!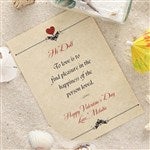 Unique
By
Shopper

(Nashville, TN) - February 21, 2013
Bigger than what I expected. The only thing that I didn't like was the quality of the ink. Ink was light.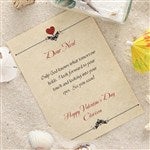 Lovely :)
By
Ebony D.

(Dallas, TX) - February 14, 2013 (
See all reviews by this customer
)
Im in a long distance relationship I sent this to my man and he loved it, he said he's gonna keep it forever. I paid for gift wrapping so of course I was asking if it came neatly & nicely packaged and it did! I do have one usual complaint though: shipping was too fast lol. I paid for the cheapest shipping with hopes it arrive in about 6-7 business days no less than 5. It got to my bf in 3days (about 10 days before the holiday) I had to force him not to pick it up from his campus post office lol. Overall he loved it, so I love it.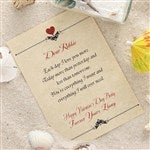 Love the message, not the bottle
By
Shopper

(Ventura , CA) - February 12, 2013
I loved the letter, but the bottle was so cloudy, dusty from the sand so you couldn't see thru to see the cute items inside. It made it loose the magic. I took a Q-tip and tried cleaning the inside so it would be clear but I could only reach the first part. That was disappointing. But the note was nice.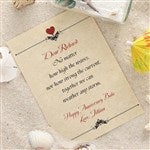 LOVE IT
By
Shopper

(Longdale, OK) - February 8, 2013
my boyfriend love this good quality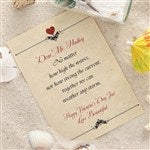 adorable
By
Jayy C.

(New Hyde Park, NY) - February 4, 2013 (
See all reviews by this customer
)
I ordered this as a little "stocking stuffer" for valentines day and I have to admit it is extremely adorable. The note comes stuffed inside the bottle with sand and a little palm treem wrapped up with a ribbon. It's a cute little extra to any gift, I'm glad I ordered it. Also great to use as a card :)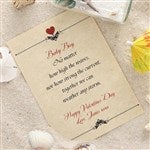 Perfect gift for that someone special :)
By
Ann T.

(Peoria, AZ) - January 29, 2013 (
See all reviews by this customer
)
Loved this message in a bottle gift and so did he!!! Very inexpensive for what you get!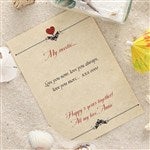 MY HUSBAND LOVED IT
By
Martha L.

(Marietta, GA) - October 23, 2012 (
See all reviews by this customer
)
I got this for my husband on "The Sweetest Day" he loved it and the message was perfect. I love everything I buy from Personalization Mall, and I've bought so many things. All top quality, great place to shop for Christmas or anytime.
Can't say enough good things about them, I always go her first for any gift.
This in particular is for if you've ever gone to the beach and who hasn't.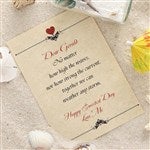 Message in a bottle
By
Angela C.

(Houston, TX) - October 22, 2012 (
See all reviews by this customer
)
This was an awesome product!! It was a perfect item for that 'special someone'! The bottle was a little bigger than I thought it would be and I liked that.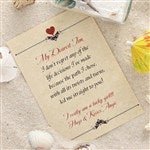 Romantic
By
Crystal F.

(Venice, FL) - October 19, 2012 (
See all reviews by this customer
)
I bought this gift for my boyfriend for our 6 month anniversary, he was very surprised. I love that I was able to personalize the message and names for him. It's very hard to buy for him because he has everything you could imagine so this was a unique gift idea and I didn't have to worry about him already having something similar.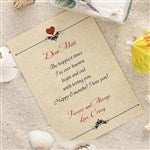 Love this idea
By
Adrian B.

(Milwaukee, WI) - October 15, 2012 (
See all reviews by this customer
)
I ordered my gifts on a wednesday afternoon and my gifts were at my home on Sat morning...Great service I would highly recommend this gift and web site I will shop here more ofter I cant wait to give it to my finacee on Saturday for Sweetest day!!!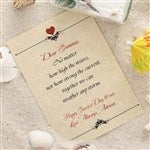 BEYOND SATISFIED!! :]:]:]
By
Ashley M.

(Richardson, TX) - September 22, 2012 (
See all reviews by this customer
)
Wanting to find something unique to give my boyfriend of 2 years as apart of his Birthday Present I was lead to this site. There were so many options to chose from in which I had finally decided on ordering the Personalized Love Letter In A Bottle. The price was good and was not too worried if the product did not meet my expectations. When I received the product, however, I was amazed by how good it turned out!!! My boyfriend LOVED IT and the idea. He grew up near the Dead Sea and I know misses it alot, so I had thought since he is not able to go visit there since we are half way across the world, why not a better way then to "bring the sea to him". Nonetheless, I would definitely order from this site again and trust that the product will be nothing less than perfect!! Thank you!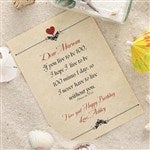 Loved It
By
stella J.

(milwaukee, WI) - September 7, 2012 (
See all reviews by this customer
)
It is cute and I so love it! I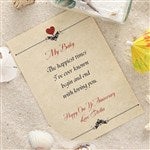 nice gift idea
By
joan C.

(selden, NY) - July 24, 2012 (
See all reviews by this customer
)
This was a nice gift idea. I thought it was a lot smaller in person than it looked in the book, however, it was cute. I would certainly order another. Price wise, I think it could be slightly cheaper than what it is going for because of the size of it.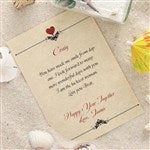 It was perfect
By
Stephanie T.

(Pearland, TX) - July 13, 2012 (
See all reviews by this customer
)
I actually met my boyfriend at the beach, so what better way to give him a one year anniversary gift but a love letter in a bottle. I ALSO recommend the boxers that they have here, theyre too adorable.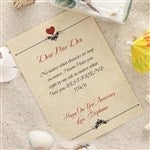 Loved it!!
By
Shopper

(Phillipsburg, NJ) - June 17, 2012
Ordered for 1st anniversary gift for my husband !! He loved it and placed on desk at work! Uniquely personal gift with prompt delivery!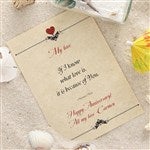 Dont buy the girft box
By
Shopper

(Walnut Creek, CA) - May 16, 2012
I paid extra for a gift box thinking I could use it to give in, its a box advertising the Personalization Mall, I wasted $3. Shipping is very high and they shipped in a huge box for a tiny product. The product was good, I got what I expected for the price. The paper was bent and I didnt like that. Overall OK gift for 1 year anniversary "paper" gift.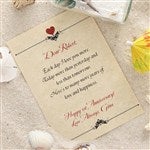 Great Idea but...... Small gift
By
Rocio & Eric C.

(San Diego, CA) - March 19, 2012 (
See all reviews by this customer
)

I bought this gift for my husband on Valentines, specially because he was traveling, when he got it, he laughs because the bottle was to little on his hand, The quality of the paper really was poor to thin, he loooooves the message the print and font was nice easy to read. The umbrella and palm tree was so cheap. The idea for the gift is excellent but needs little more.