EXCEPTIONAL PLAQUE
By
LUCY K.

(NORTH GRAFTON, MA) - July 26, 2013 (
See all reviews by this customer
)
THIS PLAQUE IS JUST LOVELY & MEANINGFUL. EXCELLENT PRICE AND MADE VERY WELL. BEING SLATE, IT WILL LAST FOREVER.

Just beautiful!
By
KATHLEEN R.

(LANSDOWNE, PA) - July 7, 2013 (
See all reviews by this customer
)
I love this immensely ....it is the perfect gift for an Anniversary present. the quality is superb,the engraving easy to read and prominnent,i just love it! i had a little trouble with my order and the customer service rep who helped me was outstanding! She got my product to me in record time. I love this place,not only for the quality unique products but customer service rocks as well. Thank you Personalization Mall...my "go to" store when a unique quality gift is needed.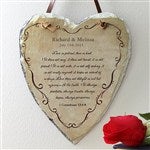 So sweet!
By
Shopper

(Little Elm, TX) - May 9, 2013
I purchased this as a wedding present for my father. They loved it, most of the decor in their room is based off of the Love is Patient verse. It was very nice.

Great Gift!
By
Andrea M.

(Libertyville, IL) - November 26, 2012 (
See all reviews by this customer
)
Our friends are renewing their vows on their 25th wedding anniversary. I thought this would be a perfect gift for them. It came sooner than I expected and I love it! Hope they will too!

Excellent!
By
Shopper

(Joelton, TN) - September 1, 2012
Beautiful real quality, shipped quickly. Will order here again!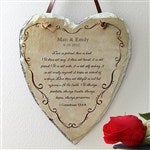 Beautiful
By
Shopper

(McAllen, TX) - July 10, 2012
Perfect size, love that it is slate, great quality.

Heart Slate Plaque
By
Jean A K.

(Huntingdon Valley, PA) - June 15, 2012 (
See all reviews by this customer
)
This plaque is not only beautiful, but is well made, very attractive and reasonably priced. I first saw it at a bridal shower I attended, and just purchased two of them for gifts for other relatives. I know they will be as thrilled with them as I was.

Beautiful Plaqaue
By
Cindy B.

(Springfield, KY) - May 5, 2012 (
See all reviews by this customer
)
Love it!! It was better than I expected! Highly recommend.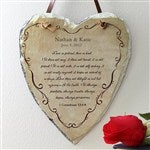 Beautiful Wedding Present
By
Cindy U.

(Descanso, CA) - April 15, 2012 (
See all reviews by this customer
)
I can't wait to give this to my friends for a Wedding present! It is a beautiful verse with their names and date on a stone type heart. It is made really nice too, I think they will hang it with LOVE!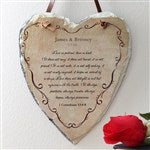 GREAT WEDDING GIFT!
By
Shopper

(Coon Rapids, MN) - March 25, 2012
I was very pleased when I opened the box and saw how well made this is. It is everything I had hoped for. The couple were ECSTATIC to receive this!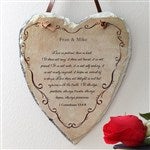 valentines
By
Shopper

(Grand Junction, CO) - February 15, 2012
loved the heart slate plaque. got it for hubby on valentines day and he loved it too. very impressed with quality. everything was exactly how they described. couldn't be happier with purchase.

Lovely gift
By
Shopper

(Hixson, TN) - December 26, 2011
The quality was very high for this plaque. It came exactly as I had thought it would. It was lovely.

most meaning wedding rememberance
By
Shopper

(Plainview, NY) - November 29, 2011
I hunted all over the internet for this prayer in a picture ..nothing was jumping out at me...then i saw this it looked stunning on computer so i ordered it...OMG !!!! when it arrived it took my breath away and tears filled my eyes it is beautiful and i cant wait to give it to my nephew and new niece for christmas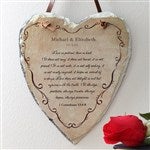 A Special Welcome
By
Jean C.

(Plaistow, NH) - February 26, 2011 (
See all reviews by this customer
)
I purchased two slates,one for my bride-to-be daughter and the other for myself. I'm glad I did. They are very pretty and will look charming in a family room or by the door guests use. They are nicely "distressed" and the personaliation was done well. I'm glad that I got these.

Very nice
By
Heather F.

(Finksburg, MD) - February 15, 2011 (
See all reviews by this customer
)
A Valentine's gift for our home. He loved it! Already hanging on the wall. Great product.

Meaningful symbol
By
Elaine B.

(Twinsburg, OH) - February 12, 2011 (
See all reviews by this customer
)
This item was purchased for a couple that was renewing their wedding vows. I wanted something that was both meaningful and appropriate - their actual wedding anniversay was on Valentine's Day! I was very happy with the overall size and quality of the heart, especially it being slate. The craftmanship regarding the writing and personalization was perfect. I feel this was a very quality product for the price and would recommend this to anyone without hesitation.

Plaque
By
Karen N.

(New Castle, PA) - October 17, 2010 (
See all reviews by this customer
)
This is a nice plaque. It was nicely done and it came in very good condition. It was it a wonderful gift.
Thanks,
Karen


Beautiful!
By
Michelle P.

(Fredericksburg, VA) - June 22, 2010 (
See all reviews by this customer
)

This item is really lovely, a small but beautiful gesture to those whom you love. PersonalizationMall does outstanding work and their product is always of impressive quality. In my opinion, they are the best in their industry.

I've grown so accustomed to using them to bless so many, and they are always rcvd with such surprise and joy.

Keep the outstanding work going. I don't know what i would do w/o PM.com - for real!!

Blessings, Michelle

Love it!
By
MICHAEL D.

(MARTINEZ, GA) - January 20, 2010 (
See all reviews by this customer
)
My wife gave this as a Bridal Shower gift & her friend loved it! We would definitely order this again!

Great Gift Christmas Gift
By
Heidi W.

(Toledo, OH) - January 4, 2010 (
See all reviews by this customer
)
This is a very lovely gift. When we got it it was what we thought it would be( cause we have one kinda like it)It is the right size for our friends. Overall it is a great gift. No fusses no neg to report with this gift. I am planning to come back and get one for my sister later this year.

Wonderful gift
By
Andrea V.

(El Paso, TX) - October 13, 2009 (
See all reviews by this customer
)
This gift is great it can pretty much be given to anyone and put somewhere to match the exsisting home decor. The shipping is a bit pricey but all in all it was a nice gift

Classy and Tasteful
By
Shopper

(North Hollywood, CA) - October 22, 2012
I loved the slate. I am sure the couple will like it too as they are familiar with the verse. The only reason I am not giving it 5 stars is that I do wish it would the slate would have a little larger. This however does not subtract from the slate being TASTEFUL (without being to preachy). Without a doubt a gift I would enjoy receiving.

Great Wedding Present
By
Shopper

(Norfolk, NE) - August 4, 2012
I bought this for a wedding present. I thought it was a great present when the bride was not going to take the groom last name.

An Engagement Gift
By
Shopper

(Eaton Park, FL) - March 11, 2012
I was very pleased with the plaque purchased as a gift for my son and future daughter-in-law's engagement party. The size, color, and quality was very nice. The couple liked it very much. I was also please with the delivery time. I just happened onto the website, but will certainly place future orders.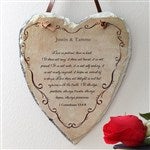 Beautiful Gift
By
Lori L.

(Hawley, PA) - May 11, 2010 (
See all reviews by this customer
)
Absolutely beautiful wedding or bridal shower gift. I added the couple's name and wedding date on the slate - fit perfectly. Only slight disappointment is the size of the piece...I've ordered other slate signs in the past and expected it to be the same size; the Love Is Patient slate is a bit smaller.

Comments on Love Is Patient Heart Plaque
By
Barbara W.

(Ridgely, MD) - November 12, 2009 (
See all reviews by this customer
)
I love the plaque. The only problem is that the last word says "preserves". It should be "perseveres". I wrote a little note to the folks that I am giving it to about the preserves vs. perseveres word. They're love has been preserved for 65 years through their perseverence and love!
Just thought I would bring that to your attention.

ok
By
Shopper

(Holmdel, NJ) - March 31, 2012
Nice weight. it actually is not as authentic as i thought it would be. the front is a shiny. and the printed words (not engraved like i hoped it would be) was not very good. some of them had "shadows" like faint double printed words and in one of the letters, this white spot that covered the bottom of a letter. i wonder if i can get a refund or get it redone more nicely.

but overall...if u just hang it on the wall, its fine. im examining it up close.

Christmas gift
By
Joyce S.

(Saint Albans, NY) - December 8, 2011 (
See all reviews by this customer
)
I bought this plaque for my brother and his wife for Christmas. I did not get to personally see the finished work because it was sent directly to California. My brother and his wife really adored the gift. My sister-in-law was brought to tears when she read the words.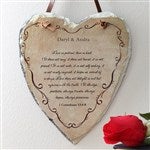 Can you read this?
By
Dolly P.

(Trenton 48183, MI) - November 12, 2009 (
See all reviews by this customer
)
The idea is nice, but the print is so small that you can't tell what it says. Mine also had some kind of white dust on it that would not come off. This is the first time I have been dissapointed in one of their products. I did not give this out as a gift, too embarrassed.I'll have to try and paint over it and keep it.