Product features that I liked.
By
Jackie T.

(Knoxville, TN) - August 17, 2014 (
See all reviews by this customer
)
The card was perfect for my granddaughter's 1st birthday. I loved the ease of personalizing the card. I'll be sure to use Personalization Mall again and again.

Absolutely Priceless
I'm so elated with the complete set up, with your business. You've absolutely won me over and sincerely want to thank the hands that made all of this possible for me. You truly have made your craft, a Top Notch convenience and life saver to our world. I've never been so pleased, appreciative and relieved, all at the same time, ever!! I commend you, highly respect your craft, and honored to have shopped with your store. Thank you again, and God Bless each and everyone of you.

Greeting card
By
Gladys M.

(Paterson, NJ) - March 17, 2014 (
See all reviews by this customer
)
I loved it. What a beautiful card, it was worth the price. Nice quality card.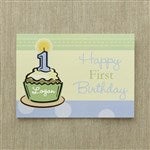 Way better than Hallmark
By
Marianna B.

(Sewell, NJ) - October 4, 2013 (
See all reviews by this customer
)
Card stock is very nice quality; printing came out very nice and love that you can personalize with your own words!

Excellent!
By
Shopper

(Lynn, MA) - April 15, 2013
Perfect for anyone who wants to make their gift-giving talents to be remembered for years to come!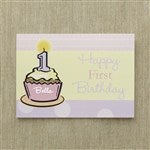 Personalization was a special touch
By
Shopper

(Aurora, CO) - March 17, 2013
Great addition to the gift! They loved it!

Birthday card
By
Twyla B.

(Jamaica, NY) - February 21, 2013 (
See all reviews by this customer
)
Very nicely done, I love it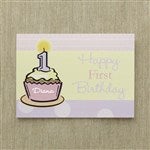 Pretty and Nice
By
Shopper

(Austin, TX) - August 22, 2012
its nice!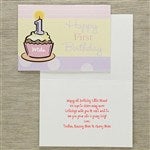 Good quality!
By
Shopper

(Jersey City, NJ) - August 19, 2012
Perfect add-on to any gift!, its well made glossy card stock defiantly a keepsake that can be put in baby book or pending the front of card even framed, love the fact you can personalize it as you wish as well as purchase seperately, well worth the money!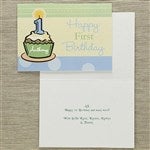 Perfect Personalized Card
By
Lois C.

(Reno, NV) - April 20, 2012 (
See all reviews by this customer
)
This Card is Beautifully made and goes Perfect with the Personalized Outfit.

Loved this for my daughter's First Birthday!!
By
Shopper

(Clinton, IA) - February 25, 2012
It was just what I needed to go with my daughter's presents for her First Birthday! I LOVE cards and this one will for sure be going in her baby book! :)

Very cute!
By
Sandra T.

(Canada) - December 20, 2011 (
See all reviews by this customer
)
A nice though, love it!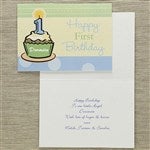 1st Birthday Momento
By
Shopper

(Wheaton, IL) - September 9, 2011
I ordered this personalized 1st Birthday card for my grandson's 1st Birthday. I was extremely impressed with the quality of the paper used & the overall look of the card. The price was competitive with any general card purchased at the store so to have it personalized for that special occasion and his name appearing on it sure made it worth it! My daughter is using it as a keepsake in his baby book. I highly recommend this product!

Very cute and personal
By
Shopper

(Gilbert, SC) - June 23, 2011
No hassel, Saves time to purchase card with a gift!

Beautiful Card
By
jolene V.

(pinon hills, CA) - February 4, 2011 (
See all reviews by this customer
)
I wanted a special 1st birthday card for my very special Grandson..and this card was it! It was very well made and the design was great! My daughter in law went on and on about how great it was!

Cute 1st birthday card!
By
Patti S.

(Owasso, OK) - October 28, 2010 (
See all reviews by this customer
)
Perfect for what I needed.

personlised birthday card
By
Krystine B.

(Clearwater, FL) - August 25, 2010 (
See all reviews by this customer
)
Thank you so much the card its lovely..Just what i wanted . I shall certainly be using your services in the future..the delivery was fast..and i am very pleased Krystine b

Sweet!
By Shopper (La Jolla, CA) - May 4, 2014
It's a sweet addition to the gift! A little pricey for a card though!!

Birthday card
By
Shopper

(Canada) - October 30, 2011
Very convenient to have a card sent with the gift, but I wish they allowed more lines of text. Sometimes it seems to squished.