Fathers Day family calendar
By
Jill H.

(Rio Hondo, TX) - June 18, 2012 (
See all reviews by this customer
)
Absolutely loved it. My dad said it was the best present he could have been given. It's something he shows to all of his friends. I'm pretty elememtary at the compluter, but it was even simple for me to construct. Want to do it again for others. Very reasonably priced.

Perfect Birthday card!
By
Shopper

(Oro Valley, AZ) - January 28, 2012
Sent this along with a tie I bought my father for his Birthday. He was as happy as could be with getting his personalized card with a picture of his favorite grandson!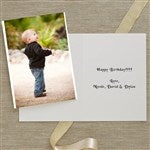 Awesome job
By
Kimberly M.

(Sacramento, CA) - January 5, 2012 (
See all reviews by this customer
)
I was amazed at the look my sister had on her face when she opened the card and gift that I had personalized through your site. It made both of us feel great. I enjoyed the ease at which i was able to create my card and the options you had for me to choose from. I was also very pleased with the price. My sister asked if I had spent too much money on her and I was happy to say that I didn't. With money being tight these days, it really made me feel good that I could afford something that looked as if I had spent a lot on. Keep up the good work! I WILL be back.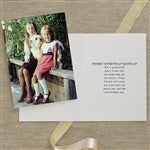 EVERYONE LOVES THESE CARDS :)
By
Shopper

(Ponsford, MN) - November 6, 2011
I always order these personalized cards. I can say what I want, pick a font, and ink color. Everyone is so touched when they receive one of these personalized cards. I get many, many compliments ... often more than the gift! Last time I used the insert a photo option and produced a fabulous card that the recipient placed in a frame! These cards are a great price, professional looking, and extremely touching to whomever you're giving it too. Take a little time and create your own card and enjoy the overwhelming compliments for your efforts. Always a good idea to include a card with your order. It's there with no running to the store for a more expensive run-of-the-mill card. You'll shine when you hand over one of these lovely cards. The envelopes are nice too.

Oldies birthday card
By
Madelaine D. H.

(Hope Mills, NC) - October 9, 2011 (
See all reviews by this customer
)
The friend I made this for had a brother that just passed away. I chose an old photo of her and her brother together. She cried and cried over this card and told me over and over again how amazing and how beautiful it was. She has shown everyone and is planning to frame it. Although she liked my gift, this card way surpassed the gift. Very, very well done. I appreciate it.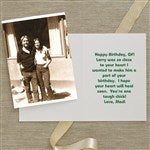 The Perfect Card!
By
Shopper

(Adelphi, MD) - October 6, 2011
I gave my boyfriend this card for his birthday and he was very surprised and happy. The quality of the picture is excellent and it makes a very special gift!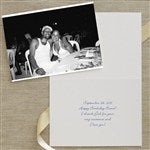 Qualitative work
By
Shopper

(Ann Arbor, MI) - September 19, 2011
Love the quality of the personilized b-day cards. The shipping price is a different story, though. It would cost under $1 to ship two cards and I was charged many more!

Great
By
Shopper

(Astoria, NY) - April 3, 2011
this is better than hallmark. ahhh. love it .perfect coloring and the fact that the let you choose
the color of the writing. yes

A card for tata~
By
Erika L.

(Glenview , IL) - February 28, 2011 (
See all reviews by this customer
)
This card was sooooo cute! I loved it!!! I only wish I had a little more room to write, other than that it was perfect!

Perfect birthday card
By
Mai K.

(Louisville, OH) - January 13, 2011 (
See all reviews by this customer
)
I got this card for my lovely cousin's 1st birthday. Everybody loves it. This card made my birthday gift for her very special. The photo came out great. Love to do business with PM.com

Excellent Photo Quality
By
Robert P.

(Methuen, MA) - November 1, 2010 (
See all reviews by this customer
)
Both the delivery and quality exceeded my expections. The card was on nice stock and the quality of the print (both photo and wording inside was very good.

I would purchase it again in the future.

Thanks

Why buy a cheap Walgreens card? Buy this instead!
By
Julie A.

(Chicago, IL) - October 6, 2010 (
See all reviews by this customer
)
With cards in the stores costing $3-5 today anyways, why not spend that same amount on something personalized! You can choose the wording, font style, and ink color. Great product, service, and quality!

Birthday Bag surprise
By
Robert L.

(Las Vegas, NV) - September 3, 2010 (
See all reviews by this customer
)
My Mom lives in a small, upscale mobile home park for seniors and has very limited space to have 78 years worth of gifts laying around. I was excited when I saw this personalized tote. She received it two days before her birthday as planned and was very excited to show it off to her friends at bible study. Perfect size for school books, too!

Frosting on the cake!
By
Linda R.

(Jonesboro, GA) - August 20, 2010 (
See all reviews by this customer
)
This card was in with my 1st time-to-order gift and they said it was the "frosting on the cake" with such a high quality stock and perfect photo. Thanks PMall for such a great setup!

The best card I've ever given!
By
Donna L.

(Williamsburg, KY) - August 18, 2010 (
See all reviews by this customer
)
I love how everything about this card is personalized you get to pick the picture, the font, the font color, the text, everything. You absolutely couldn't ask for more. And the price is awesome you can totally personalize this card exactly how you want it while paying less than you would anywhere else and end up with 1/4 of the product.

Laughter Through Tears; Our Favorite Emotion!
By
Linda R.

(Wichita Falls, TX) - August 13, 2010 (
See all reviews by this customer
)
I sent the card to my sister, Kaye, for her birthday; it was a picture of the two of us (me about 5, Kaye about 4) approx Easter 1960. We wore identical lilac dresses trimmed white lace that our Mama had made for us, lace-trimmed socks, & white patent Mary-Jane shoes. People always said we were like peas in a pod; Mama loved to dress us up like twins, even though we weren't! Anyway, Kaye didn't have a copy of that particular picture; I did because Mama had given me a bunch of old pictures to have a collage made for their 50th anniversary. When Kaye got it, she called to thank me, & she was laughing & crying over that picture, she was so happy! It was great!!! Thanks!

great service!
By
Bilsevi Elif S.

(Los Angeles, CA) - May 14, 2010 (
See all reviews by this customer
)
even though the picture's resolution I've uploaded wasn't so high to print, it's come out perfect! the quality of the card is great, too! thx

picture card
By
Kathryn P.

(Swoyersville, PA) - April 26, 2010 (
See all reviews by this customer
)
My best friend loved this card. It was a great inexpensive way to express what I wanted to say to her and yet it's a card she will keep.

Beautiful
By
IFEYINWA I.

(NEW YORK, NY) - March 15, 2010 (
See all reviews by this customer
)
I thought this card was excellent for the price and quality. I would certainly use personalization mall again

loved it!
By
Cherryl T.

(Temecula, CA) - March 8, 2010 (
See all reviews by this customer
)
a card you can personalize? brilliant! and they let you preview it over and over again so you kno its the perfect card. i was very satisfied . again =D

So fast & easy
By
Pamela F.

(San Augustine, TX) - January 23, 2010 (
See all reviews by this customer
)
It only took seconds to upload picture.

Awesome choice!
By
Naphtalia H.

(Arvada, CO) - January 14, 2010 (
See all reviews by this customer
)
I was sending my mother in law her Birthday present (personalized towels), but the one that she loves the most is actually our family photo on her Greeting card! Thanks for the choice and affordable price that you offer for personalized greeting cards. Personalizationmall.com has made my gift ordering easy, without leaving my home! Having three toddlers, that is a BIG plus.. I'm sure I'll order more products from you. Thanks again.

VERY GOOD!!
is so cute very nice products!!!!!!!!!!

review for personalized greeting card
By
Prerna K.

(San Diego, CA) - August 30, 2010 (
See all reviews by this customer
)
First of all, thanks to personalization mall for making our work so easy. It was so easier to order for the same card on the website. Moreover, I loved the print of the photo. It is really a nice gift as a greeting to give someone on any occasion.

i loved my finished product BUT....
By
Shopper

(Chicago , IL) - April 1, 2013
i tried and tried to put the original photo on the car for my girlfriend.
For some reason it wouldn't allow it was same size as the other photo and same jpeg
it frustrated me enough where i almost cancelled my order cause i have to retake a different and one i didn't like as much as the original and use my 2nd option which wasn't a picture of my girlfriend and i like i originally tried. i am please with the outcome either way and will order more.