Exceeded my best expectation.
By
Shopper

(Amsterdam, NY) - September 23, 2013
The product is BEAUTIFUL. I couldn't be more pleased. It's an anniversary gift so my wife hasn't seen it yet but I'm positive she will be even more pleased. To have anything like this produced locally would probably have taken weeks but Personalization Mall had it in my mailbox in only a few days. I will be back & that's for sure!

Great Wedding Keepsake
By
Debra W.

(Chickasha, OK) - July 8, 2013 (
See all reviews by this customer
)
I purchased this as a wedding keepsake. It is BEAUTIFUL! This is something the new couple can cherish forever. The quality is superb! Would look beautiful on a fireplace mantel, or anywhere really. But in a window sill, it looks exceptionally beautiful with some sunlight shinning through the back. Does not look cheaply made.
This is the second one of these I've ordered for a wedding couple and they LOVE it. I put the date of their wedding on it, so no excuses for forgetting an anniversary!
I love ordering from Personalization Mall and I always receive my orders faster than anticipated.
I highly recommend this for various occasions since you can create your own sentiment.

"Love"
By
James B.

(Jackson, TN) - December 15, 2012 (
See all reviews by this customer
)
Very nicely done and was well received. Thanks for the quick turn around.

Loving Heart Sculpture
By
Shopper

(Amarillo, TX) - September 7, 2012
My wife nearly hugged me, too much! She loves it!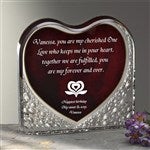 Perfect
By Shopper (Seattle, WA) - August 16, 2012
This was my first purchase, and I have to say I am amazed. I like the idea that engraving is included in all products, no extra cost, and its like no other. This piece is remarkable. It gives you the opportunity to write more than just a sentence or two. I wrote a poem for my birthday of 5 1/2 years and he asked that I frame the poem because he loved it so much. So, instead of going out and buying the pieces to frame it, I thought of coming here. I am fully satisfied with my product. It's not too heavy nor too light. It was done just right. Also, I asked for it to be gift wrapped, and it was beautifully wrapped. I also like that it was shipped the next day of my order and got it two days later. I will most definitely be buying more gifts from here. I totally recommend.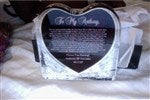 Excellent
I found this sight about 2 months ago and love it. I have order items for may family memeber and they all have love them.

Very well designed
By
G.G. A.

(HEALY, KS) - June 9, 2012 (
See all reviews by this customer
)
I will shop here again

love
By
mahmoud M.

(Canada) - February 22, 2012 (
See all reviews by this customer
)
my girlfriend loved it!!!!!!!!!!!!!!!!!!!!

Beautiful
By
Shopper

(cobleskill, NY) - February 21, 2012
My order was perfect! it was beautiful and exactally what I expected!!!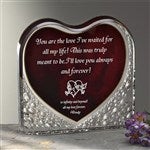 Best "card" ever!
By
Shopper

(Winslow, ME) - February 13, 2012
This gorgeous heart was dedicated to my mother-in-law for her 90th birthday as a permanent keepsake card. The dark red heart makes the sharp lettering stand out even more, and really makes this sculpture pop! It's just the right size, too. She was so thrilled! And I appreciated the ability to completely personalize such a lovely gift. Thank you!

Excellent Purchase
I wanted to give my girl gifts until Valentines Day, I purchase this and sent it to her and she loved it!! I recommend buying this for your girl.

Great gift
By
Shopper

(rochester, NY) - August 23, 2011
The quality is great and I got it in the mail a lot faster than I excepted. The gift is beautiful and I'm sure my parents will love it. I will be ordering more.

Perfect!!
By
Shopper

(Souderton, PA) - March 1, 2011
Amazing! I did my own costum writing on it as a valentines gift, and my girlfriend almost cried! Thank you PersonalizationMall!

She Loved it!!!!!
By
Shopper

(Uxbridge, MA) - February 28, 2011
I wanted something that would show her how much I loved her, so I gave her this stunning keepsake for her birthday. She teared up

Great Valentines gift idea
By
Joe B.

(Danvers, IL) - February 17, 2011 (
See all reviews by this customer
)
the product shipped out fast and was delivered within a couple days of placing the order. I was originally a little concerned what the end product would look like (since this is actually a pretty cheap price for something like this). That is not the case at all. The end product looks wonderful, my Fiance loved it. I would recommend this company and product to anyone.

Flawless
By
Shopper

(Stoughton, WI) - February 7, 2011
This product is great. I did not think it would look as good as it did. Great quality and fast shipping. Definitely a wonderful buy.

Every Day Reminder
By
Cynthia D.

(Lexington, KY) - February 1, 2011 (
See all reviews by this customer
)
Very detailed, beautiful craftsmanship.

Very high quality and beautiful!
By
John L.

(Durham, NC) - November 11, 2010 (
See all reviews by this customer
)
This Loving Heart sculpture is very well designed and executed! I particularly appreciate the ability to personalize the sentiment that is "printed" on the sculpture. Very high quality and well done!

WOW!!!
By
Laura Jeanne B.

(Rego Park, NY) - July 9, 2010 (
See all reviews by this customer
)
I was really impressed to see this item in person. The lettering is beautiful. I am sure my Mom will cherish this. Her 90th birthday is July 21, and I will give it to her then. You guys really outdid yourselves!!!

The gift was great
By
DAVE M.

(CAMERON PARK, CA) - June 15, 2010 (
See all reviews by this customer
)
we've been married for 30 years and she said this gift was the most personal one I have ever given her.
She teared up big time.
Thanks for everything.
will definitly use your site again.

Loving Heart Personalized Sculpture
By
Timothy T.

(Alexandria, VA) - March 10, 2010 (
See all reviews by this customer
)
This was the first item I have ordered from PersonalizationMall.com, but it definitely will not be the last. I was impressed by the quality look and feel of the item, and amazed by how quickly I received it. The item had a nice heft to it, and the red color was rich and deep. The laser engraving was clear, with smooth lines and curves and no "jaggies". The item looked even better in person than it did in the preview, and all who have seen it have been impressed.

Wonderful Piece!!
By
Glen C.

(Greeley, CO) - February 22, 2010 (
See all reviews by this customer
)
The heart is a beautiful decoration that is heavy enough to be a paperweight, yet nice enough to compare with a picture frame to look at everyday. The personalization fit perfectly on the heart, and the wood grain showed through. The creation and shipping combined, was the fastest order and delivery I have ever made online!

Review of lovng heart personalized sculpture
By
teresa S.

(Bellefontaine , OH) - February 17, 2010 (
See all reviews by this customer
)
This item was just perfect for my husband. It is our 4th anniversary and he loved it.

Personalized Heart
By
Leroy L.

(Live Oak , FL) - February 14, 2010 (
See all reviews by this customer
)
very nice glass heart

Great
By
Clancy B.

(Columbus, OH) - February 11, 2010 (
See all reviews by this customer
)
The product was as expected and to my satisfaction. Already told all my family &friends about it. THANKS

Very Cute Item
By
Mallory K.

(Clinton, NJ) - February 7, 2012 (
See all reviews by this customer
)
Item is very nicely made and is adorible for a valentines or anniversary gift!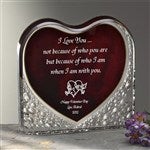 Quite pleased
By
James H.

(Estherville, IA) - February 12, 2011 (
See all reviews by this customer
)
I really wanted to do something special for my girlfriend Shelby this year for Valentines Day and I stumbled upon this site. I looked around and finally found this item. I was a little nervous about ordering it after I read some poor reviews about this site but I thought I would give it a try. After finalizing my order, I received my order in the mail 4 days later. The quality was quite nice and my girlfriend absolutely loves it. I will definitely order from here again for other special occasions.

it was ok but not as nice as i thought
By
Shopper

(Glen Allen, VA) - February 19, 2011
I should have realized that it wasn't made of glass and just a light plastic so it was very light. the engraving was very nice but the heart is placed on the back of the item and not the front so that made it a little off to me and not as nice as it could have been.