I love everything I have ordered
By
Ginny F.

(Taunton, MA) - November 29, 2009 (
See all reviews by this customer
)
This is my 5th time ordering stuff and I love everything I have ordered. I wasn't sure of the size of the pocketbook when I ordered it, but was happy with the size and quality.

Great!
By
Kathleen A. H.

(Norwalk, OH) - November 25, 2009 (
See all reviews by this customer
)
The little purse and coin purse are just lovely. I bought them for my small grand daughter. They arrived in less than a week, and are just as advertised. The only half a complaint I have, is the shipping package was on the flimsy side.

Very Sweet & Girly!
By
Valerie S.

(Longview, WA) - November 18, 2009 (
See all reviews by this customer
)
Got this purse for our niece for her 5th birthday. It is adorable! It is made very well plus it has an inside zipper pocket, and the coin purse is great. They are both just the right size. We will fill it with lipgloss and coin money and maybe a pretty pencil or hair clip and then give it to her. I am sure she will LOVE it!

Nice gift for little girls.
By
Shopper

(Olympia, WA) - August 12, 2014
I bought this purse for my niece. She seem to love it because it had her name on it of course. I liked it because of the wonderful bright colors. Seems like it was made well, with a kinda of quilted feel to it. I felt that you should not show the coin purse with it because it is not part of the offer or even available to order. I felt with the price of purse, coin purse should of been available too.

Cute But Smaller Than I Thought
By
Shopper

(Cookeville, TN) - March 21, 2014
Received the purse in record time and pleased about that, but a little surprised about how small it was. I wasn't expecting much bigger but obviously I did not read dimensions. Not that big a deal, mostly had hoped strap would be a little longer. But this still makes a nice gift for my 4 year old grandaughter.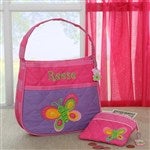 mongrammed purses
By
Chatagnier A.

(Kerrville, TX) - June 3, 2013 (
See all reviews by this customer
)
adorable purses I know my granddaughters will love them! Very well made too!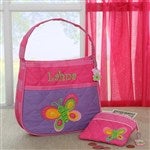 Very pleased
By
Debbie B.

(Edna, TX) - March 19, 2013 (
See all reviews by this customer
)
I ordered this purse for my 3 1/2 year old niece for Easter.
Her mother loves it and told me it is really cute and that
Pleases me.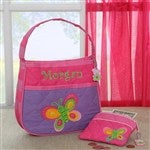 Cute
By
Shopper

(LEVITTOWN, PA) - March 9, 2013
This is very cute. But smaller then expected.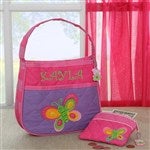 Good gift, but ship to yourself first!
By
Shopper

(Long Island City, NY) - May 7, 2012
This bag is really cute and my 4year goddaughter loved it!! Great job on the personalization too!! Only issue is that it had some random threads sticking out the stitching in one place was questionable. Luckily I shipped to myself so I was able to snip the threads off before wrapping it up and giving it as a gift. She's 4...she wouldn't have noticed...but I still don't want to give something that appears low quality

Very cute
By
Shopper

(Milton, DE) - February 5, 2011
Adorable for children - purse is small and ideally suited to a 5-6 year old.

Smaller than I thought
By
Deborah M.

(Boothwyn, PA) - November 17, 2010 (
See all reviews by this customer
)
Bought this for a gift for my niece and my daughter. The purse is adorable,I know the girls will love it, and hte personalization adds a special touch. However, it was smaller than I expected. I kept waiting for a box to come but it actually shipped in an envelope and fit in my mailbox. It will still be a hit but I don't know if I would spend the money again on it given the size.

Really cute
By
Pamela M.

(Amherst, NH) - March 19, 2010 (
See all reviews by this customer
)
I ordered this for a friend's daughter who just turned 4 years old. She thought it was adorable. Its a bit smaller than I expected but its perfect for a young girl. It shipped very quickly.

Embroidered Butterfly Purse
By
Elaine P.

(Chester, VA) - March 17, 2010 (
See all reviews by this customer
)
Nice, but I thought it would have been larger.

Very Cute Girl Gift
By
RACHEL B.

(HATBORO, PA) - January 20, 2010 (
See all reviews by this customer
)
I ordered this for three year old birthday. She loved it. It was very cute and the personalized name on it made the purse adorable. The only reason this got a four and not a five the purse itself had some threading come out.

wasnt to happy with my order
By
Lois J.

(Jeannette, PA) - April 15, 2014 (
See all reviews by this customer
)
when I order this product I believed that it came with the change purse .as it shows on the page and it don't say differently. its a cute purse but for the price it should include a change and it shows on the page as if it would .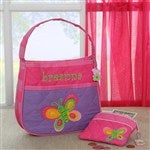 Nice but not worth the money!
By
Shopper

(West Linn, OR) - March 24, 2013
These are very cute and well made but not worth the money. If they were a little cheaper I would give it 5 stars. They are a little small too so make sure you check the measurements. I think you could buy a little girls purse for pretty cheap and buy some iron on letters and get a similar look for way cheaper.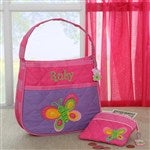 Quality not great
By
Nancy S.

(Chatham, NJ) - April 16, 2012 (
See all reviews by this customer
)
I purchased this for a friend's 3 year old daughter as a birthday gift and was a bit disappointed by the quality. There were several areas where the stitching was coming apart and if I wasn't in a time pinch would have purchased something different to give to her. The quality of the personalization was good and she seemed pleased enough with the gift - which is why I am giving it 3 stars.

Size Does Matter
By
Nita C.

(Euclid, OH) - December 26, 2011 (
See all reviews by this customer
)
I was so disappointed with the size. I thought the picture was very misleading. It appears to be fine otherwise. I had to purchase another gift for the child because it was so small. You can hardly put anything inside!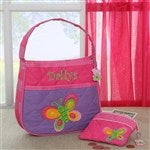 cute
By
Shopper

(Reidsville, GA) - July 13, 2011
I thought this purse was very cute...a little small for the price but cute!!!

Disappointed!
By
terri H.

(lake villa, IL) - December 14, 2010 (
See all reviews by this customer
)
Product is very cute, but very tiny. I was very surprised that for a total of $30 how small this was. Had to purchase another gift so it didn't look like I was cheap.

Quality of the purchase looks very good though.

does NOT include pictured wallet!!
By
Shopper

(Ramsey, NJ) - April 9, 2013
I purchased this item a while back when it came with the wallet. My daughter loves putting her play money in the wallet. Well, I decided to order 2 more for upcoming birthdays. I had already purchased play money to go along with the gift. When the items arrived, I was surprised to see that the wallets were missing. Well, I called and was told to read the fine print. They are no longer including the wallet. Since I had already ordered this item, I didn't read the description!! Purse is cute, but it does NOT come with the wallet, and I think it is overpriced for just a purse alone.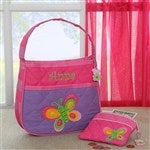 READ THE FINE PRINT
By
Shopper

(Indian Land, SC) - October 7, 2012
We ordered this for our daughter for her birthday. We were happy with the purse and how fast it arrived, but it did not include the matching wallet that is pictured and was stated as included on their website. A day after getting the purse in the mail, we went back to PM's website and they had already updated the listing to say that the purse is no longer included as it is out of stock. We would have appreciated advanced notice, but don't feel like being bothered to call and complain.