Fun Key Ring!
By
Carolyn B.

(Dewitt, MI) - April 15, 2010 (
See all reviews by this customer
)
This is absolutely adorable. Large enough to find in your purse or flat enough to fit in a man's pocket. Faces and names came out perfect! Very neat gift item, too.

Great Mother's Day Gift!
By
Virginia M.

(Lanexa, VA) - April 1, 2010 (
See all reviews by this customer
)
I ordered all 3 of my daughters this keychain for one of their mother's day gifts. I loved the quality of the keychains! I also loved that they included the pets as part of the family! I highly recommend this item to anyone who wants to give something special as a gift or just treat yourself!

Appearance
By
Shopper

(Elmira, NY) - February 10, 2014
The key chain is good quality. I was a little disappointed because since I had only three characters, the images were very small. I would have preferred they scale the size of images depending on how many characters are being displayed.

Nice
By
Shopper

(Pittsburg, TX) - March 9, 2013
The white dog doesn't show up too well. Since we only had four characters to put on it left the center looiling empty. It would be nice to have other character options to fill empty areas like a little house of initial

Great Gift
By
Shopper

(Anderson, SC) - February 16, 2013
Cute keychain, names a little smaller than expected, butice ideas!

Very Cute
By
Shopper

(Butler, PA) - May 19, 2012
Was a little smaller then expected, but never the less, Very cute!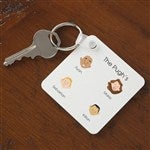 Cute
By
Shopper

(Alexandria, VA) - February 17, 2012
The item is in good quality, definitely what you paid for. I wish it was a little bit smaller, not the pictures, but the width of the key chain, it's kind of clunky. But my fiance loves it and that's all that matters to me.

A very cute keychain for "Mom's taxi"
By
Shopper

(San Francisco, CA) - November 21, 2011
I liked this, so I am hoping the recipient will too! The faces come out a little small on the square - I only wanted three, so perhaps it looks more balanced with 5, but I can't force my friend to have more children on that account. I think it is good value for money for something which is personalised in such a cute way.

Concerned
I love it!!!! It is a wonderful gift idea, any mom would love this............I wanted to purchase a keychain for myself and some friends, but I didn't see any Afro American Family images. :(

Kids Key Ring
By
Liz A.

(Bloomington, IL) - May 6, 2010 (
See all reviews by this customer
)
I ordered this for a Father's day gift and I think it is a cute idea but the quality is not all that great...

unwanted sticker
By
Amy N.

(New Castle, PA) - April 20, 2010 (
See all reviews by this customer
)
First, I liked the look of this key chain for my father-in-law. It was not fancy and it was just the right size. When I received it, the only thing I did not like was the huge PERSONALIZED MALL sticker on the whole other side of the little square. A small sticker is OK, but this was too large and obnoxious looking for my taste.

Not that Great
By
Shopper

(Farmington, NM) - March 4, 2012
This key chain is clunky & the pictures are so small, you can't really enjoy them. I ended up putting it in a drawer. :(

where's my dog?
By
chrysoula R.

(chicago, IL) - June 21, 2011 (
See all reviews by this customer
)
key ring was a good idea. i have mommy, daughter, son, cat and white dog, but unable to see white dog (because the background is white) so all you see are 2 black eyes and a black nose. i would have like for the dog to be outlined maybe. in the picture below you can see a little bit of an outline, but the one i have all you see are three black dots.