As beautiful as the picture
By
Shopper

(Dallas, OR) - July 17, 2011
Very pleased with excellent quality of vase. Engraving is beautiful and exactly what I ordered. Received timely too.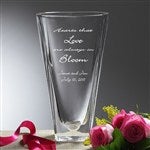 My friends loved it.
By
Nancy T.

(Finksburg, MD) - June 18, 2011 (
See all reviews by this customer
)
Got this for a 3rd anniversary gift for friends we had not seen in awhile. We missed the wedding so wanted something special. This was it. My friends loved it,said it was beautiful.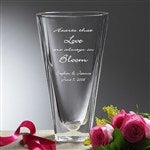 gorgeous!
By
Meghan M.

(cincinnati, OH) - May 18, 2011 (
See all reviews by this customer
)
This vase is more beautiful in person than in the picture! Very heavy, sturdy, solid glass with beautiful carved lines on the sides to make the detail really stand out. It was packaged very carefully in a box with tons of bubble wrap, and then put in another box on top of that --- no chance of it breaking while being shipped! The personalization was done beautifully also! I would def. purchase this gift again!! Thanks personalization!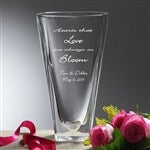 Wedding Vase
By
Ann Marie S.

(Portland, OR) - September 28, 2013 (
See all reviews by this customer
)
It was exactly monogrammed and the quality was what I expected. Very nice.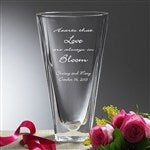 Excellent Wedding gift.
By
Debby M.

(Secaucus, NJ) - September 29, 2012 (
See all reviews by this customer
)
The vase is BEAUTIFUL!! Trust me, its alot nicer than what is shown in the picture. First of all, the weight of this thing is incredible. I can't believe how heavy it is. You need two hands to lift this vase up. Next, the design of the "folds" on each side of the vase attract the sunlight making it reflect the light in an array of pretty prisms. Even before you put flowers in this, it looks like a georgeous art piece. The engraving is beautiful. For the quality of this product, the price was extremely reasonable. . You certainely will not be disappointed with this purchase. It makes a beautiful shower, wedding or anniversary gift.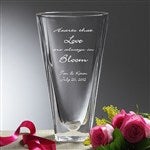 Beautiful Wedding Gift
By
robert P.

(pasadena, MD) - August 9, 2012 (
See all reviews by this customer
)
The Love in Bloom Crystal Vase is really very beautiful. It will make a lovely wedding present for two dear friends. I am sure they will treasure this vase for many years.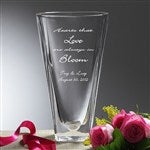 BEAUTIFUL
By
Mary Ann S.

(Verona, PA) - August 2, 2012 (
See all reviews by this customer
)
Iordered this vase for a Bridal Shower and when it arrived it was even prettier than I anticipated. It looks like I paid alot of money for it. I can't wait to see the brides face when she opens it. I will tell everyone where it came from.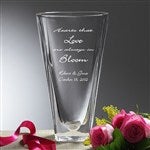 Absolutely Beautiful!
By
Selena Z.

(White Plains, MD) - March 26, 2012 (
See all reviews by this customer
)
I suggested my office order this for our supervisor who was getting married. I ordered it on a Tuesday evening and it arrived Friday. The vase is heavy and very expensive-looking. It turned out to be much bigger than I thought it would be. Everyone was very impressed and proud to present this to our supervisor.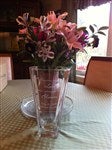 Vase
By
Shopper

(Irvine, CA) - September 26, 2011
Quality vase! Looks even more beautiful in person!

My Wedding
By
Julia F.

(Atlantic Beach , FL) - February 1, 2010 (
See all reviews by this customer
)
Vase is GORGEOUS, I love it!!! This vase will be perfect for my ROSE CEREMONY AT MY WEDDING IN APRIL AND MY ANNIVERSARIES....

Amazing!
By
Nathan W.

(Omaha, NE) - February 1, 2010 (
See all reviews by this customer
)
Vase is a great buy for the money! It is a must for that special someone! It is made out of great heavy material and feels like its worth a ton more than what I paid for it! Also, got to love the free personalization!

Love in Bloom
By
Judith B.

(Chicago, IL) - December 17, 2010 (
See all reviews by this customer
)
This vase exceeded expectations. The weight and quality are very nice. Time of delivery was very fast. I only wish there was a little more flexibility with some additional engraving. All in all, very satisfied.

Nice engraving, terrible vase
By
Shopper

(Ticonderoga, NY) - February 17, 2011
My girlfriend hated this ugly vase. It weighs about 10 pounds, and looks much more like a rose bowl trophy than a beautiful vase. There is no place that could display this thing, and we wrapped it up and stuffed it in a closet. She said things like "I love the idea" to try to make it ok but this thing is heinous. The engraving portion looked good if it were on something different.

right on time
By
DAN R.

(AMERICAN FORK, UT) - April 5, 2010 (
See all reviews by this customer
)
I was looking for something, not quite off the shelf, to give to a very special person. I found it had it personalized and it was shipped and received right on time. I was given great credit for finding something very special.
Thank You.

r
By
Katherine M.

(New Hyde Park, NY) - August 13, 2010 (
See all reviews by this customer
)
It is a great gift, more than what I expected from the on line shopping for gifts. I received it very fast too !

Wedding gift
By
Shopper

(Mechanicsville, VA) - February 5, 2011
Vase and engraving are beautiful. I was impressed with the care that was put into packaging the product. The vase arrived very quickly and I'm sure the newlyweds will love it.

Beautiful Vase!
By
Shopper

(Everett, WA) - October 9, 2011
I had this vase engraved at the bottom and it is absolutely gorgeous! The vase is large and high quality glass. The engraving/etching didn't look "cheap". I was very pleased!

Recipients loved it!
By
Shopper

(Pittsburgh, PA) - December 14, 2011
This was a gift for my mother-in-law and her new husband, and she gushed about how pretty it is and how beautifully it reflects the light. She was very touched.

Wedding Gift
By
Shopper

(Plum, PA) - March 25, 2012
This gift is lovely! Solid and sturdy vase, beautifully engraved. Can't wait to give as a wedding gift!

love in bloom engraved crystal vase
By
Marsha S.

(Quincy, IL) - July 21, 2013 (
See all reviews by this customer
)
The vase is beautiful, a great gift. Excellent customer service. I would gladly recommend this company.

Love in Bloom Vase
By
Eric Y.

(Marion, SC) - February 21, 2011 (
See all reviews by this customer
)
Beautiful piece with quick delivery

Wonderful Gift, Wonderful Service
By
Shopper

(Chula Vista, CA) - July 22, 2013
I recently ordered this as a keepsake gift for my son's wedding. I received it in less than five days and it's beautiful. It's a nice big vase that will easily hold a large bouquet of flowers. The engraving was perfect. I'm very happy they used a lot of packing when they shipped it - the carrier must have dropped it at some point; it was delivered with a crushed corner. Fortunately the vase was not damaged at all. I've used Personalization Mall several times and have always been impressed with the quality of the items and the quick, efficient shipping.

Wedding gift
By
Marion L.

(East Bethel, MN) - July 22, 2013 (
See all reviews by this customer
)
We have ordered two of these types of vases for upcoming weddings in our family. They are beautiful and the engraving is very nice. Other people have seen them and they will be ordering them for upcoming weddings they are attending. I was very pleased with this product.