Very impressed
By
Greg W.

(Brookfield, WI) - April 1, 2012 (
See all reviews by this customer
)
I placed my order by phone because I was at work. The lady who took my call was very helpful. I am impressed with the item, the engraving and the service. The item was not inexpensive but is worth the money spent.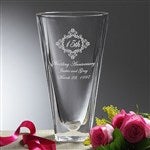 Features that I like
By
Shopper

(Sun City, AZ) - March 23, 2012
It was my son and daughter-in-laws 15th anniversary and the vase was perfect. Fifteen is the CRYSTAL ANNIVERSARY so the choice was perfect. It came in a timely manner and in perfect shape.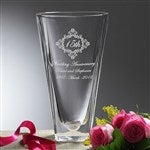 Anniversary Crystal Vase
By
William B.

(Liberty, MO) - March 23, 2012 (
See all reviews by this customer
)
The vase turned out exactly as I envisioned. Great quality and very fast service. Even the detail given to protecting the vase during shipping was top notch. I highly recommend this as a gift.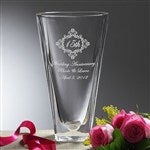 Toni & Mike's gift
By
Shopper

(Naples, FL) - March 4, 2012
The recipient contacted us to say that they loved this unique gift.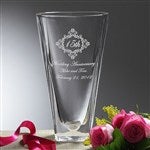 Very Satisfied Customer
By
Shopper

(Huntington, WV) - February 20, 2012
The Anniversary gift that I ordered from you is wonderful!!! It exceeded all of my expectations. My parents are thrilled with the gift and everyone who sees the vase comments that it is beautiful. Your service and delivery were outstanding. I will order from you again. I have recommended and will continue to recommend this company to other people.
Thank you for your quality and your service.


Absolutely stunning!
By
Nicole T.

(South Park , PA) - February 18, 2012 (
See all reviews by this customer
)
Larger than I expected but it's absolutely beautiful! My parents will love it.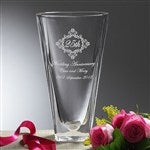 Cousin Loved It
By
Shopper

(Liberty, SC) - February 15, 2012
I was worried about a glass vase being shipped, but rest assured it arrived extremely well packaged. It was beautiful, and very heavy. We ordered it for my cousin's 25th wedding anniversary. She opened it at their vow renewal ceremony and it was a hit. I wouldn't mind receiving one for my anniversary!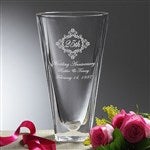 Saved my Butt
By
sean W.

(puyallup, WA) - February 4, 2012 (
See all reviews by this customer
)
Typical guy I forgot about my aniversary. Last minute i found this sight i got my wife this vase etched with a few mushy words and she loved it. Very good quality and most important it shipped pretty Quick I recieved it a day before our aniversary.Thanks Very much. I have them saved in my favorites for future use.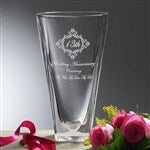 Cascadesnowbound
By
Shopper

(Detroit, OR) - January 22, 2012
Excellant quality...Fast Service..I'll order from this site again !!!!!!!!!!!

Keepsake
By
CARMELA M.

(STATEN ISLAND, NY) - December 27, 2011 (
See all reviews by this customer
)
I wanted to get a unique item for my parents from their grandchildren for their 40th Anniversary. I didn't like the "pre-made" items offered by stores, but when I saw this vase I thought "perfect"! It's a beautiful keepsake that she can use and leave on display.

Great product..Great service
By
Shopper

(Columbus, OH) - December 26, 2011
It was money's worth. Delivered on time. Excellent service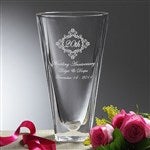 Buy this vase for wonderful gift
By
Shopper

(Rancho Palos verdes, CA) - December 22, 2011
Was not sure how the vase would look in real as compared to picture. But it was beautiful and the etching looked elegant. It is absolutely the best gift for anniversary with picture on it. Highly recommend it and worth the price.

Flower vase
By
Shopper

(Fruita , CO) - November 28, 2011
It was a very nice vase !!! My wife thought is was beautiful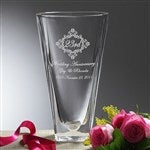 Beautiful!
By
Rebecca K.

(Aberdeen, NJ) - November 21, 2011 (
See all reviews by this customer
)
What a special momento for my aunt & uncle's 25th wedding anniversay! Beautiful, impecibly etched and heavy! A+ :)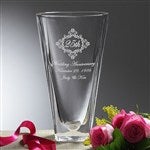 Awesome
By
Marjorie R.

(Jersey City, NJ) - November 16, 2011 (
See all reviews by this customer
)
The quality of the vase was absolutely beautiful. When our friends opened up the box and saw the vase they were thrilled. Then when they saw the engraving, they were really taken back. The delivery was prompt, very satisfied and will be ordering more from your company.

Beautiful
By
John T.

(Mesa, AZ) - November 4, 2011 (
See all reviews by this customer
)
Heavy, well built vase that should last a life time. Was delivered within days. Perfect transaction.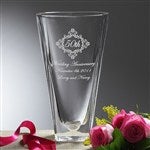 Etched vase
By
Shopper

(Pierce, NE) - October 28, 2011
Was larger than expected.
My gift was well received.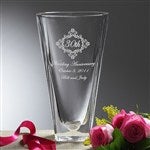 loved it
By
Shopper

(Dunnegan, MO) - October 22, 2011
It was the perfect gift and decoration for my parents 25th wedding anniversary party.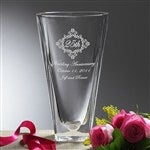 Great product for the price!
By
Lisa H.

(Cherry Hill, NJ) - October 20, 2011 (
See all reviews by this customer
)
I purchased this vase for my parents 50th wedding anniversary. I was thrilled when it arrived. The etching is very well done and looks exactly like the picture. The vase itself is beautifully shaped and very heavy, not cheap looking at all. My parents loved it when I gave it to them and couldn't wait to put it on display. A wonderful anniversary gift!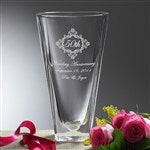 Special gift idea
By
Shopper

(Kenmore, NY) - October 19, 2011
Needed a " special "40th anniversay gift for very Dear friends.. Naturally came to this site to see what I could find..since I have ordered numerous gifts from here I was pretty sure I could find that " Something ".. Yes I did..!!! This vase was more beautiful upon receipt than the picture on the web site.could do it justice.. The engraving was perfect.. and the gift was perfect.. and arrived in timely fashion! Our Dear friends LOVED this 40th momento!!!And I loved being able to give such a beautiful gift with lasting meaning!

Perfect present for the 50th Wedding Anniversary!
By
Larysa D.

(Brooklyn, NY) - October 14, 2011 (
See all reviews by this customer
)
All as expected! Same as shown online. Perfect present! Very fast shipping! Thanks personalizationmall!

The wife loved it.
By
Stephen S.

(Caledonia, MI) - October 3, 2011 (
See all reviews by this customer
)
It is a nice heavy glass vase that looks great. They shipped it right away and it was just like the order said... nice gift for the Crystal Anniversary I filled it with fifteen roses and well all of a sudden... I'm a thoughtfut & romantic guy :o)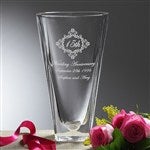 Etched crystal vase
By
Annie-rose N.

(BROOKLYN, NY) - October 2, 2011 (
See all reviews by this customer
)
I recently bought this item for a friend's Anniversary and she loved it she couldn't wait to buy flowers and display it on her dinning room table

what I wanted
By
Shopper

(Las Vegas, NV) - September 18, 2011
very well done and a gift I know will be used....Thank you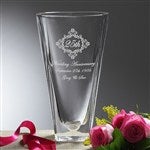 Great Gift
By
Shopper

(North Richland Hills, TX) - September 13, 2011
I had bought this as a gift for a friend's 40th Anniversary and it was a perfect gift. It is a great keepsake to give for such an occassion, yet a gift that can be used over and over.

Awesome Anniversary Gift!!
By
Dyanne N.

(Brooklyn , NY) - September 5, 2011 (
See all reviews by this customer
)
I was looking for a nice gift for my parents 30th anniversary and ordered this Anniversary Memento Vase. It was delivered so fast, and the etching was done very professional. My parents loved the gift.
I will definitely order from Personalization again!!

First Anniversary
By
Shopper

(San Jose, CA) - September 5, 2011
I have been consistently pleased with my purchases from Personalization Mall and I was not disappointed with this personalized anniversary vase. It will be a nice memento for years to come and I plan to get the couple beautiful flowers each anniversary as an on-going gift.

Superior service, delivery and product
By
anthony K.

(savannah, GA) - September 4, 2011 (
See all reviews by this customer
)
Our purchase was received promptly, and was of high quality and attractive! Customer service was great and we will be doing business again in the future. Thank you!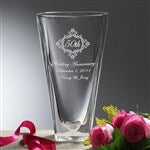 A Beautiful Momento
By
Kathleen E.

(Jackson, MI) - August 26, 2011 (
See all reviews by this customer
)
I LOVE YOUR WEBSITE! I've received gifts from Personalizationmall.com and have purchased other items, so I was already aware of how nice the products were. But I was not prepared for how beautiful our recent purchase was. The shape, the weight, the quality of the etching was such that one would have thought we spent twice as much. It was just beautiful and everyone who saw it exclaimed as much and asked where in the world we found it! We couldn't have been more pleased!!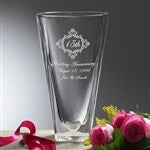 Excellent quality
By
Shopper

(Clear Brook , VA) - August 23, 2011
I was very pleased with the vase. It was a gift for my parents 50th anniversary. It will make a nice hierloom that can be passed down.


Beautiful anniversary vase - they LOVED!!!
By
Teresa G.

(Mills River, NC) - August 15, 2011 (
See all reviews by this customer
)
I was so so pleased with this company. I placed the order on a Tuesday and I had the item before the weekend. The recipients ABSOLUTELY LOVED the vase. Not only did the company do a great job on the engraving and shipping the item immediately AT NO EXTRA CHARGE but the vase was very nice quality and a unique design. I highly recommend this company.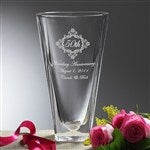 Better than expected!
By
anne S.

(west palm beach, FL) - August 9, 2011 (
See all reviews by this customer
)
I bought this vase for table arrangement for my parent's 50th anniversary party. It is larger and higher quality than I expected. It is heavy glass and has an art- deco look. Also, delivery was prompt, engraving was accurate, shipping materials were adequate such that it arrived safely. An overall outstanding purchasing experience. thank you.

Beautiful vase
By
Connie W.

(Charlotte, NC) - August 7, 2011 (
See all reviews by this customer
)
We got this for my parents' 50th anniversary, and it was absolutely gorgeous! It is a very heavy, well-made vase, and the etching was beautiful. Highly recommend. My parents loved it!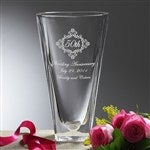 etched vase
By
Shopper

(West Bloomfield, MI) - July 31, 2011
This was a beautiful vase. Heavy weight and beautifully etched. It was a gift for our daughter's 25th wedding anniversary and they were delighted with it. We plan to send the flowers to go in it on the real anniversary date.

50th Anniversary Gift
By
Shopper

(Mendota Heights, MN) - July 31, 2011
My sister and her husband loved the personalized vase in honor of their 50th wedding anniversary. It is a substantial, heavy vase that looked beautiful with a large bouquet of flowers in their wedding colors.

Gifts That Make Life's Milestones Memorable
By
Doris G.

(Las Vegas, NV) - July 19, 2011 (
See all reviews by this customer
)
The Anniversary Vase is absolutely beautiful. My son and daughter-in-law were thrilled to receive it for
their 25th anniversary. My daughter and son-in law are also celebrating their 25th anniversary in August.
I ordered a vase for them also.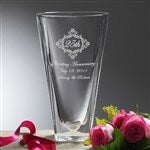 Great product, great service.
By
Donna B.

(Bigfork, MN) - June 29, 2011 (
See all reviews by this customer
)
We used Personaliztionmall.com for the first time when buying this vase. It was purchased for our son's 25th wedding anniversary. We loved it, they loved it. It was excellent quality glass--so heavy!!! Perfect.

I couldn't believe how quickly the order came to us way up here in northern Minnesota. Thank you.

Love my vase
By
Craig M.

(Beaverton, OR) - June 25, 2011 (
See all reviews by this customer
)
This is a large, beautiful crystal vase. It's heavier than you expect it to be because it's so solid. The engraving is just like it shows in the picture on the website. The best part was how fast it all happened. I ordered it on a Monday and it arrived on Thursday! I had searched and searched all over Portland looking for just the right gift for my wife on our 35th anniversary and finally found it here.

Perfect 50th anniversary gift
By
DOROTHY D.

(SAN JACINTO, CA) - June 24, 2011 (
See all reviews by this customer
)
My parents love the vase, and so does everyone else. Everyone is very pleased with the quality of the vase and the etching. It's the perfect gift for someone who has everything. It's a good thick heavy sturdy vase. It will be around for a long time. Love it... :)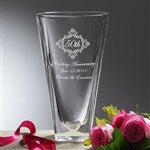 Anniversary vase
By
Shopper

(Minneapolis, MN) - June 14, 2011
Heavy weight quality vase. Professionally etched with appropriate sized font. Recipients were very pleased with the quality. Delivery was quick; allow approx 1 week