Awesome Crystal!
By
Tanishah C.

(Brooklyn, NY) - May 10, 2010 (
See all reviews by this customer
)
This is an absolutely beautiful creation. Heavy crystal with etched sides. The personalization only adds to its beauty. More than surprised by the finished product, I am happy this was my final choice. The item is worth more than the price.
Great Buy! Excellent gift!

50th anniversry vase
By
Norma W.

(Fisher, WV) - May 7, 2010 (
See all reviews by this customer
)
I recently purchased a 50th anniversry crystal vase for my in-laws. I had looked at all of the local stores for something worthy of the affection my husband, children and I have for them. When I discovered this WebSite, I was thrilled at all of the beautiful items available and at various price ranges. I ordered my vase on a Sunday and it shipped on Tuesday and I received it on Thursday. I was so surprised at the prompt service I received. I took the vase to the florist to get it filled with fresh cut flowers. The owners of the shop were so impressed with the vase. Needless to say, I have again purchased a graduation gift and will purchase another gift for an upcoming 25th anniversary. I would highly recommend Personalization Mall to my family and friends.

etched vase
By
Ron L.

(burtchville, MI) - May 6, 2010 (
See all reviews by this customer
)
great gift

Great value for the money and fast turnaround
By
Janice G.

(Richmond, VA) - April 27, 2010 (
See all reviews by this customer
)
Good quality crystal and fast turnaround for an excellent price. I needed a nice gift for my parents anniversary in a 3 day turnaround which was done.



Personalized Crystal Vase
By
Beth H.

(Chula Vista, CA) - April 23, 2010 (
See all reviews by this customer
)
I ordered this vase for my Son's 2nd wedding anniversary! The quality of the vase and etching is absolutely exqisite! Will definitely purchase another item again!

Anniversary Menento Etched Crystal Vase The best gift with 5 stars plus
By
Assunta J.

(Acworth, GA) - April 21, 2010 (
See all reviews by this customer
)
My husband loves crystal our 25 Anniversary was coming up soon. I came upon this site 4 day s before ouar wedding anniver. I ordered it and it came the morning of. A super buy and good quality gift. I am now sold I getting ready to do a baby shower gift. Assunta J

very nice!
By
Ann Z.

(Cheektowaga, NY) - April 9, 2010 (
See all reviews by this customer
)
This vase was delivered within a few days. It was heavier than I had expected and of very good quality! It is absolutely beautiful and will be perfect for my parent's 30th anniversary. Thank you!

Great product - great, fast service
By
David S.

(Nashville, TN) - March 25, 2010 (
See all reviews by this customer
)
The vase was outstanding and far exceeded our expectations. We received short notice that my neices and nephews were throwing a 50th anniversary party for my brother and sister-in-law. I had already scheduled out of town business right up to the party and did not have time to shop for a gift. I admit, I was skeptical and appehensive about buying a gift on line for such a special occasion, but I gave it a try. The vase was delivered to my wife's business, ahead of schedule and everyone who saw it raved about the quality and value. We have recommended you to all of our friends and cannot wait to give the vase to my brother and sister-in-law. Thank you so much for honoring your claims and providing such a wonderful product, ahead of schedule and at a price that was afforable.

Beautiful and high quality!
By
Nichole R.

(Branson, MO) - March 9, 2010 (
See all reviews by this customer
)
I wasn't sure what to expect, but this vase was definitely worth every penny. I am so impressed with the high quality in this product. My parents think that it is beautiful and I have to agree.

Crystal Anniversary Vase
By
Robert F.

(Lexington, SC) - March 9, 2010 (
See all reviews by this customer
)
Just what I was looking for. Very reasonable price compared to comparable locally available items.

extremely satisfied
By
Mona G.

(Lawrence, NY) - March 2, 2010 (
See all reviews by this customer
)
I found the website easy to use & the vase I ordered came exactly when promised. The inscription was lovely. I will definitely use them again.

25th Anniversary Vase
By
Ron N.

(White Lake, MI) - February 4, 2010 (
See all reviews by this customer
)
The crystal vase is high quality and the etching was beautiful. My sister was very happy to receive it. She has put it up on the fireplace mantel where it looks great. The vase took just a few days to get here and the price was very reasonable.

Thank You very much,it was a great experience and I will tell my friends about Personalzation Mall.com

Stunning
By
Todd V.

(Gaylord, MI) - February 2, 2010 (
See all reviews by this customer
)
This is a quality vase that was heavy, and beautifully engraved to my needs. Personalized M&M candies went into the bottom with a second vase inside and the Florist did the rest of the work. When finished it could only be described as
STUNNING...
Thank You
Sincerely
Todd

Etched crystal vase
By
erik M.

(Crestwood, KY) - February 1, 2010 (
See all reviews by this customer
)
Heavy crystal of good quality at a great price. Perfect gift for the person who has everything; vase can be etched to make it a special reminder of a unique event.

Etched Crystal Vase
By
Amy V.

(Enfield, CT) - January 29, 2010 (
See all reviews by this customer
)
We ordered this crystal vase for our parents 50th wedding anniversary. The vase is absolutely beautiful!! Very heavy and big. We ordered it on a Thursday and it was received on Monday! I have recommended this site to many of my friends. This is not the first time I have ordered from here. I also ordered wedding favors for my wedding four years ago. Thank you very much.

vase
By
leonard B.

(port orchard, WA) - May 28, 2013 (
See all reviews by this customer
)
I was very disappointed that the etching does not show up very good. To see the etching the vase has to be tilted and the light just right to see it, the etching would show up a lot better if it was darker. As for the vase it is very nice.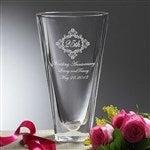 Anniversary Vase
By
Shopper

(The Villages, FL) - December 7, 2012
Item was perfect when I received it. The package was first rate. It should go over very well with the anniversary couple. Thanks.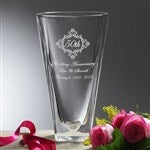 Happy Anniversary
By
Fred C.

(Natick, MA) - July 2, 2012 (
See all reviews by this customer
)
My wife was delighted with my gift to her.
The Vase is excellent

Beautiful
By
Shopper

(Loves Park, IL) - March 3, 2012
This turned out great. I think it will be great for my parents.

anniversary vase
By
Shopper

(Colorado Springs, CO) - August 1, 2011
Vase is very nice, shipment was timely. Paid extra for the gift box only to find it to be a huge ad for the company. I found it to be very tacky and probably will not use the box.

Anniversary Gift
By
Elsa M.

(Middle Village, NY) - June 26, 2011 (
See all reviews by this customer
)
I am a first time customer. The vase was beautiful.The quality and workmanship was outstanding. I will certainly use you again for future gifts.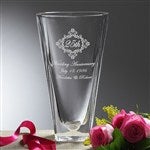 Satisfied Completely
By
Shopper

(Pasco, WA) - March 28, 2011
I bought this vase for my in-laws 25th anniversary and it was everything I expected. Also, I got this within 3-4 business days. I was very satisfied with this item.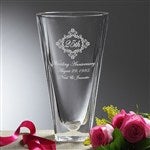 Beautiful!!
By
Shopper

(Roseto, PA) - March 21, 2011
This was the first time I ordered from Personalzation mall.com, and I am very impressed. I am impressed with how fast i received my Beautiful etched crystel vase,and of the vase itself. I am very Pleased and can't wait to give it to my sister and husband for their 30th Anniversary. I will absoulety be back for more, and tell my friends.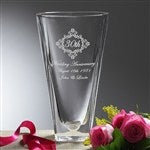 Larger & Heavier than expected! But BEWARE!
By
Amanda L.

(Watervliet, NY) - January 21, 2014 (
See all reviews by this customer
)
The vase itself is beautiful- much heavier and larger than the photo lets on. BEWARE that the title is inaccurate/misleading- it states "etched crystal vase" however I believe they refer to the etching OF the vase (the sides are decoratively cut out/etched?) They are NOT referring to the inscription you put on it. The personalization on the vase is almost like a white rub-on sticker. I was very disappointed and am worried about the personalization staying intact after washing and usage. I would not recommend it with the personalization. With the price of the vase so expensive it must just be for the product because the personalization seems very cheap. Not like other products I've ordered here.

good but be careful
By
Shopper

(Fargo, ND) - September 3, 2011
the only thing that I didn't like about the vase was that some of the etching wasn't finshed so the "n" on one of the names wasn't fully etched