As I imagined!
By
Nancy C.

(Aurora, IL) - November 21, 2011 (
See all reviews by this customer
)
This vase is beautiful, elegant and perfect for a wedding gift. I would love to have one myself.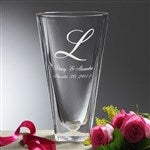 Lasting Impressions© Etched Crystal Vase
By
Shopper

(Washington, MI) - October 15, 2011
I sent this vase to my nephew for his wedding. My sister-in-law called me to tell me about the wedding I couldn't attend, so I didn't see the vase, but she told me it was beautiful. The engraving was beautiful as well.
They had it on their mantle with flowers and it looked great.
I would purchase it again.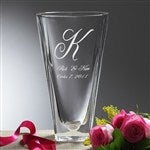 I Loved It
By
Shopper

(Hillsboro, OH) - August 5, 2011
It was a very nice gift for my husbands boss.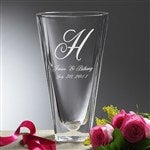 Love this Vase
By
Shopper

(Ellis, KS) - July 27, 2011
I purchased this vase for 2 weddings of a friend this spring and of a family member. They LOVED it. I got many compliments on it.

Let me say, this is the best wedding gift, and reasonably priced for how great the vase really is. I was surprised how very heavy, beautiful, elegant it was when it first arrived. We have been invited to 6 weddings this summer, the most ever at a time, and I have purchased 1 for every couple.

It is a gift they will not forget and can use year round or seasonal, special occasions etc., hint, hint, anniversary's when they get flowers :)

I could not be more happy with this gift and also bought one for my husband and I for our anniversary this year.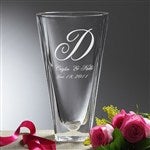 Heirloom Beauty
By
Shawn Y.

(Laredo, TX) - July 8, 2011 (
See all reviews by this customer
)
My son asked me to log into a bridal registry to purchase a wedding gift for his best friend and his fiance. I did as he asked and although the couple had chosen items they wanted, I decided to visit Personalization Mall before making a purchase from the bridal registry.

I asked my son if he wanted to give them a "spoon" or "plate" or something that would be an family heirloom one day. He said he wanted to give them something that they would always remember was from HIM.

So, I ordered this vase and when he saw it, he was very impressed (as was I). He was very proud to take this gift with him to present to his friends on their special day!

Thanks for offering such beautiful gifts and a resonable price.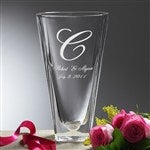 Wedding Gift Vase
By
Deborah L K.

(Cedartown, GA) - June 25, 2011 (
See all reviews by this customer
)
While I did not personally see the finished product, the mothers of the brides for whom I ordered this piece were very pleased. This gift will be treasured long after the excitement of the soda maker has faded.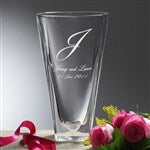 Love, Love, Love this item
By
Shopper

(Dallas, TX) - June 16, 2011
I ordered this item for a family reunion speaker gift and was extremely impressed with this product. The turn around time was great, as I ordered the product on Monday and I received the product on Wednesday. I will order this product again for future events. Also, the quality of the crystal vase is superior.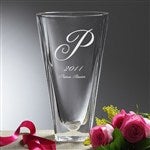 Very nice vase
By
Shopper

(Spencer, NY) - June 12, 2011
Much heavier than I thought. Looks great!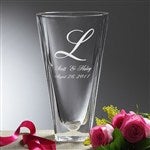 Anniversary Gift
By
Maria A.

(Brooklyn, NY) - April 1, 2011 (
See all reviews by this customer
)
I was so pleased when I opened the box with this beautiful vase! It was above and beyond my expectations. It was larger than I expected ( a good thing!), the crystal design was modern and the lettering was just perfect. I will surely keep this vase in my mind should I need another anniversary gift.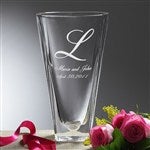 Bridal shower
By
Shopper

(FRESNO, CA) - September 8, 2014
I had a gift to get for a shower and seen she had a simple vase on reg but wanted to make more personal. My brother always spoil her and wanted to add both the bride and groom name and it was the hit of the shower. Great gift!!!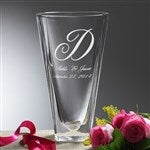 cristal vase
By
Eileen S.

(Hopewell Junction , NY) - July 13, 2014 (
See all reviews by this customer
)
I loved the vases the people I gav the vases to loved it I was a great gift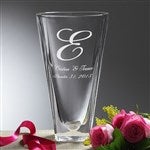 Wonderful retirement gift
By
Holly J.

(Tucson, AZ) - May 17, 2014 (
See all reviews by this customer
)
My mom recently retired & we bought this as a gift. It arrived quickly & was beautiful! It is actually engraved (rather than the stick on stuff they use for the glasses) & allowed for a personalized message. In looking around the site this was the only one that could've worked for such an occasion. Really limited options for a woman's retirement. She loved it & it's on her mantle sprucing up the flowers we got her! :)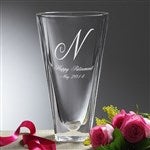 AMAZING
By
stefanie S.

(ogden, KS) - October 25, 2013 (
See all reviews by this customer
)
this product looked amazing and I paid for the 3 day shipment and it got here in two! I was very impressed. it was a wedding gift and they people loved it!!! So did I, I will be buying one for myself here soon!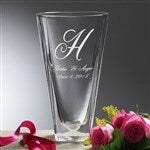 Perfect
By
Shopper

(lawrenceville, GA) - October 19, 2013
I knew what I wanted to give as a gift but couldn't find it locally. Found this and ordered hoping it would get in on time. Impressed and pleased at the fast service. Will definitely order from here again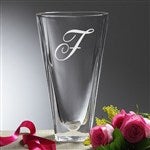 Beautiful and quickly shipped!
By
Cynthia S.

(Thornton, CO) - September 17, 2013 (
See all reviews by this customer
)
I am very pleased with this vase. It was purchased for a 50th wedding anniversary and I think the couple is going to love it! It is taller than I thought and seems very well made. In addition, it was personalized and mailed within 24 hours!!!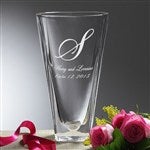 Very heavy and nice
By
toni M.

(glendale, WI) - September 13, 2013 (
See all reviews by this customer
)
This is a great wedding gift. Very nice will think of ordering again for next wedding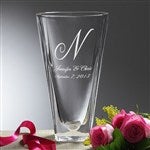 Excellent!
By
Shopper

(Norman, IN) - August 29, 2013
Beautiful!!!! Much more than I expected. Engraving looks great. I will purchase future items from this site and recommend to others.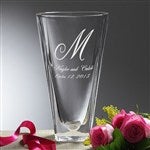 Solid and elegant
By
MARGUERITE C.

(Canada) - June 1, 2013 (
See all reviews by this customer
)
Lovely engraved vase. I got it for a shower gift and it was a stunner!! Wish it had a "Crystal" label somewhere on it though. Still, very impressive!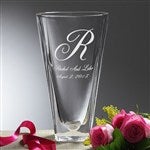 Lovely
By
Shopper

(Sparta, WI) - April 14, 2013
I have been shopping at Personalization Mall for two years. Every item I have ordered has exceeded my expectations. Good quality items, flawless engraving, timely delivery are why I keep coming back.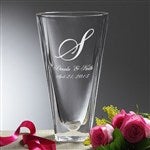 A wonderful gift
By
Shopper

(Seattle, WA) - February 11, 2013
The vase was wonderful she was very impressed the way it looks, and very happy when she saw her name on it.
I will give it six stars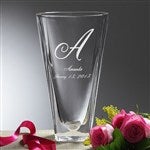 Good Choice
By
Shopper

(Athens, GA) - October 26, 2012
Great choice for a weddin gift! It arrived quickly and was even better than it appeared online. I would order this again for a wedding or aniversary gift.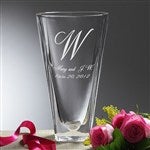 Perfect Appreciation Gift for flower lovers
By
Shopper

(Norwalk, CT) - September 28, 2012
Great product. Bought for my mom as a thank you and first grandma gift and she adores it. Very heavy and authentic crystal...Would buy again.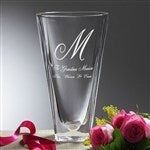 Happy Customer
By
Rocky D.

(Dahlonega, GA) - September 9, 2012 (
See all reviews by this customer
)
I was looking for a gift for my wife on our anniversary when I came across this web site. Did a little shopping and came across the etched crystal vase , I knew immediatly this was perfect. I was a little concerned at first about the details being just right, but when the gift arrived, we was amazed at the quality and the craftmanship. I will recommend this to any and all, we are very pleased with the vase. I will be shopping here a lot more in the future.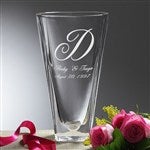 Lovely Crysal Vase
By
Shopper

(Ellensburg, WA) - July 30, 2012
The size, quality and weight of the crystal vase are perfect. The etching is clear and precise. I will definitely be ordering more of these vases in the future. (I have already ordered three.)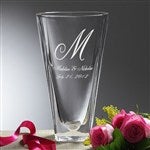 Amazing!
By
Elisabeth O.

(Aberdeen, MD) - July 22, 2012 (
See all reviews by this customer
)
Quality lead crystal. Very impressed. First time ordering from you so I thought the vase would end up being tiny and cheap. I was VERY wrong - great size, quick to deliver. Will definitely order from you again and again!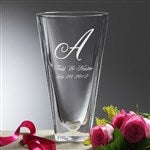 PERFECT!!!
By
Shopper

(Lostant, IL) - June 16, 2012
I was so excited when I got my vase in the mail! I am using it for our flower cermony at our wedding! It was exactly what I was hoping for and so much more! The quality was beautiful and extremely solid! I can't wait to use it on our wedding day! :)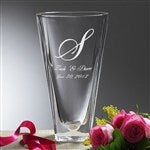 Beautiful
By
Penelope H.

(Hot Springs Village, AR) - June 8, 2012 (
See all reviews by this customer
)
Beautiful, is all I can say about this vase. The personalization is etched and perfect. I gave this to my son and new daughter-in-law for a wedding gift. They loved it and now she says, he has a reminder of their anniversary. :)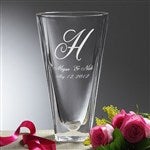 Crystal Vase
By
Carol M.

(Kirkwood, MO) - May 21, 2012 (
See all reviews by this customer
)
The vases turned out beautiful with the script monograms. I order 7 for our staff that were leaving and they made an incrediable gift!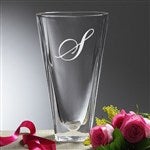 Received as a Gift - Gave as a Gift
By
Susan L.

(Oklahoma City,, OK) - May 17, 2012 (
See all reviews by this customer
)
We received an engraved vase for our 50th Wedding Anniversary and thought it was beautiful. My boss' daughter was getting married and I thought it would make a meaningful gift for her...Everyone needs a wonderful vase.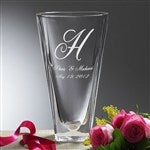 Absoultely Beautiful!
By
Melody B.

(Lake Village, IN) - April 23, 2012 (
See all reviews by this customer
)
I love it!! I will reorder for the remaining 6 weddings we have this year!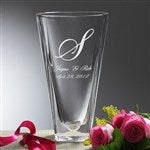 25th Anniversary present
By
Shopper

(Edgerton, WI) - April 17, 2012
This vase turned out so beautiful! I got this for some friends on their 25th Anniversary and they use it every day!! Great idea!!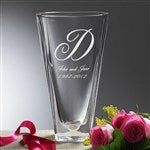 Unity Sand Ceremony Vase
We purchased this vase for our daughter's upcoming wedding. Since candles cannot be burned at the wedding location, this vase will be perfect for the unity sand ceremony. It's a beautiful design and size for the pouring of sand, and the personalization is definitely a plus. We're hoping the wedding couple will be surprised and pleased . . . it will be a beautiful momento for years to come. Thank you so much.

More than I expected!
By
Ellen B.

(Saint Pauls, NC) - August 24, 2010 (
See all reviews by this customer
)
I have ordered many different things from here and I have yet to be disappointed but can I just say WOW. I was just blown away when I received this vase. It was more than I expected and just absolutely beautiful!!

More than pleased!
By
m. a. M.

(lemoore, CA) - July 24, 2010 (
See all reviews by this customer
)
Our happy couple was more than delighted with this gift purchased just for them. It was truly elegant and just perfect for their beautiful home. And, we are quite pleased with the excellent service! We will be back.

Great work
By
Ella W.

(Rocky Mount, NC) - December 31, 2011 (
See all reviews by this customer
)
Ordered vase for my friend. It is picture perfect; Great respone, good price and shipped immediately.
My friend loved the gift. Will definitely use this site again.

Very Pleased
By
Julie B. C.

(Lexington, SC) - July 14, 2010 (
See all reviews by this customer
)
I am very happy with this purchase. This vase is heavy, well made, and beautiful with the personalization! It arrived in three days. I will shop this site again in the future.

This vase is beautiful!
By
Jody H.

(Bethlehem, PA) - September 20, 2010 (
See all reviews by this customer
)
When this vase arrived (within days of ordering) and I opened it up, I was thrilled. The online picture doesn't do it justice. It is absolutely beautiful. I am giving this as a gift and am sure the newlyweds will be as happy with it as I am.

Amazing Vase
By
Deb J.

(Irving, TX) - December 30, 2010 (
See all reviews by this customer
)
I was very pleased with the quality of this vase. It will be loved by my in-laws!

Elegant vase!
By
Shopper

(Raleigh, NC) - January 26, 2011
I bought this as a gift for my mother in-law and she loved it! It is weighted and does not look or feel cheap. The etching is looks absolutely beautiful. Its a winner!!!

Crystal Vase
By
Barbara J K.

(Pensacola, FL) - October 5, 2010 (
See all reviews by this customer
)
It's wonderful