Number 9
By Shopper (Kosciusko, MS) - September 14, 2011
This will be the ninth peronalized stool I have purchased for a grandchild. All 8 of the others have used and used and used them! Here's knowing that number 9 will too. Thanks for making such a super teaching/practical/durable product. :)

Great Value and Experience
By
Shopper

(Scottsdale, AZ) - July 30, 2011
The site is simple to navigate, moves quickly and the products are easy to identify and customize. The product arrived in a shorter timeframe than expected. Great experience.


Small Stool
By
Mercedes M.

(San Diego, CA) - July 9, 2011 (
See all reviews by this customer
)
Several years ago, I bought this same stool for my first son. We loved this stool so much we bought another one for my younger son. The quality of this stool is just as great as the older one. It is absolutely beautiful.

Name Stool
By
Shopper

(Colts Neck, NJ) - June 28, 2011
I bought this as a gift and the recipient said it was the best baby gift they received by far!

PERFECT!
By
Victoria F.

(Encino, CA) - March 8, 2011 (
See all reviews by this customer
)
I ordered this stool as a gift before the holidays. It was sent so quickly- I was really surprised and impressed. The stool is just what I was hoping it would be. It was excellent quality and very well made. It looked just as pictured. I liked it so much it has become my go-to gift. I have ordered three others in the few months since!

Large Personalized Name Stool
By
Shopper

(Fairport, NY) - March 5, 2011
For Christmas this year, I gave my granddaughter the large stool with her name puzzle in pastel letters. She was 15 months when she received the gift. The stool has been such a hit. It is just the right height for her to sit on and now she stands on it to reach the sink. There is plenty of room for her to stand on this sturdy and well-built stool. I will be giving future grandchildren this gift. Thank you for making this product.

Awesome Stool
By
Shopper

(Saint Louis, MO) - January 16, 2011
Great quality, sturdy, sooo adorable

great product
By
Grazyna S.

(burbank , IL) - December 20, 2010 (
See all reviews by this customer
)
I SIMPLY LOVE EVERY THING I PURCHASED FROM YOUR SITE.THX

Good Quality Stool
By
Benjamin R.

(Houston, TX) - December 13, 2010 (
See all reviews by this customer
)
I was very pleased. Very professional arrived in excellent condition. It is for a Christmas gift and it arrived sooner than I thought. Do not hesitate in purchasing.

Beautiful!
By
Jennifer W.

(Oceanside, CA) - November 25, 2010 (
See all reviews by this customer
)
The name is did was Curren. I ordered small, primary and was unsure of how well it would fit. I trusted the company so I ordered it. It turned out beautifully. My son has a name stool that he has had since he was a baby. He is nine.

Cute and practical
By
Zdenka J.

(Tinley Park, IL) - November 18, 2010 (
See all reviews by this customer
)
They are cute, kids friendly, and practical. The fact that the letters can come out and child can learn to spell his/her own name while putting them back is such a clever idea. Also, they are very adorable as a decoration in any child's room.

Stool is "The Bomb"!
By
Barbara F.

(Mount Laurel, NJ) - November 15, 2010 (
See all reviews by this customer
)
I love this little stool. The wood is beautiful, and the lettering is just the right size for little hands to pick up. Beautiful colors and workmanship. It was shipped in a timely manner, and the order entry lady was very nice. All in all a pleasant experience. I will definitely visit there again. Thanks, Lynn

primary color puzzle stools
By
Karen R.

(Springfield, OH) - October 21, 2010 (
See all reviews by this customer
)
I absolutely love the primary personalized name stools. Such great quality wood and the colors were so beautiful. I have twin grandsons and this will be a present for Christmas that they will have forever.

Well made heirloom
By
Laura P.

(Corpus Christi , TX) - September 26, 2010 (
See all reviews by this customer
)
I have been ordering the stool for close family friends. All have commented on the study, beautiful stool that will last a lifetime and is actually useful as well as beautiful.

Great Quality
By
Laura T.

(New Orleans, LA) - September 24, 2010 (
See all reviews by this customer
)
Love the stool! You get what you pay for because the quality is beautiful & this gift will last a lifetime. I was worried when I ordered it because the name I used was only four letters long and was for a boy. I wasn't sure what colors they were going to use. Thankfully, they actually gave it some thought and didnt use the first 4 colors of the rainbow. They used red, yellow, green, blue. I was very impressed & pleased. I will order this again if I ever need a sentimental special gift for a little one again.

adorable first birthday gift
By
Shana O.

(North Las Vegas, NV) - September 3, 2010 (
See all reviews by this customer
)
We purchased the puzzle name stool for a first birthday gift. Not only were the name puzzle pieces age appropriate, it was wonderful watching him play with and explore this new thing of his. The quality of the stool was solid and made to stand the test of time. It is a timeless gift.

A great little stool
By
Lori Z.

(Heyworth, IL) - July 29, 2010 (
See all reviews by this customer
)
I purchased this item as a gift, so I can not speak to the quality long term, but I was very satisifed with the product. It was sturdy, and VERY cute. I was happy to give it to the little guy as a gift, and he and his parents loved it!! Definately something that can grow with the child.

Unbelieveable
By
Cheri B.

(Gonzales, LA) - July 28, 2010 (
See all reviews by this customer
)
Early Christmas present for my son who will be 10 months. Also bought one for my nephew who will be 11 months. I cant wait to see their faces!

Beautiful
By
Patricia S.

(Islip Terrace, NY) - July 7, 2010 (
See all reviews by this customer
)
I ordered this for our niece's 1st birthday. It looks beautiful. I am going to order another one for a friends son for his 1st birthday also. The quality is great. The service was fast.

Love it!
By
Karen B.

(Jefferson Hills, PA) - July 5, 2010 (
See all reviews by this customer
)
This is adorable. It came within two weeks. Very sturdy. Inscription on the under side was perfect. Will be buying more as my friends keep having kids!

Great quality!!
By
Molly H.

(Pine City, MN) - February 2, 2010 (
See all reviews by this customer
)
It turned out great and my niece loved it! The letters aren't as heavy as I thought they would be but other than that the product was great.

Great Gift
By
Shopper

(Summerville, SC) - September 26, 2014
I would give a five star except for a small knot in the wood located right under one of the letters.

Quality product - great gift
By
Shopper

(NORWALK, CT) - February 28, 2014
This is my go-to item for baby gifts, I've bought at least 4 in the past year. It's a great quality item, and the legs come off (it's shipped that way) for minimal storage.

That said, I've downgraded to FOUR stars instead of five because the underside of the stool USED to be "customizable." Meaning, you could write a personalized message or the baby's stats on part of the stool that isn't obvious - but it makes for a sweet memory. The most recent stool purchased didn't have that option. Instead, it had a manufacturer's INK STAMP on it - I can't tell you how upset I was by this, because I couldn't even write something there myself!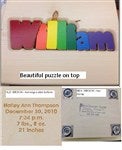 Good Product, A bit pricey
By
Laura H.

(Dwight, IL) - September 30, 2013 (
See all reviews by this customer
)
Love the stool. I think the price could stand to be lowered.

Super cute!
By
Sarah E.

(Fairfax, VA) - September 3, 2013 (
See all reviews by this customer
)
The stool was super cute & seemed to be very well made / high quality! It did end up being a bit lower to the ground that I anticipated though...

Great Baby Gift
By
Shopper

(Downers grove, IL) - August 31, 2013
This is my go to baby gift. My children received these as gifts and we use these daily. They hold up well and are great for you child to learn the letters in their name.

Good Purchase
By
Shopper

(Elk Grove, CA) - May 21, 2013
Overall satisfied with the product. The construction appears to be sturdy, good use of wood, and engraving is superior. My only flack (which results in a drop of a star) is that the puzzle pieces are too tight and for a child, it will be very challenging to pull the pieces out. Also, the cutouts do not match the letters (like it is shown in the picture), instead, it is flat.

My grandaughter personally requested this for her birthday.
By
Shopper

(Dearborn, MI) - April 20, 2013
My grandaughter requested this for her birthday (Her brother was given one for his 1st birthday) I would have given this 5 stars but the colors were not very vibrant two of the letters which were side by side were green one dark one lighter in color which didn't make the stool as colorful as her brother.
We will be giving this to her in a couple of weeks just hope she is happy

The Perfect Gift!!
By
Shopper

(Saint Clair Shores, MI) - January 9, 2012
I bought this stool for my Goddaughter's first birthday. I included her first and middle name so I had to get the larger size. I decided on the pastel colors. The puzzle tuned out beautifully. It is exactly what the picture shows. My only complaints are that the stool is extremely heavy and the wood had a few dark stains on it - which I am sure is out of the company's control. I was a little hesitant to purchase because of the high price. But once it arrived I was extremely happy with the quality. I also had the bottom engraved with a short message - that turned out great as well. One more thing - the site says it will take three weeks for delivery and I got mine in about ten days. I love anything personalized and this item looks like a lot of thought was put into it (especially with the engraved message). I know my Goddaughter will be able to use this stool for years.

not quite the same stool it used to be
By
Jennifer S.

(Los Angeles, CA) - December 13, 2013 (
See all reviews by this customer
)
We bought this stool for my daughter a few years ago and wanted to get one for my son now. However, I will say that the new design is not my favorite. The letters are kind of smushed and definitely not as cute as the old style. It will suffice but I'm disappointed it's not the same.

Sturdy bench
By
Carolyn B.

(Rockville Centre, NY) - December 29, 2012 (
See all reviews by this customer
)
This product is well constructed and sturdy. What is disappointing is the difficulty a child has in removing the puzzle pieces. For the cost of this item, more thought should be put into correcting this design flaw.

Kaden & Molly
By
Elaine D.

(Anderson, SC) - July 21, 2012 (
See all reviews by this customer
)
The stools look well made. My biggest dissatisfaction is the order
of the color choices for the lettering. Colors did not make the lettering stand out and were not complimentary to each other. ie....green next to blue, yellow next to orange.

A surprise knot
By
Mary Ann S.

(St Paris, OH) - December 6, 2011 (
See all reviews by this customer
)
I have ordered puzzle stools for all of my grandchildren but used this company for the first time. All have been Made in USA. I was dismayed when Abigails small pastel stool arrived with a large dark knot close to the puzzle pieces. I had not noticed any knots on their display but looked back and saw one on a primary color stool. I am not sure I will order my next one from this website.

Letters too compressed
By
Shopper

(Belleville, MI) - July 30, 2011
I got one for my daughter who has 9 letters in her name and it was great. Very sturdy, great colors, and well made. Though it does dent easily under the pounding of a 9 month old banging the letters against each other. We liked it so much we got one for a friend. It was a much smaller stool (5 letters), but the pieces/letters were still a good size. I ordered one for a second friend and it disappointed me as the letters were so tight and small width wise (7 letters). I would gave paid the large name premium if it had meant having normal sized letters. Too bad there isn't a preview and option to get a wider stool. I can't be certain if the problem is the number or type of letters. The stool one I didn't like was for a name that typed is as long as my daughter's; yet is 2 letters shorter. I don't think I'll order one again. I loved the first 2 (4.5 stars), but I would have returned this one if I could