Name puzzle
By
Victoria P.

(Joliet, IL) - September 7, 2013 (
See all reviews by this customer
)
As always, I am pleased with your final product and it arrived in a timely manner. I do understand that time and effort go into making these personalized name puzzles, but I think the price is a bit high. The name I personalized had only 4 letters and it might be best to charge per letter when offering this product. However, the puzzle is good quality and that is what I wanted.

Grandma in Ohio
By
Elaine K.

(Bay Village, OH) - September 4, 2013 (
See all reviews by this customer
)
Purchased this puzzle for my granddaughter. It's well made and came in a timely manner. I would recommend this product.

Personalized puzzle
By
Joseph W.

(vineland, NJ) - September 1, 2013 (
See all reviews by this customer
)
This is so cute and when she gets to old for the puzzle we will glue it and hang it on her wall, love it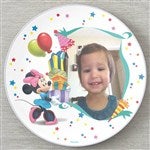 Excellent Quality
By
Shopper

(Tipp City, OH) - July 19, 2013
This is the second personalized puzzle I have ordered. The quality of the wood and workmanship is the highest (I ought to know, my late father was a wood-worker). The first puzzle I ordered for my granddaughter's 1st birthday. She has played with that puzzle for over a year and a half now. Now I have a grandson ... that little boy will receive the most recent puzzle I ordered for his first birthday. And now, I learn that another daughter-in-law is expecting a baby. Once that child is born and I know the name, another puzzle will be ordered. The puzzles are colorful, beautifully handcrafted, and a keepsake. P.S. Order the inscription for the back of the puzzle to acknowledge the occasion - that is beautiful as well!

Puzzle
By
Shopper

(Dudley, GA) - April 8, 2013
Absolutely PERFECT gift........ordered for my grandson's 2nd birthday! Colors are VIBRANT and quality is EXCELLENT!! He loves puzzles and I'm certain he will enjoy this over the next few years.. Also, had it personalized on the back so that this will be a great keepsake. So far, this is the BEST item I have ordered from personalizationmall.com and there have been many other great items too.

Learning while growing
By
Vannessa W.

(Brooklyn Park, MD) - March 30, 2013 (
See all reviews by this customer
)
This item is beautiful! I ordered two, one or my 4 year old daughter and the other or my two month old son. Item arrived quickly, packaged very securely.

unique gift
By
Shopper

(Farmingdale, NY) - January 27, 2013
It can be used either as a colorful, fun decoration in a child's room or a puzzle to learn how to spell their name. The colors are vibrant and good for a boy or girl's room and the inscription on the back is good quality.

AWESOME PUZZLE!!!
I ordered the 3 name puzzle for my cousins 2 year old little girl. I normally wouldnt spend this much on a gift for a child but my cousin does photography and did mine and my husbands pics and my nephews senior pics free of charge. This is my way of kinda paying her back for her awesome job well done. The point is this puzzle is everything they said and more. Very impressive, very thick and sturdy. The colors are bright and vibrant. Great product. I have no kids but it makes me wish I did just so I could order one for mine...LOL... I have bought dozens of gifts off here for people over the past four years and have NEVER been disapointed. All the great reviews about this puzzle that others posted on here made my decision to buy it a lot more easier as I did not hesitate after reading them. Personalization Mall keep up the good work. I love this site and will continue shopping from here as long as you stay in buisness... THANK YOU!

Great quality
By
Shopper

(port charlotte , FL) - December 18, 2012
I bought this for my Son who is 4. It is bigger than i expected, which makes it even nicer. The colors are vibrant, and it even has the option to be hung when the child grows out of it. Really worth the money. Can tell its carefully hand crafted!

Love it!
By
Shopper

(Lutherville, MD) - December 1, 2012
Beautiful and high quality! My daughter will love it!

Name Puzzle
By
Beth K.

(Ringoes, NJ) - November 27, 2012 (
See all reviews by this customer
)
The quality of the puzzle is outstanding. I have been ordering the name puzzles for sometime now and each one I've ordered is just as perfect and the previous.
All the children just love them!

PERFECT!
By
Nichole A.

(Rapid City, SD) - November 26, 2012 (
See all reviews by this customer
)
PERFECT GIFT!

Great Quality
By
Shopper

(Worden, MT) - November 26, 2012
This puzzle looks great, and my 18 month grandson is going to absolutely love it. He can master puzzles that are for ages 3 and up and I am excited for him to learn his whole name.
Heavy, sturdy puzzle.

Quality
By
Shopper

(allen park, MI) - October 30, 2012
I have order a few products from this website and everyone of the items has far exceeded excellence in quality. I am proud to give their products as gifts.

Name Personalized puzzle board
By
Shopper

(Lynnfield, MA) - October 30, 2012
Very high quality and well made. The pegs are perfect for easy handling and the letters are quite thick and durable. I would definitely recommend this product.

BEAUTIFUL - - BUT NOT WHAT I EXPECTED
By
Sandra S.

(LEBANON, MO) - October 1, 2012 (
See all reviews by this customer
)
This is a high quality item. I did not realize it would have a leather strap to hang on the wall and have metal hardware on it. In looking closer I see that it sort of shows it in the picture, but not very well. This will be great for my Granddaughters bedroom wall, but I had ordered it for her to play with and learn to spell her name. Would buy it again if I was going to decorate a room.

Name Puzzle
By
Shopper

(Stuart, FL) - September 8, 2012
This puzzle is sturdy, colorful, non toxic and made in the USA. I was surprised at how quickly it arrived too!

Outstanding product
By
Lori H.

(Douglas, MI) - August 24, 2012 (
See all reviews by this customer
)
Excellent quality! Great being able to put three names on it! Excellent customer service I had address change and they called me to make sure it would be properly delivered and on time. Speaking of time, it was very fast delivery as well. This product will definitely become my tradition to give my grandchildren. It has wonderful leather hanger attached to hang on wall and highly recommend the personalization on the back great Job on that and adds personal touch. Extremely happy with this product and the personal service I received.

Great quality!!
By
Shopper

(Rancho Cordova, CA) - August 16, 2012
You can tell this is a well made product and it was the hit at my nieces birthday party!

AWESOME!
By
Shopper

(allen park, MI) - August 6, 2012
It was so great to be able to put the middle name on the puzzle. Last grandchild I ordered for there was only a 2 line option. The puzzle itself is fabulous and great workmanship. I want to give it to my grandson now but saving it for a Christmas present...hope I can wait that long. Gramma Peg

Personalized Puzzle Board
By
Shopper

(Spokane Valley, WA) - July 17, 2012
Bought this for my daughter's first baby. She received one with her name as a gift when she was born. 1) It arrived within 10 days, much sooner than expected. 2) It was beautiful! Much nicer than the one purchased 32 years ago. 3) Excellent site to shop from and this puzzle is a great gift and keepsake.

great gift
By
Shopper

(Chantilly, VA) - March 18, 2012
The puzzle board was great...made from sturdy wood, not flimsy or thin, edges were nicely finished, and there were beautiful colors on the letters.

puxxle board
By
Victoria M.

(Swansea, IL) - February 10, 2012 (
See all reviews by this customer
)
love it. This is the 3rd puzzle I purchased quality is outstanding...

Great Gift
By
Shopper

(Hawthorne, CA) - January 30, 2012
This is a beautiful puzzle and I look forward to giving it to my granddaughter. The colored letters with the colored locations is a clever idea and will be challenging for her as she has several "e" and "l" in her name.

Happy Mama
By
Bridgette L.

(Indianapolis, IN) - January 3, 2012 (
See all reviews by this customer
)
I have been eyeing this puzzle for some time now. I was very excited to order it for Christmas for my one year old. She has not played with it yet as she is still a little too little as she turns one in February. The workmanship is beautiful and seeing her name in a puzzle is too cool. Her name is special to us so I was able to get the engraving on the back as well! Would be a great gift for a preschooler. Very pleased!

Corey Puzzle
By
Christopher W.

(Battle Creek, MI) - December 24, 2011 (
See all reviews by this customer
)
Very pleased with the quality.

Puzzle review
By
Shopper

(Phoenix, AZ) - December 17, 2011
We love it, very good craftsmanship

2 Name Puzzle
By
kelli N.

(massapequa, NY) - November 6, 2011 (
See all reviews by this customer
)
Beautiful puzzle with knobs for each letter.

Excellent quality
By
Shopper

(Tipp City, OH) - November 4, 2011
The puzzle is beautiful and of excellent quality. I look forward to giving it to my granddaughter on her 1st birthday!

Love them!
By
Shopper

(Boston, MA) - November 2, 2011
We have a very long last name and I was looking for a puzzle that would help my daughter learn how to spell her name. These puzzles are great. Very solid (heavy!) wood, beautiful. Bigger than I expected (but as I said, we have a really long last name). I don't know if I would hang it, because it is so heavy and I'd worry about it falling, but the puzzle is great. My daughter loves it. The colors are great. Small complaint- sometimes the letter "O" is difficult to take out. I'm hoping with time it will loosen up a little. But overall, looks like the picture and a great purchase!

Great craftsmanship!
By
Shopper

(Springfield, OH) - August 5, 2011
Loved it. Can't wait to give as a birthday gift for my niece. Shipped sooner than expected.

High quality
By
Shopper

(San Diego, CA) - July 10, 2011
We have a long last name and this product could accommodate that.

Beautiful gift for my niece
By
Laura H.

(Brooklyn, NY) - March 26, 2011 (
See all reviews by this customer
)
I ordered this puzzle for my niece, for her first birthday. I wanted her to have something special. It was absolutely beautiful and the workmanship was very impressive. I would definitely order this puzzle, again.

There was some stress involved when it came to receiving the puzzle. After I ordered the puzzle, I was told it would take 3 weeks to be delivered. Technically, it should not have arrived in time for my niece's birthday and we had to travel out of town for the party. To my surprise, the puzzle arrived as I was packing up the car for our trip. Just keep in mind, there is a long turn around period for this gift, but it's worth it!

Impressive gift!
By
Shopper

(Cary, IL) - March 21, 2011
I purchased one puzzle for my son who is 2 and another for my niece as a birth gift. I was impressed by the quality. The wood thickness makes for nice chunky puzzle pieces that are great for little hands to handle. The letter spaces are smooth and pieces can be taken in and out without any catching. The puzzle has a leather handle/strap on top so it's ready to hang. The engraving option on the back is clear and definitely worth it!
I will be ordering more of these for upcoming birth and first birthday gifts!

Awesome!
By
Amy A.

(Tomball, TX) - January 24, 2011 (
See all reviews by this customer
)
It is worth the investment considering your child will have this for their whole life. They will even be able to pass down as an heirloom for their kids:) Personalization mall is my favorite site of all time! I love all their products!

Personalized Puzzle
By
Shopper

(Ware, MA) - January 15, 2011
The puzzle is expensive but it is truly elegant. It can be hung on a wall or put on a coffee table, it is that nice. The wood is a fine quality and cut very deep. Definitely a keeper. We had a message put on the back which makes it such a nice memory.

personalized puzzle
By
Karon S.

(Grand Blanc, MI) - January 3, 2011 (
See all reviews by this customer
)
Great craftmanship. Done very well. I would order again as another baby gift.

outstanding quality
By
Kelly M.

(West Nyack, NY) - January 3, 2011 (
See all reviews by this customer
)
I purchased this puzzle for my 2 year old son who loves puzzles, I knew it was going to be cute, but was pleasantly surprised by the high end quality of the puzzle board and letters. its extremely thick wood that will last. The knobs are also very nice, easy for picking up and nicely rounded but very sturdy. I liked that the puzzle board has a dot of the matching colored letter below each piece to make it easier for matching the piece to its spot. My son has been playing with it constantly, we go over his letters and also his colors and we play sorting games... I show him a letter and ask him to find others the same color. Highly pleased and would def recommend. If the puzzle wasn't so pricey this would be something I'd buy for all my nieces and nephews and kids friends. But definitely a special item I'd spend to get this keepsake for my son.

perfection!!
By
Tracey A.

(Taberg, NY) - December 20, 2010 (
See all reviews by this customer
)
This puzzle is amazing. The product was better then I ever thought it could be. I cannot wait to give it to my daughter for Christmas!

Beautiful and High Quaility
By
Stephanie P.

(Stone Mountain, GA) - December 13, 2010 (
See all reviews by this customer
)
I bought this puzzle for my 20 month old daughter. It is beautiful. The puzzle is well made and the wood is thick. The puzzle may be hard at first for younger children because the letters are a bit thick from back to front, but im sure my daughter will get the hang of it soon enough. The puzzle has a handle at the top for easy hanging to display this work of art well after the child out grows doing the puzzle. Well worth the price!!!