Perfect gift for a cereal lover.
By
Leonard G.

(valley stream, NY) - November 18, 2009 (
See all reviews by this customer
)
I bought this gift for my aunt, who recently told me that she eats a bowl of cereal every single morning...I saw this and knew it was a perfect gift for her. The bowl is adorable and just the right size. The personalization makes it a very thoughtful gift. Her bowl and hers alone.

Personalized Cereal Bowl
By
LaNay E.

(Alameda, CA) - November 13, 2009 (
See all reviews by this customer
)
I liked being able to review how the text would look before finalizing order. Shipping was quicker than expected. Bowl is of good quality materials.

nice
nice product..love it

Pleased with purchase.
By
J. D.

(Wilkes-Barre, PA) - August 24, 2010 (
See all reviews by this customer
)
Another purchase that we are pleased with. Grandson enjoyed his own cereal bowl with his name. Nice size.

Cereal Bowl
By
Mary Ann B.

(North Huntingdon, PA) - December 12, 2009 (
See all reviews by this customer
)
I liked the graphics but the bowl looked bigger online .For the price, I thought it should be bigger.

Cute but not too cute
By
Shopper

(Forney, TX) - August 17, 2013
I ordered this bowl for a gift and it arrived packed to perfection. However, the writing on it is in a very pale blue and almost unreadable. The sun background looks like a decal and I was not impressed. Sorry, but would not order this item again. Personalization Mall can do better.

Cereal Bowl
By
Jacqueline M P.

(Northfield, NJ) - December 23, 2012 (
See all reviews by this customer
)
I purchased this bowl for my son-in-law. I thought it was a extra.large cereal bowl. When I open it I was so disappointed. I only went by the picture. It was my fault I should have look at dimensions.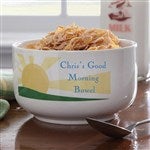 Not a great product
By
Shopper

(Pleasant Prairie, WI) - January 24, 2012
For anyone purchasing this bowl, beware. I purchased one myself and even read all the reviews. I just pulled it out of the box. The size is about half of what it looks like, 3"x3" actually. It is decent but not what I expected for the price I paid. As well as the size, the image is not the same at all. The yellow of the sun is not the rich color shown here nor is the green. On top of that, the image is about half the size shown. It is only about an inch and a half tall by three inches wide. The bowl is sturdy but no where near the quality I expected. Like I said, beware when purchasing.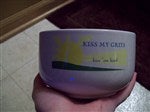 Disappointed with size
By
Shopper

(Saint Louis, MO) - December 7, 2011
This is a basic bowl that you can buy in any store. Looked much bigger on the site and I thought it would be a good size cereal bowl but it's small.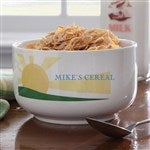 Nice size, writing way to small
By
Susan C.

(Monreo, GA) - November 17, 2011 (
See all reviews by this customer
)
This is a great size bowl, but the writing is WAY to small. The rest of the bowl was entirely blank. There is a lot more room to use!

Small
By
ANNA D.

(PRINCETON JUNCTION, NJ) - May 3, 2010 (
See all reviews by this customer
)
This bowl was a smaller size than I needed. If you eat a big bowl of cereal, this will not work for you.

Poor quality for price
By
Shopper

(Kirkland, WA) - January 1, 2012
For $30 I expected the bowl to be larger and sturdier. The custom lettering was small and not very bold in color. Will not purchase from this company again.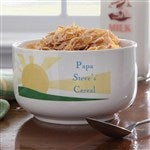 Not worth it for the price
By
Kristina H.

(Front Royal, VA) - December 10, 2009 (
See all reviews by this customer
)
This is very cute and perfect for a little kid, but I got this for a grown up who likes a big bowl in the morning and the picture is not what it seems. I just thought it would be bigger and when it came in it was so tiny! I am not happy and for the price and the size you definately should be getting 2 not 1!