Ice cream dishes - a great scoop!
By
Shopper

(Olathe, KS) - May 10, 2012
These dishes arrived quickly and look great! My daughter is having our first grandchild and I got one for her and one for her husband. They love ice cream and while we are all buying for the new baby, I wanted to get them a little something personal.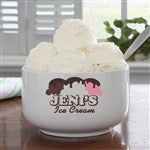 perfect
By
gisselle V.

(passaic, NJ) - May 6, 2012 (
See all reviews by this customer
)
I bought this gift for a family friend's birthday and it was gorgeous. The quality of the bowl is wonderful.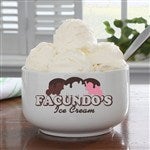 Loved it
By
Shopper

(Savannah, GA) - April 28, 2012
I brought this for my son....He loves it...good quality...we love this website...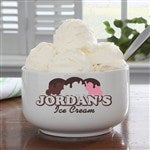 ice cream bowls
By
Leslee M.

(Vista, CA) - April 27, 2012 (
See all reviews by this customer
)
Love these. Bought when you had special pricing on them. They are Christmas gifts for my sister and brother in law. I also bought one for my boyfriend for his birthday. He loves ice cream. I know they will love them. Thank you again.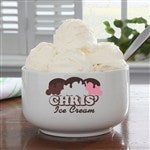 Perfect ice cream bowl
By
Shopper

(Irving, TX) - March 19, 2012
The service on this product was amazing--arrived quickly & in great condition. The bowl is classy, yet adorable--the recipient of this gift loved it! It's the perfect size & shape--lettering is beautiful.

Two happy little snackers
By
Margaret C.

(Australia) - March 19, 2012 (
See all reviews by this customer
)
My two grandchildren regard having ice cream as a "special treat" - and now to have it in a special bowl of their own makes them very happy!

The kids will love it
By
Donna Rae T.

(Pleasant Valley, NY) - March 13, 2012 (
See all reviews by this customer
)
Christmas gifts and all on sale . This was so much fun and everything looks just great. It is not easy to find thing with the kids names on it so this fits the bill.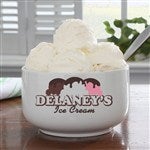 Ice Cream Parlor Stoneware Bowl
By
Debra H.

(Mays Landing, NJ) - February 21, 2012 (
See all reviews by this customer
)
I bought these for my grandchildren for Valentine's day packaged with a variety of ice cream toppings. They loved it. The quality of this product is excellent as with all the products I have purchased from Personalization Mall. And the time it takes to receive my purchases is so quick. Nothing like I have ever seen before. I am a very satisfied customer!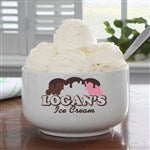 What I liked about the item
By
Bunny D.

(Checotah, OK) - February 15, 2012 (
See all reviews by this customer
)
This is a very special way to tell someone you know they love ice cream. Give them that personal touch. My Valentine loved his bowl with his name on it. And the fact that it is just big enough for a good bowl of ice cream. I wish i would have gotten the hole family one. :)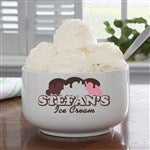 Perfect size bowl.
By
Shopper

(Canada) - February 13, 2012
Just so cute...my little girl loves it.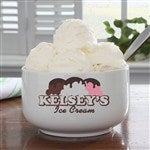 just what i needed
By
Shopper

(PENSACOLA, FL) - February 3, 2012
i had purchased an ice cream maker for my grandkids and this just completed the gift. made it more personal for them.
they looked great and the price was great.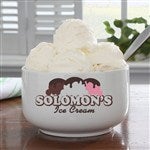 Just perfect
By
Tasha R.

(Middletown, CT) - January 31, 2012 (
See all reviews by this customer
)
I got this as a gift for my husband, who's always accusing me of using "his" ice-cream bowl. Now he has his own...literally. He loves it!!!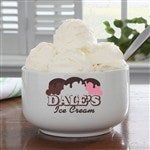 Ice Cream Parlor bowels.
By
Shopper

(Mount Prospect, IL) - January 27, 2012
Fastest shipping I've ever seen. Product is as expected. My granddaughter loves it.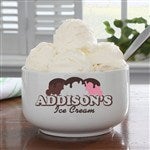 Not cheesy
By
Shopper

(Harbor Springs, MI) - January 15, 2012
Nice quality and the graphics are very professional looking. Smooth not like a decal was added. Very pleased.

Special hard to find names
By
Shopper

(San Bernardino, CA) - December 26, 2011
I love that I can personalize the name. You don't find these in any store.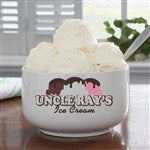 Great Gift
By
Shopper

(Boca Raton, FL) - December 24, 2011
You never want an ice cream bowl to big too big, and this was perfect!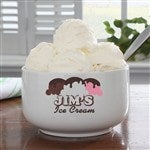 awesome!
By
Shopper

(St. James, NY) - December 20, 2011
I was really surprised when they showed up to my house and I opened the box to find ceramic bowls! I thought I was going to get some cheap plastic things or something. I was very satisfied and pleased to find out otherwise. I will definately be getting more gifts from here in the future! Also the size of the bowls are fantastic as well! I highly recommend this item to everyone!

My Uncle Loves Ice Cream
By
Martha L.

(Marietta, GA) - December 20, 2011 (
See all reviews by this customer
)
Seems like I shop every day on Personalized Mall, The bowl is just the right size. Everything I get from them is "just right" never a disappointment.
I have an uncle that loves ice cream, so who had the best gift, this site. The color is great the name is great and I know he'll just love it.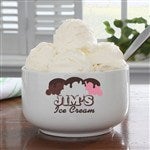 "Sweet" Gift
By
crystal C.

(Marrero, LA) - December 19, 2011 (
See all reviews by this customer
)
The Ice Cream Parlor bowl is a great gift idea for that special someone on your list. Any personalized gift adds that extra little touch to say you care.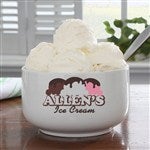 Awesome Ice Cream Bowls
By
Shopper

(Chambersburg, PA) - December 17, 2011
These are for my parents who love ice cream, aka Granny and Pappy to the grandkids. I'm sure they will love these as much as I do. Wish I would have got my own, and maybe I will. Perfect gift for any ice cream lover!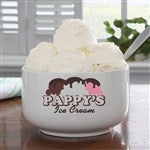 Very cute
By
Heather H.

(Longmont, CO) - December 15, 2011 (
See all reviews by this customer
)
I love everything I have gotten from Personalizationmall! :D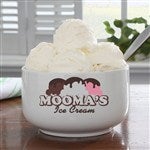 Great bowls for children
By
Arlyne R.

(Fairfield, CT) - December 15, 2011 (
See all reviews by this customer
)
I bought 2 personalized ice cream bowls years ago for my first two grandchildren. Now there are five. Never found a bowl I liked as well as the first until I came across your site. Now all the kids have their own, personalized bowls for ice cream and cereal, and the cousins want one, so I am sure I will be ordering more in the future. Very nice size and a good sturdy bowl. The monograming and picture are great. Highly recommend.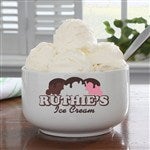 Awesome Idea
By Shopper (Las Vegas, NV) - December 4, 2011
I got this for my father for his birthday a couple months ago, and he adores it! He uses it almost every night and it makes a great cereal bowl too, or even just for the raisins her loves to eat. I will be buying from Personalization Mall again, especially for Christmas!

Beautiful Bowl
By
Shopper

(Temple City, CA) - November 25, 2011
I ordered 6 of these beautiful bowls for my granddaughter's 8th Birthday Party. She wanted a "Sundae Party"...and I wanted a special gift to go home with her friends. The girls made homemade ice cream and built their own Sundaes in the bowls. They were just perfect and made a lasting and useable gift for each child. Thank you for your fast delivery and quality product.

ice cream bowl
By
Shopper

(Bogata, TX) - November 7, 2011
I ordered this for my father in law because he eats ice cream almost every night. It's a neat bowl for ice cream lovers. Good quality and a good size bowl.

Loved it
By
Shopper

(Fishers, IN) - November 6, 2011
Sturdy! Fast delivery. Looks great.

awesome
By
Shopper

(Molalla, OR) - November 4, 2011
Bowls are soo cute! Perfect size! My grandparents, who eat ice cream every night, will love them!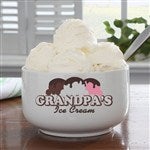 Spoiled Dog
By
George F.

(Carmel, IN) - August 9, 2011 (
See all reviews by this customer
)
My wife and I spoil our dog rotten. For example, I got him his own personalized ice cream bowl and he loves it!!!! Whenever I reach for it he knows what's coming. The bowl is high quality at an excellent price. Communication received from Personalization Mall was excellent and the item delivered fast. Great experience. I will be a returning customer.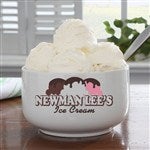 wonderful!
By
Laura G.

(Jersey City , NJ) - July 12, 2011 (
See all reviews by this customer
)
AN ICE CREAM LOVERS DREAM. THIS GIFT MADE MY BEST FRIEND VERY HAPPY.
IN PERSON, IT IS ACTUALLY BIGGER THAN IT LOOKS IN THE PICTURE. TOTALLY WORTH PURCHASING AS FAR AS QUALITY AND APPEARANCE GOES.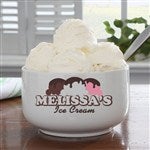 Great Gift
By
Sharon S.

(Brownstown, MI) - July 11, 2011 (
See all reviews by this customer
)
My husband loves his ice cream and I thought it might be a unique gift for him. It turned out great as does everything I've ordered in the past. His only complaint was "it could be a tad bigger" which I should've expected from him. We were very happy with it.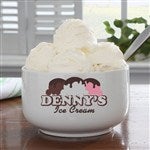 Great Product
By
Grace C.

(Miami, FL) - July 5, 2011 (
See all reviews by this customer
)
The person I gave this item to my boyfriend. He is an icecream lover. He was delighted with this bowl. The size is perfect!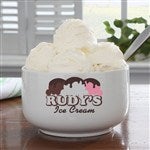 AN ICE CREAM LOVERS VERY OWN BOWL
By
ZAKIYYAH N.

(FRANKLIN PARK, NJ) - June 15, 2011 (
See all reviews by this customer
)
I Was so very excited when my package came to the house. I was even more elated when I opened it and had my first look at my very own bowl. I thought when I purchased it it would be small. My pleasant surprise is, it's just the right size...I eat ice Cream EVERYDAY...and I am enjoying it even more in MY VERY OWN BOWL. I am so pleased that I finally purchased this bowl.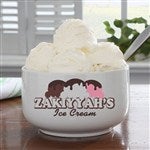 The perfect ice cream bowl!
By
Shopper

(Boston, MA) - June 13, 2011
These bowls are perfect in all ways - size, weight, design.... The person I gave them to as a housewarming gift LOVED them!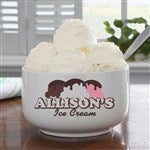 They Loved Them!!!
By
Lynda R.

(Albuquerque, NM) - May 31, 2011 (
See all reviews by this customer
)
Gave bowls as a "thank you." Upon receipt I immediately got a call and a picture of them eating ice cream out of their bowls. They were so delighted. It is great to give a gift that is really enjoyed. They are now planning to give them as gifts for birthdays. I would recommend them definitely. And they came very quickly.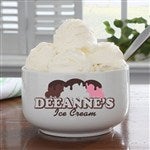 Great product
By
Shopper

(Carnegie, PA) - May 20, 2011
i absolutely love this ice cream bowl. It is a great size an excellently made.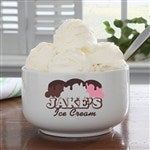 Makes a perfect Surprise Gift for Loved Ones
By
Shopper

(Dillon, MT) - May 15, 2011
The bowl is a great size for ice cream parties and hearty appetites. The names look terrific and make a wonderful statement for the owner of the bowl.

Ice Cream Stoneware
By
Dennis S.

(Stow, OH) - April 29, 2011 (
See all reviews by this customer
)
The quality was excellent. Printing was clear and the color I was expecting. Size is also excellent for ice cream.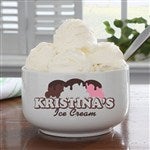 Cute ice cream bowls
By
Shopper

(New London, WI) - April 29, 2011
I used these as an easter basket theme...it was a big hit!! I put the bowl in the center of the basket and added items for building sundaes.

Fathers Day
By
Shopper

(Cogan Station, PA) - April 25, 2011
I got these bowls for my daughter to give to her Daddy for Fathers Day. they eat ice cream together so I got one with her name and one with Daddy on it. She has not given them to him yet but after me seeing them, I know he will just love them. The personalization was all correct and they are perfect size. They shipped very fast also.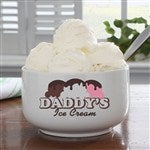 Great Gift
By
Shopper

(Bridgeport, TX) - April 11, 2011
This was a huge hit for my Father-in-law! He LOVES Ice Cream and he was so excited about the bowl and said that it was his favorite!