Great Father's Day Present
By
Shopper

(Chicago, IL) - June 21, 2011
I bought these for my husband for Father's Day and bought two pairs...one with a picture of each of our daughters. It was a great present that he will have forever...remembering how little our daughters were at one point.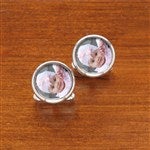 Anniversary Gift a success
By
Shopper

(Chesapeake Beach, MD) - April 24, 2011
I surprised my soon to be husband with these cuff links and put his coat of arms as the photo, he was surprised and thought they were really cool. He can't wait to wear them! His best man thinks they are very cool as well, so we might be giving them to the groomsmen as gifts at our wedding? Over all a good buy and shipping was fast!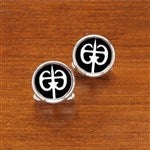 Wonderful Product
By
Tiffany L.

(Richmond, VA) - July 14, 2013 (
See all reviews by this customer
)
I purchased these cuff links for my husband to wear on our wedding day. I ordered them with pictures of his late mother in order to incorporate her in our special day. They were a surprise and I believe he absolutely loved them along with his family. They raved about them for hours after the wedding. It was such a special way to incorporate her in our ceremony.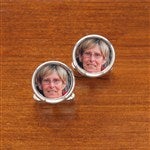 Awesome gift for groom as wedding gift
By
Alisha F.

(Gloucester, MA) - July 10, 2013 (
See all reviews by this customer
)
I bought these for my husband to give them to him the day of our wedding with a picture of his grandfather who passed away. I ended up ordering them too late and gave them to him when we returned from our honeymoon. He loved them and it will be a gift he will have forever in memory of his grandfather.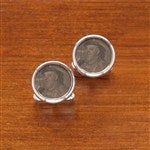 A November Moon
By
Martha L.

(Marietta, GA) - December 9, 2012 (
See all reviews by this customer
)
On a November 1, 2010 night my husband took a picture of the moon, hard to do, came out great. So my son collects cuff links and I remembered that picture of the moon.
Then I thought of the Personalizationmall,and saw they had round cuff links so I took the picture and downloaded it to the "mall" and they put the moon right in the center of the cuff links, how fabulous is that.
Now forever my son will have his Dad's picture in his collection. These people are awesome. Have shopped for many things, everything perfect.

A great Father's Day gift!!!
By
Abby G.

(Lansing, MI) - June 6, 2010 (
See all reviews by this customer
)
I purchased these for my husband for fathers day and put our daughters hospital picture on them. The quality is great, it is exactly what I wanted them to look like. Also what I love is when you order them, the website gives you a chance to see what the cuff links are going to look like with your picture before you order them.

Good clarity, Good Price
By
Rachel B.

(Concord, NC) - June 22, 2010 (
See all reviews by this customer
)
This items picture quality turned out to be great. The price compared to other cufflinks is reasonable. Would recommend.

Big Hit
By
Sheila W.

(Richmond, VA) - June 22, 2010 (
See all reviews by this customer
)
I ordered 5 sets of Favorite Photo cuff links to give as Father Day gifts. It was a big hit with all. Everyone loved them...father, brothers, brother-in-law and friend. Very unique and though I am not sure of the life expectancy, if picture will fade. If not, it is something that can be passed down for generations. I plan to inherit back the set given to my father and I can keep him with me when I wear them with my blouse, etc. I also plan to order a new for newlyweds expecting their first child in a few months. As soon as I get a picture, I will give them a unique gift as well.

Just as described!
By
Jane C.

(Seattle, WA) - January 22, 2013 (
See all reviews by this customer
)
So excited to get my personalized cufflinks in the mail - they were just as described and just as they appeared in the "Review" section before you confirm your shipment. Quite happy with the purchase.

Happy with the cuff links
By
Shopper

(Chicago, IL) - May 21, 2012
I have ordered from Personalization Mall in the past and the quality has been very good. I was excited to learn that this company had personalized cuff links to order. In all cases in the past, I received my order within a few days. In this case, it took a lot longer as the cuff links needed to be special ordered. I was told to expect them within 10 days to 2 weeks. Unfortunately, when the 2 weeks past, I was told my order needed to be re-done as there was a bubble in one of the cuff links. Untimately, I was very pleased with the cuff links, however they were a gift for my husband and I received them after his actual birthdate.

Personalized Cufflinks
By
Shopper

(Frisco, TX, TX) - September 11, 2013
The silver rims were thicker than shown on pic, still a very nice product.

Awesome Gift
By
Sylvia R.

(Dallas, TX) - February 11, 2013 (
See all reviews by this customer
)
The quality of this item was awesome! I did not have a great photo to use, but it turned out beautiful! I gave this item 4 stars out of 5 only because it was just a tad bit smaller than what I was expecting (but still they looked beautiful on the shirt sleeve cuff), nevertheless, I'd buy them again because of how great they look. Everybody that saw them loved them.

loved them
By
Genevieve B.

(Portsmouth, NH) - February 26, 2012 (
See all reviews by this customer
)
I gave them to my husband for Valentine's with our daughter's picture. Now he has a new way to show her off at meetings with clients.

Sentimental favorite
By
Shopper

(Philadelphia, PA) - December 23, 2011
I ordered these cufflinks for my boyfriend and was impressed by the quality of them. I had seen similar cufflinks on other sites for much more money. I didn't even use a high quality photo and they turned out great. I can't wait to see his reaction when he sees them on Christmas. Of all the gifts that he will receive, I know that these will be the most cherished.

Amazing Quality
By
Shopper

(FONTANA, CA) - June 25, 2013
The cufflinks are beautiful! The pictures look perfect on the cufflinks! The colors are so vibrant. The personalization is perfect. The quality was made to last. Everyone that sees the cufflinks, loves them. Excellent product!!!

Unique Gift Idea
By
Rachael M.

(Canada) - December 31, 2012 (
See all reviews by this customer
)
Ordered these for my husbands first Christmas as a Daddy! Had our daugthers face placed in the cufflink. They turned out exactly as I had hoped. Great quality and colour - great product!

Superb!
By
Sheila W.

(Richmond, VA) - July 31, 2010 (
See all reviews by this customer
)
I was very pleased with my order. I have received feedback from recipients of how delighted they were to get such a unique, yet thoughtful gift that can be cherised for years to come. Thanks.

Great Gift!!
By
Miriam M.

(Pearland, TX) - June 24, 2010 (
See all reviews by this customer
)
The cuff links are wonderful! Everyone that saw them were like, "I've never seen that before!" I bought them as a Father's Day gift, and he LOVED it! They looked just like the preview looked. I would definitely recommend this item...DON'T SECOND GUESS YOURSELF!!! :)


great gift idea
By
Jessica L.

(Pittsburgh, PA) - June 27, 2011 (
See all reviews by this customer
)
These cuff links turned out really well. It's a little tough to envision how they'll look before purchase, but I was very pleased and my husband loved them. I had a picture of our baby put on them - adorable! A good price for such a unique, quality item too; I saw them on another site for a much higher price.

Excellent Father's Day Gift
By
Shopper

(Montclair, NJ) - June 24, 2011
Just purchased these cufflinks for my husband for Father's Day with a picture of our daughter and he absolutely LOVES them! The photo came out perfectly and just as it was shown to me in the preview when I ordered them. Note that the photos are small, so a full facial picture works best. You can change a color photo to be black-and-white or sepia. I would highly recommend this product and plan to buy them again next year for my father.