disappointed
By
JOHN M.

(henderson, NV) - February 10, 2012 (
See all reviews by this customer
)
I was very disappointed with my purchase, there is nothing to compare the size of the actual letters, I got initials and not a name only 3 initials A.R.I. (short for arianna) and all three of them fit on the head of a penny with room to spare, That's how small they were. My Gift message wasn't included either, I was so disappointed. I had to go out and my great niece another gift because I was embarrassed to give her only that item!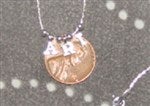 Good for a little girl, not for a teen
By
Shopper

(Northridge, CA) - December 3, 2013
I should have read the reviews beforehand to see that most were buying this for a little girl. I bought it for my older teen and was disappointed that the actual letters on the necklace were about a third the size of the ones in the picture. She won't be wearing it. I will say it's nice quality, and a nice product, just not for older teens.

Would not buy again
By
Shopper

(Delray Beach, FL) - November 5, 2013
I bought 4 necklaces and don't like them because the separating beads are not big enough to separate the letters. There should be bigger beads or 2 beads used as spacers.

ok
By
Aiesha M.

(Philadelphia, PA) - December 14, 2013 (
See all reviews by this customer
)
Nice necklace but the letters are too damn small.....

average
By
Shopper

(Broomall, PA) - January 25, 2014
I had purchased 3 of these for grand daughters. They were not a nice as the pictures led me to believe. they are ok, but nothing terrific....

Bought this as a gift for a 16-year-old
By
Mary S.

(Saint Louis, MO) - December 30, 2013 (
See all reviews by this customer
)
I've been very pleased with the items I have purchased over the years, but in this case, I should have read all the reviews first. The necklace is dainty and sweet, but probably better suited to a younger child. I think the chain length will be adequate for an older child, but I should have ordered the longer length to be on the safe side. The letters are very tiny, which alone would not bother me, but the separation balls need to be a little larger to keep the letters from sliding over onto the next one, making the name difficult to read.

Smaller than expected
By
Angela K.

(Texas City, TX) - December 20, 2013 (
See all reviews by this customer
)
I ordered this for my teenage granddaughter and it was so small it would be better suited for her 3 yr old sister! Order the longer chain!!

Very small!!
By
Gina P.

(Lake Dallas, TX) - July 21, 2013 (
See all reviews by this customer
)
I purchased this necklace for my daughter for her birthday. When it arrived, the chain was all tangled up and I had to de-tangle it. The letters are super small. When she puts it on, you can't read what it says unless you get very close. They are very very tiny! My daughter did like it but I think that's because it was her name. She agreed the letters should be a lot bigger. Oh and unless you like really short necklaces, go for the longer length. The short length is almost a choker.

acceptable
By
Shopper

(berwyn, IL) - January 19, 2013
it is just as i asked but i did not realize how tiny and the letters have a kind of bend in the rather than flat. but very good price and quality just the same. bend is to be expected having been cut on a die press but wish they could have flattened them

Personalized
By
Stanley T.

(Williamsport, PA) - December 23, 2012 (
See all reviews by this customer
)
I found it difficult to find any businesses that sold what I wanted . A necklace with a name on or in it. This necklace fit the bill but I must say I was surprised at how tiny and frail it was upon arival. It is nice looking and I guess we'll have to wait and see how well it holds up being worn by an active teenager.

nice
By
Shopper

(NORTH MIAMI, FL) - November 18, 2012
It is nice but way too short make it a lil bit longer it would perfect

Just OK
By
Shopper

(VALRICO, FL) - July 5, 2013
Petite, almost better for children if not for the aspect of being a choking hazard. Chain looks very fragile and the latch so tiny and difficult to open. Overall, it was an appreciated gift, but I would not recommend it. Lastly,this was made and shipped from an alternate facility and seemed very slow to deliver compared to my many other purchases from Personalization Mall. If it had arrived in a more timely manner, I probably would have returned it, but it was a birthday gift and time ran out.

name necklace
By
Robert H.

(Lenox, IA) - May 11, 2013 (
See all reviews by this customer
)
The quality of this necklace appears to be fine, & i like the name spelled out on the chain. However, the letters are very small & difficult to see when the necklace is being worn.

Evelyn
By
Evelia M.

(Portage, IN) - February 11, 2013 (
See all reviews by this customer
)
I am happy with the item that i purchased. I did think that the lettering would of been larger. I am disapointed that i was able to wear it once to an event and the necklace broke. I do not know what your return policy is if any.

small enough for child
By
Amy L.

(Plaucheville, LA) - December 18, 2010 (
See all reviews by this customer
)
I bought this for a small child for Christmas so I wasn't sure how big the letters were going to be. I just got her initial to be safe. I am satisfied with the necklace but the letters are small enough to get the whole name. Either way, I think she will love it. Good quality

Adorable !!
By
Shopper

(Nantucket, MA) - October 26, 2012
I purchased this necklace for a 13 year and she absolutely loved it.. Great gift!!

Dainty necklace
By
Gayle D.

(Howell, NJ) - March 24, 2012 (
See all reviews by this customer
)
I purchased this gift for a 5-year-old girl's birthday present. She's a dainty little girl and it suits her perfectly. The letters are block, very thick and attractive and the spacer balls were perfect; and the chain is a great length for a child. The chain itself is a little lighter than I had hoped, but it's not bad by any means. Really sweet gift for a young girl. Who doesn't love a personalized gift!? Great price too!

Adorable
By
Shopper

(Birmingham, AL) - January 26, 2012
The necklaces are adorable. I just wish the letters were a little larger.

Happy Mimi
By
Shopper

(Charleston, SC) - December 18, 2012
I ordered this necklace for my 4 year old granddaughter. So pleased with the size of the letters which are quite petite. I do wish the chain could be adjusted as 18 inches is a little bit long for a small child. This gift will be a Christmas hit for sure!

Cute!
By
Shopper

(Welches, OR) - December 17, 2012
Great quality. letters were smaller than I expected, but still a great gift.

very cute
By
Shopper

(Warrenton, MO) - December 15, 2012
I love this necklace and the fact that you can personalize it. The only thing I was disappointed in is the letters are a little smaller than I had expected.

small and dainty
By
KAREN B.

(SHIPPENVILLE, PA) - January 5, 2012 (
See all reviews by this customer
)
I bought two for grandaughters and appreciated the price savings for the shorter name. They are very small and delicate - perfect for my young girls but wouldn't recommend for an adult. I appreciated the quick service right before Christmas and would return to this site for other purchases.

Review
By
Shopper

(Dayton, OH) - July 14, 2011
This item was very cute! My only problem is it's VERY small. I purchased it for a 11 year old. And unless your staring down her neck you can heardly see it.

necklace
By
Penny D.

(De Soto, GA) - January 9, 2011 (
See all reviews by this customer
)
Very nice the letters were smaller than they appear online, but still a nice gift best to order the longer chain

just in time
By
NANCY G.

(COHOES, NY) - December 28, 2010 (
See all reviews by this customer
)
The necklace was very pretty and it arrived in the nick of time! Thanks!

adorable
By
ANNE MARIE M.

(COMMACK, NY) - December 30, 2011 (
See all reviews by this customer
)
the necklace and charms which create the name are adorable - but keep in mind they are very very small and only appropriate for little girls...it looks much bigger in the picture. One of them which i ordered came in misspelled and i am told a new one is being shipped out already - so no issues there!

Nice Gift
By
Shopper

(Keller, TX) - December 14, 2011
This would be absolutely perfect if the letters weren't so small. They are really really small. Quality of necklace is nice

Nice!
By
Shopper

(Beaverton, OR) - December 5, 2011
Perfect present for my 7 year old grandaughter.

Letters too small
By
Shopper

(Lubbock, TX) - January 19, 2014
This is the first time I've been disappointed in something from Personalization Mall. I was disappointed that the letters were entirely too small. This is for a gift and I hope they are not too disappointed in it!

Not as pictured
By
Dee H.

(Aliso Viejo, CA) - November 24, 2013 (
See all reviews by this customer
)
I was really disappointed to receive this necklace with tiny little letters. It's very hard to even see the name.

Too much money
By
christine A.

(lansing, IL) - November 16, 2013 (
See all reviews by this customer
)
I was so very disappointed with this necklace for the money I spent. The chain is okay but the letters look very very cheap. I also ordered it on November 5th & did not receive it until the 15th which was too late for the special occasion. Do not waste your money.

Too Small
By
Shopper

(Pleasanton, CA) - November 21, 2011
This necklace was not at all what I was expecting. It was for my 13 yr old grandaughter. It is best sized for a child 4 or 5 years old. The letters are flat and flimsy looking. I do not recommend this for anyone.

too small
By
Kathryn J.

(Waupaca, WI) - December 12, 2010 (
See all reviews by this customer
)
The letters and chain on this necklace are much smaller than expected. I bought this for a 5 year old and it will be fine, but it would be too small and too short for my 9 year old. Also the quality of the chain is not good. I ordered other thing at the time and the quality was great, but not this necklace. be aware of the age and person you are buying it for, not worth the price.

Necklace was disappointment
By
Christina K.

(Davenport, IA) - June 3, 2014 (
See all reviews by this customer
)
I purchased two of these necklaces for my granddaughters. For the first time in many years of being very pleased with my purchases, I have to say that these necklaces are not worth the money. The lettering is so small that you can barely make out the names.

Personalized Silver Necklace
By
Shopper

(Austin, TX) - February 11, 2013
Should change the title to Personalized Silver Plate Necklace. Title is misleading.

Also pic is misleading. The size of the letters and spacers is very tiny. Can hardly read the name. For the price paid this is not a good value at all.

All in all disappointed in this product.

Necklace
By
Kathy B.

(Burgaw, NC) - December 16, 2011 (
See all reviews by this customer
)
The necklace was thin and very tight around the neck. Letters were very small compared to looking at the picture on line. The necklace would fit my granddaughter.

Size is deceiving
By Shopper (Old Bridge, NJ) - December 6, 2011
i read the reviews and expected the necklace to be somewhat smaller than advertised, however this is very small. Also the chain is short. Not worth the money at all.

Tiny Tim
By
Jaime T.

(Rohnert Park, CA) - October 21, 2011 (
See all reviews by this customer
)
This necklace looks big enough to read in the picture, but you have to have a magnifying glass to see it in person. I wore it today, and not only did I have to point it out to people, the had to get REALLY CLOSE to my neck to see it. I haven't ever been so unhappy with an order as I am with this one. Don't waste your money on this.
Everything else I've ordered is GREAT!! I won't stop ordering, but I will definitely make sure to do much more research before getting excited about a product again.

Do not buy from this company
By
Suzanne S.

(Celina, TN) - January 1, 2013 (
See all reviews by this customer
)
I ordered and the item was so tiny it would fit a year old and it was just letters and they would not give me my money back. It was letters they could reuse.

S.S
By
Shopper

(Rochester, MI) - February 25, 2012
The letter are too small. The chain is long. It doesn't worth the money I paid