WINE HOLDER
By
valerie M.

(sevierville, TN) - December 22, 2013 (
See all reviews by this customer
)
THIS WAS AN AWESOME GIFT WHO I DIDNT KNOW TO WELL BUT I KNEW SHE LOVED WINE I LOVED IT BUT I WISH THERE WAS A WAY OF PUTTING MORE THEN 1 LETTER ON IT SO CUTE THOUGH THANKS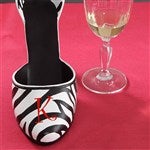 Nice!
By
Shopper

(Woodside, NY) - July 20, 2013
I love this wine shoe! Great gift idea for ladies who love wines or shoes or both! I would have given it 5 stars but the other colors for personalization were not available when I ordered:(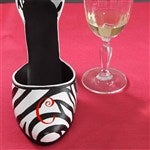 Very Cute!!
By
Mary H.

(O'Fallon, MO) - May 24, 2013 (
See all reviews by this customer
)
I bought this for my mom and she loves it! The only thing negative I can say is that I thought the initial would be painted on but it is only a sticker. It makes it look not quite as nice as I wanted but my mom still loves it.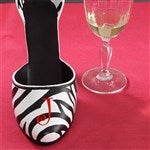 Wine shoe
By
dawn R.

(La Habra, CA) - December 19, 2012 (
See all reviews by this customer
)
I was very pleased with the product it is heavy and good quality the only thing I can say is the Letter was peeling off a bit but I was able to just smooth it out! Turned out to be a great gift!!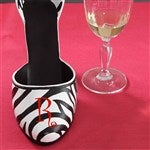 very cute
By
Shopper

(Meriden, CT) - November 18, 2012
I bought this as a gift for a friend, it is very sturdy/heavy and looks so cute with the bottle of wine I bought. The only thing that I can say I wasn't completely happy with was the letter on the shoe is a sticker not painted on like I expected. But still a really great gift!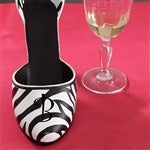 Fabulous gift!
By
Jan C.

(Canada) - October 24, 2012 (
See all reviews by this customer
)
Nice and heavy/sturdy. The only bit I thought could be better was that the letter decal really looks like a sticker and follows the creases of the zebra pattern on the shoe and could easily peel off if you aren't careful.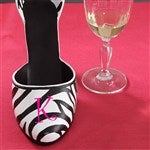 Love it
By
Heather G.

(Marysville , CA) - December 17, 2011 (
See all reviews by this customer
)
It's really cute and makes a nice decoration for my kitchen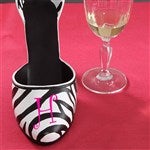 Unique Wine Gift
By
Karen K.

(Albuquerque, NM) - May 27, 2010 (
See all reviews by this customer
)
The Wine Shoe is a great gift for the shoe lover who enjoys her wine. I would like the monogram to be darker since it can get lost in the shoe design. Overall, it is a unique gift which I recommend and will buy more.

Fit for a Diva! Just needs a little work on fitting a wine bottle!
By
Ann M.

(Woodbury, NJ) - June 15, 2010 (
See all reviews by this customer
)
Very cute and my friend really liked it! It would be nicer if the wine bottle fit in the area so it would rest a little more securely. The bottle of sparkling wine which my friend really enjoys did not fit in the bottom of the shoe. The bottle was neither an odd or larger size than most wine bottles. The idea is great. The manufacturer could work on a better execution!

The "monogram" is just a sticker
By
Virginia M.

(Tupelo, MS) - May 20, 2010 (
See all reviews by this customer
)
The actual shoe is very cute and made of good quality but the monogram was nothing more than a cheap sticker that I know will not last more than a year. I was very disapointed to see that because I have ordered several products from this website and they all were of good quality including the monogram. This monogram is something I could have done and will probably have to once this sticker falls off.

This is definitely not Cinderella's shoe!
By
Michele M.

(Canada) - January 28, 2010 (
See all reviews by this customer
)
I bought this for my niece who I'm sure will love it as it is quite funky. As for me, it was a lot bigger and clunkier that I had envisioned. That will teach me to read the dimensions more closely before ordering!

Embarassed to Give it as a Gift
By
Stephanie S.

(Canton, OH) - October 22, 2012 (
See all reviews by this customer
)
I thought this wine shoe was cute for my husband's grandma...she's a stylish lady and likes flashy things. I received it a few days ago and I have to say I am embarrassed to give this to her. The "monogramming" is not at all professional. Her initial is literally a STICKER that I could have applied myself with letters from the the craft store. Since the stripes on the shoe are textured, it is very obvious it's a sticker and not part of the shoe, giving it a very homemade look and not very professional.

Besides the monogramming issue, I also tried sitting 5 different bottles of wine in the shoe to figure out which one looked the nicest, and all of them looked awkward and ill-fitting. I wish I never bought this!

Not as I had expected.
By
Danielle K.

(Bothell, WA) - December 12, 2010 (
See all reviews by this customer
)
I ordered this as a gift, and was excited to give it, because it's a fun, cute idea that suits the person I ordered it for really well, she'd love the concept and design.
I was disappointed when it came, though- the quality of the piece is really poor. Looking at the picture, you might figure it's probably ceramic, but it's much lighter than ceramic, kinda feels a lot like plaster. And the paint work is shabbily done, with a missed spot here and there, and no top coat. It looks extremely cheap! I would be embarrassed to give this as a gift.