Nice but lacking in quality
By
Brock P.

(Atlanta, GA) - January 3, 2013 (
See all reviews by this customer
)
The product is overall nice and a wonderful idea. However, we ordered 3 ornaments of our children to send to our parents. We saw one of the ornaments and noticed two problems. 1) the image quality (coloring, more specifically) was different from what we saw on the computer, and this wasn't just an issue of brightness and contrast, the color hue/saturation was different, more orange like on their skin and we aren't that tan, or that kind of tan. 2) the cropping was different than expected. The website shows where the image should get cropped, so either this grayed circle was off or something else weird happened with the picture. We took a lot of care in looking at both the coloring and cropping of the image (even adding extra black borders to the image to get the cropping right, so we shouldn't have had either of these problems. Otherwise it is a sturdy, nicely done product for not too expensive.

Blurry photo
By
Shopper

(Chicago, IL) - December 30, 2012
I love the idea of this ornament - a ceramic, personalized keepsake. However, despite a high resolution photo, the photo is blurry on the finished product. I'm not sure that I would order this again.

A little disappointed
By
Shopper

(Syosset, NY) - December 16, 2012
The quality of your mousepad was sooo great, that I was a little disappointed when I received the ornament and the face of it was not smooth. I couldn't clean it off either. It was a gift and I was a little disappointed to have to give it that way. Please try to improve either the process that caused this, or the quality of the discs that you use for the ornaments. Thank you.

Fuzzy Pictures
By
Shopper

(LUMBERTON, TX) - November 16, 2012
The pictures were not as clear as they appeared on the computer. Quality overall is not what it appears to be online.

Picture is so-so
By
Lisa S.

(Altadena, CA) - January 8, 2012 (
See all reviews by this customer
)
This is the 3rd picture ornament over 2 years that I have ordered. I ordered 2 last year and didn't love the quality of the pictures, but I tried again this year. This year's looks even worse. It is very grainy and not clear and crisp like the sample pictured. I used high quality images, but they all look dark. All my pictures were indoor photos, maybe outside photos would look better. Not sure I am going to try again next year.
On the other hand, I love the shape of the photo and the placement of the text. I likes that the photo fits in the middle with the text on the top and bottom. The bold text at the top is easier to read than the cursive text on the bottom. If I had my choice, I would love to choose my own font and color.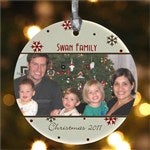 Christmas Ornaments
By
Shopper

(Cincinnati, OH) - January 2, 2012
I found the pictures to have a fuzzy look and be in very poor quality. I would not recommend getting this type of ornament unless you have professional pictures uploaded.

Overall pleased
By
Sara H.

(Washington, IN) - January 1, 2012 (
See all reviews by this customer
)
The ornament was very pretty; the photo quality wasn't perfect, but hanging from a tree, you couldn't tell anyway. I liked ordering the gift box as well; it was a cute way to give the ornament to its receiver.

photo image
By
Shopper

(Harrisburg, PA) - December 20, 2011
The whole ornament looked sort of "grainy" for lack of a better adjective. I have always loved your products but was actually disappointed for the first time this year :0(

2nd times the charm
By
Shopper

(Cordova, TN) - December 19, 2011
I ordered 5 of these all with the same picture. When I edited the picture it looked fine. When I received them, they looked horrible. The faces were over highlighted and I was shocked they sent them out like that. But the customer service was great and they sent new ones right away and they looked much better.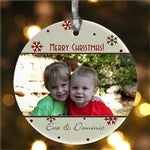 Wrong date!
By
Nancy R.

(Versailles, KY) - January 1, 2011 (
See all reviews by this customer
)
I accidently put the wrong date on the ornament. I will be more careful next time. Other wise it looked great.

Ok
By
irene W.

(Beckley, WV) - December 23, 2010 (
See all reviews by this customer
)
2 out of circa 10 ornaments had pictures that were not centered. Quality of photos a little grainy. Overall they looked good(except for the 2).

Poor quality
By
Andrea P.

(Shakopee, MN) - December 22, 2010 (
See all reviews by this customer
)
What a bummer! The picture looked so clear but was extremely dark and fuzzy when we got it! Besides for the picture print quality, it is really cute!

Surprised by all the good reviews
By
Erin R.

(Berwyn Heights, MD) - December 21, 2010 (
See all reviews by this customer
)
I really liked the design of the ornament and it was easy to create. However, the picture quality is awful. And no, it was not because of the quality of the photos I uploaded - they were more than suitable. I ordered multiple ornaments with different photos and the photo printing on all of them was rather poor.

Cute idea, just wish the photo quality was better.

Fair photo quality
By
Wes J.

(Castle Rock, CO) - January 14, 2010 (
See all reviews by this customer
)
The photo is not sharp and the quality is not as I expected. The white on the ornament background is yellowed so the picture does not stand out as shown on the website.

Like the other one better
By
Heather G.

(Irwin, PA) - December 28, 2009 (
See all reviews by this customer
)
Ordered this ornament design in addition to one where the photo takes up the entire ornament. This one was nice, but I liked the other one better. Definitely use a close-up photo for this product. Also, the pictures in this online catalog show the photos looking very sharp. The photo on the actual ornament looks a little blurry (not b/c of the photo -- my printed photos at home are very crisp & clear, taken with a 12 megapixel digital camera on a high quality setting). Regardless, I still really liked the product.

Pixelated photo
By
Megan M.

(West Sacramento, CA) - December 22, 2009 (
See all reviews by this customer
)
The ornament is nice and seems like very good quality. I ordered two of them with different pictures and both of them look very pixelated. Bummer.

cute but blurry
By
Julie F.

(New Prague, MN) - December 22, 2009 (
See all reviews by this customer
)
Made this ornament for my son and his girlfriend. it is cute but the picture is blurry.

ornament review
By
tricia L.

(jupiter, FL) - December 19, 2009 (
See all reviews by this customer
)
Love the concept and idea of it but the picture was blurry and darker than I would have wanted, especially since the photo I sent was neither of those things.

Ok
By
Kelly S.

(Quakertown, PA) - December 10, 2009 (
See all reviews by this customer
)
I was a little disappointed because the picture I had used said it was of best quality for the ornament but it still came out a little fuzzy. The whole ornament also has a yellowish-tinge to it, so I wasn't too thrilled with that. It's ok though, for what it is.

Personalized Ornament
By
Jennifer S.

(Waukesha, WI) - December 9, 2009 (
See all reviews by this customer
)
I was excited about this ornament when pre-viewing it on my screen, but I was disappointed when seeing it in person. My hi-res images were not very clear at all on the ornament. I know the Grandparents will still love the picture of our daughter on it, but after seeing it in person I would not order it again.

disappointed...
By
Leslie M.

(Hillsborough, CA) - November 30, 2009 (
See all reviews by this customer
)
I ordered one of these ornaments for each immediate family in my family and was disappointed when I received them today. After reading all the great reviews, I expected the quality to be much better. I uploaded excellent quality pictures but they printed out blurry and dull. Even the lettering on the ornaments were blurred and not crisp and clear as expected. I may have to keep these for myself as I'm a little embarrassed to use them as gifts...

good ornament but not great
By
Cierra S.

(Valdese, NC) - November 26, 2009 (
See all reviews by this customer
)
i was a little disappointed with the quality of the picture. It looked a little blury.

Picture was more grainy...not as sharp as product ordered last year
By
Shopper

(coppell, TX) - January 18, 2011
Sorry, but I was disappointed in this product. I ordered a photo ornament on this site last year and it was much better then this one. Maybe it is just this design?

Disappointed : (
By
Jennifer D.

(Dunwoody, GA) - December 27, 2010 (
See all reviews by this customer
)
I was so disappointed with this ornament. Last year I ordered two of these and I was so impressed with the quality that this year I ordered another one. The quality was not the same. This year it looked like it was printed on regular paper instead of photo paper, which made the picture look fuzzy, dull and cheap... And it wasn't the picture itself because I also made a photo mug with the same picture which came out beautiful... Anyhow, I called PErsonalization mall to discuss the issue and they were gracious enough to try and make me another one free of charge, and I received it in two days, it was a little better, but still looked as if it was printed on regular copy paper. I was so disappointed : ( I had even planned on ordering some more of these ornaments for keepsakes, but won't now because the quality is very very poor... I don't know what they changed from last year to this year but I hope they change it back to the better quality.

Flaw in the picture...
By
Jennifer C.

(Fernley, NV) - December 20, 2010 (
See all reviews by this customer
)
This ornament was okay for the money you pay. There was a flaw in the photo that we had put on it which is why I probably won't make a purchase on this website again. Also they print Personization.com on all of their products in big writing as an obvious advertisement which I found a little tacky. Overall, not very happy with the product.

Disappointed
By
Mary L.

(Rexburg, ID) - December 20, 2010 (
See all reviews by this customer
)
Great idea and my kids will enjoy seeing it for years to come however the printed photo wasn't great. It was very fuzzy. I won't try this kind of ornament again.

Could Be Better
By
Sarah E.

(Leroy, IL) - November 6, 2009 (
See all reviews by this customer
)
This is my second order with PersonalizationMall; the first time I ordered was a great experience and it looked great, but this time with these ornaments I ordered to give as gifts to my grandparents not so much. The image is blurry and wasn't when I uploaded and previewed the product. The snowflakes, text below image, and the border of the image that are suppose to be green are a black/purple. I'm very disappointed with the outcome of this order. You can see all the pixels in the image and the entire background is slighlty blurred and spotted. I would not recomend this product. I thought this would be a great gift for my grandparents but I am almost ashamed to give these as Christmas gifts.

Dark Photo
By
Angela B.

(Center Line, MI) - December 8, 2012 (
See all reviews by this customer
)
The photo was very dark and poor quality. It did not look like the picture below.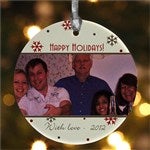 Crappy Printing
By
Andrew M.

(Milwaukee, WI) - December 8, 2010 (
See all reviews by this customer
)
I have ordered picture ornaments from the past from Personalization Mall and was very happy.
This year the printing was very grainy, and the color was completely different from supplied picture.
The ornament was cute, but only because of our baby's picture!

Not Satisfied!

poor photo quality
By
Joseph B.

(Basking Ridge, NJ) - January 11, 2010 (
See all reviews by this customer
)
Uploaded a hi-res photo, it looked awesome on screen, but the final product looks awful.