So Beautiful
By
Deborah S.

(Chesterfield, VA) - November 22, 2013 (
See all reviews by this customer
)
This item turned out so much nicer than I expected.
Very high quality gift item.
I was so pleased and can't wait to give this very special gift to our special friends.

Photo ornament in memory of mom
By
Shopper

(Concord, NC) - November 22, 2013
In memory of my mom, who died earlier this year, I ordered photo ornaments with my mom's photo for my sister and me. They turned out great! I can't wait to put mine on my Christmas tree and I can't wait to see my sister's face when she sees hers.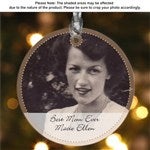 CUTE & QUALITY at a good price!
By
Carol C.

(San Diego, CA) - November 18, 2013 (
See all reviews by this customer
)
Nice little gift for hard to buy for teenagers and college kids!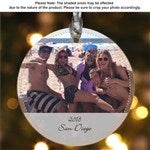 Sofia's 1st Christmas
By
Carolyn L.

(Belmont, NC) - November 16, 2013 (
See all reviews by this customer
)
Had to order a new ornament for her first Christmas to go with her new frame. Love all of your ornaments get some every year and love them your company is awesome. I also got my daughters there ornaments for Christmas I get them every year they look forward to see what I get them. Started a new tradition last year with a best friend now she gets one each year.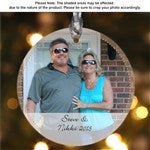 Very great
By
Shopper

(cincinnati, OH) - November 16, 2013
This product is absolutely adorable. It makes a great gift during the holidays and it's of great quality.

Beautiful memory
By
Sonya P.

(Ellenburg Depot, NY) - November 10, 2013 (
See all reviews by this customer
)
The photo ornaments I order each year for my nieces and nephews always come out beautiful. The picture is of a special memory from that past year. I know that these will be a special part of their Christmas tradition for many years to come.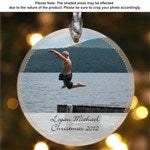 Perfect
By
Shopper

(Middletown, NJ) - November 9, 2013
easy ordering, speedy delivery, love the rewards program
Perfect! have ordered over the last few years many gifts. Never, never have been disappointed. great web store.

great present
By
Bonnie M.

(Iron Mountain, MI) - November 9, 2013 (
See all reviews by this customer
)
I ordered three different photo sentiments personalized ornaments. I love them all! Clear, beautiful photos & a high quality product.

Better than expected!
By
Shopper

(Newburgh, ME) - November 8, 2013
I was pleasantly surprised - I didn't know these were ceramic ornaments! These ornaments will be a treasured keepsake for sure! They are a great gift idea as well. I will be ordering more!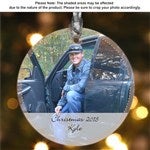 Beautiful
By
Shopper

(Ambridge, PA) - November 4, 2013
This ornament came out do nice!! I definitely recommend it!!! I will probably be getting more

Excellent
By
Janet M.

(Orlando, FL) - November 3, 2013 (
See all reviews by this customer
)
Excellent quality ornament and photo looks great! I purchase ornaments representing important events of the year. This was our 25th wedding anniversary. Great memory ornament for 2013 to add to our family tree!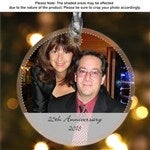 Fantastic Keepsake
By
Carolyn L.

(Mastic, NY) - November 2, 2013 (
See all reviews by this customer
)
I absolutely love the custom ornaments. The picture was placed exactly the way I wanted and the quality is great. I made one for each of my kids to always remember our furry family additions.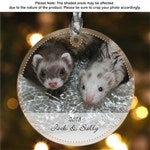 Excellent product
By
Shopper

(Tulsa, OK) - September 6, 2013
I've ordered similar products from other companies, and none compare to the quality of this one. The photo is clear and the ornament is exactly the way it appears in the preview stage of the ordering process. I am definitely a repeat customer!

Great Small Gift
By
Lori B.

(Sandy Hook, VA) - September 6, 2013 (
See all reviews by this customer
)
I've purchased this item several times over the years and the recipients are always so thrilled with the personalization of this ornament. It makes for a wonderful small gift or stocking stuffer! I like to send it to people who have visited, with a photo from somewhere we went, along with the date, as a nice reminder of their time in our area. It's not large but it always makes a big impact!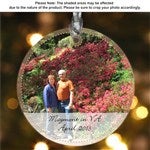 Betty
Love your site.

Wonderful momento for a wonderful kitty
By
Eileen R.

(Acton, CA) - August 7, 2013 (
See all reviews by this customer
)
We lost our 17 year old kitty this last January. I wanted my boys to always remember her because they all grew up together. When I saw the Photo Sentiments Personalized Ornaments, I thought that would be a perfect way for them to remember Professor Mittens Sassypants. I coudn't decide which photo of her to use so I used 3 different ones. When I got them back, I was so happy and satisfied with my purchase. I hope I can wait until Christmas to give the ornaments to my kids. They came in beautiful velvet blue pouches as well. My only issue was I couldn't fit her whole name on one line - so I just put Professor.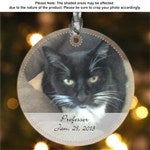 Great Gift
By
Shopper

(Havertown , PA) - July 22, 2013
Great product. I received it exactly as it looked on my preview before adding it in my cart. Also came within two days of placing my order -- and I ordered a lot of them. I was also lucky to get this item at a sale price, which helped me like it even more! Definitely ordering more in my future.

Ornament
By
Shopper

(Forked River, NJ) - July 19, 2013
Always pleased with how the ornaments come out!

as always----perfect
By
Danielle F.

(Mclean, VA) - July 15, 2013 (
See all reviews by this customer
)
this is not the first time i have used this company- i love the results- espicially the smiles of the lovely gifts- perfect if you are looking for a wonderful way to say"you have touch my life with wonderful memories"

Gorgeous!
By
Shopper

(Stephens City, VA) - May 3, 2013
Just make sure you use a picture that is good quality and this ornament comes out beautifully! I was so excited when I received it and couldn't wait to add it to the Christmas gift I purchased it for. Just fantastic!!

Papa Moses
By
Brenda W.

(North Charleston, SC) - March 27, 2013 (
See all reviews by this customer
)
I really Love these personalized ornaments! I have like 20 now!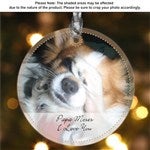 Beautiful
By
Shopper

(Hoosick Falls, NY) - March 4, 2013
I ordered this for our 1st Christmas with one of our wedding pics. It is beautiful - we absolutely love it & will be excited to hang on our tree every year.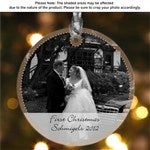 Affordable & Spot On!
By
Shopper

(Willowick, OH) - February 20, 2013
Each year, we buy our children an ornament for the Christmas Tree with the thought that they would take these ornaments with them when they move on from our home. We had a hard time this year finding just the right one for my younger daughter. However, she had a lead role in the Christmas Program at church, so we had an ornament made with a quality photo from the play. It perfectly captured a major event for her, and she loved the piece. It is made with excellent quality at about the same price that we'd buy one in the store.

Excellent Gift
By
teresa S.

(Cave Creek, AZ) - February 11, 2013 (
See all reviews by this customer
)
These photo ornaments are wonderful keepsakes for anyone or any occassion. This year I had several made and included it on top of xmas gifts to grandparents, with cards for a little something for aunts and uncles and of course, kept one for our tree. Did this often when children were younger, but even with my children being in their 20's everyone loved them.

Christmas Gifts
By
joseph G.

(essex jct, VT) - January 26, 2013 (
See all reviews by this customer
)
I began using PM.com 3 or 4 years ago as a great christmas gift idea. I have given baby, family, and wedding pictures over the last few Christmases. The gifts have always been a hit. It's great to track the growth of nieces and others every year. Now I think a few relatives expect them, so I can't let them down. I probably should qualify for some sort of discount in the future.....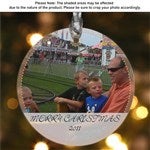 Great Gift!
By
Shopper

(Enterprise, AL) - January 24, 2013
Ordered this several times for gifts. Great quality! Will order again!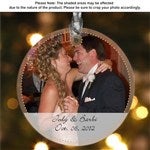 capture the moment
By
PATTI A.

(Hilton Head island, SC) - January 22, 2013 (
See all reviews by this customer
)
these ornaments are great to keep and capture the moment. best of all they are affordable. i put them on my christmas tree and can remember special moments. they also can be dated so you can also remember the date.

Updated Ornaments For Current Pets
By
Shopper

(Benton Harbor, MI) - January 16, 2013
I wanted our pets' names on the ornaments and had not looked throughly in the catalog, so I did this time and I added their names and Christmas information.

Love them!!!!!! Quality is excellent. Packing and Shipping is excellent.

Trimming the tree with memories
By
Elizabeth R.

(Los Altos Hills , CA) - January 15, 2013 (
See all reviews by this customer
)
There were three things that were important to me when I ordered my photo ornaments: the quality of the material, the quality of the photo reproduction and lastly, the timeliness of delivery. I have to say that Personalization Mall was great on all counts. The ornament base is a lovely glazed porcelain that gives the ornament a weight and feel of quality. The images that I downloaded online were reproduced beautifully. The ornaments were out for delivery within 2 days, just as they said.

I am going to order Photo Sentiment ornaments every year.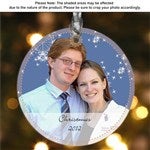 This orniment delivered as promised
By
Gail R.

(Las Vegas, NE) - January 14, 2013 (
See all reviews by this customer
)
How special to be able to put any picture on an ormiment that will be on your tree for generations to come. The materials used and the size was perfect. The picture transfered just as I asked. I would recommend this gift to anyone.

Photo Ornameate
By
Shopper

(Humble, TX) - January 13, 2013
Came out clear and nice. Made a wonderful gift for grandparents and dad and step mom.

Great keepsake.
By
Shopper

(Ithaca, NY) - January 13, 2013
We love these ornments. We use them as memorable events for the Christmas tree. We give class pictures to the grandparents each year. Our hope is that the kids will one day take them and out them on their tree. Great job. Great price. Great shipping. Thank you.

Nice Personalized ornament gift
By
Dianne N.

(Saint John, IN) - January 13, 2013 (
See all reviews by this customer
)
very good quality. Turned out even better than I had hoped for. Make wonderful gifts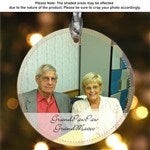 Always a favorite!!
By
Shopper

(Darien, CT) - January 11, 2013
i used our Christmas picture this year. I get one every year and put a special memory of some sort on them.

Wonderful Job
By
Teresa H.

(Vermontville, MI) - January 11, 2013 (
See all reviews by this customer
)
I took pictures of my grandchildren at Christmas and had them put into this ornament. They turned out just wonderful and I look forward to giving them! You did a spectacular job with the photos I sent.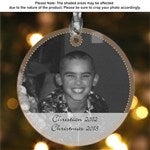 Great memory photo keepsake
By
Shopper

(edmeston, NY) - January 8, 2013
Love the photo ornaments . service was quick and quality excellent.

Kids Pic Ornament
By
Shopper

(Galloway, NJ) - January 8, 2013
I usually get an ornament with the year on it. This year I uploaded the pic I used for our Christmas cards. Now I have a nice keepsake that included the year and picture of my children. Wonderful quality. I wish I'd done it sooner!

Photo Ornament
By
Tamara H.

(Rosemount, MN) - January 8, 2013 (
See all reviews by this customer
)
WOW!!! It's Not only for christmas! I put an engagement picture in it, added their names and wedding date...Beautiful!!! Can't wait to put it as a name tag on the wedding gift! They will LOVE it!! A gift tag to cherish forever!!!!

Perfect!!
By
Shopper

(Enola, PA) - January 8, 2013
Absolutely perfect!!

Relive memories
By
Mei V.

(Lansing, MI) - January 7, 2013 (
See all reviews by this customer
)
Perfect ornament to relive those great memories captured in one picture! I bought this for my Christmas tree. It has a picture of my kids sledding. I love the size of the ornament. The picture is very crisp/clear. I would purchase this to give as a gift. The inscription is very convenient as well and can be any words you want! Love this and highly recommend.