Just like the real thing
By
Mary C.

(Omaha, NE) - December 17, 2009 (
See all reviews by this customer
)
My little grandson, age 2, absolutely loves his construction helmet, and it makes him think he's one of the big guys. It really does have an authentic look to it, only his has his name on it, which makes him feel all the more important. And the headlight is an extra bonus for when he wants to look for things in his dark toy box. An all around great find. Thanks

Great for kids who love flashlights
By
Melissa V.

(Henderson, NV) - December 14, 2009 (
See all reviews by this customer
)
If you know a little munchkin who has commandeered all the flashlights in the house, than this is a great gift for them. The hat is well constructed and sturdy. I didn't want to unwrap it all the way, as it came well wrapped in bubble wrap, but it seems to be well worth the money. I hope that my nephew will get many hours exploring in the dark with his hat.

A Great Hat
By
Linda G.

(Oxford, PA) - December 14, 2009 (
See all reviews by this customer
)
Our little grandson thinks he is the guide into dark rooms, he is the leader..he saves us ..guides us into dark rooms so that we can turn on the lights, and the light in the hat is very bright; He thinks hes manny, the tool guy , the light to lead us in...I loved this gift. At only 2 he is no longer afraid of the dark

adorable
By
Pamela D.

(Frankfort, KY) - December 12, 2009 (
See all reviews by this customer
)

This construction crew hat is adorable and my great nephew will love it. The light is really cool!

Exactly what I thought I was getting
By
Susan G.

(Downers Grove, IL) - December 8, 2009 (
See all reviews by this customer
)
Not a whole lot of bells and whistles. It's a construction hat with a light. Added the 3 AA batteries and it's a hit. The perfect addition to a little boy's tool set.

construction kids hat
By
Shopper

(Niagara Falls, NY) - July 27, 2014
The hat is adorable, however I did not think the name was well put on the hat. It looked like it was pasted on.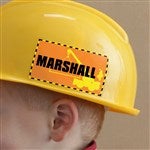 GRANDSON WILL LOVE THIS
By
Shopper

(DELHI, LA) - December 2, 2013
Really liked this product, but was a little disappointed that the name was just a sticker and had not been applied smoothly. Still, the perfect gift for my grandson. I like that it can be adjusted to fit his head and stay on.
Emaw from Delhi Louisiana.

Cute item!
By
Shopper

(Northfield, NJ) - August 20, 2013
Would have liked the name to appear on both sides. But otherwise a nice quality piece.

Just like Daddy
By
Shopper

(Indian Head Park, IL) - July 28, 2013
Wonderful gift for 3 yr. old twins that LOVE to look like Daddy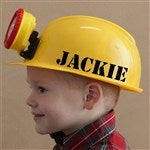 Hard hat and fun
By
Shopper

(Birmingham, AL) - April 19, 2013
Child loved the hard hat and loved seeing his name on it. He is in the
middle of three brothers, so it made him feel special. Not only that but
he has had fun with it.

Great hat
By
Arlene C.

(West Bloomfield, MI) - March 3, 2013 (
See all reviews by this customer
)
The hat is great for any boy, especially ones that love construction items! Great idea, haven't found something like it anywhere else. A friend who has one told me recently the light went out faster than she anticipated. Shipment was super fast, big plus!

Loved the hat but....
By
Margaret H.

(Los Angeles, CA) - January 22, 2013 (
See all reviews by this customer
)
The personalization was done great. The package arrived quickly. The problem with the hat is that it is a bit top heavy. The hat tended to fall forward.

hat
By
Shopper

(Tampa, FL) - December 26, 2012
loved by my grandsons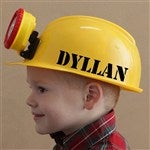 Christmas Gift
By
Susan R.

(Tallassee, AL) - December 9, 2012 (
See all reviews by this customer
)
I bought this for my 3 year old grandson as a Christmas gift. He hasn't seen it yet, but I know he will be thrilled! Can't wait for him to try it on. It seems to be made of good quality, something that will last a long time.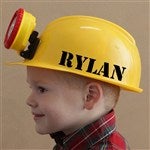 Good so far.
By
Shopper

(Gloversville, NY) - February 2, 2011
I just gave this to my son last night, and he was very excited. Hoping the qualify of the light is good and won't break after usage due to angle adjustment, but so far so good!

Construction Crew Personalized Kids Hat
By
Delia Q.

(Tampa, FL) - December 9, 2010 (
See all reviews by this customer
)
Very cute, and I expect the recipient to be happy with it. The fact that it lights is certainly a plus!

Fun Gift Idea
By
Cristy C.

(Bridgeton, NJ) - October 19, 2010 (
See all reviews by this customer
)
Received well packaged and very fast... gave to a nephew for a 4 yr old birthday. Four stars because the size is a little big for that age, but it'll be something he can keep for a while. Thanks!

Great B-day Gift!
By
Leanne P.

(Leesburg, VA) - January 21, 2010 (
See all reviews by this customer
)
I gave this gift to a 4 year old and he loved it, expecially the Head light! It was also nice for him to see his name on the hat!

Personalization
By
Shopper

(North Royalton, OH) - August 20, 2011
I think that the construction hat is a cute idea. It will be a gift for my 1-yr nephew. The reason why I only gave it 3 stars is because I wish the name was on both sides of the hat.

Front heavy
By
Peggy H.

(Fleming Island, FL) - December 31, 2010 (
See all reviews by this customer
)
The product was very cute. However, when I put the batteries in the light, the front of the hat was so heavy it kept falling to the front. Even after adjusting it a little tighter, the front is pretty heavy for a little one to manage.

Front Heavy
By
Shopper

(Plainfield, NJ) - February 15, 2012
I thought this would be the perfect hard hat for my two-year old, but unfortunately, this was too shallow yet too big at the same time. The most disappointing part was that especially with three AA batteries installed in the light, the helmet becomes way too heavy to be worn for long. It falls off the front of the head easily. Even with no batteries, the light creates an imbalance, so we ended up taking the light off. All-in-all, it doesn't seem to be made to balance on the head without effort. Wish it were not the case.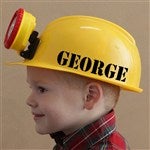 Great idea, but both broke first day
By
Lindsay D.

(Middetown, CT) - February 7, 2012 (
See all reviews by this customer
)
First of all this is a great idea and the personalization was amazing. When my twins opened them and loved them I couldn't have been happier, but the light attached to the hat is not fastened well. One small drop to the floor and the cap and batteries fly out which poses a hazard. The red cap needs to stay on tighter. This is a toy and is likely to get dropped and it shouldn't be that easy to have the cap and batteries fall out.