Terrific quality
By
Debra G.

(Jupiter, FL) - February 11, 2012 (
See all reviews by this customer
)
Looks great, terrific quality, love it!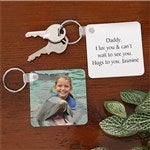 Great prices and products
By
Emily Y.

(Salt Lake City, UT) - December 20, 2011 (
See all reviews by this customer
)
I am never disappointed in an order, the key chain arrived exactly as I designed it. Thank you!

Keychain
By
Brandy G.

(Ypsilanti, MI) - December 6, 2011 (
See all reviews by this customer
)
I bought this keychain for my mother and I was suprised at how sturdy it was. It isn't as flimsy as you would think. I am excited to give this to her for xmas.

Awesome gift!!!
By
Shopper

(Sioux falls, SD) - October 17, 2011
I presented this to my love who is very far from me.. Felt very thrilled seeing our own cute pic on the keychain!! The quality is superbb and the idea is heart-touching.. thanks a ton to this site... :):)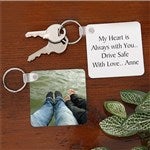 exelente!
By
Shopper

(SAN JUAN TX, TX) - October 9, 2011
hermosos. hormosos, hormosos regalos!


Awesome
By
Shopper

(Thomas, OK) - August 11, 2011
This key chain is great! I love it! the picutre turned out clear! it is very personaly and everybody enjoyed their personalized gift!

Fantastic keychain!
By
Frency R.

(Magnolia, DE) - July 14, 2011 (
See all reviews by this customer
)
It seems pretty sturdy. The quality of our picture looks awesome! I really like this keychain.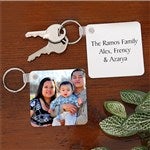 Just the Right Gift!
By
Shopper

(Morgantown, WV) - May 20, 2011
I bought this keychain for some college friends for graduation. We're going to be teachers so it was the perfect gift for a classroom key! The picture color came out perfect and it seems pretty durable! They all loved it!

Worth it
By
Julie F.

(Foxboro, MA) - May 20, 2011 (
See all reviews by this customer
)
Very nice, durable. A great keepsake.

Mother;s Day Key Ring
By
Shopper

(Hicksville, NY) - May 14, 2011
What a perfect gift for someone out of state. Love it. I am so impressed with the gift ideas Personalization has and will continue to use them for all my gift ideas.

Dad - wedding gift
By
Shopper

(Kaneville, IL) - April 12, 2011
Priceless. It's just the perfect gift to give a guy who has everything. Now I know every day he will think of his daughter and how cute she is!!! Cannot wait to see his keys on the counter and my key chain gift on it.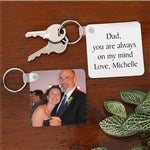 Greater expectations
By
Shopper

(Columbia, SC) - March 22, 2011
I had purchased this gift for my best friend who lives 1,000 miles away from me. When she received it she complimented on how she loved it. As you know when you preview something online, most times it will not be what you see. Well I beg to differ on this one. The key ring was EXACTLY as I had ordered it and more. She emailed me pictures of it and I was so excited about the colors in it and the wording really stuck out. I recommend this to anyone!! Since we are best friends and live 1,000 miles apart now she can take me wherever she goes :)

A great reminder
By
Joanne L.

(Saint Georges, DE) - February 12, 2011 (
See all reviews by this customer
)
This is such a great reminder that my BFF can carry with her every day. I purchased this as part of a group of gifts offered by Personalization Mall. I am going to order one for myself now...Thanks!

LOVE IT
By
Kristin R.

(Houston, TX) - July 20, 2010 (
See all reviews by this customer
)
I have some really great friends and we take lots of pictures. As soon as i saw this keychain i was like wow this would be awesome to give to them!!! When it came in the mail it was AWESOME its sooo cool. What i really like about it is that its hard. its not a keychain that bends. The picture is clear and my friends adored it! They kept saying..WOOOE how did you do this!!!??? I think this is the coolest company, thanks for all your help. I spent lots of money here and will continue to!!!!!!!! WHOOP WHOOP : )

Personalized Key Ring
By
Jessica G.

(Riverside, CA) - April 20, 2010 (
See all reviews by this customer
)
I was impressed at how quickly I received my personalized item. I was also happy I was able to change my shipping address, even after I was supposed to validate it (I accidently switched the shipping and billing). And after emailing to change it, I received a confirmation email telling me the address had been changed for me. I'm pleased with my item. I only wish I was able to put a symbol on it (i.e. heart, happy face, peace sign, breast cancer symbol, etc.).
And the discount was great! I'm planning on purchasing more clearance items on this site :)

Perfect!!!
By
Debra A.

(Drexel Hill, PA) - March 16, 2010 (
See all reviews by this customer
)
I have purchased several of these already. I love them,... I get them for myself, relatives, and I recently got one for my daughter and her best friend (a BFF one). They love it! The photo comes out excellent and they quality is outstanding!

:D
By
amber D.

(omaha, NE) - February 12, 2010 (
See all reviews by this customer
)
I got this key chain for my best friend. It was a little simple gesture but she absolutely loved it! This is a great idea if you want to let someone know you are thinking about them.

Picture Keychain SOOO CUTE
By
Jennifer B.

(New York, NY) - January 8, 2010 (
See all reviews by this customer
)
This is the cutest keychain! Its great quality, great look, Fabulous over all!!!

Perfect!
By
Barb D.

(Waterloo, IA) - December 25, 2009 (
See all reviews by this customer
)
Purchased this as a gift and I know they're gonna love it! A great way to show off a prized photo without having to get your billfold out everytime you want to show someone! Quality was fantastic, as is everything I've ever ordered from you! Love this company!!

LOVE IT
By
Katie M.

(Sioux Falls, SD) - November 30, 2009 (
See all reviews by this customer
)
It looks soooo good! It just looks a little fragile so I hope they don't break easily.

Photo keychain
By
Shopper

(Fayetteville, AR) - July 2, 2013
This was my 4th order from Personalization Mall. Like the rest of my purchases I am happy with the keychains I ordered. The keychain itself is very sturdy. The ordering process was very easy. The colors of the picture are true. The price of it was very agreeable. I'm giving the keychain a rating of 4 though because the resolution of the picture is a bit grainy, but I suspect it can't be avoided. It wouldn't prevent me from ordering more, but it is worth noting. I have a background in professional photography, so maybe I'm more apt to notice it. It made a novel gift and I would order more and recommend it to others. All in all, this is a very good buy.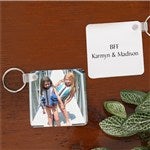 Was impressed
By
Leonor A.

(Miami, FL) - April 4, 2012 (
See all reviews by this customer
)
Got this as a gift for my best friend at the moment. She really liked it. I thought it was very nice as well. Only complaint I have is that it was a little smaller than I envisioned but then again its a key ring, what could I expect? lol However, it's a really nice and thoughtful gift to get any special person in your life- family, friends, or significant other.

Great Gift
By
Krista L.

(Ferguson, MO) - February 6, 2012 (
See all reviews by this customer
)
Very cute item, appears durable. I think that my sorority big sister will love it!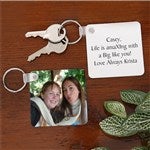 Plastic Key Chain
By
Antonette T.

(Schaumburg, IL) - May 31, 2011 (
See all reviews by this customer
)
Love the key chain, however, it is white plastic. Thought the quality would be a bit better. Super fast delivery. Got it in 2 days. Will definitely order again.

Great Idea!
By
Brent & Suzanne R.

(Paducah, KY) - October 25, 2010 (
See all reviews by this customer
)
The Key Chain was a great idea for a 16th Birthday! My daughter gave this to her best Friend. The pictures color was not as sharp as I would have liked but, it still turned out great.

Pleased!
By
Mary K.

(Vernon, TX) - June 23, 2010 (
See all reviews by this customer
)
I was very pleased with the picture perfect friends personalized key ring. The girls I gave them to really liked them and they thought I put a lot of thought in to their gift! Receiving them as quickly as I did, was nice also! Thanks and I will order from you again!

Special but affordable
By
Ashok C.

(Hanover , NH) - May 21, 2010 (
See all reviews by this customer
)
The shipping took exactly 5 working days and it arrived at my friend's doorstep on her bday - and she LOVED it. She said the photo and text print was very good. I've already ordered my second gift from here in a week's time! Would be even more attractive if the shipping costs were lower though.

not 100% satisfied, but looks durable
By
Heather H.

(Canada) - April 30, 2010 (
See all reviews by this customer
)
The picture turned out a bit grainy, not really 100% how the original picture looks but I think it will take the abuse that key chains tend to go through.

Picture keyring
By
Kenneth B.

(Auburn, CA) - December 19, 2009 (
See all reviews by this customer
)
I bought this as a gift and they absolutly loved it! The picture quality is amazing even in the black and white pictures! And the price is very afordable, I will definantly be buying this again!

Expectations not met
By
Shopper

(Flushing, NY) - June 12, 2011
I expected the picture on the key chain to be much clearer, especially based on reviews I had read. Instead, the picture appeared a little grainy, which is strange because my picture and the preview of my order did not appear that way. I gave this as a gift so it was a little dissapointing the photo was grainy. I gave the product three stars because everything else turned out well. My writing was perfect and the key chain seems very durable.

photo specs
By
Angela C.

(Bridgewater, MA) - May 27, 2013 (
See all reviews by this customer
)
The photo side image I had selected included appeared to meet the product specifications and had text and graphics. While I used the crop and edit tool on the website, the final product was a blurry image, even though product preview appeared clear. The all text side (built on the website) came out nicely. I would have much rather preferred a template that included recommended size and pixel information. Quality of the key tag is very good--seems durable. I would have some concerns about purchasing this product again and/or as a bulk purchase.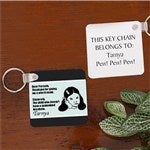 A cheap looking disappointment
By
Aparna S.

(Dallas, TX) - July 9, 2010 (
See all reviews by this customer
)
I have used Personalization mall a couple of times before for other products but this time was a real disappointment. The key chain was made out of flimsy material. I had bought it as a gift for one of my best friends and I haven't given it to her because I am too embarrassed to give someone so special something that looks so cheap.

A little disappointed
By
Sheri C.

(Bridgeton, NJ) - September 11, 2012 (
See all reviews by this customer
)
I bought 5 of these for gifts for my friends and one for me! I love them but I already lost it. It fell of my key ring within one week of receiving it. My friend said hers fell off too but it was in her lap so she was able to save hers. If you order this product take the plastic ring off and attach the key chain directly to the metal ring so you do not lose your key chain.