Good
By
katty S.

(miami, FL) - July 2, 2010 (
See all reviews by this customer
)
I was very much happy and extreme when it arrive. I have purchase 2 to give each one to my two sons to have when school starts. My sons are age 3 and 5. They have not seen it but I am sure they going to love it. I really liked having 5 photo on the bottle but 2 of the photo did not look real good, but otherwise I am happy with it.

Good but picture quality could be improved
By
Julie H.

(Olympia, WA) - June 21, 2010 (
See all reviews by this customer
)
This is a nice gift for a grandparent or parent, etc. The reason I gave it 3 stars is because the pictures are not bright and vivid and they don't wrap around the bottle - more on one side like the picture shows - so it doesn't feel esthetically balanced when you look at it. Also, there was a quality issue with ours - the pictures on the far left had some white ghost like marks on them - one of which was about a quarter inch white bar going through the forehead of our newborn daughter. I am sure when I call they will reprint for us.

not overly happy with the personalization
By
Renee P.

(Vestal, NY) - May 26, 2010 (
See all reviews by this customer
)
The pictures come out very faded even if they are bright pictures to start with.

Looks good...But...
By
Stacy L.

(Lockport, IL) - February 21, 2010 (
See all reviews by this customer
)
Pictures look beautiful...but drinking out of top is messy...constantly drips on you from around bottom of spout, and hard to get fluid through top of spout. Also, mouth of bottle is too small to fit ice cubes through.

water bottle
By
Cathy E.

(Greensboro, NC) - February 6, 2010 (
See all reviews by this customer
)
I was, like others, disappointed that the pictures did not go all the way around the bottle. The area that has nothing looks unfinished. I would not order another one for that reason.

Buy something else
By
Shopper

(Chicago, IL) - December 24, 2012
This was a waste. I could have bought other water bottles at other online sites to get a better overall product for a cheaper price. The pictures only cover about 3/4ths of the bottle, which means a large white strip remains blank on the bottle. It seems incomplete. I will never order this again.

Not very high quality
By
Shopper

(gaithersburg, MD) - February 18, 2012
I was expecting more for the price. The water bottle is very thin and the picture quality is decent.

Nice bottle but the lid doesn't work!
By
Brittany K.

(Golden Valley, MN) - June 23, 2010 (
See all reviews by this customer
)
The stainless steel bottle is nice but half the reason I picked this bottle for a gift was for the sip lid. Well needless to say, the lid was crappy and you are unable to get water out of it unless you put your mouth around the entire white part and even than its not large amount of water...it trickles in. I was really disappointed with this product.

Not what I expected
By
Joan H.

(Sartell, MN) - February 19, 2010 (
See all reviews by this customer
)
I was not very impressed with the water bottle. After reading the other reviews I was expecting something much more professional looking. The picture quality is not good, the colors are faded and grainy. The water bottle itself also seems cheap. On the back of the bottle they have printed their website in black ink which is very noticable considering the pictures do not go all the way around and the bottle is white. I would not purchase this bottle again.

review on photo 20 ounce tumbler
By
Katherine M.

(Wichita, KS) - February 13, 2013 (
See all reviews by this customer
)
The tumbler has such a small opening that it is even hard to get crushed ice into it to keep the drink cold. The photos I chose to have put on it do not wrap around the tumbler, therefore, a good portion of it has no photos on it. The photos did come out good in quality. I will probably not use this very often. I am very disappointed.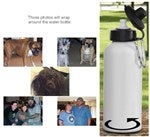 very cheap bottle
By
Shopper

(Troy, MI) - May 9, 2011
This was a last minute Mother's Day gift that I was actually a little embarassed to give. The bottle is very, very cheap and lightweight. The lid was difficult to screw on b/c it wasn't threaded properly. While my pics turned out well, the finished product looked very bland and generic on the white background.