Looks exactly as advertised
By
Shopper

(Alexandria, VA) - June 25, 2012
Pictures look great. I ordered the mug for Father's day for my husband and he loves it.

fathers day delight
By
Patrick G.

(Ofallon, IL) - June 25, 2012 (
See all reviews by this customer
)
This gift was pure excellence. It exceeded my expectations in picture quality and presentation. My father truely loved it, engraved with old memories leading to the present, and can now enjoy coffee every morning with a smile.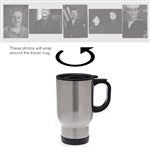 Fathers day present
By
Gwynne J.

(Glendale, CA) - June 22, 2012 (
See all reviews by this customer
)
Got these for daddy and grandpas for baby's 1st present for father's day. Huge hit! Really nice that this comes in the aluminum. They all get comments. My husband's barristas all think it is cute and way more fun than most cups they see.

Great product
By
Shopper

(Northport, AL) - June 21, 2012
I was very pleased with this product. It looks fantastic. It was worth the money and made a great gift for my father in law. The item was durable and the picture quality was great on it. I would recommend this product to anyone!!

Better than expected!!
By
Shopper

(Carol Stream, IL) - June 20, 2012
This was a Father's Day gift and he absolutely loved it! The mug was better that I expected

Stainless collage travel mug
By
Shopper

(AURORA, CO) - June 20, 2012
Great quality! The pics came out really nice and clear. Love this mug and my husband did too!

Very nice!
By
Shopper

(Springfield, IL) - June 20, 2012
This was a father's day gift for my husband. I put pictures of our baby on it. He loved it! It looks really nice and very personalized.

Just as I imagined!
By
Shopper

(Clay, NY) - June 19, 2012
The pictures on the mug were crisp and clear! It was exactly as I hoped it would turn out and I am considering ordering variations of it for other people in my family as well! It made a perfect first father's day gift for my husband!

Great Mug
By
Shopper

(Oak Ridge, TN) - June 19, 2012
Not only did the pictures come out great but the mug keeps coffee hot.

best surprise ever
By
Deena T.

(san diego , CA) - June 19, 2012 (
See all reviews by this customer
)
The mug was amazing he loved it I loved it and it got to me at the perfect time. All the pictures look great, I totally recommend this gift to all dads

Great memorable gift!
By
Shopper

(bowie, MD) - June 18, 2012
It was a great gift to a friend who has a adorable son. I arranged and edited the pictures which turned out great. I was worried at first that it may come out blurry or its too dark, but it was fine. My friend loved it and now its his favorite mug! Great for those who drink coffee/tea during trips away from the family!

Very impressive
By
Shopper

(hobart, OK) - June 16, 2012
Not only were these pictures really beautiful and detailed, but the mug itself is very high quality. I will be ordering a bunch of these in the future for other occasions. This was for Father's Day and he loved it (couldn't wait, already gave it to him!). Highly recommend!

Beautifully made and great gift
By
Shopper

(Michigan City, IN) - June 13, 2012
I just ordered this for my dad for father's day and the finished product looked beautiful when done. I was so excited for him to receive it and as soon as it was delivered he called immediately to say he loved it and made him very happy! Definitely a wonderful meaningful gift that can be used and admired daily! Added bonus it shipped way faster than expected only took a day with standard shipping!!! now that's fast delivery! Love love love and would recommend this product.

Made mom cry!
By
Jessica V.

(Madison, WI) - May 21, 2012 (
See all reviews by this customer
)
This was a wonderful Mother's Day gift...actually brought tears to my mother's eyes...and this is not something that happens often. I would recommend this for anyone!!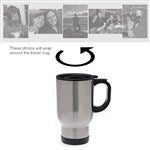 They loved it!!!
By
Shopper

(Virgin Islands (U.S.)) - May 21, 2012
I sent the mug to my mother for mother's day and the family could not stop raving about it. A great customized gift.

Gift for father in law
By
Michela G.

(New Market, AL) - May 19, 2012 (
See all reviews by this customer
)
Beautiful & functional gift for the grandparent that has everything! Beautiful little travel mug.

Taking memories everywhere.
By
Sherrie R.

(Bronx, NY) - May 15, 2012 (
See all reviews by this customer
)
Whether drinking coffee, hot chocolate or iced tea, it's like any other travel mug you take with you. The black and white pictures look so good on the mug and I love taking it everywhere with me. It keeps the drinks hot or cold and the handle is great for a better hold of the mug. I ordered one for myself, my mother and my mother in law. And I know I will order more in the future. Keep up the great work. I love this website.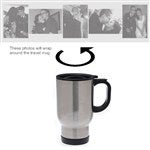 Fantastic Mothers Day Gift!!!
By
ryan H.

(Waukesha, WI) - May 15, 2012 (
See all reviews by this customer
)
I thought being black and white the picture quality would be lacking...boy was I wrong! Very clear pictures, great detail. It turned out to be a very quality gift. Could maybe offer other sizes of mugs as my wife likes a big cup of coffee on the run;)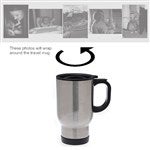 speechless
By
Kary R.

(Bronx, NY) - May 10, 2012 (
See all reviews by this customer
)
amazing amazing amazingg

Photo Collage Mug
By
Shopper

(La Mesa , CA) - April 29, 2012
Love, love loveeeee this mug I bought it for my girlfriend and put pix of us on there and it came out EXCELLENT. Its a really good gift especially if your spouse is into drinking coffee like mines.

great travel mug
By
Shopper

(Bay Point, CA) - April 24, 2012
This item arrived quickly in less than a week. This is for my father-in-law. I got this for him last year as well and he loves it. He loves to show off his grandkids on his mug.

wonderful gift idea
By
Shopper

(Raleigh, NC) - April 22, 2012
I got this for my husband for his birthday, with photos of our family. He loves it! I also like that it's stainless steel on the inside.

very nice job
By
Shopper

(Langhorne, PA) - April 18, 2012
The mug was absolutely what I had expected. The pictures were printed very clearly and neatly! The mug appears to be good quality.( I haven't used the mug yet). I would definitely recommend this product!

Photo Mug
By
Shopper

(Red Bud, IL) - April 9, 2012
Excellent idea, and the pictures turned out great on the mug!!

Perfect
By
Shopper

(Hampton, VA) - April 9, 2012
This was the perfect gift when I couldn't figure out what to get my Mother-In-Law for a belated Christmas present. She loved it.

very nice!
By
Shopper

(Lake Wales, FL) - February 27, 2012
The product was excellent, shipped and got it on time for my friend.the personalized mug was a good present as a send off gift. My friend really liked it. Will be ordering again. Now have an idea where to get a nice gift for any occasion.

Great..snaps are neatly finished on the Mug
By
Shopper

(ALPHARETTA, GA) - February 21, 2012
Snaps are perfectly got arranged on the coffee Mug, neat finishing.
Good personalization. Keep it up !!

great mug!
By
Shopper

(Cambria, WI) - February 21, 2012
looks great with my pictures! some pictures kinda light in color, but overall very pleased with the quality of the mug.

Wow
By
Shopper

(Durham, NC) - February 21, 2012
The first gift to score major points-that's an inderstatment if you knew my friend!!! He really liked it - the mug was perfect!!

Outstanding Look!
By
Judith L P.

(Live Oak, FL) - February 19, 2012 (
See all reviews by this customer
)
Was so pleased with my travel mugs. I wasn't sure how good they would look in black and white. But to my surprise they were beautiful! Outstanding job! Also was pleased with how fast I got them. Keep up the good work.

Judith Leigh Peters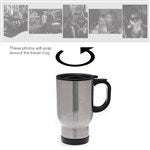 Wonderful
By
Shopper

(Groton, NY) - February 12, 2012
The mug was a wonderful idea. The picture's came out better than I thought they would on the mug. I would purchase another one!!

Great gift idea!!
By
Jennifer F.

(Malvern , PA) - January 14, 2012 (
See all reviews by this customer
)
I got this mug for my boyfriend for his birthday with pictures of us and our two girls. Great finish and the pictures are easy to see. Good quality mug although I wish it was a little bigger...he doesn't mind at all though! When it got to the house he opened it and sent me a text that said "love it!!"

This is a thoughtful gift that can be useful too.
By
Shopper

(Tucker, GA) - January 12, 2012
Inexpensive but a great gift!!!!

Great Purchase
By
Shopper

(Mamaroneck, NY) - January 11, 2012
Made the perfect gift for my best friends birthday, she was so happy to see our memories as she drinks her coffee! Definitely recommend this gift for any special occasion :)

WHAT ELSE CAN YOU SAY
By
Ramona L.

(Lewisburg, TN) - January 9, 2012 (
See all reviews by this customer
)
5 STARS!!! I Designed this mug for a friend who wrote a script and it is in pre-production! You have no idea how great that feels, to just get to that stage. So when I decided on this Travel Mug for him, his mother and daughter. I thought OK its a nice gift.

I had no idea that I would get the response we received.

"THE BEST GIFT EVER"! Was his response, he had received so many special gifts over the years but nothing so personal. WOW! I had a hit and this was a friend of my husbands, so to have him talk for 20 minutes about a cup, was fun.

We gave several gifts from this sight for the holidays this year and every order arrived in perfect condition and on time.

This website has definitely become my favorite site for gift giving. My IPHONE takes great pictures so now I am going to make certain I snap pictures over the year and will find a perfect gift for holidays, birthdays, anniversaries over this next year. Thanks a MILLION!!!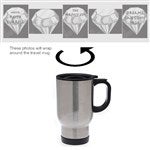 Beautiful travel mug
By
Shopper

(Shakopee, MN) - January 7, 2012
This was done very nicely. The only comment I would have is that the pictures show up nicer with a darker background or if you do it with a dark then a light and switching off for the 5 pictures. If I would have known that I would have made those changes but you don't technically see that until it is finished.

Grandpa Loves
By
Shopper

(mesa, AZ) - January 6, 2012
Made this as a gift for my dad for christmas with my girls pictures on it. The pictures came out very well.I highly recomend this Travel Mug. A awsome price and it is personalized. I also loved that I ordered 1 week before christmas and I recived it in 4 days with standared shipping. One of the best gifts I purchesed this season.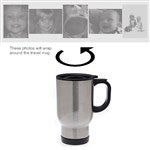 awesome
By
Shopper

(Morris, IL) - January 3, 2012
so nice, love it

Photo thermos
By
Kristy Y.

(Stokesdale, NC) - January 1, 2012 (
See all reviews by this customer
)
The first thermos arrived quickly, but the pictures were not well printed. I called the customer service line and they quickly rectified the situation and sent me out another cup. It also arrived quickly and was perfect! Shop with confidence!

I love love love them!
By
Shopper

(Reno, NV) - December 31, 2011
I ordered 4 of these for Christmas as presents for my in laws. They turned out so awesome! Everyone loved them. The pictured were clear. The cup is a good size. There is a logo on the cup but its tiny and I, in no way,thought it made the cup look cheap. Some advise, use pictures that have a dark background. Those showed up better then the pictures with a light background.