Doesn't keep coffee warm
By
Jessica H.

(Grovetown, GA) - September 20, 2011 (
See all reviews by this customer
)
This mug is really cute. My husband loved it and so did his co-workers. However, the coffee was cold before he even got to work (a 15 minute drive). Next time, I'll buy him a regular coffee cup that he can use at home.

A LITTLE DISAPPOINTED :(
By
Shopper

(Oklahoma City, OK) - July 1, 2011
The travel mug was a great gift idea for my dad for fathers day. He loved it! And Personalization did do a good job, my only disappointment is that they printed their website on the mug as well ("www.personlizationmall.com"). I have ordered many gifts from this website and they have never printed their website on anything, so I was quite surprised to see it on the travel mug. It did kind of take away from the mug in my opinion. Like I said, they did do a nice job, but priniting the website on the gift was a bit tacky. Again, just my opinion.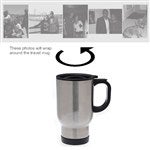 Great, but not perfect
By
Shopper

(Kearsarge, NH) - June 18, 2011
I ordered two of these mugs for my husband and my father for father's day. My newborn's photos looked okay on the mug, but what made it look kind of cheesy was that the company put "PERSONALIZATION MALL.COM" across the mug. The advertising took away from the sweetness of my daughter's pictures. I won't be giving the mugs as gifts. I'll just use them at home...it's a shame because I spent good money on them.

Nice gift idea
By
Shopper

(Opelousas, LA) - June 3, 2011
I ordered this mug for my husband for Father's Day from me & our daughter. It was great to be able to put pictures of us on it. It is really cute, the only negative thing I can say, is that the mug is rather small for the price. I wish it could have been bigger.

somewhat disappointed
By
Shopper

(Lido Beach, NY) - March 27, 2011
The mug itself was fine and the photos came out exactly as it shows on the website. The only thing I was disappointed with is that right in the center of the mug, just below the photos it says "personalizationmall.com". Now I understand that the company name needs to be visible, but does it really need to be there? Seems kinda intrusive and I was disappointed with that. If that had been on the preview, I would not have purchased the mug.

Great Idea
By
Rebecca D.

(Chanhassen, MN) - January 4, 2011 (
See all reviews by this customer
)
I really was excited to find these mugs as it is different than most "personalized" gifts. The reason for the 3 starts is the pictures are very, very light. I didn't use light photos so I feel that the pictures could have been printed on the mug darker....or maybe that is just how they are. Also the mug is pretty small. My husband was looking for a travel mug with our kids on it but this is way too small for him.
So, great idea, needs some improvement!

A little disappointed
By
Dawn D.

(South Elgin, IL) - December 30, 2010 (
See all reviews by this customer
)
I purchased this gift with some great pictures on it. However, the quality of the pictures were not as crisp as I would have liked. Don't think I would order it again.

Travel Mug
By
Tonja L.

(Petal, MS) - December 29, 2010 (
See all reviews by this customer
)
Makes a cute gift, but the pictures are very light so it's not as easy to see as the advertised pictures show.

A little misleading
By
Kimberly H.

(Oshkosh, WI) - December 17, 2010 (
See all reviews by this customer
)
I recently ordered this mug for a Christmas gift. The pictures were a bit smaller then expected but they turned out nice. The problem I had was the picture of the mug on the website does not show the company's advertisement. Right under the my pictures is the www.personalizationmall.com advertisement and I do think it makes it look a bit tacky.

Beautiful pictures but not completely pleased
By
Michelle W.

(Owego, NY) - December 16, 2010 (
See all reviews by this customer
)
I ordered two of these mugs with beautiful pictures of my children on them. I was pleased at how the pictures came out and also with the mug. However I was shocked to see the website personalizationmall.com imprinted below my pictures. This was not shown anywhere on the previews of the mug nor does the website explain that this will be added. Upon contacting the company I was told that all items have this insignia on them and that while it is not listed on the website or shown in the preview it should be obvious since these are the original items of personalizationmall that their insignia would appear on them. In my view if your not going to let people know that it is going to appear on their item then it should be in a inconspicuous spot (the bottom of the mug) not front and center. Also rather disgusted that it did not appear in the 5 previews that I went through while making the mug.