Holiday doormat
By
Pat R.

(Summerfield, FL) - July 26, 2014 (
See all reviews by this customer
)
Disappointed in the weight and quality of the doormat.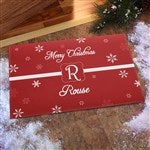 Christmas doormat
By
Shopper

(Levittown, PA) - August 18, 2012
This is the first product I've purchased from Personalization Mall that I was disappointed upon its arrival. Perhaps I did not read the description well enough, but I expected a mat that was more substantial. I intended it to be a housewarming gift and now don't know that I want to give it. It was intended to be an outdoor mat and I don't think it is appropriate for that use. Other than its being thinner than I expected, it would have been a nice gift. The color is as shown on the site and the personalization was nicely done.

OK product
By
Robert T.

(Canada) - December 22, 2011 (
See all reviews by this customer
)
We purchased 5 stockings and tree skirt and were very happy with the quality and service. Although this welcome mat is a similar style, the color is exactly as shown which is quite disappointing versus the plushness and richness of the colors for the skirt and stockings. This is more like a faded, pinkish red color and the mat itself is more like a thick piece of cardboard that does not function well as a welcome mat. If your feet are dirty the mat will look like crap with one brush of your dirty shoes. The price was very inexpensive and the product shows its price. I would have preferred to pay double or triple and get a little larger and better quality piece. That said, the service and delivery timeframe was an overall positive experience. I would buy from these guys again.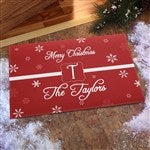 Turned out pink, not red!
By
Shopper

(Flower Mound, TX) - December 20, 2011
I was disappointed in this item. I ordered 2 for friends and was shocked to see the actual color is not a true red...more of a deep pink color. The color of the picture on the website and the actual product do not match.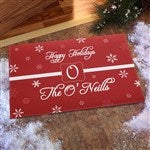 Flimsy
By
Cathy Y.

(Boise, ID) - December 8, 2011 (
See all reviews by this customer
)
Super cute, but flimsy... feels like it will blow away if we get a wind storm. Wish I hadn't bought. Feels like dollar store quality.

IT"S PINK
By
Martha L.

(Marietta, GA) - December 2, 2011 (
See all reviews by this customer
)
I loved this when I got it, then I started putting up my Christmas decorations and this mat is pink. They wouldn't take it back, so I gave it to the dogs.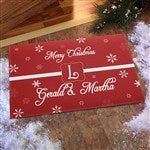 Disappointed
By
Lauretta C.

(Wilmington, DE) - November 18, 2011 (
See all reviews by this customer
)
Was disappointed when I recieved this doormat. Expected it to be thicker and also a deeper red then what is shown.

Wouldn't use this as a rug
By
Shopper

(Huntersville, NC) - November 18, 2011
The rug is nice to look at but not anything that you would wipe your feet on. It's very thin. More for display than to use. A little disappointed in the quality. It's a gift and I'm sure they'll like it.

somewhat disappointed
By
Janice T.

(Miami, FL) - December 23, 2010 (
See all reviews by this customer
)
this is the first doormat that I have ordered thru Personalization.com that I'm disappointed in the quality. The coloring is a washed out red-not the vivid red coloring the ad.

OK
By
Nataly M.

(Dover, NJ) - December 20, 2010 (
See all reviews by this customer
)
Good gift and nice. The quality of the doormat in the picture is very different in person.

Low quality
By
Anahita B.

(Newport Coast, CA) - December 27, 2009 (
See all reviews by this customer
)
To be honest, I was not too happy about the quality and the color of the product. Really liked the idea of being able to personalize it, but very thin doormat, and doesn't look as if it will last for long.

Too thin
By
Tisha T.

(Hebron, NE) - December 15, 2009 (
See all reviews by this customer
)
Will be lucky if this last more than a year.

Christmas Door Mat
By
Janet M.

(Redmond, WA) - August 1, 2012 (
See all reviews by this customer
)
VERY disappointed in quality of this door mat.
Way too thin. Will definately not last more than
One Christmas.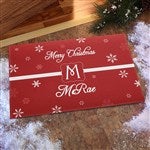 Cheap and faded
By
Shopper

(Mason, OH) - December 6, 2011
I bought this for a Christmas gift for a friend. The color is a faded red and I am too embarrassed to give it. Hopefully they will take it as a return, horrible quality.

Not Worth having this Mat aka piece of paper
By
Laura D.

(Florham Park, NJ) - July 19, 2011 (
See all reviews by this customer
)
I am so disappointed in this mat... I bought two thinking they would make great gifts. It is the thinest, cheapest piece of mat I've ever seen. The colors and graphics are great, very pretty, but it's like a piece of paper. I am sure the minute someone steps on it, the thing will be destroyed. I am definitely NOT going to recommend this item to be put outside if you get it as a gift! Nor will I recommend you buy it at any price! Also, the letter "L" in the family name looks horrible! Sorry to the maker, I feel badly leaving a bad review, but I wish someone had left one before I bought it and I would not have wasted my money.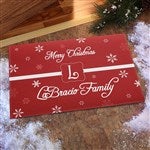 Wish I had read more carefully...
By
Tara E.

(Bloomsbury, NJ) - December 13, 2010 (
See all reviews by this customer
)
I was so excited to find this doormat and ordered it immediately. When I received it, I was beyond disappointed... I didn't realize it was a thin, polyester coated doormat. I was looking for a plush outdoor mat with some substance. If I could return it, I would. It was way too expensive and I would never put it outside for fear the dyes would run in the rain. Besides, I don't suspect it will prevent anything from being tracked into my house. My advice? Save your money.

horrible
By
mary ann M.

(bayonne, NJ) - December 10, 2010 (
See all reviews by this customer
)
The quality was horrible the colors were dull.It actually looked dirty I ordered one for my daughter and one for my sister,they were very disappointing. I had ordered a rug in the past for my daughter that was very nice.
On this particular rug do not waste your money.

Not at all like what it looks like in the picture
By
Amy M.

(Crawford, TX) - December 10, 2010 (
See all reviews by this customer
)
The material is very cheap. The color is not red as is shown in the picture, but more of a pinkish red. My husband actually laughed at how ridiculous it looks;very cheap looking. I would NOT recommend buying this!! It is just basically a very thin piece of felt glued to a rubber mat;very thin.

:(
By
Olivia S.

(Mineola, NY) - December 8, 2010 (
See all reviews by this customer
)
I've never had a problem with anything ordered from this site. But I have to say, this mat was totally not what I expected. First off, it wasn't even red, it was pink. And I mean PINK! I was also surprised that it wasn't a thicker more durable mat. Needless to say, I sent it back for quality control, so we'll see what happens.

Not as great as it looks...
By
Tracey P.

(Island Lake, IL) - November 10, 2010 (
See all reviews by this customer
)
I was so excited to see this mat and matching plaque, I just had to order it. Unfortnately, the pictures are deceiving. The doormat looks pink and the plaque looks burgandy. Plus the doormat is VERY thin, not great for outdoors, in my opinnion. If you buy these together and place them by each other at your front door, they look like they don't go together(except for the design)