Loved it!
By
Shopper

(Sierra Vista, AZ) - February 21, 2014
It was great quality so it made the perfect gift!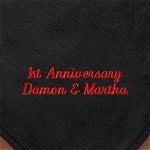 Best gift
By
Frank P.

(Guam) - February 18, 2014 (
See all reviews by this customer
)
Bought these as gifts for my friends and they loved the softness and it keeps them warm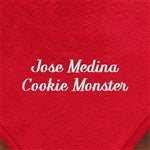 Looks Good
By
Troy M.

(Gas City, IN) - February 14, 2014 (
See all reviews by this customer
)
This blanket arrived quickly and it looked good.

Warm and Comfy
By
Shopper

(DIAMONDHEAD, MS) - February 11, 2014
Ideal gift to give someone struggling with the latest Global Warming...

Keepsakes for a high school basketball team seniors
By
Shopper

(Rochester, NY) - February 9, 2014
Love the embroidering looks awesome! Within 24 hours item went on sale and I called and was totally satisfied with your employee who helped me get the sale price!

Perfect lap blanket
By
Rose G.

(LaGrange, NC) - February 8, 2014 (
See all reviews by this customer
)
Ordered this for my dad " Pop Pop King of the Remote"..He loved it!!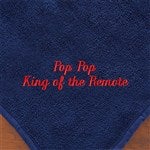 One Happy Bestfriend
By
Brenda R.

(Miami , FL) - January 31, 2014 (
See all reviews by this customer
)
I bought this for my best friend for Christmas she was sick so this blanket was perfect for snuggling, the quality was amazing, the blanket was beautifully made, i ordered it to get here on Christmas day but it was delayed a bit but the costumer service agent helped me and i got my blanket right away. Great product as always. p.s- since she loves Ariel she said it looked like Ariels hair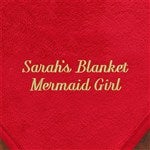 Great for children
By
Shopper

(Grapevine, TX) - January 28, 2014
Very nice blanket but small for adults. Sent it to a 6yr old and she loved her name on it.

A Favorite Fleece!
By
Lisa M.

(Parker, CO) - January 25, 2014 (
See all reviews by this customer
)
This fleece blanket is a perfect gift! The two lines of embroidery are flawless and perfectly centered on the corner of the blanket. It is trimmed around the edges to give it strength and a superior finish, but is light-weight, cozy and soft. The ruby red fleece with white stitching provides a striking contrast that is truly attractive.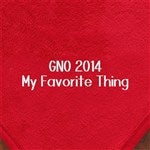 CUSTUM LOOK
By
jeannette H.

(senatobia, MS) - January 1, 2014 (
See all reviews by this customer
)
IT WAS GIVEN AS A GIFT AND THEY WERE THRILLED TO GET IT TO CUDDLE UP WITH.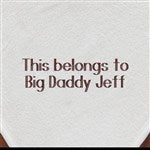 Great!
By
Shopper

(Woodstock, NY) - December 18, 2013
I bought this for my husband as Xmas present, and I'm sure he'll love it! It's extremely soft, and yes, as some people have already said, it's a bit thin, but excellent quality still. Very happy!

Fleece Blanket
By
Mary Ellen H.

(Concord, CA) - December 17, 2013 (
See all reviews by this customer
)
I did not see my purchase directly, as I sent it directly out of state as a gift. However, with the accolades I received from my brother and his wife it must have been just as described. They loved the personalized message! This was truly a wonderful gift. Definitely will use you again.


Excellent!
By
Shopper

(Oak Park, IL) - December 13, 2013
I was looking for something special for my husband and this blanket is the perfect gift for Christmas. Thank you!

Love it!
By
Shopper

(Beaver Dam, WI) - November 4, 2013
I Love this website! Super easy to use! Fast shipment!
Quality products!
My girlfriend and I Love the blanket!
We've ordered 4 different items...Very happy with all of them!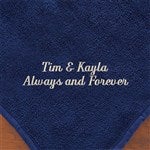 perfect gift
By
Caryle S.

(The Villages, FL) - June 2, 2013 (
See all reviews by this customer
)
I ordered it for my daughter's birthday & personalized it with "hands & paws off". She has a boxer. who of course can't read, but she & the boxer love the blanket & everybody gets a laugh at the personalization.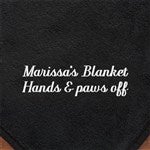 Excellent gift
By
Angela C.

(Nacogdoches, TX) - April 23, 2013 (
See all reviews by this customer
)
I bought 2 of these blankets for our varsity high school coaches for senior day and they loved them!! Great quality material and the monogramming was perfect! Excellent purchase and yes I will be ordering more for christmas gifts!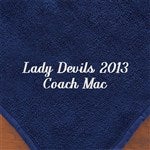 good quality, fast delivery
By
Mallory R.

(Pittsburgh, PA) - February 16, 2013 (
See all reviews by this customer
)
was just as soft as I hoped it would be, good wrapping that I paid extra for, arrived early for valentines day but that's okay; means fast delivery!! correct customization, and my boyfriend loved the overall gift!!!(: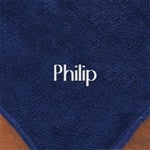 Pleased once again!
By
Shopper

(Corning, CA) - February 5, 2013
The quality of the product is excellent. I have purchased other products and wondered if the quality would be the same. I love the personalization. It is neat and clean.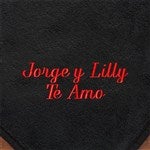 Great!
By
Shopper

(San Diego, CA) - December 31, 2012
I ordered this blanket for my Dad for Christmas and had it embroidered for his boat. It shipped quickly and I was surprised at how good the quality was. The blanket is thicker and softer than I was expecting and the embroidery came out great. Will definitely get another one!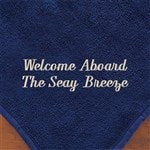 Perfect!
By
Shopper

(Beaumont, TX) - December 19, 2012
I bought this for my sister-in-law from her nieces. I know she is going to love it. I bought one last year for.my sister and she uses it all the time. They are big and warm!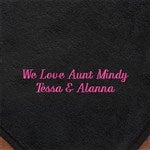 MAN Cave
By
Shopper

(chicago, IL) - December 16, 2012
The blanket is a hit!!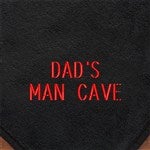 Always satisfied
By
Shopper

(Harbor Springs, MI) - August 19, 2012
Personalization mall is a great place to get gifts that are unique and the web site ordering lets you see what you are getting. Great product.

impressed!
By
Shopper

(sheboygan falls , WI) - August 2, 2012
I purchased this throw for a wedding gift. When it arrived (earlier than expected) it was perfect! Colors were true to online, the printing was perfect and the throw was of amazing quality! Very soft and thick for the price! So happy with it that I may order more in the future!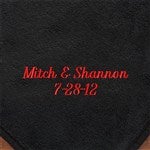 The Feel of Luxury
By
Eloise T.

(Virginia Beach, VA) - June 10, 2012 (
See all reviews by this customer
)
I bought this blanket mainly to reserved my spot on the reclining sofa. I never expected it to feel sooo wonderful. I think I will be using it a lot and not just to reserve my spot!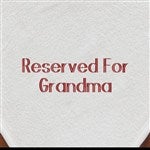 award gift
By
Shopper

(Naples , FL) - May 11, 2012
Wonderful gift for a youth award. They can use this throughout the year.



So Soft!
By
Laurie B.

(Rutland, MA) - May 7, 2012 (
See all reviews by this customer
)
Nice quality blanket. So soft! I haven't given it to my son yet - so I cannot say how it will hold up to washings.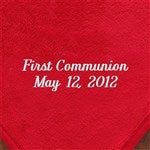 Softest Fleece Blanket
By
Jennifer S.

(Olney, IL) - February 26, 2012 (
See all reviews by this customer
)
I ordered this fleece blanket for my dad's 97th birthday. He absolutely loves how soft this blanket is. Since receiving it the middle of February, he uses it daily to cover his lap and legs (sometimes even covers his whole body)while sitting in his favorite chair. Thank you for sending this beautiful gift so quickly to him in New Mexico.
--Jennifer S. (Chattanooga, TN area)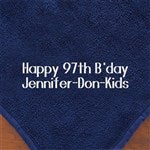 so soft!
By
Shopper

(Mechanicsville, VA) - February 8, 2012
Very soft, yet light weight and surprisingly warm! Awesome gift for anyone! Embroidery is very nice. Quality items here. Will be back for more :)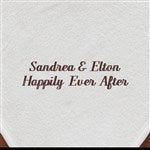 Soft Wonderful Keepsake Blanket
By
Shopper

(Miami Beach, FL) - January 2, 2012
I love the "You Name It Fleece Blanket." It is a soft wonderful keepsake item and a perfect gift for holidays or birthdays or to send as a "get well" message to a friend. I highly recommend it.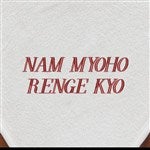 soft and cozy
By
Dana C.

(Hillsboro, NH) - December 28, 2011 (
See all reviews by this customer
)
I ordered this blanket as a Xmas gift from the cat! It is soft and cozy and great for snuggling with said cat!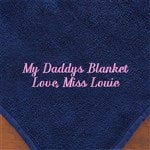 Just what I expected :)
By
Shopper

(Saint Peters, MO) - December 28, 2011
I ordered this as a present for my nephew with his boat name Personalization. The gold thread embroidery on the black blanket is real nice. The quality and the price good too. Plus it shipped and recieved 4 days from order date. Wow!

Awesome!
By
Shopper

(North Tonawanda, NY) - December 16, 2011
I bought this blanket for my dad for Christmas. The stitching is perfect as always and the blanket is soooooo soft! I just can't say enough good things about this web site! I've been shopping here for about 4 years and have NEVER been dissapointed with a product.

Best ever!
By
Dolly G.

(Fayetteville, TN) - December 7, 2011 (
See all reviews by this customer
)
I loved this blanket! I got it for my Dad and it could fit me, my Mom, and my Dad! It was so soft and the stitching was very nice and my Dad loved it so very super much! I do not have any conplaints about this.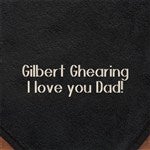 Soft Perfection
By
Robin M.

(Alexandria, VA) - December 4, 2011 (
See all reviews by this customer
)
I love this blanket!! If I hadn't ordered it for my Grandmother with her name on it, she might not receive it. Kidding!!! The truth is, I AM going to order some more for myself and other family memebers.
What makes it so great is the quality of the soft blanket, AND the personlized, professional looking "words of love" placed on it. I am very proud to be able to present this to her...She's going to absolutely love it.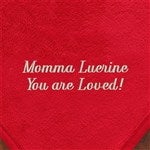 Comfy!!!
By
Marci D.

(Ardmore, OK) - October 30, 2011 (
See all reviews by this customer
)
Very nice! Really liked it! Better than I expected!

Perfect gift for an elderly person
By Shopper (Hayward, CA) - August 30, 2011
I needed to find a gift for a 100th birthday and was lost. What do you give someone at that age???? Well, I found this blanket and had it personalized with his name and "100 Years Young". It arrived today and I am completedly pleased with the quality and embroidery. The blanket is soft and not heavy which makes it perfect for the birthday boy. I would defintely purchase another one again.

Very pleased
By
Shopper

(Wayne, NJ) - August 27, 2011
The blanket was thicker than I had anticipated and I was pleased about that. Stitching neat. Made a great college dorm gift.

The best blaket
By
Shopper

(Brooklyn, NY) - August 12, 2011
Well, what really surprised me was that the blanket was very soft and the color was much better than on the picture.

Miss Mantua Blankets
By
Sandi M.

(Sewell, NJ) - February 15, 2011 (
See all reviews by this customer
)
The blankets are soft and beautiful. My girls loved them.

Nice Quality!
By
Shopper

(Dyer, IN) - February 14, 2011
I was worried that this would be thin and flimsy, but it's a perfect light-weight blanket. It's comfy and soft! It's also big enough for my dad who is 6'4"...the personalization came out nice, but it is small...way down in the corner! Still loved and would recommend!