Great gift
By
Jennifer C.

(Roswell, GA) - December 10, 2009 (
See all reviews by this customer
)
It turned out great. Good quality blanket and the embroidery is big and very well done. It just didn't get shipped in time for my boyfriend's birthday and I was a little upset with that. It did not ship in the 1-2 days that it said it would.

Fleece for yachts
By
Shopper

(Rio Vista , CA) - November 5, 2013
I am happy with all elements of this product. The blanket size is great, color is a true navy, the embroidery is 100 per cent beautiful!! Shipping and delivery were almost unbelievably FAST! Customer Service was great with my questions. I was so lucky to find this company on line.

OH and my order of 17 blankets each with a different embroidery.....was delivered complete and correct!!

Cozy blanket, major lint first washing
By
Shopper

(Watertown, WI) - October 21, 2013
I know it's probably a short term problem, but this blanket came out of the wash with lots of clinging lint balls...managed to get on other items...a drag having to clean up the mess. After that, warmer than imagined for light weight. The monogram came out perfectly. Blue color very vivid, hubby loved it for wedding anniversary gift.

Christmas blanket
By
Claire H.

(Richmond, VA) - May 10, 2012 (
See all reviews by this customer
)
I purchased this for a sorority raffle, and I must say am very impressed with the outcome! I wish that there had been more character space, but what came looked very nice.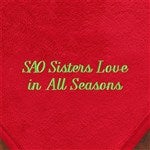 quality & cuddle-ability in one throw
By
Shopper

(Cincinnati, OH) - October 30, 2011
This is the softest most cuddly-est fun throw ever. Good quality. Although it could have been a bit thicker it's gonna be a sure hit. The binding and monogram was excellently done...centered, neat, perfectly stitched and top quality. A definate winner in my book. I only wish I'd had MY name monogramed on it. I would never have parted with it. :)

Warm, Cuddley, and Sweet!
By
Tamsyn R.

(Cudahy, WI) - December 28, 2010 (
See all reviews by this customer
)
This ended up being very soft and warm, a good size, and the perfect gift for my mother!

comfy
By
Cheyanne Z.

(Hartington, NE) - December 22, 2010 (
See all reviews by this customer
)
we bought these blankets as christmas presents for some of our family members and they loved them. they were very comfortable and the colors we chose looked exactly as they showed on the website. we were a little disapointed that the blankets were not very thick...seems they cost a little much for no better quality than they were.

Loved it!
By
Samantha W.

(Big Spring, TX) - December 29, 2009 (
See all reviews by this customer
)
We gave it to my father in law for Christmas. He absolutely loved it! The only complaint I have is I wish it was a little bigger. It was so soft.

Fleece Blanket
By
Cynthia T.

(Columbus, GA) - December 27, 2009 (
See all reviews by this customer
)
Although I like this personalized blanket, it was not as thick as I thought that a fleece blanket should be. I purchased it for an adult and it was just a tad bit smaller than I had hoped. Though I still would purchase this item again in the future, but certainly for a teenager or youth.

throw blanket
By
Linda O.

(San Diego, CA) - May 20, 2010 (
See all reviews by this customer
)
I got this blanket for the inscription so I know my husband will love it. I was able to use a family "joke" to make it special for father's day. I think the blanket is a bit small and thin for the price, but I like the idea of personalization.

Meh
By
Candace M.

(Bellingham, WA) - November 18, 2010 (
See all reviews by this customer
)
The blanket is more of a lap blanket. Not very big. Fuzzy but a little thin. I don't think I would buy it again.