Graduation Blanket a hit!
By
Geena C.

(Gilbert, SC) - June 9, 2011 (
See all reviews by this customer
)
Personalization Mall has always been great to deal with! The blanket came in within 3 days and was exactly what was ordered. The product, delivery and customer service was phenomenal!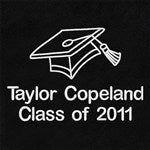 Nice gift!
By
Robin H.

(Ashland, OH) - June 3, 2011 (
See all reviews by this customer
)
I purchased this fleece blanket for my daughter. I didn't get the graduation cap on it, but had her name & the name of her college on it. Since the school colors are black & red, I ordered the black blanket with the personalization in the red. The script looked very nice & my daughter was very happy indeed! Nice product! I would recommend this highly!


She loved it!
By
Teddy S.

(Huntington, IN) - June 3, 2011 (
See all reviews by this customer
)
What an awesome product! She loved it!! What surprised me was just how soft it was!!! WOW!! I would definately buy this one again!!!!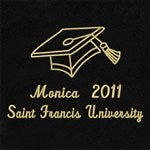 very soft
By
Dennis and Cathy M.

(Boerne, TX) - May 30, 2011 (
See all reviews by this customer
)
I was really pleased with this product. The stitching was as aspected, but the softness of the blanket itself was really a nice surprise. That was the first thing the recipient said when she took it out of the bag. Hopefully, it is as nice after it is washed.


Fleece blanket for Graduate
By
Shopper

(Terrell, TX) - May 20, 2011
The graduate's party is tonight so she hasn't seen her gift. I love the way it was personalized. Good job. I tried to order two more but were on backorder.

Beautiful Blanket
By
Barbara H.

(Shinnston, WV) - May 16, 2011 (
See all reviews by this customer
)
This blanket is beautiful and only wish it came in brown.

great!
By
Shopper

(Jamaica, NY) - May 2, 2011
Came early and the product looked great. It looked just like the preview and the stitching was done beautifully.

Love, Love this blanket!
By
Michelle C.

(Dexter, MO) - April 6, 2011 (
See all reviews by this customer
)
I work with a young lady who will be graduating this year and I can't wait until I can give her this gift. I think she will truly love it. It is a great gift that I think she will greatly appreciate. Thanks Personalization Mall for making our gift buying needs so easy!!

spd 530
By
Shopper

(SCRANTON, PA) - March 1, 2011
Nice quality fast delivery

Great Gift
By
Diana G.

(Luling, LA) - August 13, 2010 (
See all reviews by this customer
)
I have ordered this blanket several times. Every Grad that I have given the blanket to has been realy excited about it. They said it is such a wonderful keepsake. I am very please with this blanket and how the personalization is done.

Graduate Personalized Fleece Blanket
By
kalpana R.

(prospect, KY) - July 15, 2010 (
See all reviews by this customer
)
I ordered this as a graduation gift for my friend's daughter. Because it is on line, I was a bit hesitant and did lot of research on Personalization mall.
When the gift arrived, I was extremely happy. Thank you for your excellent service and the wonderful product. You have earned me as your loyal customer. I will recommend your company to all my friends.
Kalpana

Graduation Gift
By
Patricia M.

(Pacific Palisades, CA) - July 9, 2010 (
See all reviews by this customer
)
This is a terrific gift for a high school graduate. I chose this as a gift for a California boy going to college in the east. I'm sure he will use it to take the chill off at certain times, and if anyone borrows it, he will be able to identify it as his special property.

Fabulous Graduation Blanket
By
Tina D.

(Chicago, IL) - June 24, 2010 (
See all reviews by this customer
)
I bought two of the graduation blankets, one for my daughter and one for my nephew. I purchased the black with gold embrodiery. My daughter was thrilled when she saw it, she gasped and went, "ooooww", this is sooo nice". I told her she could use it because it looks so impressive in the bag she doesn't want to take it out, she enjoys looking at it. Seeing her name on it and her university name makes it all real. My nephew was equally as happy and said, " I will be wrapping myself up in this". He also loved seeing his name and the year he graduated. He graduated from Notre Dame so the gold stitching made him love it more. Also, you were so expedient I was very happy and impressed. I will certainly order from you again in the future. Thank you!

Five Stars Sight Unseen
By
Sarah P.

(Valdosta, GA) - June 5, 2010 (
See all reviews by this customer
)
This was a graduation gift for my God-daughter in South Carolina, so I never actually saw it but shipped it straight to her. She loves it! It arrived in a clear plastic zippered bag w/ the personalization showing. She's afraid to take it out of the bag, it's so gorgeous! Thank you so very much!

GRADUATION BLANKET
By
Marilyn L.

(Hemet, CA) - May 28, 2010 (
See all reviews by this customer
)
I am very pleased with this purchase! The gold lettering looks beautiful against the black blanket and I am sure he will take it to the dorm with him in the fall!

Proud to give as a gift!
By
Vanessa C.

(Charlotte, NC) - May 27, 2010 (
See all reviews by this customer
)
I really LOVE this blanket and will be proud to give it to a friend's son for his high school graduation! It is perfect and the personalization adds the perfect touch! I am sure he will also be proud to take it to his college dorm!

graduation blanket
By
Margie S.

(Seaford, DE) - May 22, 2010 (
See all reviews by this customer
)
great item. the recipient was very happy with the gift.

Graduation Blanket
By
Barbara N.

(Lawton, OK) - May 17, 2010 (
See all reviews by this customer
)
Very nice. Wish it would come in more colors like baby blue. Our daughter was very happy to receive it.

A little disappointed, but the grad LOVED IT!!!!
There are many things that I absolutely LOVED about this blanket: 1) It arrived days early. I ordered very late, and it arrived the morning of the graduation. AWESOME! 2)The blanket is ridiculously soft!! 3) The embroidery looked great!!!!4) It looked just like the preview.
The only things that bothered me a little is that while soft, the blanket is rather thin. Also, while the embroidery was beautiful, there were these plastic pieces stuck to some of the letters. I spent some time trying to remove them all.
Ultimately, none of it mattered, because my niece absolutely LOVED IT!!!. She read the personalization over and over, made everyone feel how soft it is, and put it on her bed right away. She remarked that she would be taking that blanket everywhere!! Mission Accomplished!!! Thank you, Personalization Mall!!! : )

Nice quality, idea for a graduation gift!
By
Shopper

(White Plains, NY) - May 31, 2011
This turned out to be a great gift! I was surprised with the quality of the fleece blanket; the fleece was the nice soft fleece material as opposed to the spongy fleece you may find on other sites. The options of different font type is nice, if I were to do it again I would have chosen a different font (non cursive script)as the name in my message with the embroidery, came out a bit blurred. Overall, fast and efficient delivery, comparable to the price and service. Would recommend to friends!

great value for the price
By
Shopper

(Wantagh , NY) - April 1, 2011
The fleece is a bit thin, but for the money and the sentimate this was a great value. I was able to use 20% off coupon which made the value even better :)

Embroidery
By
Brenda L. Z.

(Spartanburg, SC) - June 9, 2010 (
See all reviews by this customer
)
The service and customer relations of your company are terrific! The only thing I would suggest is that on fleeced items, the width of the lettering should be a little wider because the fleece sometimes falls over the entire width of part of the letters, making it look like there are flaws in the letters. Also, I chose the gold lettering to match the school colors, but think white would have shown up a little better on the navy blue background.

Other than that one suggestion, I have nothing but high praise for your company, your excellent service and product.

Graduation Blanket - Disappointed with Gift Bag
By
Karen S.

(Sugar Land, TX) - May 27, 2010 (
See all reviews by this customer
)
The quality and design of the stitching is very nice. I am very disappointed with the quality of the thin clear plastic gift bag. My purchase came in a torn bag. I do not have the time to return it and hope for a better quality bag.

Disappointed
By
Shopper

(Overland Park, KS) - May 25, 2011
I ordered two of these and had the same disappointment with both. First, the "blankets" are thinner and lighter weight than some of my bed sheets. Second, they were described as cream colored and pictured as a grayish-cream color. Both are actually snow white, so I am sure they will be dirty and grundgy-looking pretty quickly. If they hadn't been personalized, I would have returned them. The only plus was the nice personalization (cap and lettering with colors as represented).

Blanket is Poor Quality
By
Shopper

(Lowell, MA) - April 30, 2011
The engraving is great, but the blanket is paper thin, therefore way overpriced. I would rather have a smaller blanket with a higher quality thread count. My son lives in Vermont and the purpose was to purchase a warm blanket. Very disappointed. Will not shop here again.