Baby gift
By
Shopper

(Kalama, WA) - April 24, 2012
Very soft, embroidery looks just as the preview portrayed it. Only thing was that the "cream" color was a lot darker than I was expecting. I bought this as a present for my friend's first baby. Hope she likes it!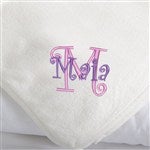 Nice quality blanket!
By
Melissa T.

(Chatham, IL) - September 26, 2011 (
See all reviews by this customer
)
I purchased this blanket for a Christmas gift, and was very pleased with the price and the shipping speed. The only thing I would wish for is that it would be a little thicker, but for the price, it is worth it!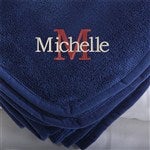 Letterings are Superior!
By
Shopper

(Anchorage, AK) - February 15, 2011
I bought a black blanket for my sister's birthday (her fav. color). The lettering of her name was well done! I am impressed with the embroidery. The blanket, however, is a bit linty. It's soft, but there are quite a bit of lint. That would be the only downfall of this product. It's still a nice gift though!

great quality
By
Jeffrey L.

(Wildwood, MO) - December 13, 2010 (
See all reviews by this customer
)
Very nice soft blanket. Very nice quality of personalization. Check the size. I ordered for 10 year olds and though it'll be great to snuggle with and take in the car, it won't cover their beds like I was hoping. Overall, very satisfied customer.

Nice soft blanket but questionable embroidery
By
Rebecca K.

(Suwanee, GA) - January 22, 2010 (
See all reviews by this customer
)
This blanket is super soft and fuzzy and a nice big size. The embroidery, however, is questionable. The stitching is loose at the top of the big initial and I worry about the whole thing unraveling the first time my baby pics at it. Otherwise, a very nice product.

BEWARE IF ORDERING CREAM COLOR
By
Shopper

(Oakville, MO) - September 16, 2012
Please be aware if you are ordering the "cream" color!

COLOR: The actual color of this blanket IS A DARK CREAM color, more like a LIGHT TAN. It IS NOT the light color (ALMOST WHITE) color as pictured! The actual blanket color has A LOT more yellow in it. If you are expecting the color that is pictured on the website, you will be REALLY DISAPPOINTED.

QUALITY: Other reviews have stated the blanket is "thin", however, the blanket has to be "thin" so as to be lightweight, so I don't feel that being "thin" is a reflection on the quality of the blanket.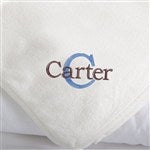 "Initial" reaction
By
Lauren M.

(Greenville, SC) - June 30, 2011 (
See all reviews by this customer
)
The blanket is soft and cute, however the first time I washed it, the monogram began to unravel. I am afraid to cut it, because I don't want it to come undone.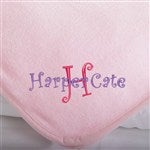 Features that I did not like
By
Shopper

(Chesterfield Township, MI) - January 23, 2011
For the price paid for the blanket, it was thin, not much shape to it. Was very disappointed with the appearance. The monogramming was very nice.

this blanket comes off on everything!
By
roni M.

(lafayette, CA) - July 27, 2010 (
See all reviews by this customer
)
This blanket if ordered in navy comes off on everything. Since apparently I am the only one who had this problem, after washing the blanket 3 times, there was no resolution. The blanket is very attractive, but now is in the trunk of my car for emergencies...beware!

Terrible!!!
By
Kasandra H.

(FORT IRWIN, CA) - December 18, 2011 (
See all reviews by this customer
)
I washed this blanket and the lint balls are everywhere. Can't get rid of them.