Wonderful!
By
ALICIA A.

(WASHINGTON, DC) - June 18, 2012 (
See all reviews by this customer
)
My boyfriend absolutely LOVED the jar. I didn't use the notes that they sent. I created my own using all different colored paper from an arts and crafts store. I was able to fit almost 200 in there. I loved the way it turned out and so did he. I mixed dark paper in with the red so his name was able to show up darker. But it would be nice if the name could be a little more pronounced but other than that, this makes a wonderful gift!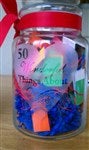 Great and big.
By
Alexis Q.

(West chicago, IL) - February 13, 2012 (
See all reviews by this customer
)
The size is perfect and the little notes are sweet, my girlfriend loved it.
Thank you so much!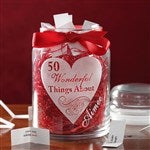 Wonderful...
By
Neysha C.

(Brooklyn, NY) - August 12, 2010 (
See all reviews by this customer
)
It's a great gift. When I opened it I was happy to see it. The only flaw is the fact that it has a repeated note and another note says the same thing in re-arranged words. I improvised and added my own as well :o]

love notes in a jar
By
ashley C.

(georgetown, DE) - February 14, 2010 (
See all reviews by this customer
)
I loved the product as well did my valentine. The pre-written strips are extremely easy to tear apart. i just wish the jar was a little bit bigger as well as the engravement a little darker because it's hard to see the name on the side unless you place red behind the name in the jar... Overall, I loved it!!!!

Great Gift!
By
Laurie P.

(Easley, SC) - October 18, 2010 (
See all reviews by this customer
)
This is a great gift and my husband loved it. The only things about it are that it's really hard to see the writing on the jar with the red behind it. I took the advice of a review I read before purchasing and put black behind it and it showed up perfectly. I shredded black tissue paper and mixed it with the red to fill the jar and it looked great. Also, some of the notes were too similar. I made up a bunch of my own to add to it so he actually had 80 wonderful things about him! All in all, this is a wonderful gift.

great
By
Vicky A.

(Jamaica, NY) - September 2, 2010 (
See all reviews by this customer
)
this is a very wonderful gift. i love everything about it except that the name is not as visible as i would like. but it you put different color, paper on the inside (i put black) you will love how it looks.

A Nice Gift
By
Violet M.

(Bourbonnais, IL) - February 11, 2010 (
See all reviews by this customer
)
I wish the printing on the glass was somehow darker - it just seems lighter than what the picture shows. Otherwise, it's really nice. The notes will be fun to use and I plan to fill the jar with candy before I give it as a gift.

Love jar
By
Shopper

(Australia) - February 20, 2011
This was a nice gift but after I received it, I actually wrote my own notes to make it more personal.. so I think to improve this item, there should be an option where the customer can buy it with blank notes where they can write their own or if they don't want to, they can have the option of having the pre-made ones from the store.

very upset
By
Shopper

(Coal City, IL) - February 8, 2012
I had high hopes for this, and when I opened it I was very dissatisfied. I can barely see the name and the compliments are very repetitive. I now have to find my fiance a new gift for Valentine's because I am too ashamed to give it to me. It's defintely not what I expected.

WARNING: Notes are NOT cut and put in the jar
By
Shopper

(Chicago, IL) - February 6, 2012
i bought this as an anniversary gift for my boyfreind, but the 50 little notes weren't cut and put in the jar. my boyfreind had to cut them up and put them in the jar itself. ruined the surprise :(

Make it easer
By
Pearl B.

(South Boston, MA) - June 27, 2011 (
See all reviews by this customer
)
I did not know that i would have to write each one out myself,i had to go on line and print them out cut them up and put them in the jar,way to much work,
you should have them written up and people can choose the ones that they like
it would be a lot easer,not just for brides but also for anniversary's.

Exactly What I Wanted
By
Melissa S.

(Collinsville, AL) - September 1, 2010 (
See all reviews by this customer
)
Many people complained about the lettering on the jar. But if you use what they provide, you can make it look nice. I personally added more intimate messages on all the slips of papers. My order was very timely and was described very well on the website. Customer service was amazing. Thank you!

In a Personalized Jar
By
Shopper

(San Tan Valley, AZ) - February 5, 2012
Very please with merchandise...will recommended to a friend.

My Husband will gonna love it :)
By
Abdullah A.

(NEW YORK, NY) - October 27, 2010 (
See all reviews by this customer
)
My husband will be very happy when he will gonna see this jar.. Love it guys umw7 kisses kisses.

Perfect Gift
By
Shopper

(Lebanon, PA) - July 12, 2011
I loved this product and I know that my wife loved it! I only wish they would have mentioned in the description that the 50 wonderful things about you was on one sheet of paper and not in seperate peices. All in all, it was a wonderful gift that I was able to give to my wife while still having it personalized.

great
By
Junaid I.

(Canada) - November 23, 2010 (
See all reviews by this customer
)
great product, no flaw whatsoever.

Very unique and appropriate
By
Shopper

(NORTH TONAWANDA, NY) - June 9, 2013
She'll be very surprised and have fun going thru each note 1 by 1. Plan early with this because you may want to personalize each sheet and put in jar individually. Don't think you can just put in box and wrap. However, the end product will make them thrilled.

Unique
By
Kimberly G.

(Linden, NJ) - February 12, 2011 (
See all reviews by this customer
)
In my order, I actually received kisses instead of notes for my loved one. But in the end it worked out amazingly because I recommend you make your own notes to ensure the best valid remarks with more costume, sentimental phrases.

a great gift
By
Shopper

(Canada) - February 2, 2011
very nice and i cant wait to give it to my fiance!i am sure he will love it.. very good quality as well

GREAT GIFT IDEA
By
Shopper

(Sarasota, FL) - February 19, 2011
SHE LOVED IT!!

good gift
By
Shopper

(corvallis, MT) - March 21, 2011
This was a good gift for my husband. I also got a robe from this website and compared to the robe it just wasn't as nice. It wasn't bad and I am sure that if I had just given him the jar it would have been different. This gift would have gotten a 5 star rating had it been from my husband to me. So guys that are reading this>>>> GET THIS FOR HER! A wonderful gift Idea for soldiers to send home to their family.

He loved it
By
Shopper

(Fredericksburg, VA) - February 22, 2011
I purchased this gift as a Valentine's Day gift for my boyfriend. He's a wonderful man and I like to tell him often. I also thought he would like the idea of having a reminder of such. He loved it and has it on display in his bedroom.

I had a couple of minor issues that kept this from being a 5 star for me. You have to keep the red confetti paper or a red background to read the personalization on the jar. I'm big on crafty things and would have liked to have been able to make the slips of paper stand up in display (but that's not a big deal). There were at least two duplicates on the paper and some that weren't appropriate for our relationship. I simply removed the duplicates and one not applicable and replaced with my own. He still loves it. Overall, a definite recommend.