HAPPY CUSTOMER
By
Dinah R.

(Citronelle, AL) - March 10, 2014 (
See all reviews by this customer
)
This tote bag is ADORABLE! I ordered it for a birthday gift for my niece and I was so pleased when it arrived. The tote is very roomy and the embroidered name and initial turned out perfect! I will be purchasing more of these totes for other family members as it is an item they can use for many years to come. As always, great job Personalizationmall.com. Love your products!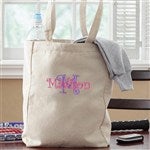 Grammas House Bag
By
Cheryl K.

(lennon, MI) - November 16, 2013 (
See all reviews by this customer
)
My son would always bring over toys, bones and food in his grocery bags. Being the Mom (Gramma) that I am, I said we need something better. So I ordered this item. Looks great and will definitely do the job. The only thing is it doesn't tell you how to wash it.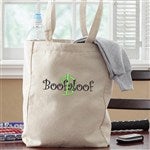 great little tote
By
Shopper

(Brightwood, VA) - July 27, 2013
I was so taken by this tote that I ordered two, one for myself & one as a hostess gift to be filled with other little gift items. What a smart move!! This bag is just the right size as an accessories bag when traveling or stuffing with odds & ends or whatever the need may be. And it's machine washable--thank you Personalization Mall for a versatile tote that is also easy to care for. FIVE STARS

Perfect for Splash Day
By
Shopper

(Allen, TX) - July 23, 2013
I ordered two bags for my twins to take to preschool on Splash Day. The quality is great and the embroidery is beautiful. They are much thicker than I expected and seem very durable. A great product all around.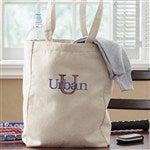 bag
By
Claudette P.

(Bronx, NY) - June 15, 2013 (
See all reviews by this customer
)
nice bag with the name. teh name is nice and big so you can see, and the bag is not big, good for my bible for church

Great Bag, Lots of Personalization Options
By
Tiffany Z.

(Kewadin, MI) - February 24, 2013 (
See all reviews by this customer
)
The quality and size of the bag are just as specified. The embroidery looks nice, hopefully it'll hold up. I liked the font and color options offered.

Cute tote
By
Shopper

(Yoder, IN) - December 29, 2012
This is just the right size tote for my young grandsons. Having their name on the tote makes it extra special for them.

Tote Bag
By
Shopper

(West Point, VA) - December 29, 2012
Bag is quality material and the embroidery was exactly as shown and perfect colors!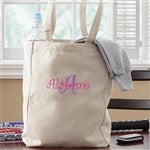 GREAT TOTE
By
Caroline Z.

(Indian Land, SC) - December 2, 2012 (
See all reviews by this customer
)
My granddaughters will be delighted with this tote bag. The tote will be useful in keeping their personal items together in one place. I have given my family members so many personalized items and they are always a highlight. This is my favorite shopping with personalization site.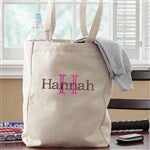 Perfect For My Little Girl!
By
Shopper

(Phoenix, AZ) - August 5, 2012
While this is not specifically a "childs" tote, I found the proportions ideal for my 5 year old entering Kindergarten this month. The school requests totes, not backpacks - The quality is great, and the bag came so fast! Fantastic quality!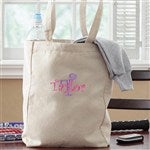 Pleased :)
By
Shopper

(Columbia, SC) - August 5, 2012
Very cute, and perfect size for my little flower girl.

Great quality
By
Shopper

(Madison, AL) - July 16, 2012
I bought this item for our flower girl in our upcoming wedding. She is three years old, and doesn't have a tote bag for toys, beach stuff, etc. The size is actually a little larger than I expected, which is a good thing, and the stitching is great.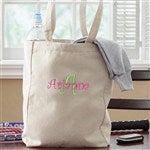 Awesome bags
By
Shopper

(new york, NY) - May 19, 2012
I bought these bags for my daughter and a bunch of her friends for their birthdays and they all came out so adorable... quality is excellent and the embroidering is so cute

Perfect for Toddler School Bag
By
Shopper

(Succasunna, NJ) - February 16, 2012
I was looking for a bag for my 2 1/2 year old to take to nursery school. A bag big enough to hold regular size paper (8 1/2 x 11) yet small enough that she can carry it herself. This bag is perfect! The stitching is very good quality.

It's way too cute!
By
Shopper

(Midland, TX) - January 25, 2012
I am completely satisfied with this tote. This will be for my niece's baby shower and I know she'll just love it!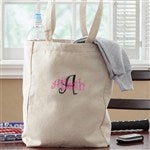 Great for a kid's tote!
By
marivic L.

(accokeek, MD) - December 19, 2011 (
See all reviews by this customer
)
Yet another pair of gifts for my twin Godkids that will get lots of use - dance class, quick trips, etc. Nice thick material and excellent embroidery. Personalization Mall is my favorite site for gifts, especially for the little ones!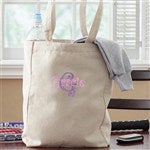 nice and fast!
By
Shopper

(Italy) - November 4, 2011
The tote is really NICE. The embroidered name is just perfect and I got it extremely FAST! totally recommendable!

Loved It!
By
Karen B.

(Livingston, TX) - October 5, 2011 (
See all reviews by this customer
)
I bought this bag as a baby gift and it was soooo cute!! The letter sizing fit the size of the bag very well, and it is made of burlap so it also seems to be made very well!!! I will probably make these my new baby gifts that I get everyone.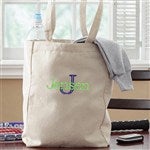 Very nice
By
Kristine H.

(Tallahassee, FL) - August 23, 2011 (
See all reviews by this customer
)
Nice, sturdy bag with nice looking embroidery. I got the block letters for my son (navy & ruby red, just like the example) and it looks beautiful. Highly recommend this product.

Just Perfect!
By
Shopper

(Midlothian, VA) - August 19, 2011
Very happy with the personalization and the quality of the product!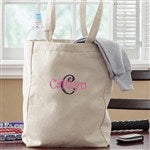 Great Baby Gift
By
Shopper

(Grand Mound, IA) - August 15, 2011
Lettering is adorable. Am using as a "gift bag" to hold diapers. Also ordered one for the sibling so they didn't feel left out!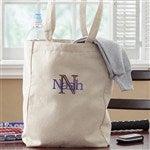 Child's tote
By
Shopper

(Herndon , VA) - July 31, 2011
Great item for the price

Great bag!
By
Kathryn K.

(Lewiston, NY) - May 16, 2011 (
See all reviews by this customer
)
The bag is just as I wanted...heavy duty, perfect size for a short trip for my toddlers belongings, and the embroidered letters are very cute too!

Great bag
By
Amanda H.

(Salt Lake City, UT) - May 13, 2011 (
See all reviews by this customer
)
I saw this bag on the site, and thought it looked great, but the summary said it was a child's tote bag; so I was a little worried because I was getting it for my mom. I received the tote bag and gave it to my mom and she loved it. It was large, and not "child" sized. She loved it, it was made out of good quality, and the stitching on the front was very nice.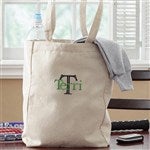 wonderful gift option
By
Jennifer K.

(Chicago, IL) - December 13, 2010 (
See all reviews by this customer
)
I bought these for my boys as their preschool bags! They are awesome and I highly recommend!

Cute bag!
By
Wendy Z.

(Duluth, GA) - September 7, 2010 (
See all reviews by this customer
)
My daughter's preschool requires that she use a tote bag and that it be labeled with her name. When I saw this bag, I was so excited! She chose the colors (pink & green) and, because her first and last name are only a combined 7 letters, we were able to have it fully embroidered. It's large enough to fit her lunch box, daily folder and a spare change of clothes, but still manageable for her to carry. Thanks Personalization Mall!

all about me tote bag
By
Marilyn F.

(Omaha, NE) - August 21, 2010 (
See all reviews by this customer
)
just as ordered and described-quick ship-thanks!

Looks more expensive than it is
By
Jennifer K.

(Arlington, VA) - July 22, 2010 (
See all reviews by this customer
)
Very well made, nice thick canvas and the embroidery is
very nice looking.

A great tote bag!
By
Jill H.

(Shamong, NJ) - July 8, 2010 (
See all reviews by this customer
)
My granddaughter is going to love this tote bag with her name on it. As usual, we are more than satisfied with your items. They are always the best quality, personalized beautifully and shipped so quickly! I am going to stuff the bag with gifts for my granddaughter's upcoming 4th birthday, and then, after the gifts are put to use, this bag will become a staple of her "wardrobe"--I just know! It will be so handy for her to carry all her necessities, like dolls, a tablet and crayons, a snack. Or to use at the beach, where she goes often! Thanks, Personalization Mall, for another beautiful product!

Tote Bags
By
Judy L.

(Canada) - July 3, 2010 (
See all reviews by this customer
)
LOVED THEM!!! I bought three of these for each of my kids...the quality is ok on the tote, and the embroidery is excellent! I can't wait to see my three kiddies take them to swimming lessons this a.m. - they'll look adorable w/ their personalized totes.

(although Shipping Costs to Canada are extraordinarily HIGH...I shop on line lots & this is one of the HIGHEST sites for shipping).

Embroidered Tote Bags
By
Mary Anne M.

(Bowie, MD) - May 11, 2010 (
See all reviews by this customer
)
These bags were ordered on Tuesday and I received them on Friday! Amazingly fast for personalized items! The bags themselves are sturdy and a good size. The embroidery on them is beautiful! The colors seem true to what I saw on my computer and the stitching is first rate!

Great Bag
By
Shopper

(new york, NY) - September 19, 2011
My daughter loves it! The bag is not too small for a 3 1/2 years old kid! Also Love the color.

Emroidered Tote Bag
By
Jean M.

(Hendersonville, TN) - August 4, 2010 (
See all reviews by this customer
)
The quality of the embroidery was excellant but I was disappointed in the quality of the canvas bag. These bags were for children and they were delighted to have bags with their names on them.

Cute but poor qaulity
By
Shopper

(New Rochelle, NY) - August 14, 2012
Bag is very cute but the strap broke in less than 2 weeks.