Wonderful gift
By
Shopper

(Norman, OK) - December 25, 2013
Absolutely perfect for an 18 month old boy!

Lion Personalized Bean Bag Chair
By
Shopper

(Melbourne, FL) - June 21, 2013
We purchased this for our grandsons first birthday because we wanted something personalized and special to mark the occassion. He was so thrilled!! We skyped and were able to watch him opening and playing with it...his new favorite!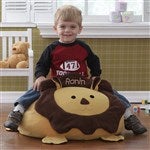 Special birthday present
By
Shopper

(Pleasant View, UT) - May 26, 2013
Super cute addition to the nursery. Very soft too. My one year old daughter loves her lion chair!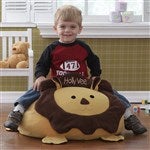 So cute!
By
Shopper

(Irmo, SC) - April 9, 2013
I bought two of these lions for gifts and they are oh so cute!! Great quality and very, very soft. I love that it has a zipper so you can take the cover off and wash it.

Personalized Lion Bean Bag Chair
By
Shopper

(Edison, NJ) - November 25, 2012
I was searching for the perfect gift for a 2 year old. I came across this site and the bean bag and hoped it was as adorable as the picture. I was impressed that from the day I placed the order, I received the bean bag in 5 days. And it was personalized. The bag is washable which will make any parent happy. The toddler was thrilled when he opened the box and spent the entire day sitting on it. What a huge success! I highly recommend.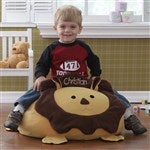 Too cute!
By
Kamilah T.

(San Diego, CA) - August 14, 2012 (
See all reviews by this customer
)
I ordered this for a friend's baby shower since it went with the jungle theme of the room. She called me when it arrived raving about it. She loves it and I am happy that it got rave reviews at the shower too!

great baby gift
By
Tina F.

(Levittown, NY) - May 20, 2012 (
See all reviews by this customer
)
Leonard the Lion is adorable i got it for a baby shower gift everyone loved it, The personalized cards you have to go with your gift are amazing and a great price!! Thank you I have been a customer for years every gift I buy is unique and beautiful!!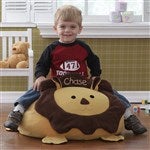 Super cute
By
Shopper

(Glenpool, OK) - March 19, 2012
Bought this for my son's 1st birthday & I know he's going to love it! It arrived just as it's pictured...might need a little breaking in to allow for comfortable seating, but otherwise he'll have fun riding on it as shown. I'm very pleased!!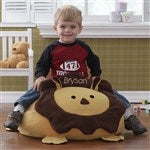 Awesome Bean Bag Chair!!
By
Marva K.

(Grass Valley, CA) - March 13, 2012 (
See all reviews by this customer
)
I bought two of these for my two year old identical twin grandsons. Personalization Mall has done it again! Leonard the Lion is so adorable right down to his cute tail. Best quality. Thank you, Grammy M

Perfect!
By
Shopper

(Old Hickory , TN) - March 11, 2012
We are so pleased with Leonard the Lion. He is the perfect size for a toddler and is a huge hit at our house. Service and delivery were exceptional!


a fun seat for grandson
By
Shopper

(Milford, MA) - August 29, 2011
The printed name came out great, the chair is a prefect size for our young grandson..
The material is nice and it has a zipper, to remove and clean.


Lion Chair
By
Shopper

(Fort Lauderdale, FL) - July 31, 2011
We bought the Lion Chair for our new born grandson,. He is still a "little" too young to use it but our daughter and son-in-law love it. After seeing it I would definitely buy it again for a present.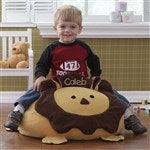 Perfect Gift !!
By
Janette A.

(Chicago, IL) - May 29, 2011 (
See all reviews by this customer
)
I gave the Leonard lion as a 1st birthday gift and it was a hit. The fabric was so plus that it made it great for the baby to play with. Also serves a great little couch for the baby. Will definitely buy it for someone else.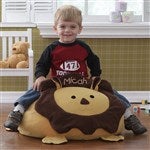 a gift
By
carole M.

(bellmore11, NY) - April 18, 2011 (
See all reviews by this customer
)
This was given as a gift. One of the best parts I didn't have to purchase it and then try and find a box to ship. I haven't seen the Lion but the parents that received it for the infant said they layed the baby on it to do a photo shoot. Thanks for my niece recommending this site. I will use u guys again.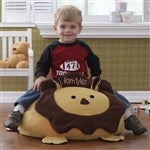 Never disappointed in Personalization Mall items or service
By
JoAnn N.

(North East, MD) - December 23, 2010 (
See all reviews by this customer
)
Another year is coming to an end and no matter what the holiday or how frantic I become for gift-giving selections, PERSONALIZATION MALL never, ever fails me. Their service can't be beat. Always very dependable, excellent quality for a great price! I come back year after year! Email me if you'd like to at jo_ann_n@hotmail.com I'm really that impressed with this company. Merry CHRISTmas!

loved it !
By
angela L.

(valencia, CA) - December 5, 2010 (
See all reviews by this customer
)
my husband and I bought leo the lion for our grandsons first birthday...we loved it! it is much cuter and cuddly than we thought!! we would definitely recommend this item.

Lion bean bag chair
By
Shirley D. C.

(Baltimore, MD) - November 4, 2010 (
See all reviews by this customer
)
I have ordered this as a Christmas gift for my greatgrandson. It is really cute and I know he will love it. It will fit in perfectly in his bedroom which is decorated in an animal theme.

Perfect!!!!
By
Sylvia A.

(El Paso, TX) - October 27, 2010 (
See all reviews by this customer
)
I loved the size, color, feel...everything about it was perfect. The personalization adds that special touch. Order was quick and delivery was immediate. Will be ordering more from this site.

We love Leonard :>) !!!
By
Miss L.

(Paso Robles, CA) - January 20, 2010 (
See all reviews by this customer
)
I am a schoolteacher and we are "The Lions". Leonard is just perfect and we love him :>) !!!

An Unbelievable Find
By
Verna J.

(Bowie, MD) - January 19, 2010 (
See all reviews by this customer
)
I wanted something uniquely special for my greatly anticipated grandson. I performed a "Bing" search and miracle of all miracles, there was "Leonard the Lion"! The most unique and special gift I could have imagined. My son, the expectant father, is a Leo and loves, loves, loves lions. He is decorating the baby's room with a lion theme. You can imagine my delight in finding Leonard. The icing on the cake was that I could also have him personalized with my grandson's name. Perfect! In closing, I must add that dealing with Personalization Mall.com was incredible. From start to finish the process was seamless! I shall be a loyal customer from this point forward. Thank you Personalization Mall. It has been nothing but a pleasure dealing with you. You and your product exceeded all expectations. Until next time,

Sincerely, VSJ, Bowie, Maryland

Leonard Lion
By
Shopper

(Cedarhurst, NY) - August 27, 2012
I bought this as a baby gift based on the reviews. I did not see it, but I got a call from my friend, the grandmother of the baby who this was for. Her daughter had called her to tell her how great this gift was. It was big and well made. She and her husband were ecstatic. I gave it only four stars instead of five stars because I did not see it myself. I would order this again.

She LOVED it!!
By
Sharneen S.

(Bowie, MD) - January 4, 2010 (
See all reviews by this customer
)
I actually did not get to see the lion (I had it shipped directly to my Goddaughter for Christmas). She's only 1 1/2 but she LOVED it! I got the cutest picture from her parents. Definitely worth the purchase.

Not worth the money
By
Shopper

(Rolling Meadows, IL) - October 27, 2012
I bought this for a baby shower. It was totally unimpressed especially considering that I paid $70 for it. It was supposed to be a bean bag chair, but it was too small to be a bean bag or a chair. Everyone asked, "what is it?" The lion is very plain and nothing special. Definitely not a good value. I found a life like stuffed lion much bigger than this for $20 elsewhere. Very disappointing purchase especially after I read all the rave reviews.