Das Boot!!
By
Alma R.

(Frederick, MD) - July 11, 2011 (
See all reviews by this customer
)
My fiance and I are getting married in November, and I wanted to purchase him a "little something" in commemoration. This is perfect!! I had his name engraved after "Cheers To" and added "My Wonderful Husband" and our wedding date to the personalization. It looks great, and I hate now that I have to wait 4 months to give it to him! The personalization is more than clear and the boot definitely has some heft to it. I've ordered many items from Personalization Mall and this is the quality that I have come to expect from them. I have yet to receive an item I haven't been totally thrilled with! Thanks once again!!

30th Birthday
By
Shopper

(Canada) - June 22, 2011
I was very impressed with the quality of the boot and the engraving! I have purchased it for my husband's 30th birthday, and I'm really excited to see his reaction when I give it to him! I think he'll LOVE it! Excellent work, and fast shipping. Thank you!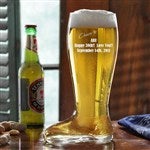 Beer Boot
By
Michael S.

(Canada) - June 10, 2011 (
See all reviews by this customer
)
It was exactly how it was described and there were no problems with it at all. It shipped very fast. Even came with instructions on how to drink from it.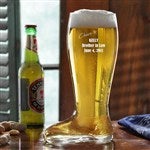 .
By
Chad M.

(Springboro, OH) - October 1, 2010 (
See all reviews by this customer
)
Very nice quality and the engraving is very nice. The guys will love this.

Awesome
By
Liem C.

(Pensacola, FL) - August 13, 2010 (
See all reviews by this customer
)
Was everything described and better. Will give this gift for many people. Would recommend for anyone that loves beer or just putting liquid in a boot with a personal message.

Exactly What I Wanted
By
Tiffany E.

(Plains, PA) - April 30, 2010 (
See all reviews by this customer
)
I purchased these for the best man and groomsmen in my wedding and I also got a surprise one for my groom. The engraving looks great and exactly what I wanted for the men in the wedding party. Since they all love to drink beer I thought this would be different. Plus I received my order in great timing. It's didn't take long at all after I ordered them.

Nice product if over-priced
By
Shopper

(Kenilworth, NJ) - June 28, 2014
I can't speak for the glasswork or difficulty to make the boot shape, but I have since found very impressive glasses for half the price with better engraving options. That being said I'm not disappointed with the product. It is what it is, a novelty item. The wording of the engraving is lighter than I would have liked and slightly hard to read, but it still gets the job done.

Nice well-crafted, sturdy boot glasses
By
Tom M.

(Escondido, CA) - April 18, 2014 (
See all reviews by this customer
)
These glasses seem to be well-crafted and a nice heavy glass that will withstand more than your average bumps and rattles. Some people made note of the engraving being rather light and hard to read. I didn't think it was too bad. It could be darker especially when the glass is empty but I am sure when it is full the engraving will obviously stand out much better. Haven't had a chance to use one yet but looking forward to it.

its so cute!
By
michelle M.

(west covina, CA) - June 3, 2013 (
See all reviews by this customer
)
i bought this for my husband for fathers day 2013 which hasn't passed yet so i don't know how he would like it it, but i loved it. its so cute and the personalization makes it even more wonderful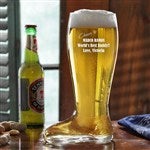 Great Boot
By
Shopper

(Gloucester City, DE) - April 6, 2013
I love this idea it was quick to ship even with the economy option. I love personalization mall i have never been disappointed with them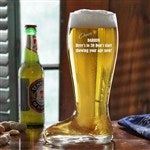 Nice quality boot but engraving could be improved.
By
Shopper

(Cocoa, FL) - July 18, 2011
The boots are nice quality. Solid, heavy thick glass makes for a quality product overall, but the engravaing is so light it's hard to see. It's not nearly as bright as in the photos which is sort of disappointing.

Das Boot
By
Corey L.

(Canada) - November 9, 2010 (
See all reviews by this customer
)
Excellent quality and fast shipping, My groomsmaen will love them.
Thank you