Da boot!
By
Shopper

(Portage, WI) - June 20, 2014
This is what I got all my groomsmen for a gift and they absolutely loved it! They were even better than I expected and a hit among my groomsmen.

Awesome, great gift for best man
By
Alex A.

(boca raton, FL) - January 15, 2014 (
See all reviews by this customer
)
My friends loved their mugs but my best man deserved this boot, this thing is massive and we are big drinkers so it was a perfect gift for him! delivered fast also!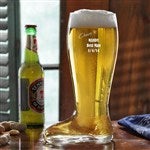 I have bought this item on 2 occasions
By
Shopper

(North Brunswick, NJ) - October 26, 2013
I bought this for my fiancé on St Patricks Day and he loved it. We then also bought these for some of our VIP's in our wedding party. The boot is great quality and fits alot of beer. It comes with instructions on how to drink from it as well. We love this product!!! It's the perfect gift for the beer lover in any family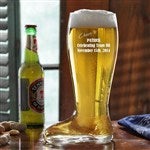 Love it
By
CASSEY E.

(Columbus, GA) - March 1, 2013 (
See all reviews by this customer
)
Got this for my husband and it was great! The quality is awesome and the writing was just what I wanted ! Great gift !!!

Well done
By
Hala S.

(Washington, DC) - January 24, 2013 (
See all reviews by this customer
)
I did not think it will be that good, it exceeded my expectations, thank you :)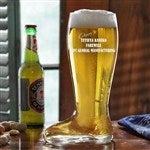 Awesome
By
Shopper

(Beaumont, TX) - January 1, 2013
It was a birthday gift for my boyfriend and he loved it! I was so happy with the quality!

Excellent Quality
By
Shopper

(Saint Louis, MO) - December 11, 2012
I have received the item right on time. I was impressed with the quality; the glass is actually thick and well-made.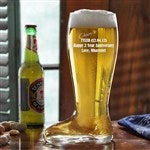 For My Husband
By
Shopper

(Saint Petersburg, FL) - December 5, 2012
I ordered this for my husband for Xmas. When the package came he was standing at the door and so I had no choice but to give it to him then. He opened it and enjoyed it. He hasn't used it yet. I think he's waiting until New Year's Eve!

loved it
By
Shopper

(rancho palos verdes, CA) - November 25, 2012
I bought this gift for a groom. He loved it !!

Great gift!
By
Shopper

(Colchester, CT) - October 22, 2012
Awesome!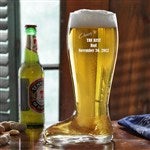 Beer boot is excellent!
By
Lynsey K.

(Livonia, MI) - June 26, 2012 (
See all reviews by this customer
)
Bought the Beer Boot for my Fiance (and father of our child) for Father's Day! He loved it! Great quality, I will be using this website for future personalization purchases.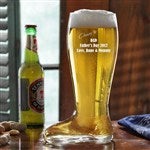 Boot
By
Shopper

(Garland, TX) - June 18, 2012
It was really cute. My dad loved it.

Great gift!
By
Kirk E.

(Oxford, MS) - May 3, 2012 (
See all reviews by this customer
)
I recently purchased 7 of these for a gift to the groomsmen and ushers for my wedding. I also bought one for myself, and I have zero regrets. I can't wait to use it! They're the perfect size for an individual and I love the fact that you can have them personalized. Highly recommend for a gift for any man, especially for someone in a wedding. They're really cool and it stays away form the traditional shot glass or flask. Like I said, I would highly recommend.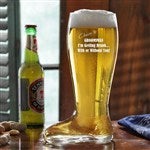 Very good quality and fast delivery
By
Shopper

(new york , NY) - March 13, 2012
I bought this for my husbands birthday and he really enjoyed it. The glass is very thick and would recommend this item

beer boot
By
Pamela H.

(Rydal, GA) - February 27, 2012 (
See all reviews by this customer
)
Fast service and great quality! !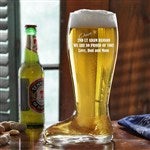 He loved it!!!!!
By
Patricia E.

(Conover, NC) - February 15, 2012 (
See all reviews by this customer
)
I was not sure what to expect,since I had sen this glasses when I was in Greece. They were not as tall; however, they are a good size and they are really thick which means is not fragile like champagne glasses. The fact that you can write something intimate give the present an even more special touch to the gift. Anyone that is a beer drinker would in fact enjoy having their own beer boot!!!!!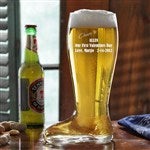 As described
By
Victoria F.

(Renton, WA) - February 12, 2012 (
See all reviews by this customer
)
Well made item

Great product, shipped quickly!
By
Shopper

(Port St Lucie, FL) - December 19, 2011
Love the boot...I'm sure my husband will too. Came in plenty of time to get wrapped and under the tree!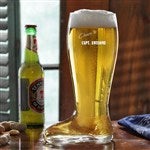 Groomsmen LOVED them
By
Michael P.

(Sarasota, FL) - October 31, 2011 (
See all reviews by this customer
)
Everything about these Beer Boots was perfect. The delivery time was quick, the packaging was sturdy and well boxed, and every Boot came out fantastic. Nice quality, heavy glass, and the engravings looked wonderful! Thank you!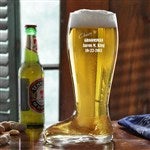 Great Gift
By
Shopper

(New Orleans, LA) - August 23, 2011
Excellent product. I bought it for my father's 60th birthday. The beer boot looked just like the preview picture and arrived quickly. I plan on buying them for my groomsmen next summer.

Great product!
By
Shopper

(Katy, TX) - July 26, 2011
Order 9 of these for all my groomsmen/ ushers and got them in very quickly. They were really nice quality too! Was surprised how thick the glass actually was!

Great for the Husband
By
Julie R.

(Pittsburgh, PA) - June 4, 2011 (
See all reviews by this customer
)
My husband loves beer, and loved this large glass, especially filled with Tootsie Rolls!

He Loved It!
By
Sabrina H.

(Miami Beach, FL) - February 17, 2011 (
See all reviews by this customer
)
After 2 years together I thought I was running out of clever Valentine's Day gifts; then I saw this!... just like the one from the movie 'Beerfest', my bf&me always talk about the"Das Boot";) ... When he opened the box & saw it, he couldn't believe how 'official looking' it was, nice detail, quality(heavy) glass& perfectly centered... Oh&Thnx so much for delivering it on time :)!

Fast delivery!
By
Terri G.

(Lakewood, OH) - September 21, 2010 (
See all reviews by this customer
)
The ordering process was easy. And the product was correctly printed, delivered, and in my home two days later. Will use again.

Words Can't Express
By
Cindy C.

(Chicago, IL) - September 14, 2010 (
See all reviews by this customer
)
I'll make this short because I can go on and on. I've purchased quite a few items from you guys and I'm amazed every time. There priceless memories at amazing prices and I wouldn't trust my personalized treasures to anyone else, Thank you Personalization Mall!!!!! Cindy

Das Boot
By
Gary H.

(Springfield, MO) - August 4, 2010 (
See all reviews by this customer
)
The glass was great and the presonalization was very nice. The only down fall I have seen is that the boot wobbles a little bit when you place it on a table, the bottom of the boot isn't level (It's a very little wobble). This might change when you put liquid in it but I'm not sure. Overall a great gift and product. Would purchase more again. Thanks

Great Product!
By
Jasmin W.

(Savannah, GA) - June 26, 2010 (
See all reviews by this customer
)
I expected a cheap glass. It's actually high quality glass, pretty thick and has a little weight to it. Product exceeds expectations, as always. :) Speedy delivery. Overall, very pleased with this purchase. I love to personalize birthday and holiday gifts and shop personalization mall for all my personalization needs.I always receive great service and products here.
Thanks again personalization mall, for making this Father's Day a memorable one :)

Great Gift!
By
Shopper

(Astoria , NY) - February 13, 2013
I love this boot. Its made of thick glass and looks well made. The engraving is easy to read and looks really nice. I would definately recommend this to anyone who loves beer!

They want us to rate these gifts
By
Brian W.

(Tallahassee, FL) - January 31, 2013 (
See all reviews by this customer
)
Most of the things on this site are purchased as gifts, this boot is no exception. I saw it for a total of about a minute, take that into consideration when looking at the rest of my review.

The boot is great. It looks exactly like it does in the picture. The engraving came out crisp and clean and is easily legible from several feet away. I don't know how well it serves its purpose as a beer drinking vessel but the glass seems thick and sturdy enough to serve that purpose as long as you don't slam it around while it's full. It's dense enough that I can set it down rather heavily on the counter to no ill-effect but it's weight does make it feel a bit like a drop to the floor waiting to happen. Overall, I am pleased with the boot.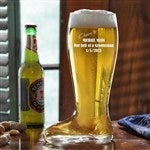 Solid and functional
By
Shopper

(Pacific Grove, CA) - January 25, 2013
Other than a small indentation on the side of the glass it is fairly decent. I bought this as a gift and haven't given it to the recipient yet so I don't know what their reaction will be or how it's like to actually drink beer from it. I also got the do-it-yourself gift box but I do not recommend it. It has the Personalization Mall's logo on the box. That's not something I want to be on a gift box. The shipping was timely and the glass was packaged well.

Fathers Day
By
Christina V.

(San Antonio, TX) - June 28, 2010 (
See all reviews by this customer
)
The Two men were very happy with this gift, it is just the right size to not over induge and they loved their names engraved on the boot

Just as advertised
By
Christine M.

(Milwaukee, WI) - June 13, 2010 (
See all reviews by this customer
)
The beer boot was exactly what I was expecting. Nice size and quality. Personalization had a slight added mark beneath the name which was unfortunate.

Christmas present
By
Shopper

(Chesterfield, VA) - December 11, 2012
Very disappointed. I thought it was going to be shaped like a cowboy boot not a snow boot.

RECEIVED THE WRONG ITEM!!!
By
Shopper

(Dartmouth, MA) - December 21, 2011
I just received my order i placed on 12-14-11 and i ordered this product just because of the boot and i received a regular mug!! very upset that i will not be able to give a very special person their personalized christmas gift. very disapointed.