Too Funny!
By
Karen L.

(Spartanburg, SC) - February 10, 2010 (
See all reviews by this customer
)
I know my husband will laugh when he sees these waiting for him on Valentine's Day (along with the other Personalization Mall gifts that I purchased). Thanks for the quick shipping!

Too much fun!
By
Cindy H.

(Centerburg, OH) - February 2, 2010 (
See all reviews by this customer
)
If you are looking for a whimsical gift for your special someone this is it. The labels look authentic. I cant wait to see his face and have a little laugh when he opens this up on Valentine's Day!

REALLY CUTE, FAST SHIPPING AND GREAT PRICE!
By
Xiomara L.

(West Palm Beach, FL) - February 1, 2010 (
See all reviews by this customer
)
I GOT MORE THAN WHAT I EXPECTED; NOT SURPRISINGLY THOUGH, PERSONALIZATION MALL ALWAYS EXCEEDS MY EXPECTIONS! GREAT WEBSITE! THANK YOU!

GREAT "FUN" GIFT
By
Francine D.

(Brooklyn, NY) - January 29, 2010 (
See all reviews by this customer
)
This giant bottle of "Love" pills (aka: Red Hots) is a great way to put a smile on your loved one's face. It's so cute, I can't wait to give it to my wonderful husband on Valentine's Day. Don't pass this up... it guarantees your significant other will have fresh breath when you kiss! :p

Perfect Prescription For Romance
By
Roslyn S.

(Clinton, MD) - January 27, 2010 (
See all reviews by this customer
)
If one didn't know any better you would think this was a real prescription! I had never seen anything like it and was thrilled when I received this. Just as you see it here it comes with the pill bottles which describes the doses and the side effects like any medication from a doctor. The package it comes in is just like the one you would receive from the pharmacist. So authentic!!!

Sweet Deal!
By
Niambi P.

(Philadelphia, PA) - February 21, 2012 (
See all reviews by this customer
)
I read other customer reviews and I agree the bottles are large. But necessary to fit all that candy. And probably smart so it won't look like real pill bottles. Because I never know what to get for a thoughtful gift, this was a perfect creative idea! The quality is good. Sticker on bag, a tad off centered and my bag was torn at the back. The quality of the bag could have been a little more durable, it's on the thin side. I was prepared when I read the reviews by opening the package first myself and putting the candy in bottles first and then re-wrap how you like. The product is not clearly noticeable thru the mailing package but be careful, you will hear the candy moving around inside. I also agreed with another customer, they suggested that you should have been able to personalize it with your own name as the Doctor! I liked it and my man did too. He said "very funny". My order was received fast and on time! I can always count on this company! Thank You! I love all your ideals!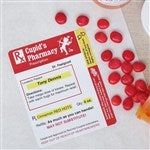 A different touch to valentine's day
By
Shopper

(Lincoln, NE) - February 20, 2012
This idea for Valentine's day was a home-run for me. I told my hubby I had picked up his meds after work and when he read the label, he smiled a surprising smile! He didn't expect this but it was pretty cool- plus I got a bonus point with him cuz he loves this candy and I had forgotten about that! The only thing I didn't like was the bottles were already inside the white bag, wrinkling it as the package shipped to my home. Other than that, this is an excellent gift for Valentine's!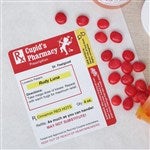 Very Cute
By
Shopper

(Miami, FL) - February 13, 2012
Very cute product. My troubled loved one got a kick out of it and helped put a lighter side on his issues. Only wish is that instead of two boxes of red hot candy, that one of te bottles have hershey's kisses instead. I altered the prescription on one of the bottles and he loved the chocolate kisses.

Bottles are a bit too big to pass as real but still a cute novelty gift.
By
Shopper

(Cincinnati, OH) - February 16, 2011
This made a cute novelty gift for Valentine's Day. Bottles are a bit too big to try to pass off as real.

Gift for husband when he was sick
By
Cassandra T.

(Rigby, ID) - November 18, 2010 (
See all reviews by this customer
)
So It came and yes it was way cute. My husband thought it was too but did not seem overly excited. It got put up and never seen again. I thought it was cute and great though so I am giving it 4stars. I think this would be a gift better to be given to a female.

prescription
By
Ahliya G.

(Doral, FL) - January 27, 2010 (
See all reviews by this customer
)
fun gift idea - didn't realize how big the bottles were though

A bit Disappointed
By
Shopper

(Nine Mile Falls, WA) - February 2, 2013
Was excited to get these.... the lids do NOT stay on. They don't latch well in which results in red hots all over the place...

Okay gift
Needs to be assembled, pill bottles are too big, looks unrealistic. Bag hardly closes with the 2 pill bottles inside. Everything else is as described.