personalized notes with envelopes
By
Betty G.

(Maumee, OH) - August 19, 2010 (
See all reviews by this customer
)
Very satisfied. Very good quality.

Nice!
By
REBA H.

(TULSA, OK) - July 27, 2010 (
See all reviews by this customer
)
The envelopes were perfect. So glad I ordered them. Now I want to order more and also some for friends. It's one of those gifts you rarely buy yourself.

I ordered some personalized note cards and personalized envelopes for a few of my "hard to buy for" friends as gifts.


INCREDIBLE SERVICE
By
Michelle H.

(Waukesha, WI) - July 24, 2010 (
See all reviews by this customer
)
These personalized envelopes are great, but I am really reviewing this company's service. I needed some personalized stationary fast and I found a different website to order from. After about 3 hours of creating really exciting stuff, I found out that shipping would take up to 3 weeks. Since that was not good for me, I found this website and saw that they advertised fast service. Ordering was easy and the items are very neat, but the incredible part was after ordering on a Wed afternoon, I received my entire order on that Friday! Now that is what I call fast service!! Thanks. I will be back to order more in the future.

Classy!
By
Kay M.

(New Braunfels, TX) - July 16, 2010 (
See all reviews by this customer
)
These were lovely and made it so much faster to address the invitations and get them sent. It was worth a little extra money to get them printed. A good value and a little more upper class!

Nice touch!
By
Jodi-Rae H.

(New Castle, PA) - April 20, 2010 (
See all reviews by this customer
)
Further indicates the quality of your products!

Personalize envelopes
By
Cynthia P.

(Lusby, MD) - March 30, 2010 (
See all reviews by this customer
)
Wonderful material. Very professional look and finish. I would recommend this to a friend or family member.

Nice envelopes, nice price
By
Michael R.

(Mission, KS) - February 17, 2014 (
See all reviews by this customer
)
The title kind of says it all: we weren't sure if we wanted to get personalized envelopes or not, but, really, they were about the same price as plain envelopes from the office supply store and were the size we needed. They ended up being very nice high-quality envelopes that were well printed, and considering we didn't have to write out the return address by hand or print out labels, they were well worth the price.

Lovely cards
By
Richard F.

(Pismo Beach, CA) - June 2, 2013 (
See all reviews by this customer
)
These will be a repeat buy - anyone on your gift list that can write will be proud to send out note cards that look like this!

Darker ink
By
Shopper

(Diberville, MS) - April 13, 2013
Ink on the envelopes too light in color, need to be darker.

Printed and Pretty
By
Shopper

(columbus, OH) - February 15, 2013
The printing the envelopes for my Wise Owl note cards made for the perfect ensemble. The print is clear and lovely. I gave this product four stars, rather than five, because the ink color is not quite black, it is almost a dark gray. Black would have been crisper. Overall, I am very pleased.

personalized envelopes
By
Shopper

(East Brunswick, NJ) - November 10, 2012
came as ordered, nice printing, overall satisfied

Spent way too much on envelops
By
Shopper

(Portland , OR) - June 15, 2012
The personalized envelopes are lovely no complaint on the product just the price.
You do not get to view that price until you have entered what you want. I saw .19 as the price. I ordered 24 envelopes it cost me $10.00.
I needed them so I ordered them but next time I will not order them due to the cost.




Not deliver on time
By
Margaret M.

(Montgomery village, MD) - February 21, 2012 (
See all reviews by this customer
)
Love what I received ...but paid to have them delivered by Valentines day and came the next day?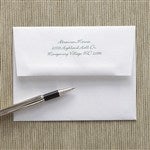 Nice job
By
Shopper

(Charleston, SC) - August 12, 2011
I was very pleased with the printing but the paper was too heavy. I was very disappointed in that. For the price I paid I thought it would be perfect.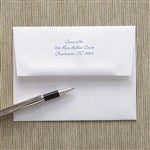 Envelopes
By
Alissa M B.

(Fairfax , VA) - May 23, 2011 (
See all reviews by this customer
)
Just what I ordered. Thank you!

personalized stationary
By
Shopper

(Newnan, GA) - January 15, 2011
I have never been disappointed in anything I purchased from you, however, on this stationery, I feel the writing could have been a little bolder.

Very Nice!
By
Lauren M.

(Windermere, FL) - October 6, 2010 (
See all reviews by this customer
)
Nice quality, nice font selection!

They look good & saved me some mail merge aggravation
By
Carolyn M.

(North Wales, PA) - June 17, 2010 (
See all reviews by this customer
)
Not much else to say about envelopes.

ink color
By
Roberta M.

(Northbrook, IL) - November 30, 2011 (
See all reviews by this customer
)
The ink color did not match the cards even though they were called the same color.

Selection and Shipping
By
Shopper

(Elmhurst, IL) - June 20, 2011
The actual note cards were personalized correctly and of reasonable quality. Unfortunately the selections are limited for men and the shipping costs are not justified for the packaging and shipping time.

Kinda thin
By
Allison R.

(Newington, CT) - August 2, 2013 (
See all reviews by this customer
)
I was excited about having envelopes for his thank you cards imprinted with my son's name and return address but was dissapointed with how thin these envelopes were. The actual font color and style were very nice, but I would have expected the paper weight to be heavier. Not a very good value, in my opinion.

not happy with the envelopes
By
Shopper

(Puyallup , WA) - July 3, 2012
The envelopes arrived bent and wrinkled in a cheap plastic box, with Two Day shipping lables on the box that held the set..
I called customer service and they immediately sent a replacement, the replacement was worse than the original..I took photos and they refunded my purchase, but it was a disappointment, as they were a gift. The paper quality of the envelops was mediocre, and the printing was very light and faint.

Envelopes - Very Poor Quality Paper for Price
By
Kerri K.

(Jupiter, FL) - October 26, 2010 (
See all reviews by this customer
)
I have to say, I ordered Personalized Notes Cards with Envelopes with return address printed. The quality of the note cards was good, BUT the $50 price tag for envelopes with return address was ourageous to begin with but once i received them and saw the quality, I was extremely disappointed. They were paper thin. I would not recommend because of this.

Thanks