Fun
By
Lisa M.

(Center Barnstead, NH) - December 28, 2013 (
See all reviews by this customer
)
Love the cute wrappers! Very fast delivery was the best.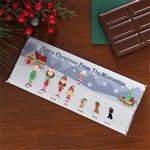 Soooo cute & inexpensive!
By
Rosa C.

(Tustin, CA) - December 23, 2013 (
See all reviews by this customer
)
I bought these wrappers instead of the regular holiday cards. Boy, am I happy I did! My friends & family LOVED them! As did I. They were such a hit my only regret was not buying more. I wanted to make sure I liked them before ordering more & then it got too late. There's always next year though. Or other occasions for these! I admit I kept the last one for myself instead of giving it out. It was that darn cute! :)

Too Cute!
By
Shopper

(Scottsville, KY) - December 15, 2012
These wrappers are simply too cute. I ordered them for my Sunday School Class with each classmates name. They will LOVE seeing their names on the wrapper. And they are affordable as well.

Loved it
By
Chuck C.

(Modesto, CA) - November 29, 2012 (
See all reviews by this customer
)
These were very cute, and came in exactly as I had imagined. Very good price and very good quality

Amazing
By
Shopper

(Isle of Palms, SC) - December 31, 2011
I was so excited for this product to come in! Everyone we gave it to thought it was adorable! We switch up the chocolate so that some people got milk chocolate and some got dark and we even bought the cookies and cream hershey bars! We did this instead of christmas cards and they were adorable! Remember that you have to buy the chocolate in addition to the wrappers...

WONDERFUL
By
Shopper

(South Weber, UT) - December 27, 2011
I would recommend these to Everyone... These were an absolute hit with everyone we gave these too. Personalized and unique. Very Fun!!

Soooo excited!
By
katie F.

(Rawlins, WY) - November 19, 2011 (
See all reviews by this customer
)
I honestly can't wait to give out the candy bars with our family greeting on them. The paper is nice and thick so I don't have to worry about the kids helping with this project. The foil pouches were an unexpected bonus and will make the project that much easier. I wish these came marked with fold lines on the back. That would make it eaven easier for the perfect application. All in all, I am really pleased with this purchase!

So Special!
By
Shawn Y.

(Laredo, TX) - July 23, 2011 (
See all reviews by this customer
)
I read a review before ordering that said the wrappers were too big for the standard size candy bar, but I ordered them anyway. The wrappers ARE the right size. You glue them closed so the size is perfect.

They are so cute. I can't wait to put them together! This will be so special!

Exactly what I expected
By
Rene M.

(Lake Villa, IL) - November 18, 2012 (
See all reviews by this customer
)
Would have given this product 5 stars but I would suggest that there be a fold line to make putting together easier for centering picture. Other than that, this product was exactly as I expected, I am very happy with quality and can't wait to give out.

Cute & Clever
By
Shopper

(Mooresville, IN) - December 6, 2011
These wrappers are well done - colorful and accurate. I especially like the heavy-duty foil sleeve that comes with it. They "envelope" the insert, look classy, and make it easy to wrap. Any flat, single candy bar will fit. Other items can also be inserted in the sleeve (I did a bookmark and a relatively flat Christmas angel ornament). The wrapping provides cushioning & protection while making a personal statement.

Dont' buy these
By
debra S.

(bel air, MD) - December 28, 2010 (
See all reviews by this customer
)
They do not fit standard sized candy bars anymore since the standard size is now reduced in size. the king size would fit but then the cost is double buy them to wrap.