Nice inexpensive gift
By
Shopper

(Pensacola, FL) - March 16, 2014
Nice printing - quality was appropriate for price point.

Fast, accurate, and the perfect gift!
By
Shopper

(Carson City, NV) - January 21, 2014
I ordered the wooden pen case personalized for my stepdad's Birthday, it came sooner than the expected date of arrival and the engraving was perfect, the box is really nice to display and the pen looks of great quality, this is the third item that I order through this site and it all has came in a timely manner, usually sooner than projected, it's super afordable and the gifts make you look great because of the personalized touch, I will be ordering more things from here in the future!

Awesome
By
Ann D.

(Kingsland, GA) - December 13, 2013 (
See all reviews by this customer
)
It's a perfect gift for my son's karate instructor.

Grandpa loved it!
By
Shopper

(Romeoville, IL) - September 10, 2013
I purchased the pen for my grandfather on grandparents day. He absolutely adored the pen and found it really beautifully done! It was defiantly the highlight of his day!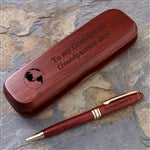 Husband Loved It!
By
Shopper

(Miami, FL) - June 21, 2013
I bought it for my daughter to give to her father for father's day. It was her idea.

LOVEYLY
By
Carol B.

(North Lauderdale, FL) - June 19, 2013 (
See all reviews by this customer
)
My church and I gave this to our pastor for Father's day and he loved it.

Father's Day Gift
By
Shannon S.

(Lithonia, GA) - June 17, 2013 (
See all reviews by this customer
)
This was a great gift to give. It was well appreciated.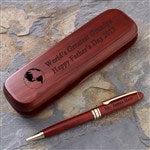 Great quality lettering
By
Scott E.

(San Francisco, CA) - April 26, 2013 (
See all reviews by this customer
)
The pen is nice quality - about what I would expect for the money. I was really impressed with the engraving of the lettering - that was better than I had hoped for.

World's Greatest Pen!
By
Shopper

(Hacienda Heights, CA) - February 7, 2012
Great Pen, Great Wooden Case! Great Engraving!

Rosewood Pen
By
Shopper

(Hillsboro, OR) - October 30, 2011
I wasn't sure what to expect when I ordered this pen for my sister for her new business and I was pleasantly surprised to find high quality and fast shipping. I will definately be ordering more things from Personalization Mall !!!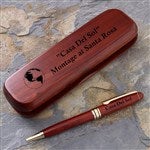 Beautiful
By
Shopper

(Lynbrook, NY) - October 17, 2011
My boss absolutely loved the pen end case.

excellent product
By
Diana T.

(dallas, TX) - June 26, 2011 (
See all reviews by this customer
)
my dad loved it... it was great the quality was fantastic highly recommended

I like this product
By
Shopper

(Forty Fort, PA) - February 5, 2011
Good quality.I like it and sure will order again

excellent quality all around
By
Danielle S.

(Lafayette, IN) - December 30, 2010 (
See all reviews by this customer
)
i will definitely buy this item again -- very good quality of the case, the pen,and the engraving -- simply looks great -- very pleased with this item!

Dad will love it
By
Becky P.

(Troy, NY) - December 19, 2010 (
See all reviews by this customer
)
My dad is notoriously hard to shop for, and this gift is perfect for him. Sentimental, but still practical!

Thanks
By
Gagik M.

(LOGAN, UT) - November 1, 2010 (
See all reviews by this customer
)
I like it a lot and am gonna order a few more

Beautiful!!!
By
Bonnie Z.

(Hanover, Pa. 17331, PA) - October 27, 2010 (
See all reviews by this customer
)
I ordered this for my grandson & I'm sure he will love it! I think anyone who receives it would treasure it. The wooden box with "World's Greatest Grandson" is really nice as well. As with everything I've ordered the quality is outstanding! It is so good to be able to order things knowing that they will be top quality and arrive so fast! Thanks for yet another great Christmas gift!

A Great and Unique Gift!
By
Tam T.

(Elmhurst, NY) - August 4, 2010 (
See all reviews by this customer
)
I got this for a friend. Both the pen and case are well-engraved! They look gorgeous! The pen writes just okay though... I think my friend liked it as much as i did when i opened the box... Unbelievably fast delivery too! It came on the right day...only 2 days after i placed the order!

For those who like to shop unique, personalized gifts for your loved ones and friends, you know you are at the right place! Thank you, Personalizationmall.com! I <3 your team, customer service and products =]

it is absolutely presentable
By
Chao P G.

(San Francisco, CA) - July 24, 2010 (
See all reviews by this customer
)
this pen set looks gorgeous...well-engraved. A GREAT gift for "GREAT" individuals.

Great, Small Meaningful Gift for a Soldier and Dad
By
Britney H.

(Ellenwood, GA) - July 17, 2010 (
See all reviews by this customer
)
My Dad is deployed in Afghanistan and recently made birthday. He's not a man to want for much of anything so its pretty impossible to get him a gift. I had his full name and rank engraved on this. My Dad sent me an email saying he signed certificates and paperwork with it all day and how all is other fellow soliders loved this and the Army watch I ordered on here. I plan to purchase all military gifts by the end of the year. Thanks so much personalization mall.

Just Right
By
Lauren P.

(Australia) - July 8, 2010 (
See all reviews by this customer
)
This is a gift for my father from his Grandson. We had it engraved with "World's Greatest Pappa". My son is a Year old and insists on calling his Grandfather Pap-Pa. The pen arrived safe and sound and looks beautiful, the engraving as always is wonderfully done and the product yet again is top notch! My father has collected pens for as long as I remember and this will be his first personalized pen, I know he will love it, especially that it is from his Grandson. Well Done PersonalizationMall.com!

Great Father's Day Gift
By
Amanda B.

(Reidsville, NC) - June 23, 2010 (
See all reviews by this customer
)
I purchased this for my husband for Father's Day 2010 and he loved it. I engraved it with World's Best Dad and his name. The engraving is excellent! and the quality of the case and pen are excellent! Thanks!

Great Gift
By
Jennifer V.

(Columbus, GA) - May 11, 2010 (
See all reviews by this customer
)
This is a great gift. i ordered it for Father's day from my kids. It is wonderful, the craftmanship is remarkable, I did some checking before buying it and every where I looked the prices were a lot higher. It is a great pricea nd a great gift.

A great gift for a co-worker or friend!
By
Eric L.

(Clarksville, AR) - May 5, 2010 (
See all reviews by this customer
)
The price is just right. The material is fancy, heavy and sturdy. The best thing of all is the flawless, perfect detail of the engraving. I would definitely recommend this product to anyone looking for a perfect, personalized gift for co-workers, students, or anyone in the business world.

Wonderful product!
By
Carolyn B.

(Dewitt, MI) - February 11, 2010 (
See all reviews by this customer
)
This pen and engraved case looked so great in the photograph that I ordered it for my twin sister. When I received the item, it was even better in person! The wood grain and wood color is gorgeous and very elegant. The engraving on the box and the pen is just perfect. I couldn't ask for a higher quality product. Thank you so much for great service and super products.

beautiful
By
kim R.

(goshen, OH) - December 10, 2009 (
See all reviews by this customer
)
I was amazed by the workmanship due to the reasonable price attatched. When I opened the package I was honestly amazed...it's beautiful, & looks like it should've cost a couple hundred bucks..Thank you for a gift I'm sure will be admired for yrs....keep up the excellent work and I'm sure I'll shop with you agian

Boss,Coworker Gifts
By
Shopper

(Minneapolis, MN) - March 10, 2014
Ordered a couple of these for my boss and co-worker at the company I had been working at for quite a long time. They arrived very quickly and went over great!
I have always had really good experience with Personalization Mall!

Pen for dad
By
Shopper

(Shakopee, MN) - December 16, 2013
It shipped and received when It was expected. I think my dad will love this gift. It seems to be a great value for an engraved item.

Nice gift
By
Shopper

(Ludowici, GA) - July 3, 2013
Originally ordered for Father's Day, but came with a knot in the wood on the case. PersonalizationMall.com contacted me via email to ensure my satisfaction with their products, and I let them know. A perfect replacement was sent out immediately, and I was impressed with how fast it arrived. My husband adores it!


Not as pretty as expected
By
Shopper

(Miami, FL) - June 15, 2012
The order seemed nicer on the picture. Not exactly what I was expecting to receive. Looks like hand made and the item has no glamour at all. Not happy at all!!!