My boss was impressed
By
Sunshine M.

(Front Royal, VA) - May 13, 2011 (
See all reviews by this customer
)
This pen set was a gift to my preceptor at the end of a clinical rotation. I had difficulty determining the perfect gift until I finally discovered Personalization Mall. After reading the reviews I decided the pen set would be perfect and it was! It arrived within 3 days (luckily for me) and my preceptor was quite impressed, cleaned off a spot on his desk for the box, and began carrying and using the pen immediately. Thanks for the good quality and fast service!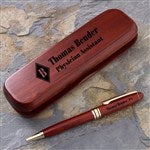 just beautiful
By
david T.

(leavenworth, KS) - February 14, 2014 (
See all reviews by this customer
)
she loves pens and this was a perfect gift for her promotion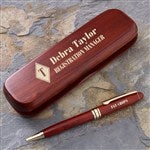 Too big
By
Clarence C.

(Amarillo, TX) - June 10, 2013 (
See all reviews by this customer
)
I bought this pen to carry and use. It is too big in diameter.
Made to look at, not write with. I ask rep before I ordered and she said it
Was not big, standard size. Engraving on pen isn't easily read. I was disappointed.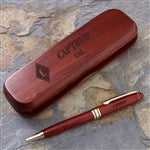 EXCELLENT AS USUAL
By
DENIS S.

(MOORPARK , CA) - February 26, 2013 (
See all reviews by this customer
)
ITS AMAZING THE QUALITY AND WORKMANSHIP AT SUCH A REASONABLE COST. I HAVE GIVEN THIS MONOGRAM PEN TO SEVERAL FRIENDS AND THEY LOVE IT. ITS CREATES A MEMORY OF THE OCCASION FOR WHICH IT WAS PURCHASED AND THE PERSON WHO GAVE IT TO THEM. THANK YOU DENIS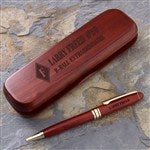 Best product
By
Zaneta C.

(Hesperia, CA) - December 20, 2012 (
See all reviews by this customer
)
I just revived the pen its so beautifully made I love it I just hope the recipient would like it as much as I do, I will defenetly come back and get one for my self. Thankyou for fast and easy service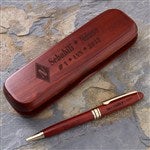 Excellent Item
By
Steven J.

(SALT LAKE CITY, UT) - October 22, 2012 (
See all reviews by this customer
)
Super easy web site. I was able to preview my item before final ordering. Very fast delivery.I am super impressed. Thx sj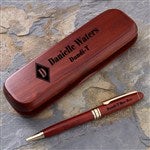 Great gift
By
Amanda B.

(Marlborough, MA) - October 10, 2012 (
See all reviews by this customer
)
The engraving was perfect and clear. The coloring on the preview of the personalization was a little bit darker than the actual engraving, but still quite clear.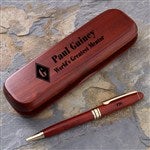 friend loved his gift!
By
Hugh M.

(Dorset, VT) - October 1, 2012 (
See all reviews by this customer
)
I heard back from my friend who loves this personalized gift for his 80th birthday.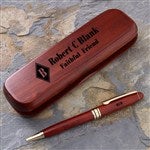 Dr Fortenberry Monogram Pen Set
By
Robert G A.

(Ridgeland, MS) - January 21, 2012 (
See all reviews by this customer
)
This product was precisely as advertised and it made a big hit with the college professor to whom it was presented.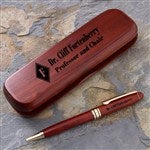 Excelente Boligrafo!!
By
Shopper

(East Windsor , NJ) - January 2, 2012
Hola, recomiendo este boligrafo es excelente, lo compre para obsequiarlo a mi jefe en navidad 2011, y fue el mejor regalo!! el nombre quedo muy lindo y perfecto, con respecto a la entrega llego en el tiempo perfecto como lo indicaron, lo recomiendo 100% muchas gracias.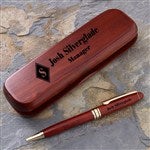 Beautiful wood and engravings
By
Marjorie M.

(Point Reyes Station, CA) - June 8, 2010 (
See all reviews by this customer
)
I am very pleased with the personalization result. And the pen is slim and responsive.

Wonderful!
By
Linda L.

(Barstow, CA) - May 25, 2010 (
See all reviews by this customer
)
This was a very unique gift that looks so much better than I imagined. I would order this again in a minute!

Absolutely Gorgeous Graduation Gift!
By
Maria F. L.

(Nashville, TN) - May 10, 2010 (
See all reviews by this customer
)
These were purchased en masse, a total of 24, for our new Master's and Doctoral students. We got them in no time, and they were all exactly as described, perfectly individualized, and professional beyond belief. Very glad that such workmanship is relatively inexpensive yet beautifully crafted.

Personalized pen set
By
Loretta C.

(Fremont, CA) - January 23, 2011 (
See all reviews by this customer
)
This is a wonderful and very personal gift. I would not hesitate to reorder this item or any others from the company. Everyone that I have given this as a gift are very impressed with the work on the box and the pen.
Loretta C.

Huge Hit!!
By
Shopper

(Spartanburg, SC) - February 15, 2011
My husband absolutely loved this set and it comes just as described! Gift looks very expensive!

Excellent!
By
Mark R.

(Niceville, FL) - October 4, 2010 (
See all reviews by this customer
)
Excellent quality, production and design. I ordered one of these before and the name on the pen was slightly crooked. This time I ordered 5 of these and they all came out perfect! Great gift!!

Gret Fathers Day Gift
By
Oliver W.

(Lakewood , WA) - June 22, 2010 (
See all reviews by this customer
)
My Husband Loved this Pen. Personalized with his name and The pen writes Great ! Loved It !

Pen Set
By
Shopper

(Littleton, MA) - January 9, 2011
Very impressive..My husband ordered it for a business gift. Only one flaw is that the pen can only sit one way in the box and we wanted the name to be the first thing seen. Had to play with clip to get it to sit in case correctly or lid does not close. I can only guess this is so pen doesn't rattle in box? Order came very fast and looks just as good in person as in the picture.

Wow
By
Mark S.

(Natchez, MS) - December 11, 2010 (
See all reviews by this customer
)
Great product, even greater prices! I opened the box and WOW. How they can do this so quickly is beyond me. Pen set was flawless. I got this as a Christmas present for my Mom and I can't wait until she opens it. I will shop here first from now on.

Much better
By
Shopper

(Virginia Beach, VA) - June 22, 2011
After the fiasco with the first one having a noticeable ding on the inside, and the engraving being poorly done, they quickly fixed the issue without me having to do a thing put provide pictures. The support team immediately responded with an email, and once I sent the pictures in, they got me a new one (much better) within 5 days. That's some pretty good customer service there. The product itself, is pretty. The box it comes in feels great, but the pen can feel a little light and lacking. I was expecting the pen to have some heft like some other major pens, but it felt way different to me... All in all, its pretty good.

*** I don't include photos of the product because the name used on it is not my own.

Good Product - Fast Delivery
By
Shopper

(Rogersville, TN) - December 22, 2011
Very pleased with the pen I bought. It arrived much faster than I had anticipated....already made my second purchase!

Looks great!
By
Shopper

(San Diego, CA) - November 21, 2012
Just received the pen i ordered and the box and pen look like they are of good quality. Very sturdy box. Preview image was exactly right on to what I received. Did not test the pen to make sure it worked and already gifted it so I hope it works.

Extremely Pleased!
By
Nancy P.

(Holyoke, MA) - August 9, 2010 (
See all reviews by this customer
)
I was very pleased with the Rosewood Personalized Pen Set I ordered! It looked exactly like the picture and I loved the fact that I could actually see the engraved words before ordering. Receive in just a few days, as promised, and the engraving was very precise and clean. The perfect combined birthday/congratulations gift for my son's newly formed business venture! I would order again in a heartbeat! Thank you so much!

Pen
By
JENNIFER E.

(APO, AE) - December 13, 2010 (
See all reviews by this customer
)

it is good but it will be more appreciated if the pen will be a SIGN PEN. yes, because it is a very good gift for a professionals.

Awesome Gift
By
Karen A.

(New Britain, CT) - February 15, 2011 (
See all reviews by this customer
)
The gift arrived earlier than expected, and the design and quality was beautiful for the price. I do wish the case was a bit sturdier, though.

Very Nice Gift
By
Debbierose A.

(Far Rockaway, NY) - February 19, 2010 (
See all reviews by this customer
)
This is very nice, the quality is excellent.

OMG!!!!
By
La Trice R.

(Griffith, IN) - April 29, 2010 (
See all reviews by this customer
)
I ordered on Tuesday and received my pen set on Thursday. That was the first plus. Once I opened my package I was truly amazed at the quality of the product. I am extremely satisfied and will order the rest of my graduation gifts from Personalization Mall.com. This is my first on-line purchase ever....I'm sold!

Pen and case
By
Delia B.

(Pittsburgh, PA) - May 7, 2010 (
See all reviews by this customer
)
My order arrived very quickly and was beautifully "carved" out of wood. I was very impressed by the work and the fast turn around time. If I ever need this service again, I will most certainly come to the Personalization Mall!

Useful gift for someone who has everything
By
Shopper

(Orange, CA) - December 22, 2013
This was a good quality pen with engraved writing (it wasn't't just printed on the pen). It's something he will use all the time and think of the kids while doing so. Strongly recommend it for that special someone who has everything.

OK
By
Audrey C.

(Hackensack, NJ) - January 18, 2014 (
See all reviews by this customer
)
The pen is functional, which is great. I was just a bit disappointed that it did not fit snugly in the case. It bounces around when case is moved. The quality is acceptable. Besides that, I would order one again.

Beautiful
By
W.William M.

(Landenberg, PA) - February 17, 2010 (
See all reviews by this customer
)
The craftmanship is A1

Good
By
Zhiyong W.

(Columbia, SC) - April 22, 2013 (
See all reviews by this customer
)
It looks really good. Wish this gift will bring my friend good luck.

Great Product
By
Shopper

(stockton, CA) - April 30, 2013
I bought 3 sets of the personalized pen set for my peers as a graduation gift. They turn out to be better than I had expected.

Awesome!
By
Shopper

(Saltillo, MS) - December 29, 2012
I ordered this pen set for my friends at work and they loved them! The set is really professional and the monogramming is AWESOME! I just ordered several more for others. The delivery service was very fast!

Awesome Professional Gift
By
Shopper

(Macon, GA) - December 18, 2012
Our staff really appreciated this pen as a gift at our annual Christmas Party!!

Just enough.
By
Tracy H.

(Chicago, IL) - December 28, 2012 (
See all reviews by this customer
)
Loved this gift idea, it was simple and a perfect thoughtful gift for my retiring coworker.

Excellent Item
By
Shopper

(Bronx, NY) - May 8, 2013
This item met my expectations. The quality is very good. I was most pleased.

A beautiful gift
By
Shopper

(State College, PA) - November 17, 2013
The case for this pen is lovely; with an initial emblem and the recipient's name (in full); the pen is beautiful and practical. A perfect gift for a dear friend. The third such gift I have ordered; all have been met with delight.

Wonderful gift!!
By
Shopper

(Laurel, MD) - December 27, 2013
It was a gift for the Principal and Assistant Principal it was a great gift. They loved it. Will return to buy more from Personalization Mall.com has great shipping and quality merchandise. Love the items.

Perfect gift
By
Melinda T.

(Alba, TX) - August 23, 2013 (
See all reviews by this customer
)
I wanted something nice to 'dress up' a cash gift' for our son's college graduation. This pen set fit the bill perfectly. He loved how professional the pen looked, and the box is a beautiful addition to his desk. I've ordered several items from Personalization Mall, and what I see online is what I receive. I've never been disappointed and love how promptly everything is delivered. I'm an extremely pleased customer!!