Perfect Gift
By
Satish K.

(Roswell, GA) - December 30, 2011 (
See all reviews by this customer
)
I sent this gift(personalized rosewood pen set) to one my business colleague and friend and she loved the gift. She initially thought only the pen case has her name, but when she saw her name of the pen, she was blown away. I am happy I selected this product as gift.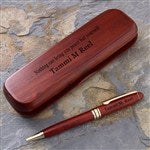 Excellent Quality
By
Shopper

(Gainesville, FL) - December 28, 2011
Beautiful wood grain box and pen writes so nicely.
My son loved this gift!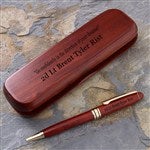 Pleased with purchase
By
Shopper

(Memphis, TN) - December 27, 2011
It was very professional looking. I watched the person as they opened it and they were excited. I'm glad I made the purchase.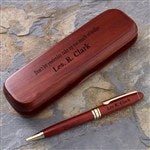 Classy Gift
By
Shopper

(Lafayette, CO) - December 25, 2011
This is a rose wood pen with matching case. My elderly uncle loved it. He said he has never had a pen with his name on it before and it made him feel important. You can't ask for much more than that in a present.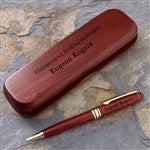 personalized pen
By
jef B.

(portage , MI) - December 16, 2011 (
See all reviews by this customer
)
Very pleased except for the highlighting of the engraving. The lettering is a bit hard to read and I am having a local engraver highlight with gold leaf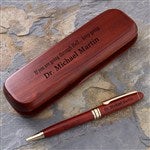 great quality
By
Shopper

(Manchester, NH) - December 16, 2011
item was perfect.spelling was perfect.couln't ask for a better personalized gift/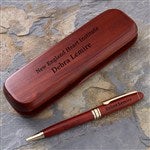 excellent
By
Shopper

(Lewisburg, PA) - December 7, 2011
It arrived quickly and is well done. Very pleased.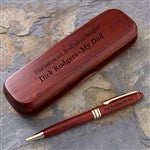 Personal Rosewood Pen
By
Shopper

(zephyrhills, FL) - November 27, 2011
I purchased three different pens with the box, I believe they will love them. Very different gift for boss, husband, son. They look very nice and I like the idea you can choose a quote and make it even more personal.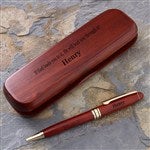 Impressive Gift Impressive Price
By
Karla R.

(Tupelo, MS) - November 4, 2011 (
See all reviews by this customer
)
I purchased 3 of these sets for Christmas Gifts. I am so thrilled with the quality and value. Instead of sending a cake or candy or a ham, this Christmas my Brother and Brother-in-Law will have something they may enjoy for a lifetime. I also bought one for my son who is becoming an executive and deserves such a prestigious gift. Thank you PersonalationMall.com for the opportunity to give a gift such as this.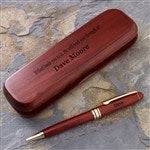 Personalized Rosewood Pen
By
Shopper

(Miami, FL) - October 22, 2011
Beautiful pen set and the engraving is perfect. Great deal for the price.
Would definitely buy from again.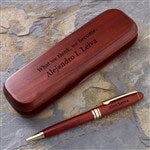 very impressive gift
By
yvette K.

(silver spring, MD) - October 5, 2011 (
See all reviews by this customer
)
i ordered this gift and i was convinced that i was going to love it... i received it very fast and i really loved it... my family also liked it and the receiver was amazed. this is a lifetime gift... i recommend it to anybody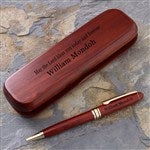 Unique !
By
Shopper

(Dover, NH) - July 17, 2011
I read many, if not all of the reviews in May before purchasing - so I know that others; beside my family, were also impressed. When I was ordering; I did appreciate the "mock" picture - showing "my text" on the product - It was the next best thing to having the finished work in my hands :) After my Dad unwrapped the box and pen; others also enjoyed viewing it. It is quality wood and work. Someone even mentioned they liked the smell of the wood. I also appreciated being able to totally customize the text.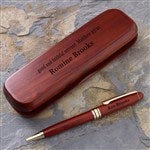 amazing
By
Clare N.

(panorama city, CA) - July 5, 2011 (
See all reviews by this customer
)
my boyfriend loves this pen and only uses it to sign checks... amazing gift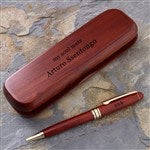 My husband loved it!
By
Santa G.

(Temple Hills, MD) - June 24, 2011 (
See all reviews by this customer
)
I purchased this product for Father's Day for my husband. I picked out Rosewood because it closely matched with the furniture/decor he has in his home office and when I received it, it was perfect! I also love that it allowed me to write my own message on it (based on his favorite biblical scripture). When he received it, he was so elated! He said he's been wanting a pen like it and said he loved it! Plus I ordered kind of last minute and I'm glad that I got it in time! So I'm one happy customer and I'll be ordering again!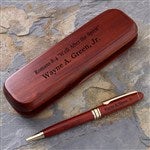 Awesome Product
By
Regina M.

(Sparks, NV) - June 17, 2011 (
See all reviews by this customer
)
I was pleased to see how this penset would turn out. Bought my grandfather and dad one and both came out terrific. I will defiantly order from this place again.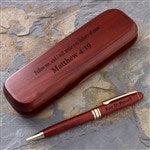 Excellent gift idea
By
Shopper

(Canada) - May 16, 2011
This is a wonderful gift for teachers, co-workers and even your own child. We bought 2 of them one for the principal and one as a grad gift for my son. They loved it and the personalized saying and name made it even more meaningful.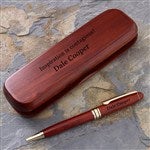 Very Nice Gift
By
Shopper

(Eagar, AZ) - April 8, 2011
Very fast at getting it done and shipped. Also, pen is very nice and the matching gift box is awesome!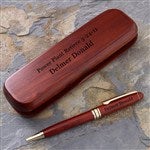 Personalized pen & box set
By
Charles M.

(Kingstree, SC) - March 11, 2011 (
See all reviews by this customer
)
The ability to have the box, as well as the pen, personalized for display was an ideal gift. The professional in your life can have a utilitarian gift, as well as, a nice display piece to share with others. It also allows you to mark special moments and achievements. Great gift opportunity.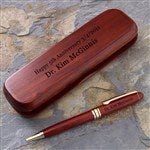 Exactly what I expected.
By
Judy F.

(Charlottesville, VA) - April 14, 2014 (
See all reviews by this customer
)
I was very pleased w/the Pen Gift Set that I ordered. It was exactly what I expected. Will def order again from Personalizationmall.com.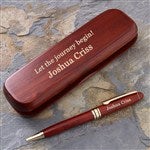 gift
By
Renee F.

(Shelton, CT) - February 25, 2014 (
See all reviews by this customer
)
Bought these as gifts for 2 employees of mine that are getting promoted. Perfect gift at a great price.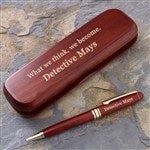 Love it
By
Florence A.

(Newark, NJ) - February 13, 2014 (
See all reviews by this customer
)
I ordered this for my boyfriend on Val's day n I must say, it was so nice. His expression said it all. He loved it so much. Thanks pmall.com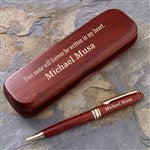 Amazing!
By
Brenda R.

(Miami , FL) - January 31, 2014 (
See all reviews by this customer
)
The case of the pen and the pen came out beautiful i was amazed at the quality of the wood :'), I've been a long time costumer of personalization mall so they never disappoint. Absolutely wonderful! We order it for my brothers teacher and he loved it, now its his favorite pen! thank you so much for such wonderful craftsmanship.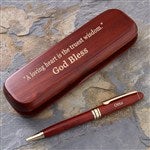 Great gift for son who is a salesman.
By
Jackie E.

(Wellington, KS) - December 22, 2013 (
See all reviews by this customer
)
I bought this for my son for his office desk. The engraving looks wonderful. I rated it a 4 because I do not know how the pen will write but it looks so nice in the case.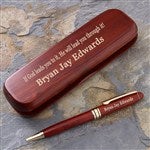 Special gift for young man's first job.
By
Donna R.

(Leavenworth, KS) - November 18, 2013 (
See all reviews by this customer
)
This makes a very special gift. The quality is excellent and, I am sure it is a gift that will last many years.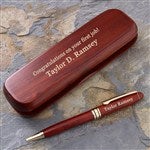 comment
By
Jeanette L.

(Kilgore, TX) - October 18, 2013 (
See all reviews by this customer
)
This pen is a very nice pen and I really liked the engravement, I would say if you put some felt in the box where the pen lays I think it would be even better. But for the price it is very nice.
Thank you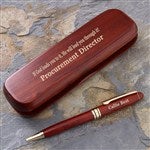 Personalization
By
Shopper

(ORLANDO, FL) - July 30, 2013
The quality of the Rosewood is beautiful. The personalization on the box also great. However, the personalization on the pen not quite what I expected. The letters seemed very cramped on long names. This pen really should only allow 10-15 letters.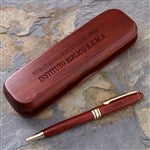 Personalized Rosewood Pen Set
By
Shopper

(Hinckley, OH) - July 27, 2013
I love this pen set, It came out great! Quality!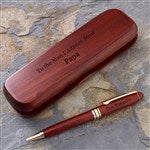 Very well made
By
Katerina S.

(Brooklyn, NY) - May 28, 2013 (
See all reviews by this customer
)
The engraving is very neat and looks so professional! the wood looks like good quality and nicely crafted as well. Pen writes smoothly, black ink.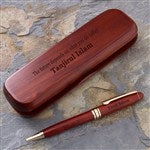 A wonderful gift
By
John D.

(Columbia, IL) - May 26, 2013 (
See all reviews by this customer
)
The person that I bought this for was so happy to receive it and was greatly impressed.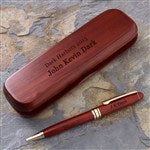 Very Pleased
By
Patricia M.

(Chicago, IL) - May 15, 2013 (
See all reviews by this customer
)
I was very satisfied with this item. It looks very nice & the engraving was absolutely perfect. I purchased 2 sets for brother & sister graduates & they were very pleased with the item. I would purchase again from Personalization Mall.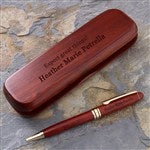 AWESOME
By
Dawn E.

(Poughkeepsie, NY) - May 13, 2013 (
See all reviews by this customer
)
I had never heard of this site before. Was browsing the internet looking foe a personal gift for someone's birthday. And what do you know!! Just awesome gift, and she loved it. I was unaware that the person said they love pens. So came back on here to see if i could get pens in different colors. But that is not on here. Lovely gift!!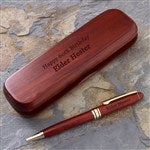 Easy to order - Picture is very representative of product
By
Shopper

(Rockford, MI) - April 2, 2013
I have had awesome luck with this website and this particular product is good. The pen is very good quality for this price range. I have ordered from Personalization Mall a few time and have always been pleased with my purchases.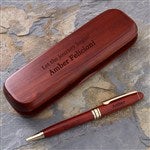 Simply Beautiful
By
Crystal M.

(New Castle, DE) - February 2, 2013 (
See all reviews by this customer
)
The item was packaged excellently and received in a timely manner. The pen set and personalized wording was beautifully done! Our daughter loved the quality of the set, but mostly the personalized wording on the case and pen. Thank you for such excellent service and quality work! We are so glad we found this site. We will definitely order from you in the future, when needed.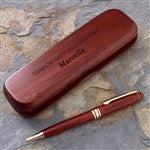 Rosewood pen
By
Janice V.

(melbourne, FL) - December 17, 2012 (
See all reviews by this customer
)
Item as described , beautifully engraved , nice workmanship , would suggest for a gift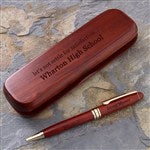 A perfect gift
By
pooja A.

(Union City, CA) - December 4, 2012 (
See all reviews by this customer
)
I bought this as a gift for a coworker for her farewell. It turned out really good. I'm sure it will be a good remembrance and useful too. I may actually get one for myself too !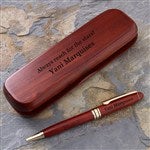 Gift for Husband
By
Liz R.

(Big Stone Gap, VA) - October 24, 2012 (
See all reviews by this customer
)
I was very pleased with this product. After reading several reviews on other personalized pens from this site, I decided on this one due to it's high recommendations. I am so glad I did! The engraving was perfectly done, very easy to read and the item has a nice weight to it, doesn't feel cheap at all! Can't wait to give this to my husband for his 1 year completion towards his Masters Degree! I'm sure I'll be back for something else for his graduation gift next year!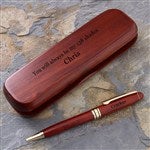 VERY PLEASED!!!
By
Norma K.

(Oak Harbor, WA) - September 22, 2012 (
See all reviews by this customer
)
I was looking for a gift for our first annivesary and was very pleased and happy with the product and the card, it looks exactly how it looks!!! it was shipped within 3 days! I would recommend it!!!!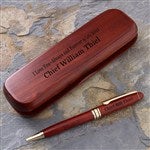 Great quality-Problem engraving
By
Shopper

(Berkeley, CA) - August 6, 2012
Ordered 10 sets. Website 1 night on daily deal for $17.49, next a.m. they were off sale. Customer svc helped me get sale price. Order came fast. Pens & box quality were great. Name engraving on 9 pens was so light-almost unreadable. 1 pen was excellent. See sample Pic of problem. 1 name quote was crooked on the box also. They said email photos, I did. No response so I called back. They said they'd replace the box with the crooked engraving but the pens were as they should be. They don't place anything in the engraved section to make it darker. Just depends on the wood. I said photo on the website didn't reflect the pen's name as light. There was nothing they could do. I took dark furniture polish with a cotton ball and made sure it got inside the inscription, then cleaned off smell with Murphy's oil soap and water and now they're all dark. Everyone needs to know you may have to do some extra work to get them up to prime quality. So glad I had a solution to salvage this project.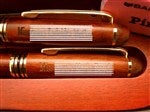 Perfect!
By
Shopper

(Aurora, CO) - June 16, 2012
Arrived quickly after super easy ordering on line. This will used with the guest book at my daughters wedding and will be a nice keepsake. Thanks!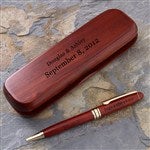 excellent
By
Julie V.

(Chisago City, MN) - May 21, 2012 (
See all reviews by this customer
)
I purchased this as a gift for my daughter in law's graduation-Masters Program.
She loved it, the engraving, the wood and quality were excellent. I would purchase this
item again. I received in 4 days (normal shipping-Minnesota).